This post series comes out once a month and it takes a peek into different areas of our home, relationship and life.
This month's topic for Let's Look is taking a peek at our Outdoor Organization!
In case you missed them, here are my previous Let's Look posts:
Welcome to our backyard!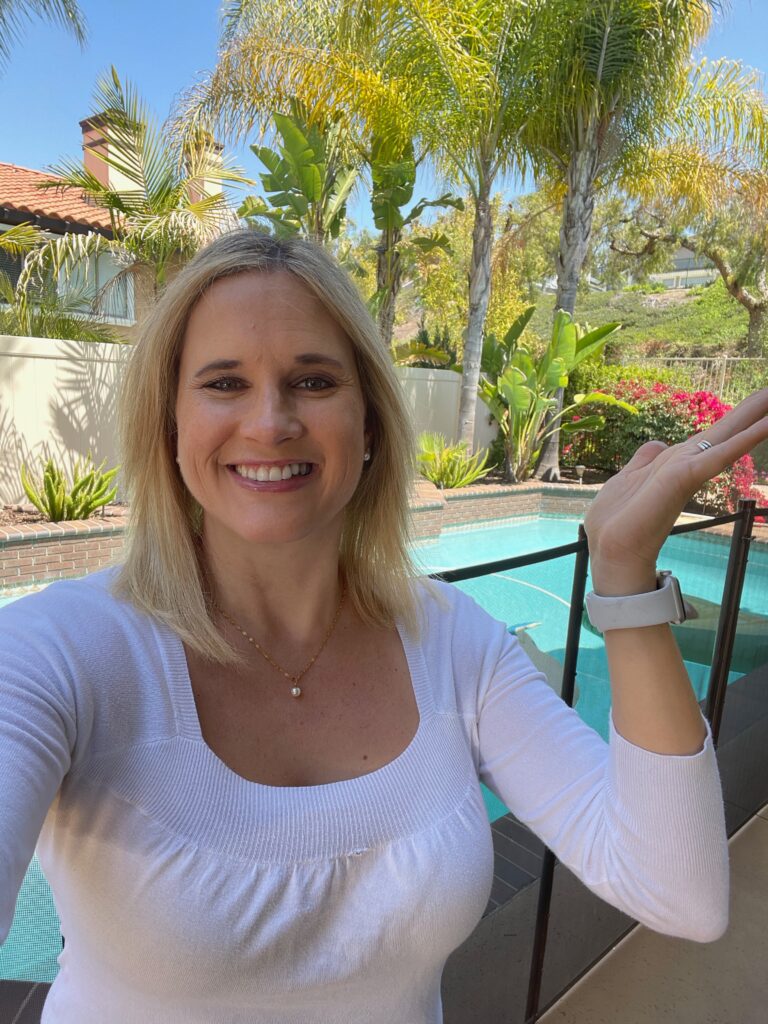 I want to start off by saying we don't have a ton of organization in place outside. I've added organizational items where it's needed. In this post I give you a tour of how our backyard currently looks. We're in the process of still getting it pool season ready. Also, the outside area upkeep is maintained primarily by Jason. I make sure we have certain supplies, like sunblock and decorative items. Jason is our pool man and does things like feed our palm trees.
Outside Organization: Bar Cart
I purchased these baskets to help organize sunblock, googles, wipes, bottle opener, and koozies.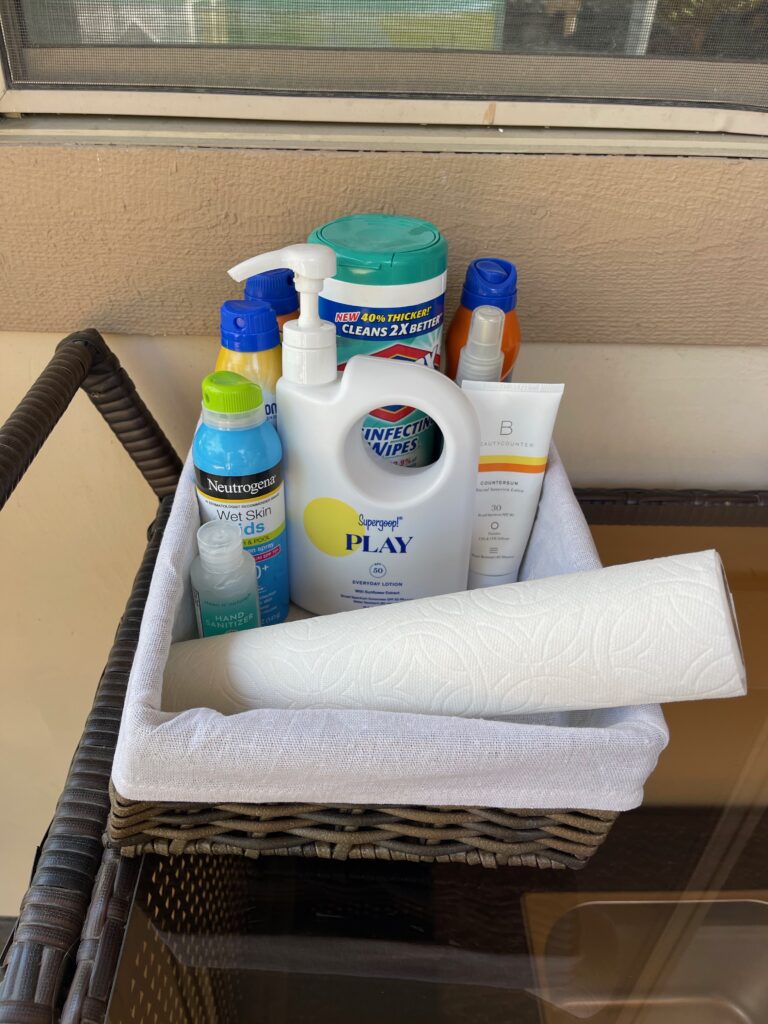 We have a variety of sunblocks to choose from….I'm trying to go with cleaner ingredients so we are trying out Supergoop's Play sunblock and beauty counter's spf. But for spray spf options we have Neutrogena and Coopertone. I also have some hand sanitizer, paper towels, cleaning wipes, and Honest bug spray.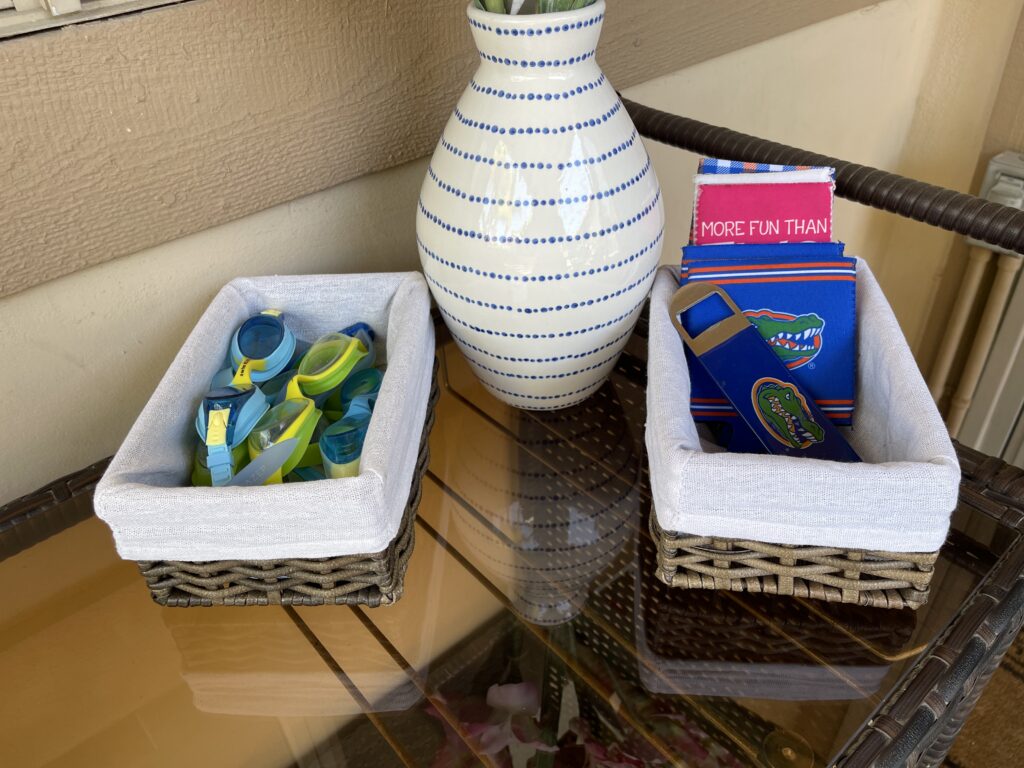 We have several pairs of googles in case our boys friends need some while visiting. Then the other basket is for enjoying beverages outside. If I'm enjoying a drink in the pool, I like to use a Koozie to keep it as cold as possible. My husband went to University of Florida, so we are gator fans!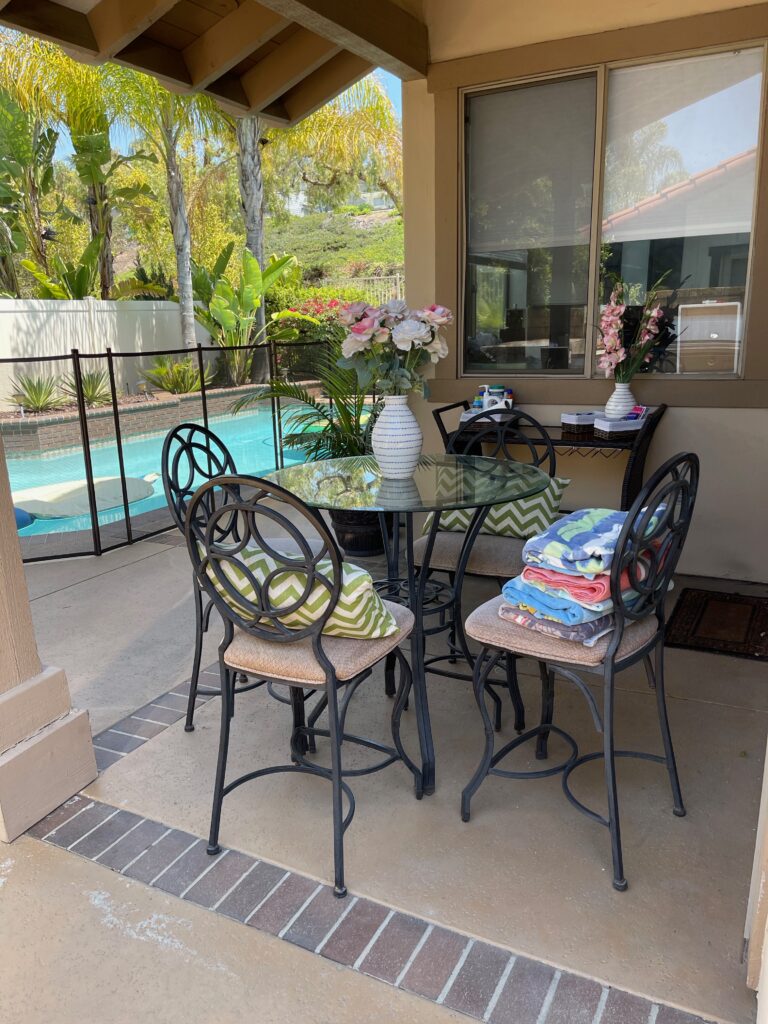 This table and chairs used to be our kitchen table at our old house when we lived in Lake Forest. It was not intended to be outside furniture but since we don't get harsh winters and it's under a roof, it has held up pretty well. I don't have storage for our pool towels. During pool season I wash them and then put them on a chair and after use, I hang them over our pool fence and it works. Nothing fancy!
The chevron green pillows are super old and I purchased them from ESTY. The vases are from target from a long time ago. I purchased the fake flowers from Micheals and they are in need of a change, if you look closely. If I could remember to bring these in during the winter they would last a lot longer.
We live near a few equestrian places and we have a horse trail that goes along the side of our home. We love seeing horses walk by but we are convinced they kick up lots of dirt and we get a light layer of dust onto our furniture VERY often. It's a struggle to keep things wiped off and looking clean.
The Pool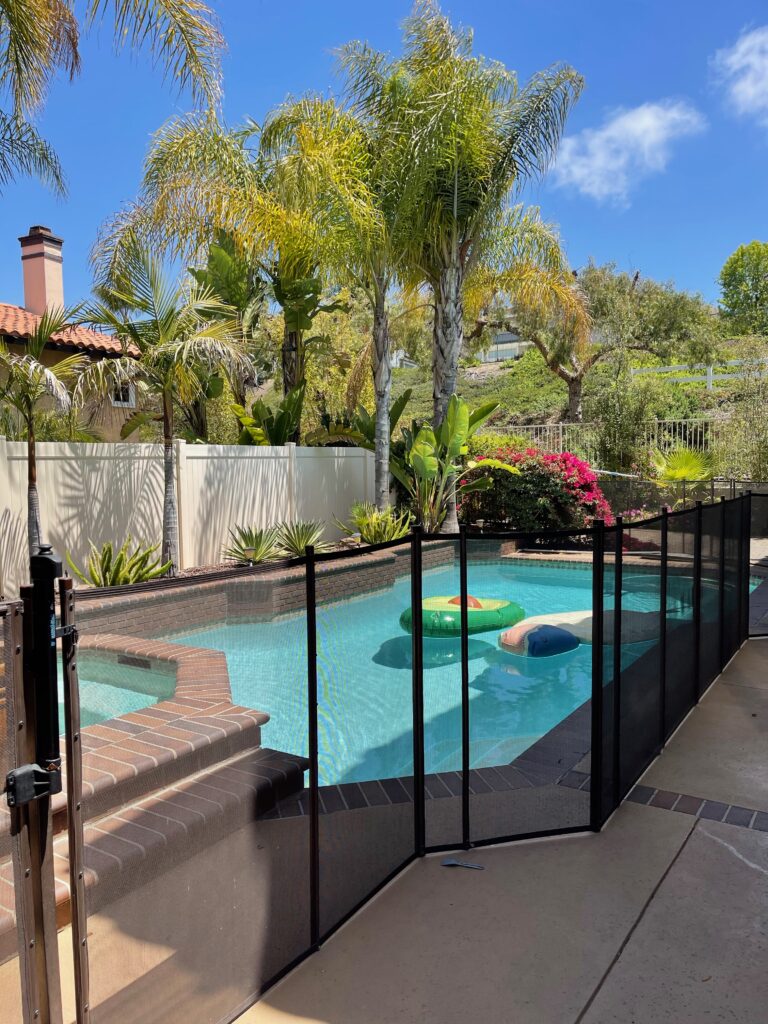 Our pool is a pretty good size and goes down 12′. We added in this safely fence before we moved into our home 7 years ago. Wow, time flys by fast!! Jason is chopping at the bit to take this fence down BUT I'm not there yet, having a pool is a big responsibility with littles ones still around and I want everyone water safe. We'll see how long I can push him off from getting rid of it.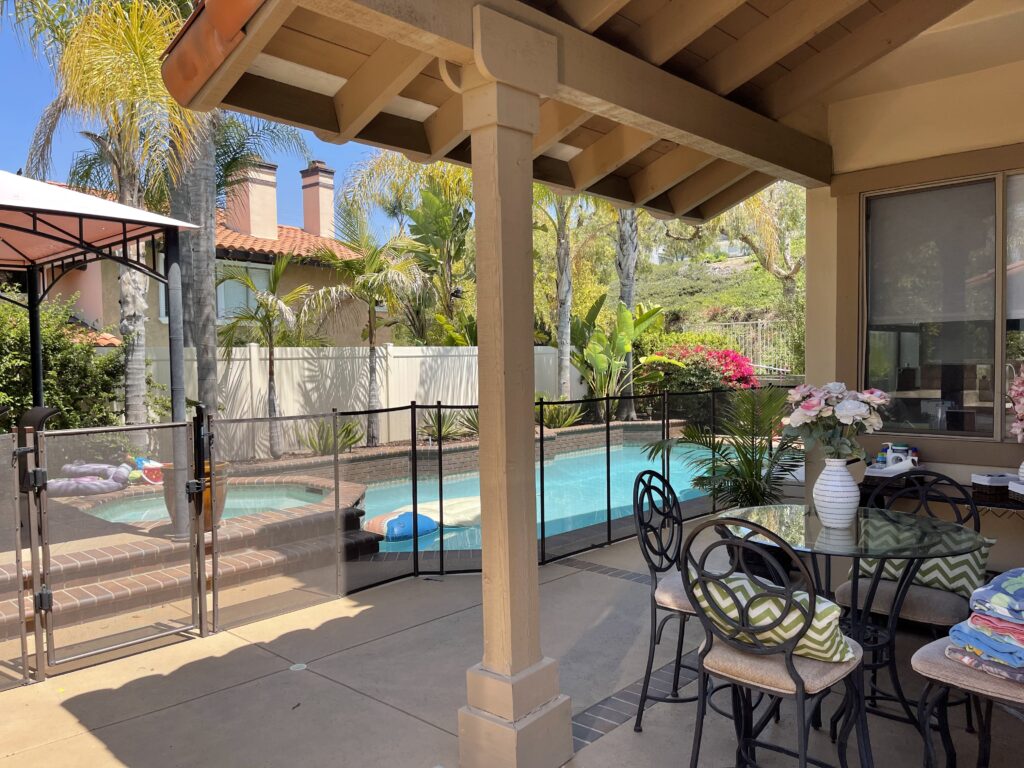 The Dinning Area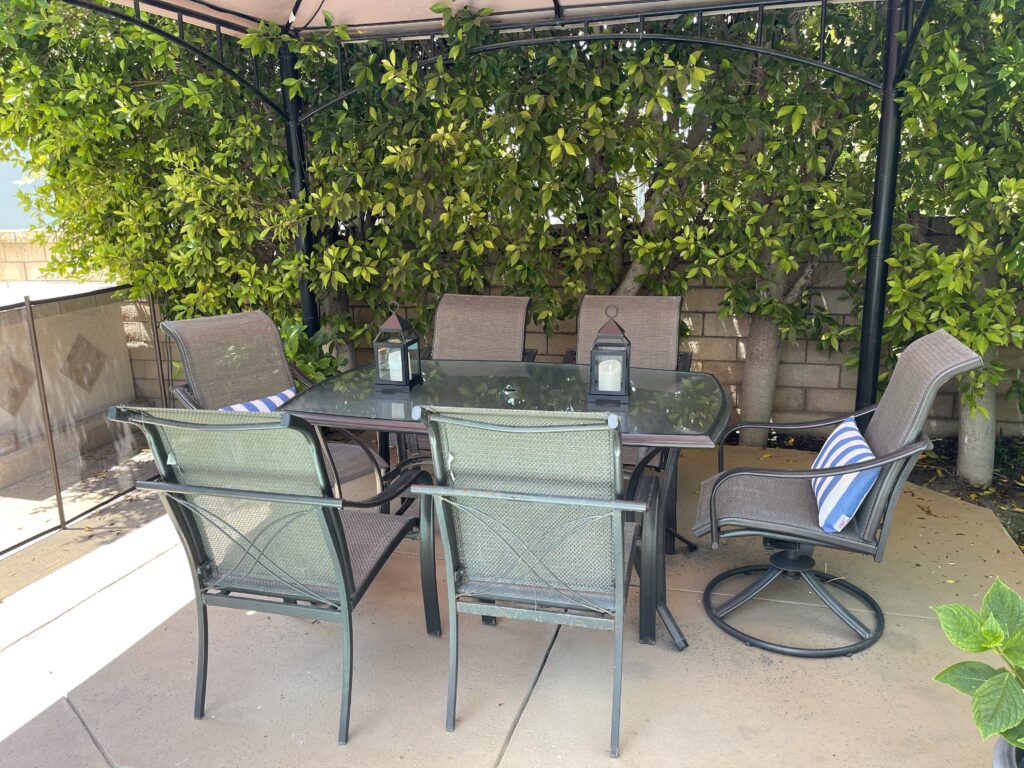 This table and chairs set is Martha Stewart brand and is probably 8 or 9 years old and is still doing well, good job Martha!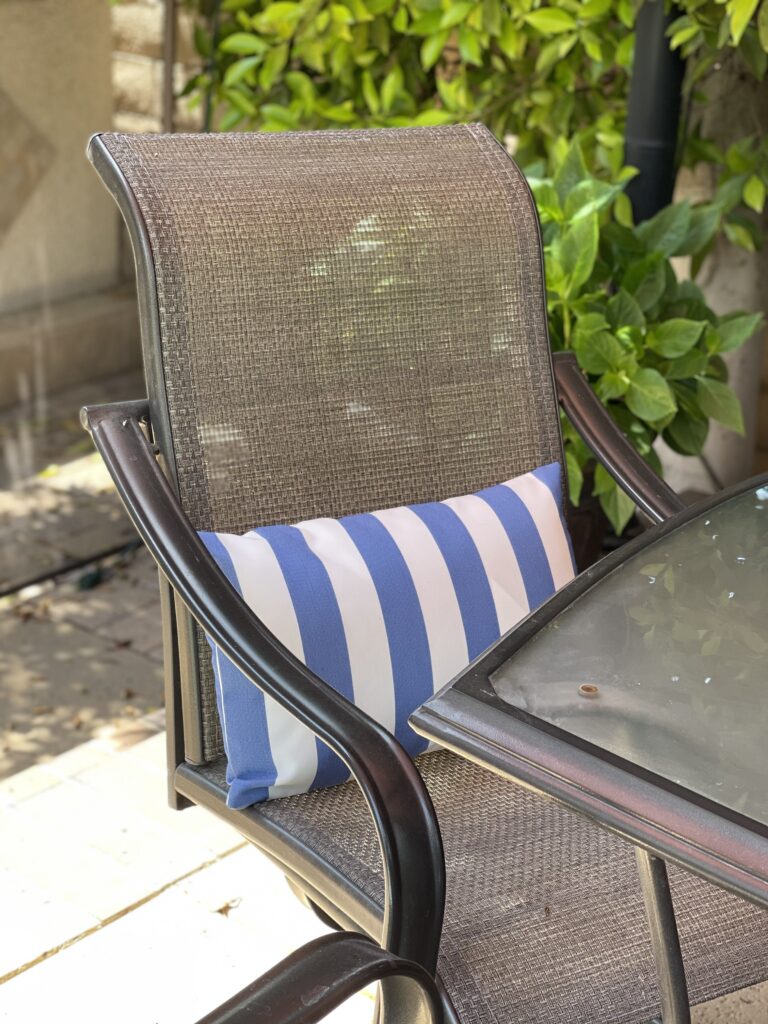 I just purchase these pretty blue stripped pillows from overstock.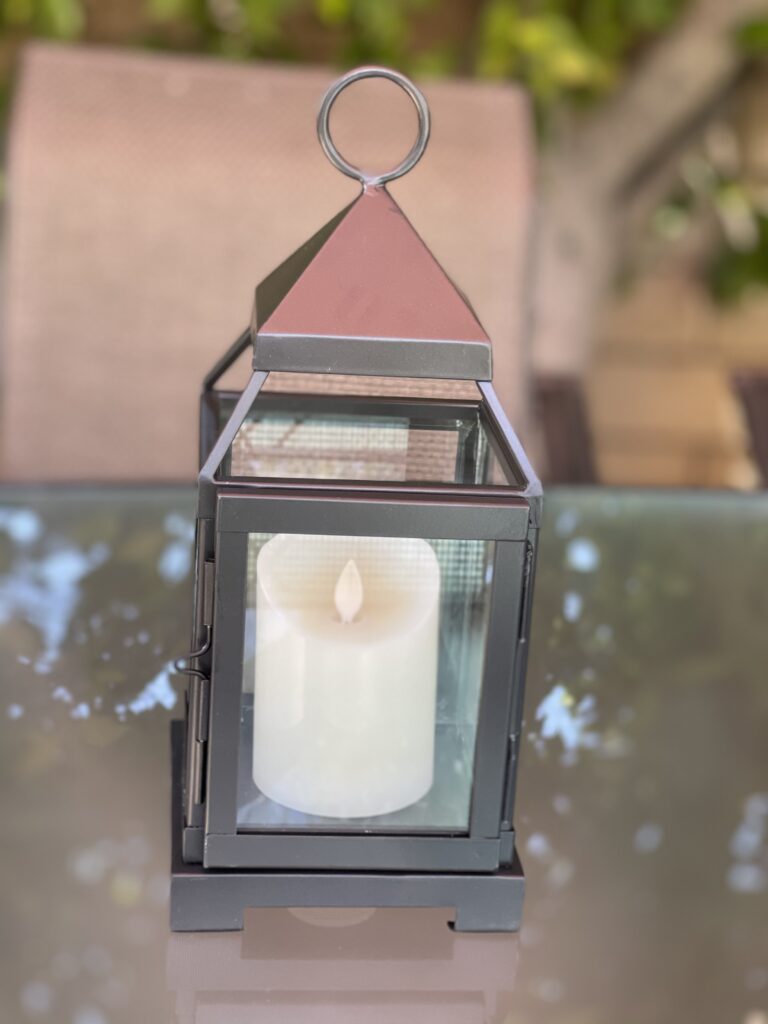 I wanted some additional lighting out here for when our Gimeno family visits us from Florida because we like to play card games in the evening. I purchased these lanterns from Pottery Barn. The flameless candles are from Amazon, I like these ones for several reasons. They are fake, the wax goes lower on one side so it looks more real and the wick moves around like a real flame. The candle also comes with a remote. On the remote you can set it on a timer and change the light from dim to bright.
Pool Equipment Organization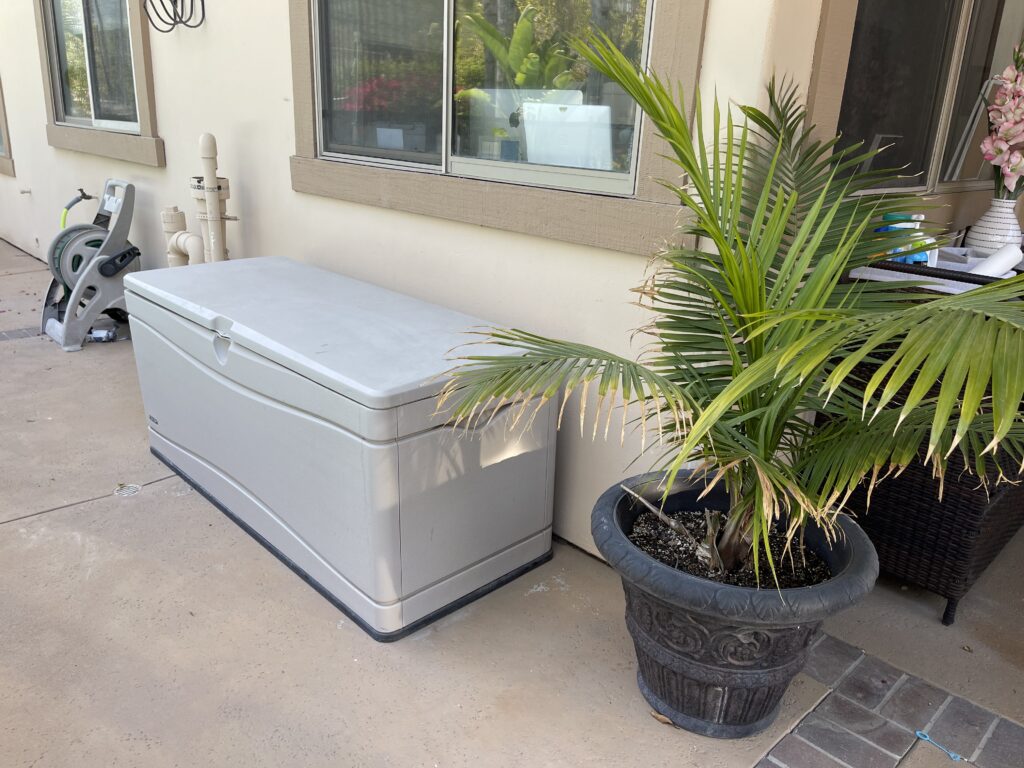 This container holds pool equipment and noodle floats. This area is Jason's domain, it is not touched by me. In case you want to see inside…it's nothing pretty, lol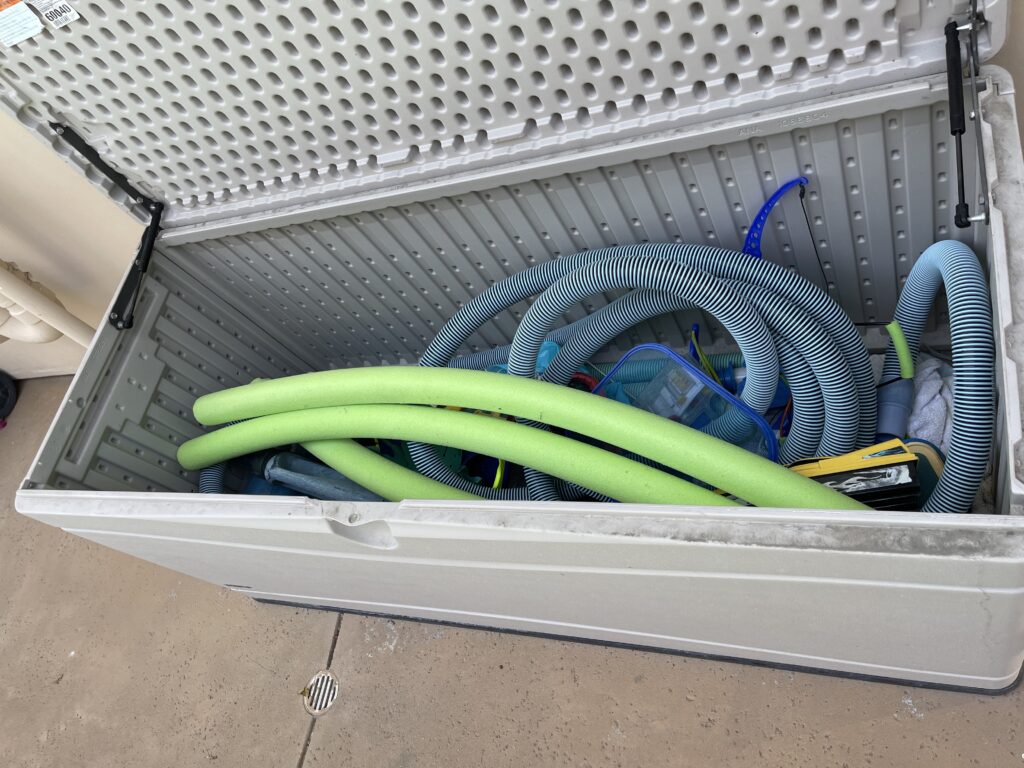 Outside Storage: Pool Floats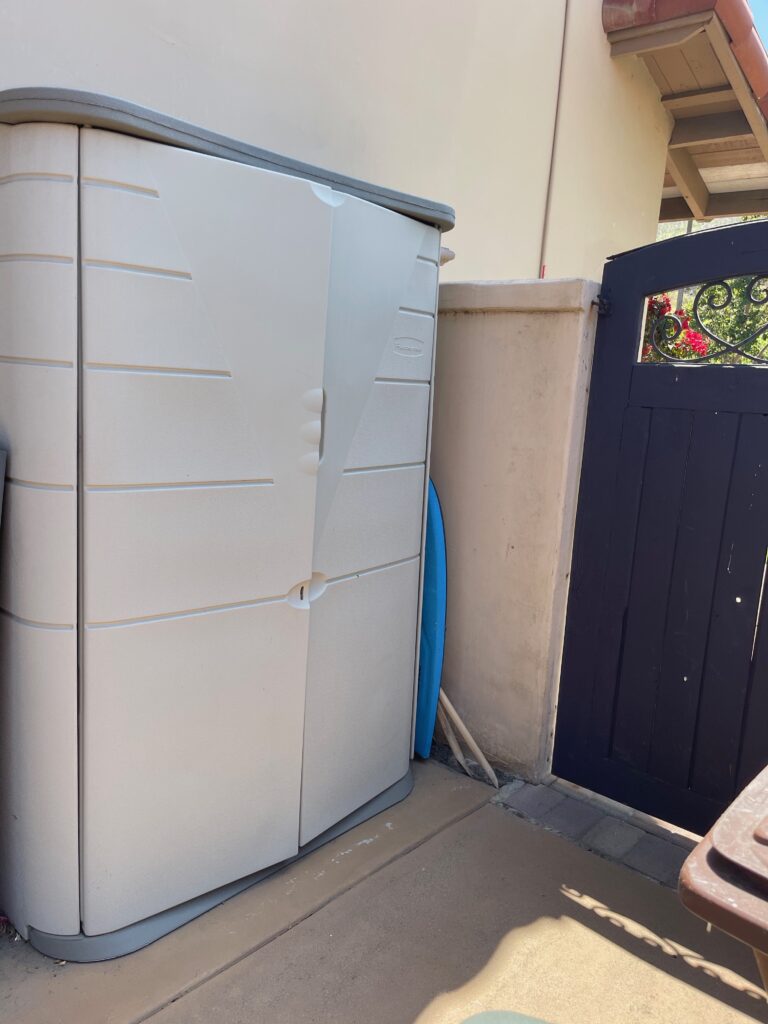 Again, I don't touch this area….so no organization here, HA! We haven't taken all the floats out yet but this is where they are stored in the off season. We also have these circle floats that are solar based and help heat our pool. They are great in that we don't have to heat the pool as much. But they are a lot of work taking them out and then putting them back in after you use the pool. After the safety pool gate is gone, we will revisit alternative options for solar use to heat our pool. For instance, a roller solar cover (I don't know what its called) but with the gate up we don't have room for this to be an option.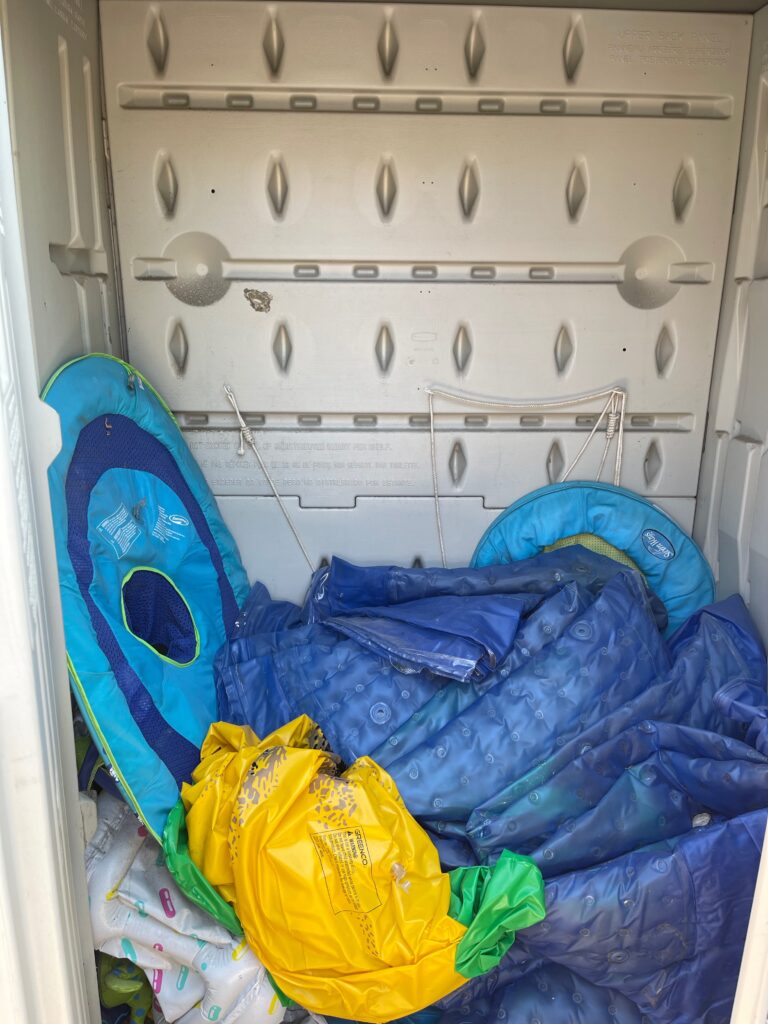 BBQ Area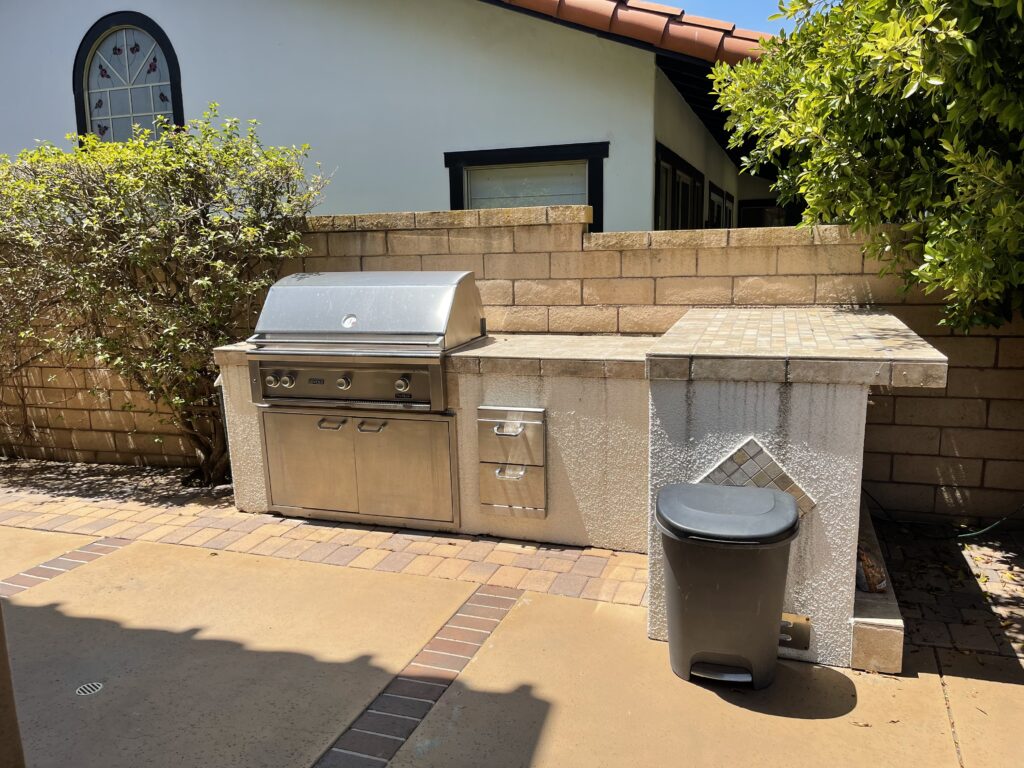 We have a small outside fridge that we use when we have company over, it's on the part you can't see in this picture.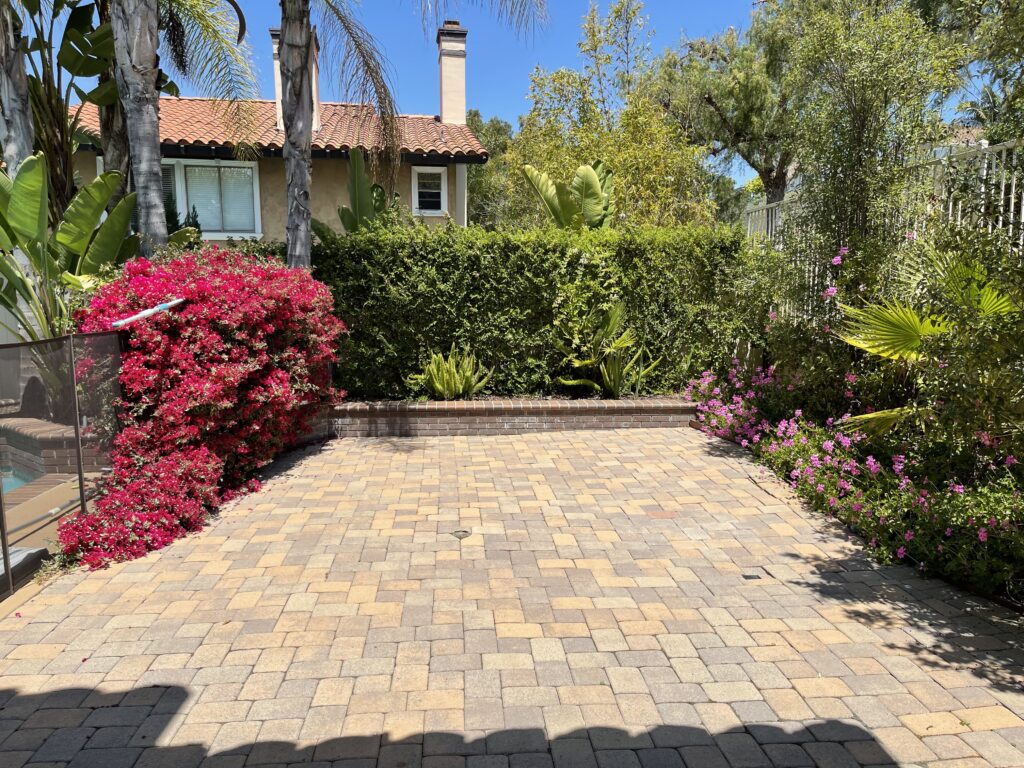 We just got rid of our lawn chairs and hanging umbrella that was in this area because they got messed up from years of being rained on. We haven't replaced them yet.
There's a dying dinosaur in the pool, HAHA like I mentioned, we aren't completely ready for pool season yet.
There you have it our outdoor organization doesn't consist of that many things. Once we are regularly going in the pool, I'll add this red basket and fill it with pool toys and water blasters, etc. As far as balls and outside kid toys those are kept in our garage in an organization holder.
We have big plans for our backyard. But we are a couple years out from redoing it. We may move our pool over to the right so it gets more sun. Then where our dining table is make an outdoor entertainment area with a TV, fire pit, etc. And redo the ground and get rid of the bricks but all of these ideas are a lot of work and money so time to start saving! In the meantime, we are content and love having a pool. We enjoy being in this space for several months out of the year due to the California sunshine.
Next month, I will be taking a look at our Summer Bucket List!
Thanks for reading along today!
XO