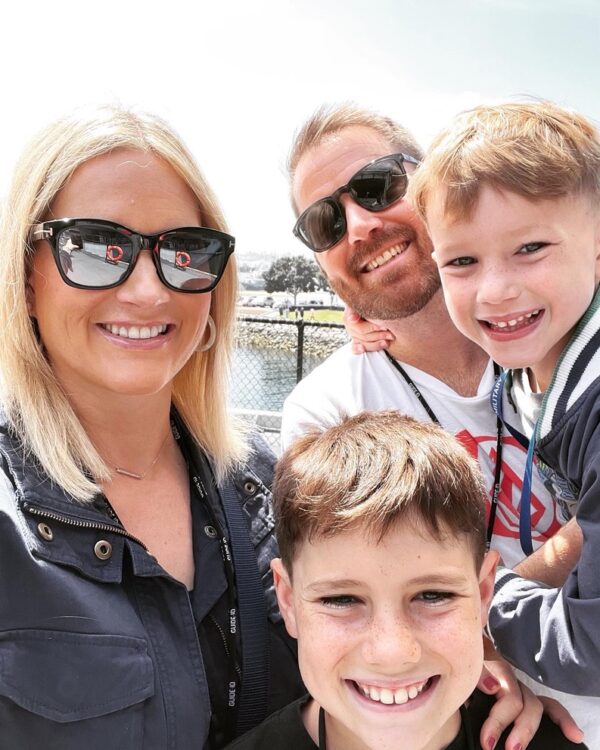 We had a pretty mellow spring break. The majority of it Tyler was sick but he was all better in time for our staycation in San Diego. Early Saturday morning we headed to downtown San Diego and it took us 1 1/2 hours to get there.
We headed straight for the USS Midway Museum!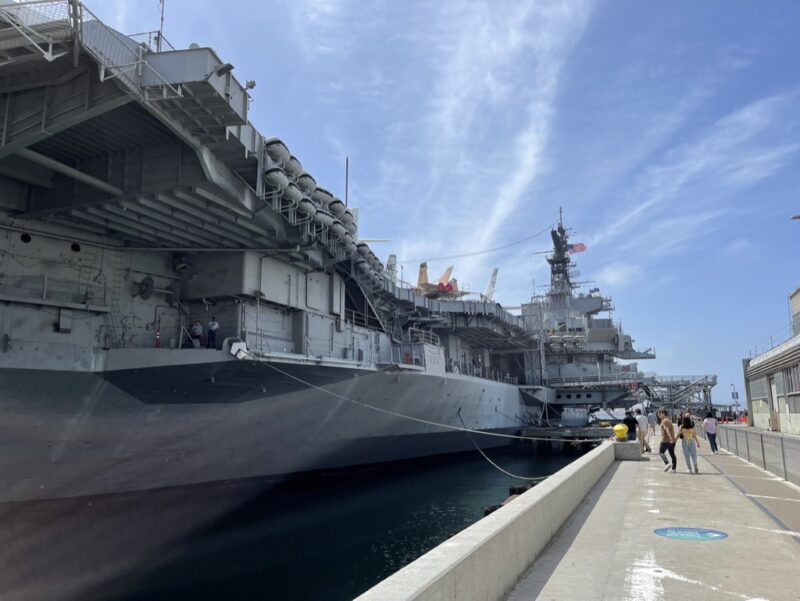 To help save time, we purchased our tickets beforehand and printed them out. I'm glad I printed them because our phones weren't getting good reception at the ship. Adults cost $26, Youth costs $18 and 5 and under were FREE!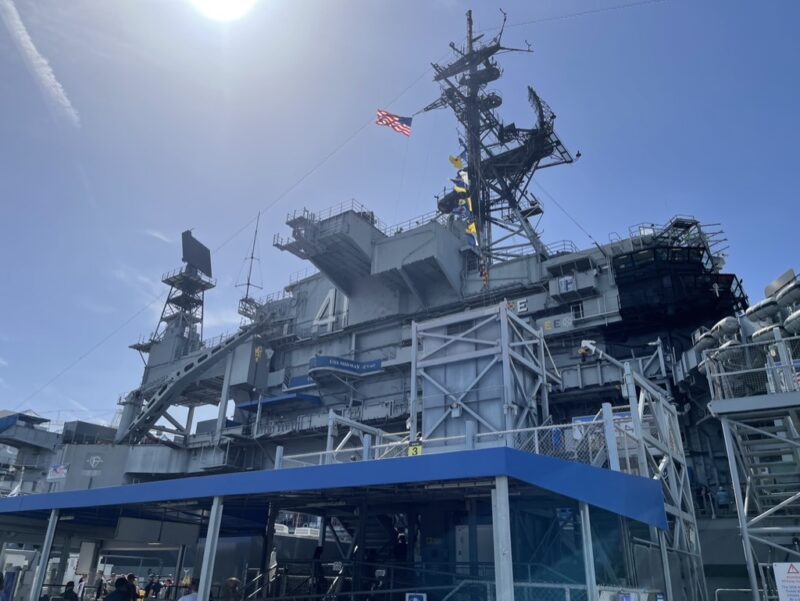 A little back history for you…The Midway was in use from 1945 (one week after the end of World War II) until 1992. It was the longest-serving American aircraft carrier of the 20th century. It now has a home in San Deigo, CA and is open to the public to take a tour.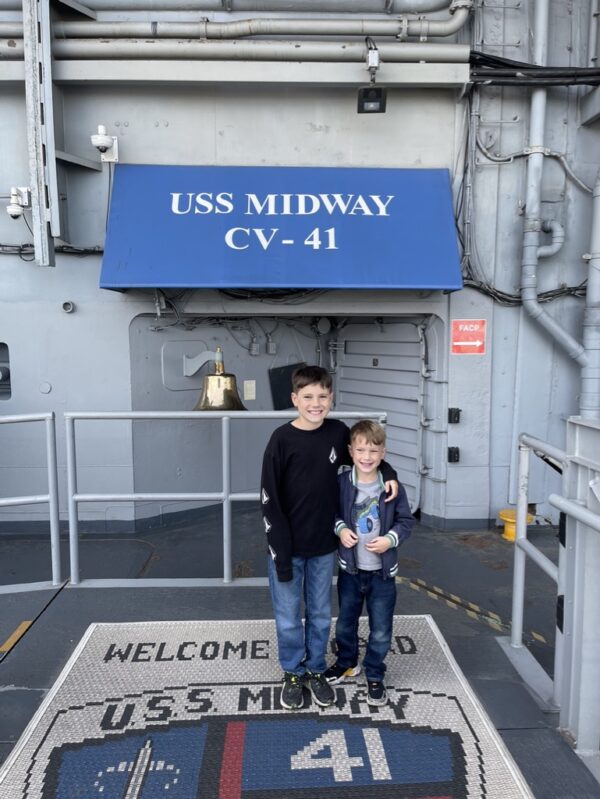 When you arrive you can take a tour at your leisure. You receive an audio recorder that you wear around your neck. Throughout the ship you point it to a stand where it initiates the audio and you'll learn about a specific room, plane, etc.
Max Flight Simulator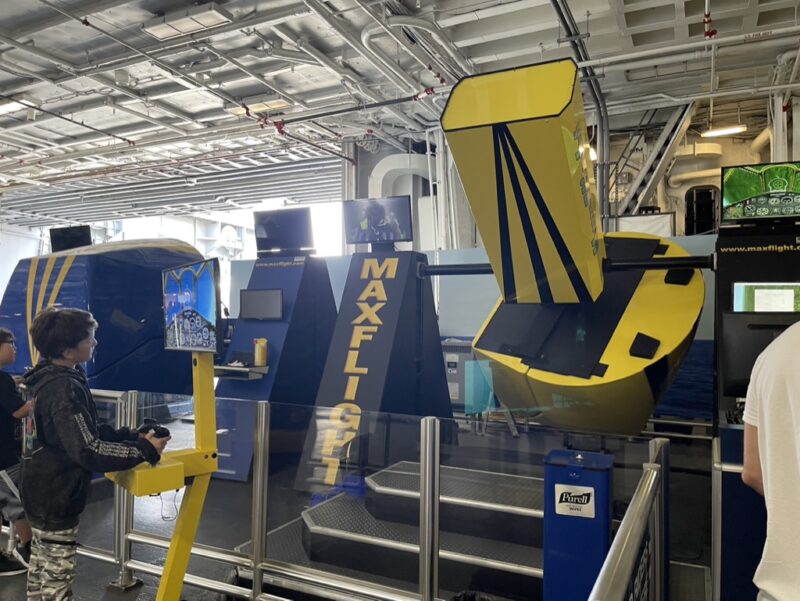 We got to the Midway right around when it opened at 10am. We went to the flight simulator first to avoid future long lines. To go on this it was extra money but well worth it.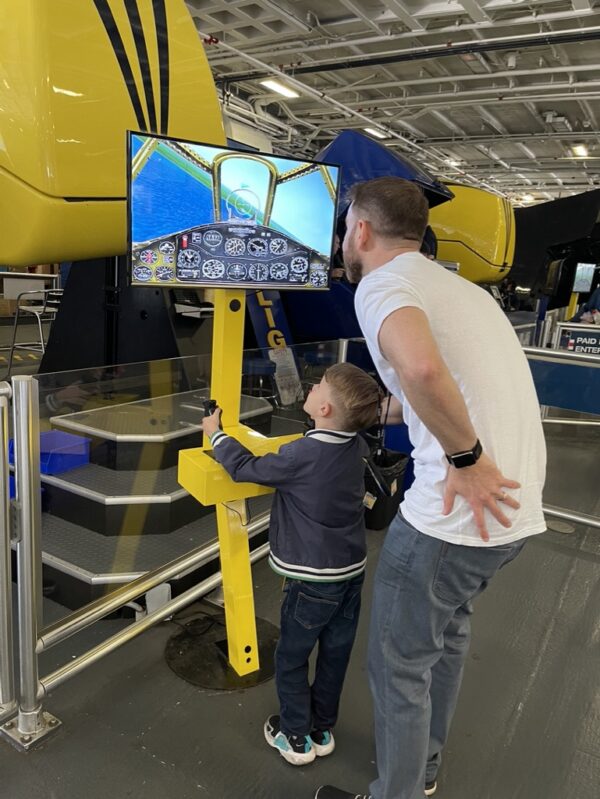 Before going in you can practice using the controls to get a feel for how it works.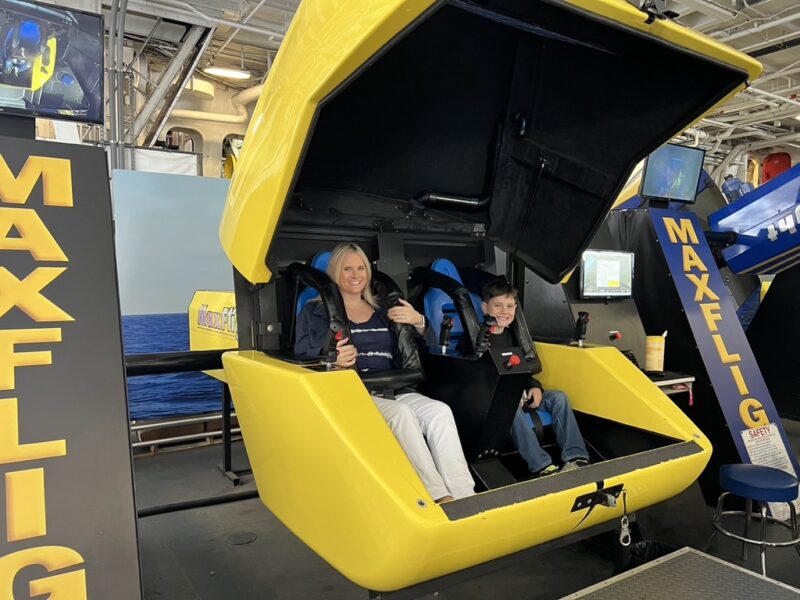 Luke and I went first. One person is the main pilot and the other runs the shooter gun. Within seconds I had Luke and I upside down, so Luke took over the main control and I gotta say he was a better pilot than I was, lol!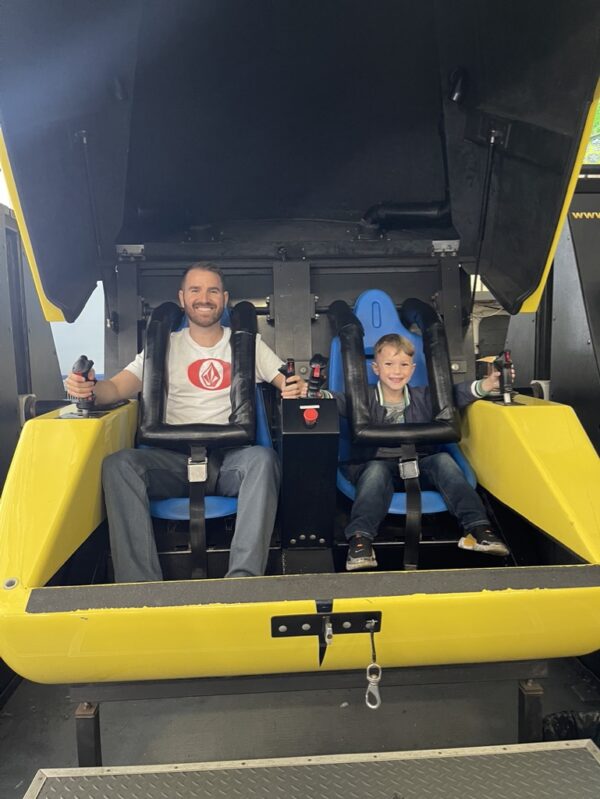 It really does feel like you are in a plane and flying because this contraption moves however you move it. I highly recommend doing it, we all enjoyed it!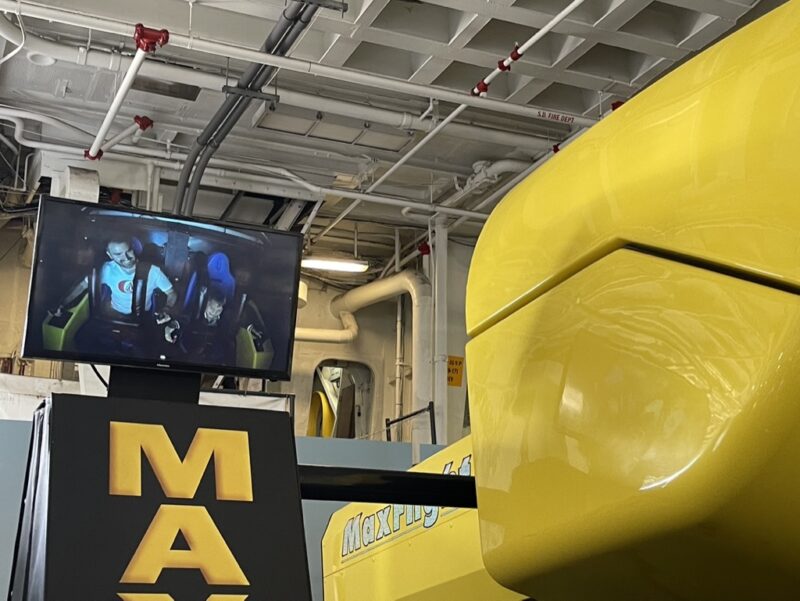 You get to see the people inside on a screen and it was fun to watch their faces.
The Main Deck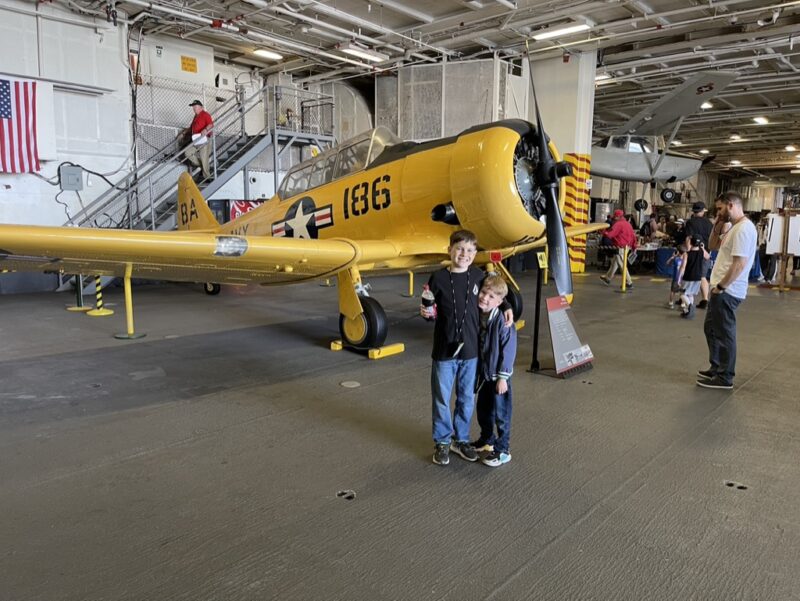 Seeing all the old school planes was super cool and the boys loved it!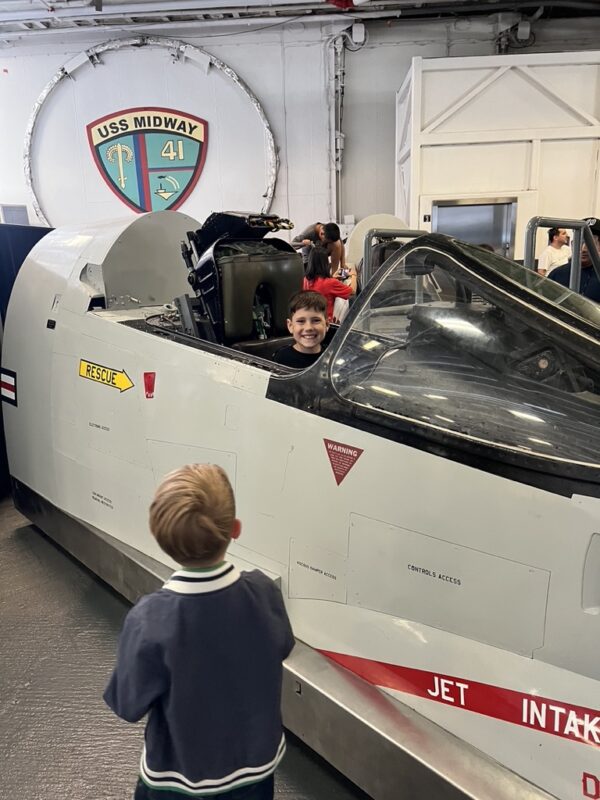 You can sit inside a lot of them and seeing all the controls was interesting. The majority of people that worked there were volunteers of previous men and women that served our county. That made for some interesting conversations. It was amazing to see how they're still giving back with their time and sharing their experiences.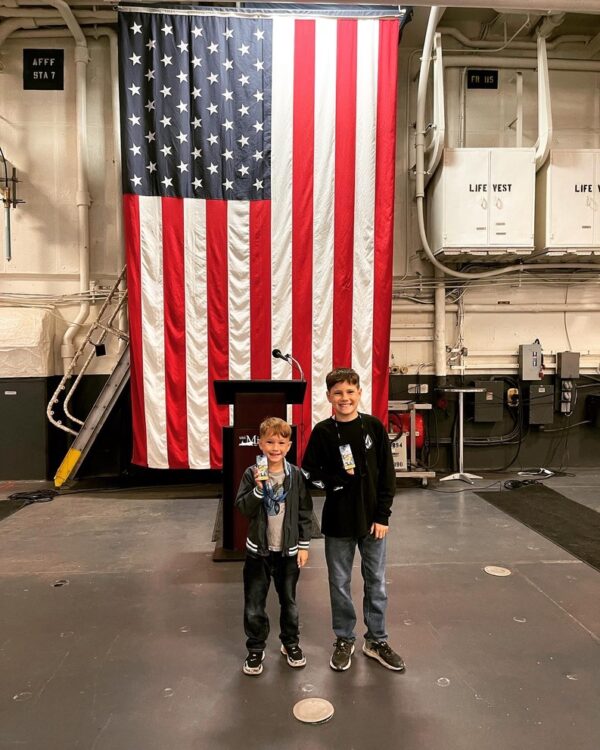 Lower Deck Tour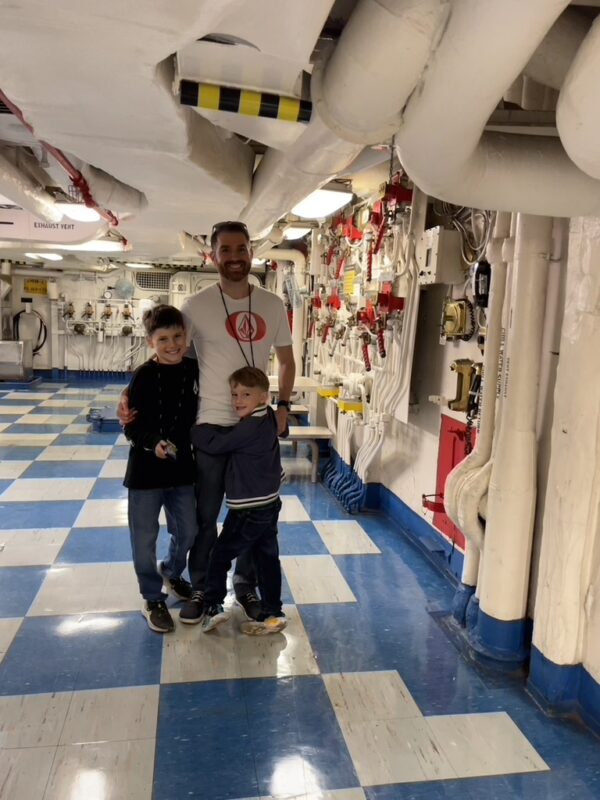 This ship was like a city in itself. I mean it's huge, it was a home for 4,500 men at a time. It had a jail, dentist, medical, mail room, a supply store, cafeteria, large kitchen, meeting rooms, tons of bunks. It was interesting to see how each person would fit their belongings into a tiny area.
I found the kitchen very interesting too. Seeing what tools they would use to prepare meals for 4500 people a day. You can flip through the menu and see recipes with the large amounts needed to cook just one meal.
Top Deck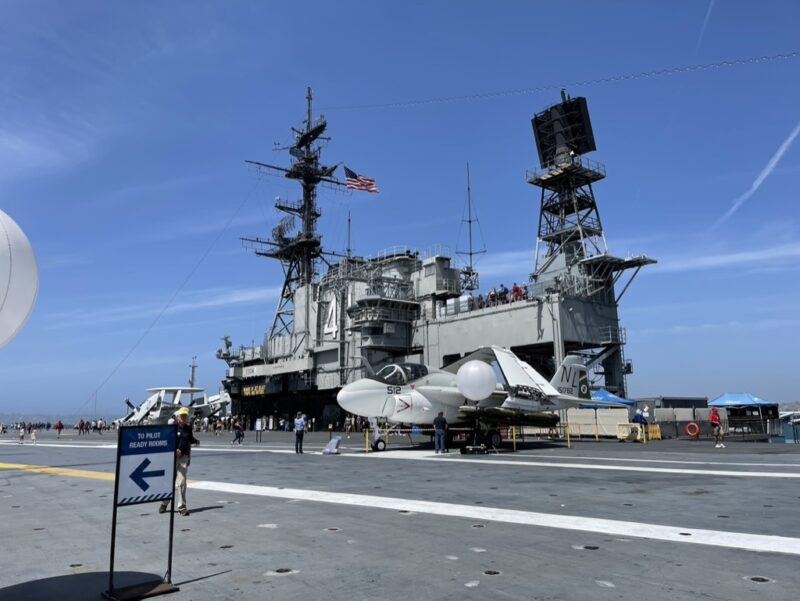 They said working on the top deck is one of the most dangerous jobs because there were lots of ways you can get hurt, fall off and die. Hmm….not where I would want to work, lol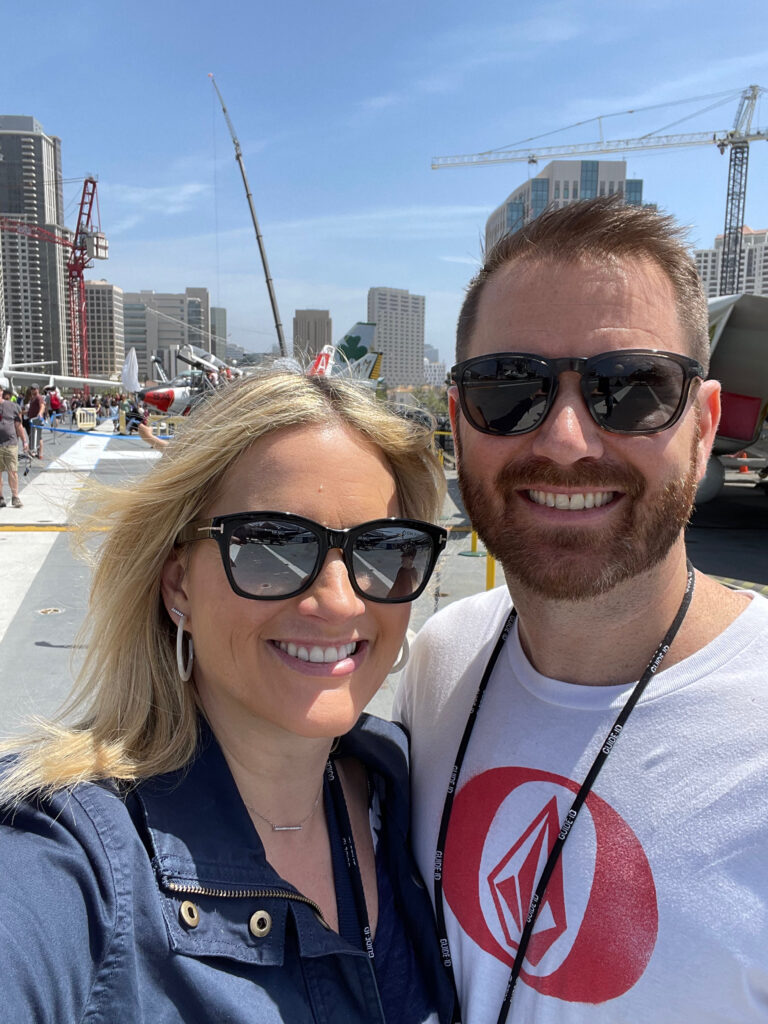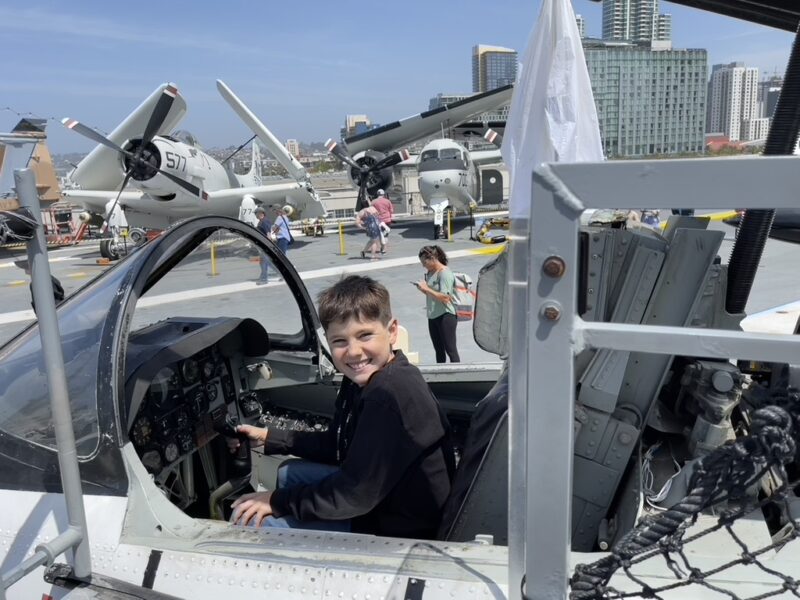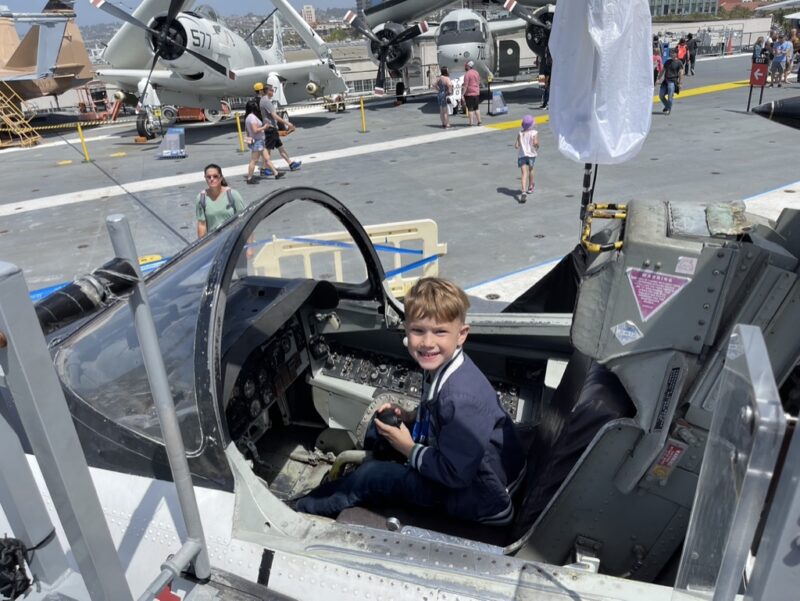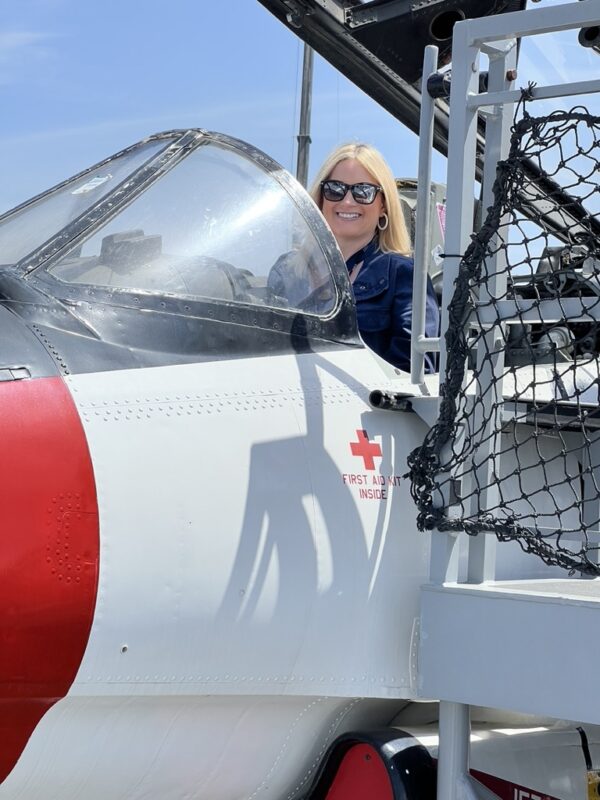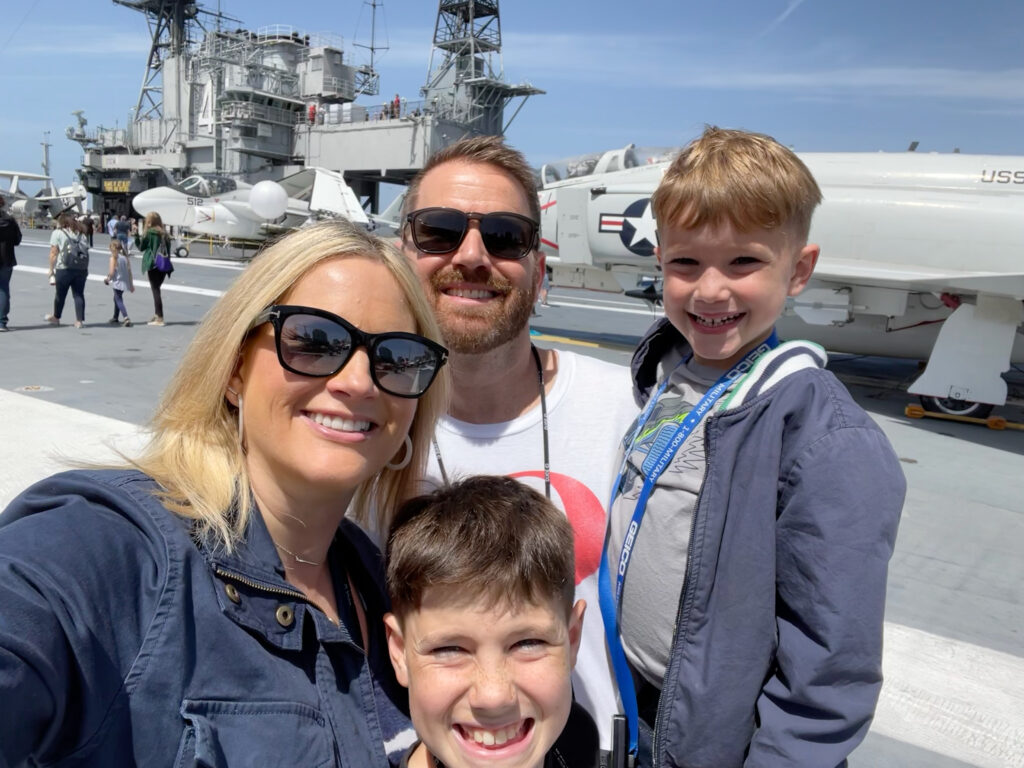 We then headed back down to the theatre. Make sure you check out what times the 20 minute show is playing so you can plan accordingly. I didn't get a picture of it but it was awesome. They used holography to make 3-D images of solders presenting the information to you. The show was on the Battle of Midway, it has real-life clips of WWII and on Japan's attack on Pearl Harbor. It was all very interesting and informative.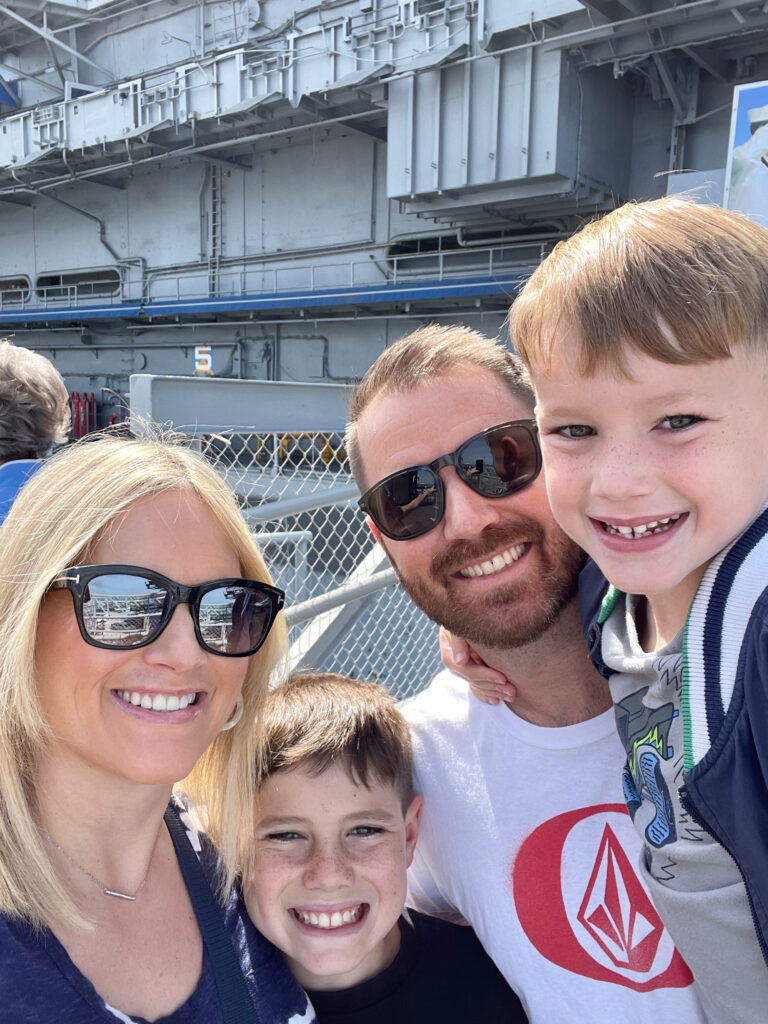 The Midway has a little place where you can get some food and drinks and then eat out on the deck. We got the boys a little snack and discussed all that we saw and learned. Several times Luke said, 'thank you so much for bring me here!". It was a fun and educational experience that I definitely recommend visiting when your in San Diego.
Food Truck Lunch & Live Music
After visiting the Midway, we took a short walk along the harbor where we found 20 food trucks all parked together. We each decided on what we felt like eating and popped down on the grass and enjoyed lunch while listening to some live music.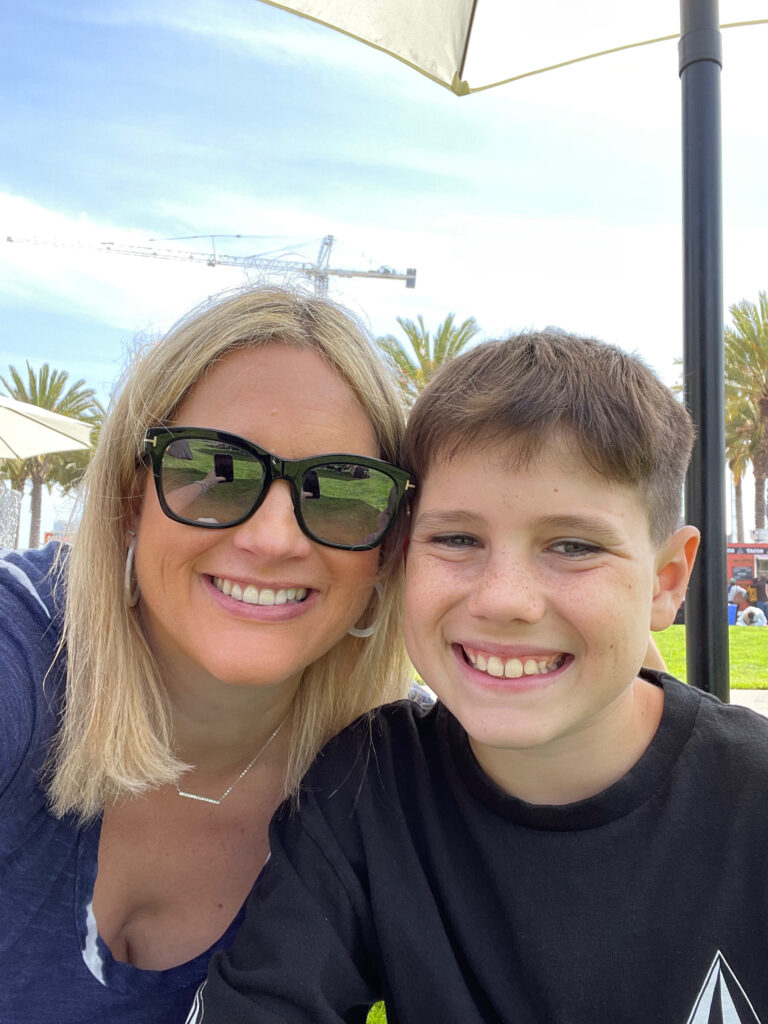 The Hilton San Diego Bayfront Hotel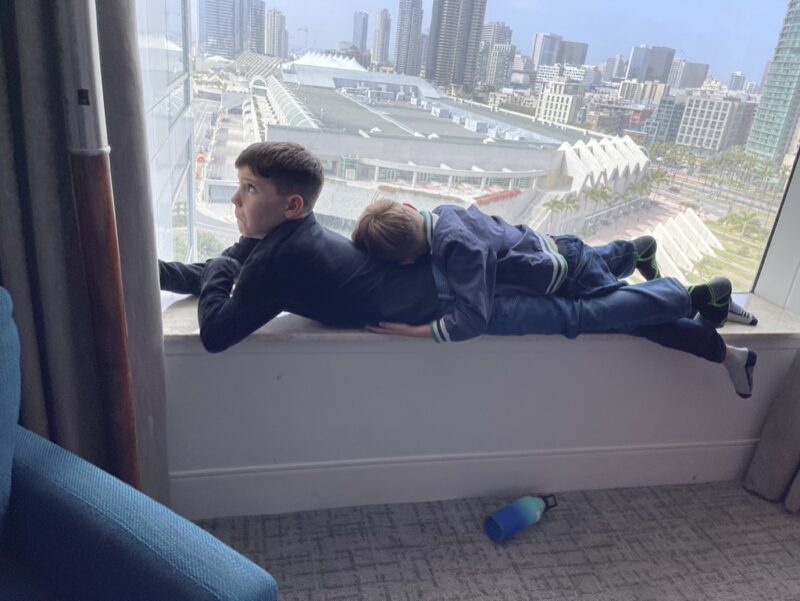 We stayed at the Bayfront Hilton hotel. It was right on the water and walking distance to the Gaslamp District. The boys are checking out our cool view of the city.
Hotel Pool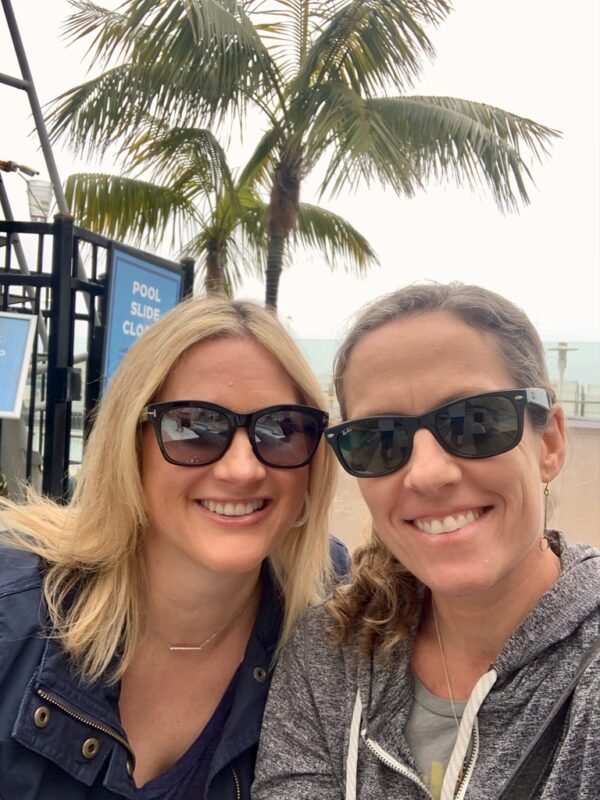 We met up with our friends the McCurdy family whom live in San Diego. Kelly and I went to college together at University of Arizona and were in the same sorority together, Pi Beta Phi and have been best friends ever since!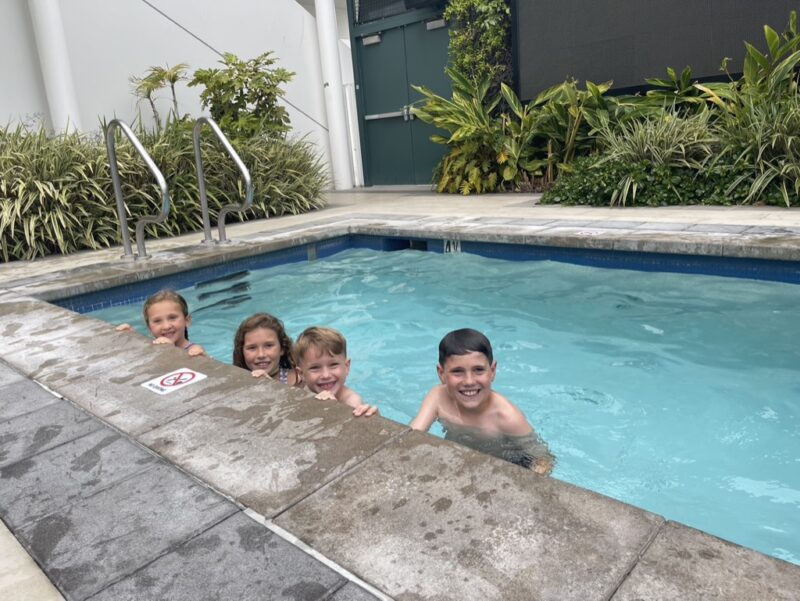 Our kids chose the kiddie pool to have fun in. Kelly and Joe have two adorable girls, Zoe & Sadie.
Gaslamp District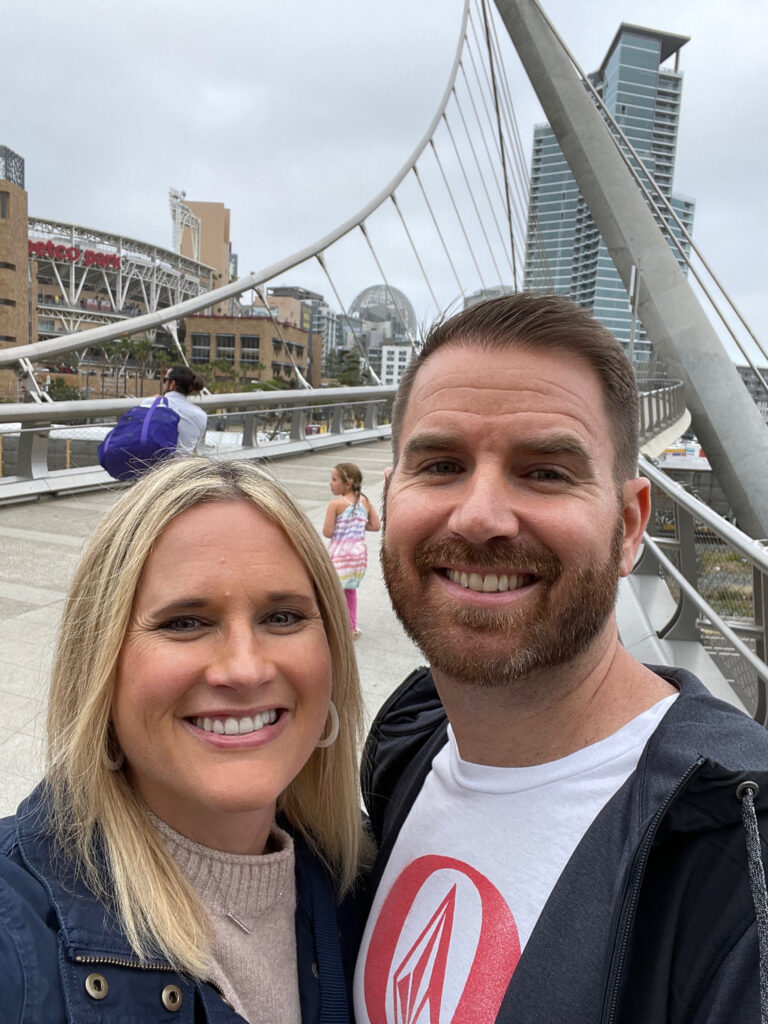 After the pool we all got changed and ready for dinner and walked from the hotel to the restaurant, Union Kitchen. The food was just ok but they have a good selection of craft beers and a good kids menu.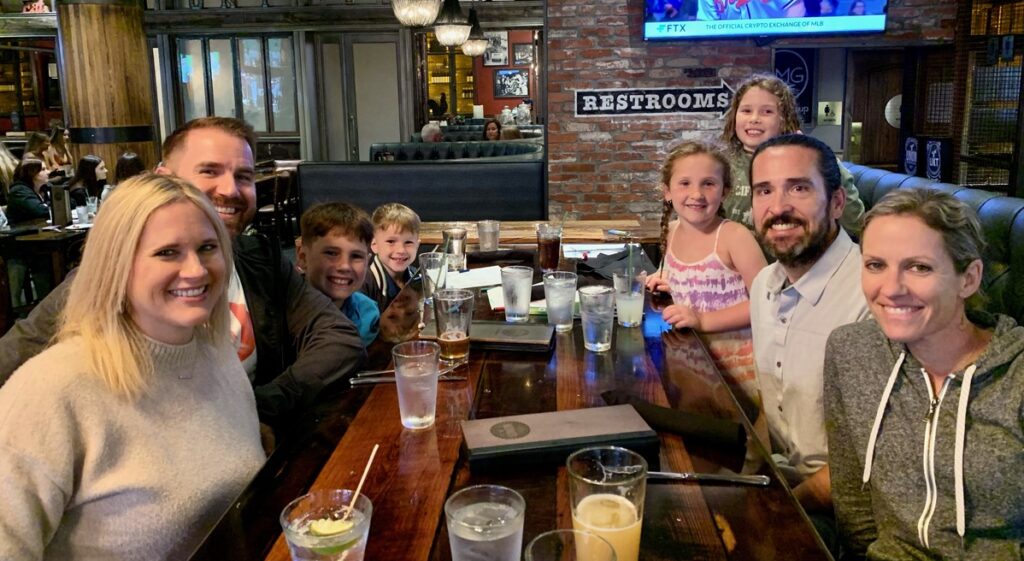 After dinner we went to the cutest ice cream shop called, Crunchtime Popcorn and Ice Cream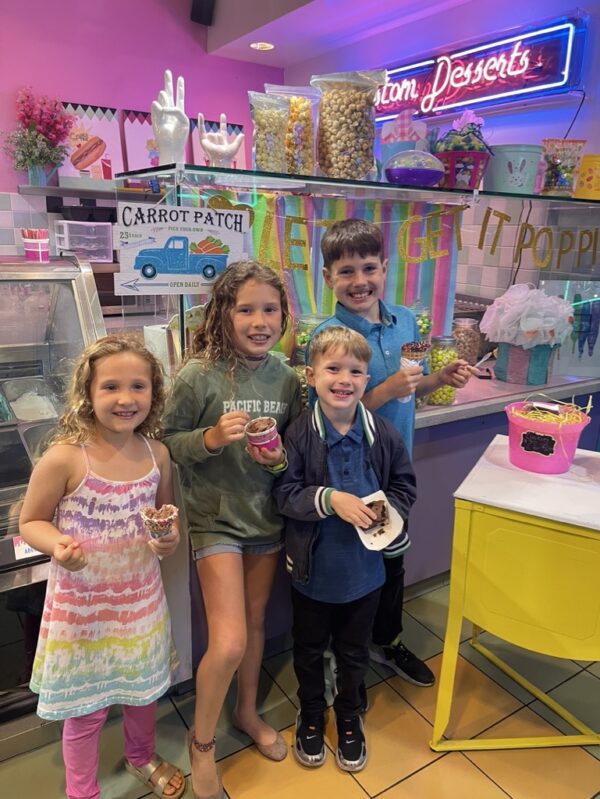 Can you tell Luke is living his best life and is in sugar heaven, lol! He had ice cream all over his face.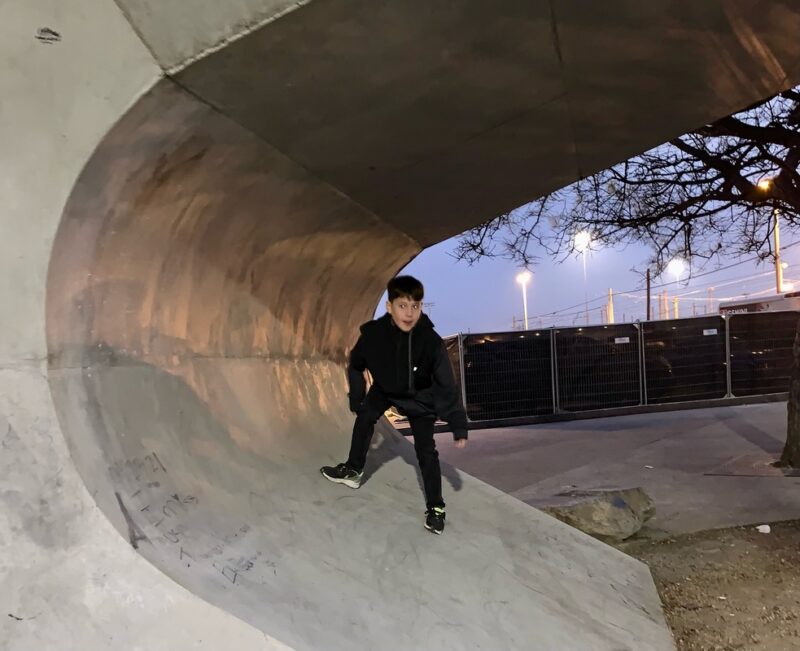 We walked back to the hotel and said our good byes to our sweet friends. It's never enough time when hanging out with your bestie, wish I could see her more often during this busy season of life.
Morning Breakfast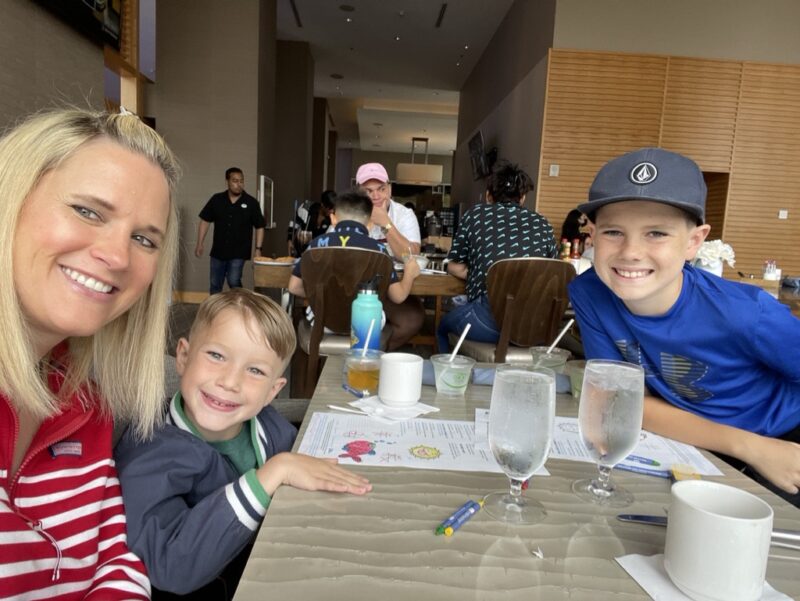 We enjoyed breakfast at the hotel before heading back home. It was a quick little trip but a lot of fun was packed into that one day!
Thanks for reading along today!