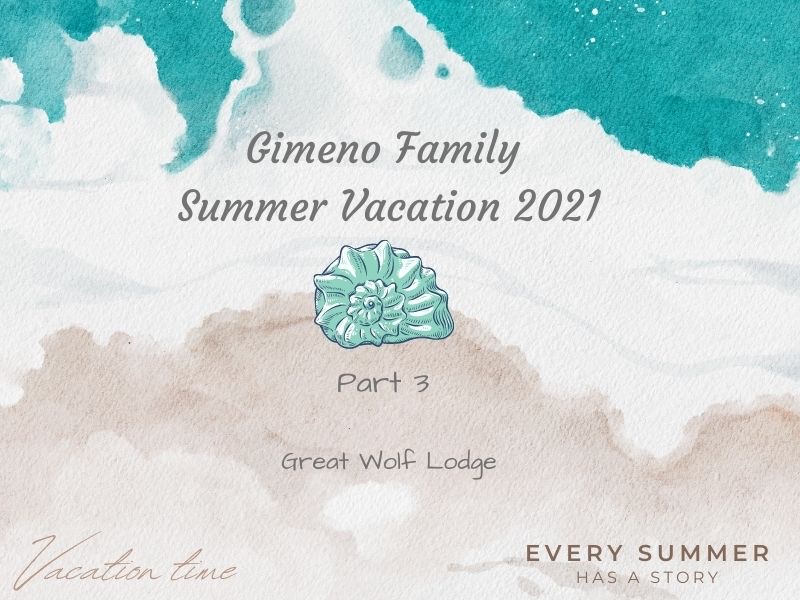 In case you missed it here is Part 1 of our vacay to Pismo Beach & San Luis Obispo & Part 2 of our vacay to Santa Barbara, CA
We grabbed brunch in Santa Barbara on our way out and headed to Garden Grove, CA to stay at the Great Wolf Lodge.
Our plan was to arrive as close to 1pm as we could because that was when we could enter the waterpark. To our surprise when we checked in at 1:30pm our room was ready.
Day 5
Great Wolf Lodge Bedroom
Tyler doing a happy dance….he couldn't wait to head downstairs to let the FUN times begin. We reserved the basic 2 queen bedroom, you can upgrade and get a decorated room with bears etc. but we weren't planning on being in this room a lot so we opted out.
Indoor Water Park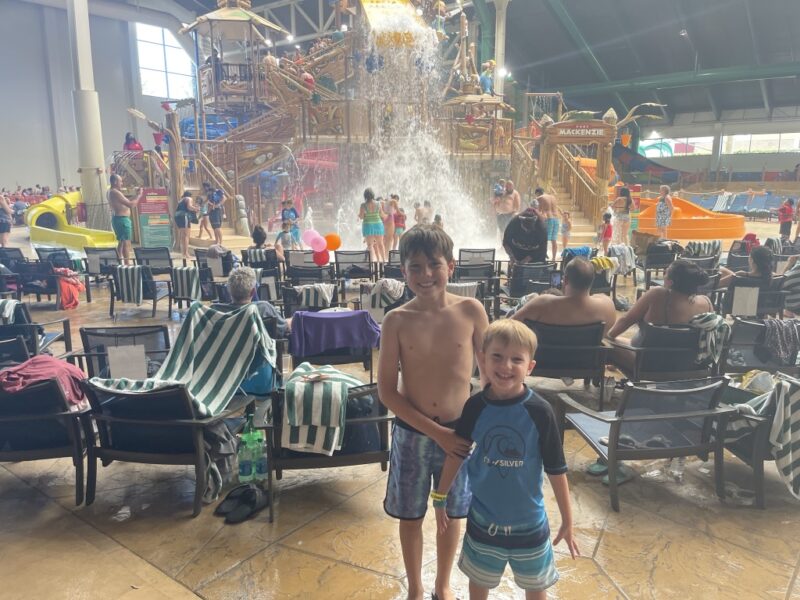 When you check-in you can start using the facility at 1pm and on the check-out day you can use the facility until it closes. We got down to the indoor water park around 2:30pm and stayed until dinnertime. We actually ate dinner in their restaurant with wet bathing suits on and cover ups because we were starving after all of our water fun.
I didn't get too many pictures at the waterpark because I forgot my waterproof cell phone holder and I didn't want to carry around my phone. When you visit a place like this, I highly recommend bring one so you can get cool water pictures.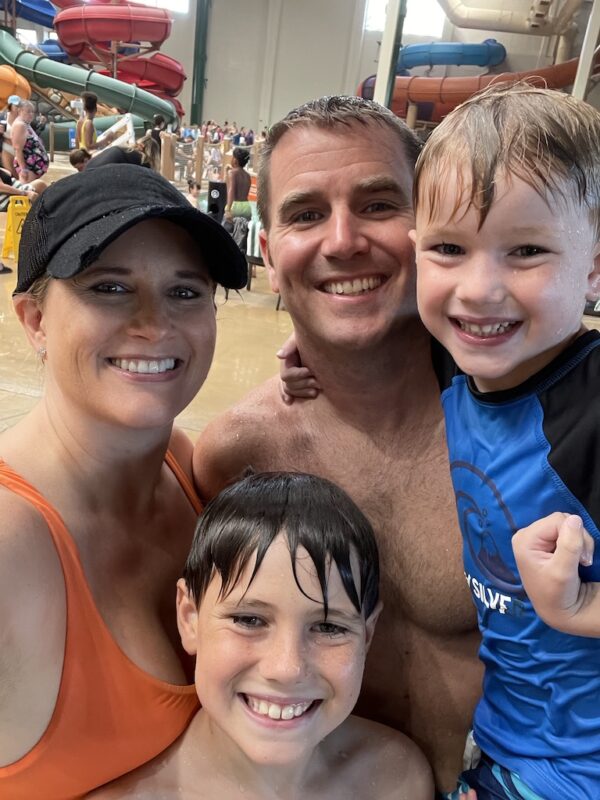 Details of the water park & my opinions
This water park is legit, it's so much fun for the entire family. Tyler was tall enough to go on everything but 2 rides. They had lots of family rides where we could all go together. Then lots of double person rides and of course solo rides. They had fun water slides where you would go on a mat down the slide…super fun.
My strategy with my hat…. I basically was the only person wearing a hat, yup! But I had a reason, I didn't want to fuss with my hair and look like a drained rat after each water slide. I gotta say it worked great, I tucked my pony tail up into my hat, my hat stayed on the entire time and zero time spent dealing with my wet hair. I also wore a one piece bathing suit, I learned my lesson in Palm Springs over spring break when I went down the water slide and lost my top, no more of that happening!
They water area, has a restaurant inside it so you can order food and drinks (including alcohol). They had a wave pool and for safety they have life jackets for toddlers to wear, an obstacle water course, lazy river, splash pad and kiddy water slides. They had something like 6-8 big water slides. Then in the picture above with Luke and Tyler in it there was Fort Mackenzie, a mulit-level water fun area. Buckets of water spill on you, it has 4 water slides that smaller kids can do and one ginormous bucket of water that spills out over the entire play area. Tyler was OBSESSED with being right in the perfect spot when it would pour water out.
You can check out towels while there and they have tons of beach sitting chairs to relax in. They do have an outside pool area for kiddies to play in. They have cabana's that families can rent out. The inside water park is set to the perfect temperature, warm enough so when you are wet and out of the water you don't get cold without having a towel. This was greatly appreciated because it doesn't take much to have Tyler get cold and be uncomfortable. My only complaint is the indoor water area didn't have any music playing, thats just my opinion, I enjoy a little background music ambience.
Pup Pass
There are a few options of passes that you can purchase for your kids during your stay, we went with the Pup pass. It included:
One experience to build-a-bear (clothes purchased separately)
12oz cup to fill with candy from the candy shop
One scoop of ice cream from the Paw Ice Cream Shop
$10 to spend at the arcade
1 Bear tattoo
The kids would wear the pass and get items crossed off after you complete them.
Arcade
After dinner, we headed upstairs to change quickly before returning back down to play at the arcade.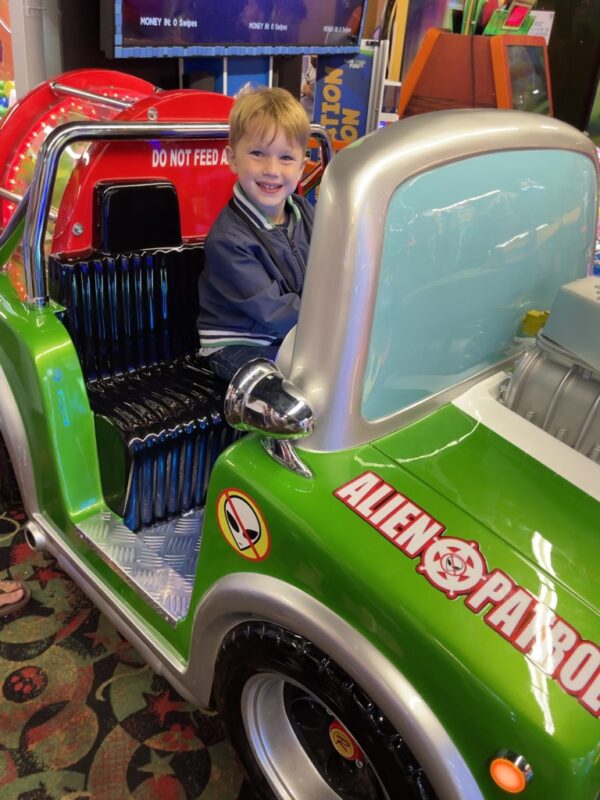 Ohh we spent a lot more than the $10 credit at the arcade. They give you so many tickets after you play a game that it highly motivates the kids to want to play more games, well done Great Wolf Lodge!!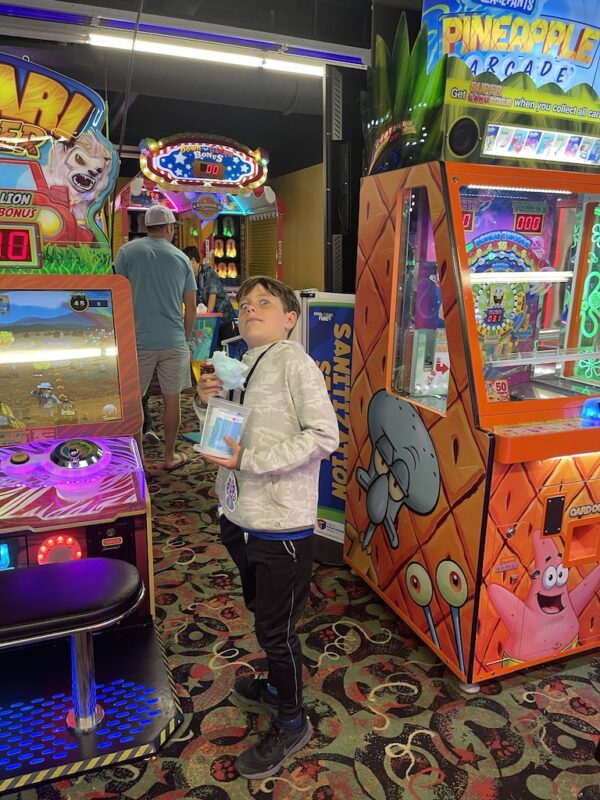 Our sugar fiend enjoyed a bucket of cotton candy!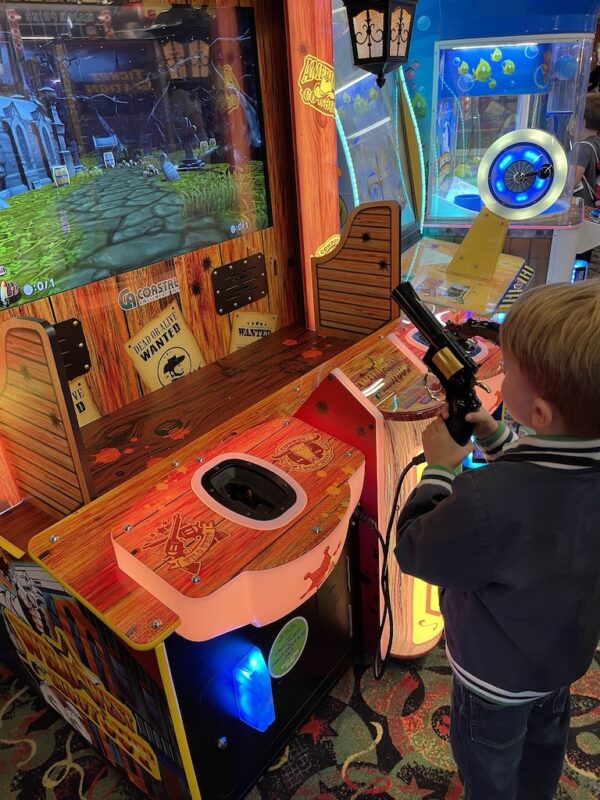 After we finished with the arcade it was 9:30pm so we called it a night.
Day 6
The next morning we had breakfast at the restaurant there, we prepaid for the buffet. Then we decided to do the rest of the activities and check off all items on the paw pass.
Build-A-Bear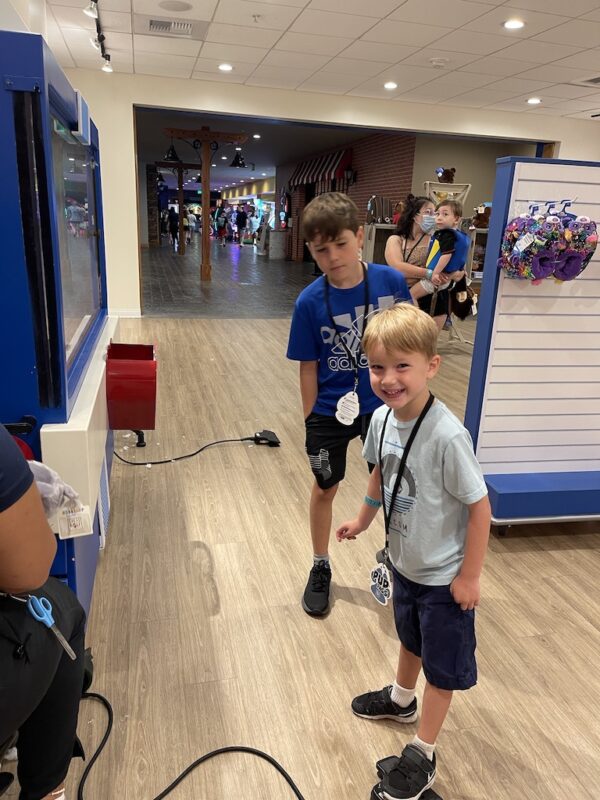 They got to choose which bear they wanted, give their bear a heart and watch as they got their animal stuffed.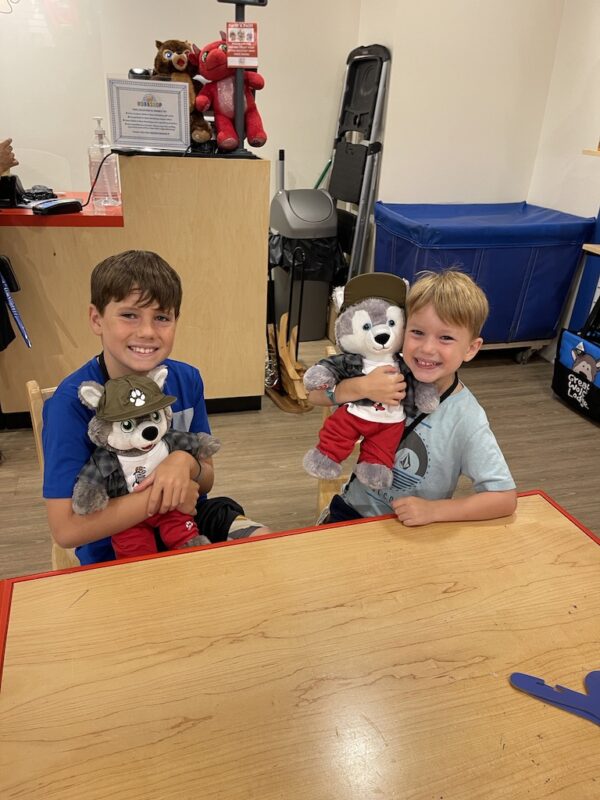 They picked out their outfits!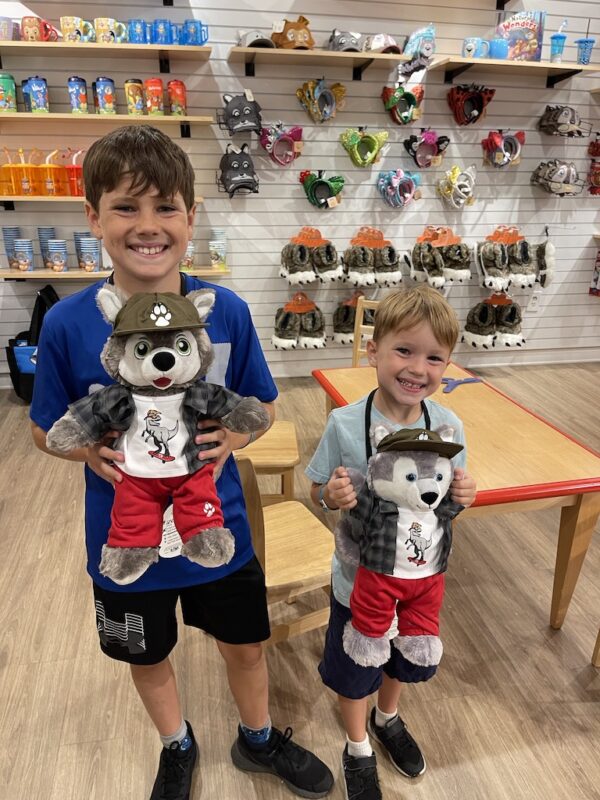 They named their bears, Pax and Wolfie!
Family Bowling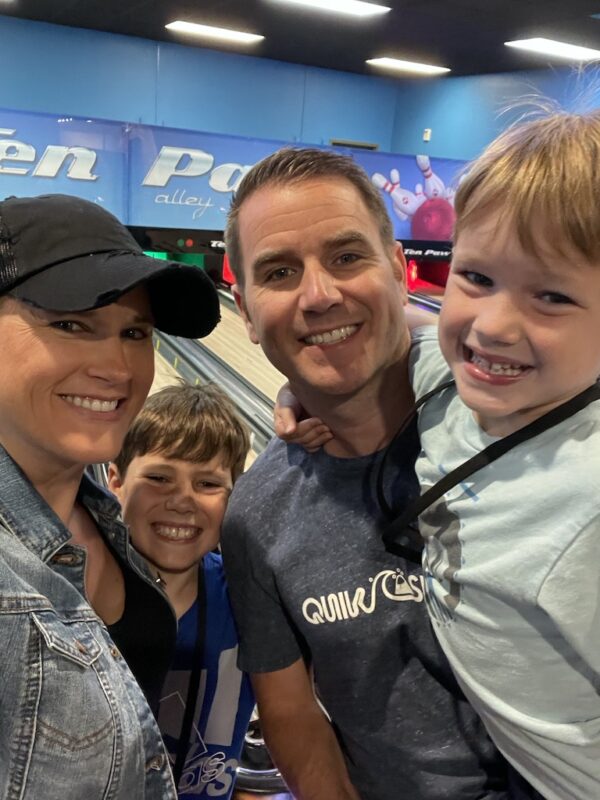 It was miniature bowling, so the balls were all small no need to put your fingers in bowling ball holes or find a lighter ball. The alley wasn't as long either so it was a lot easier for kids to play.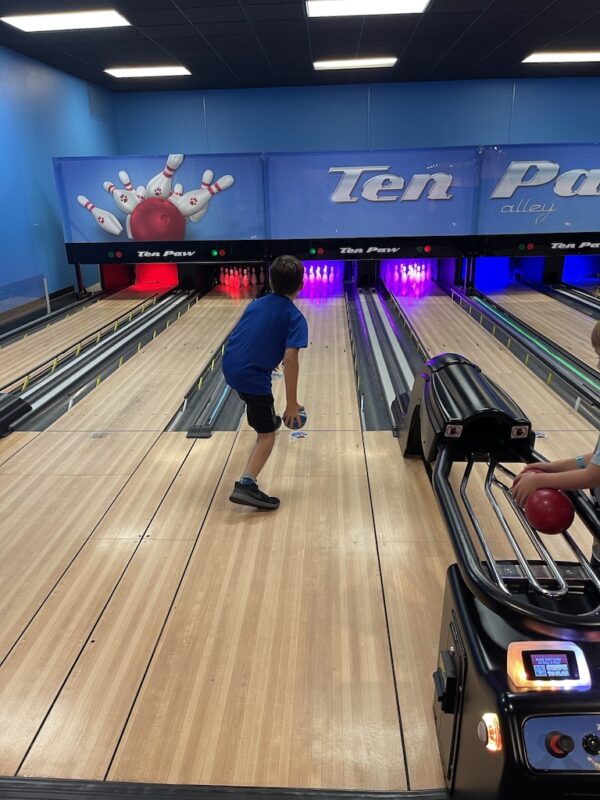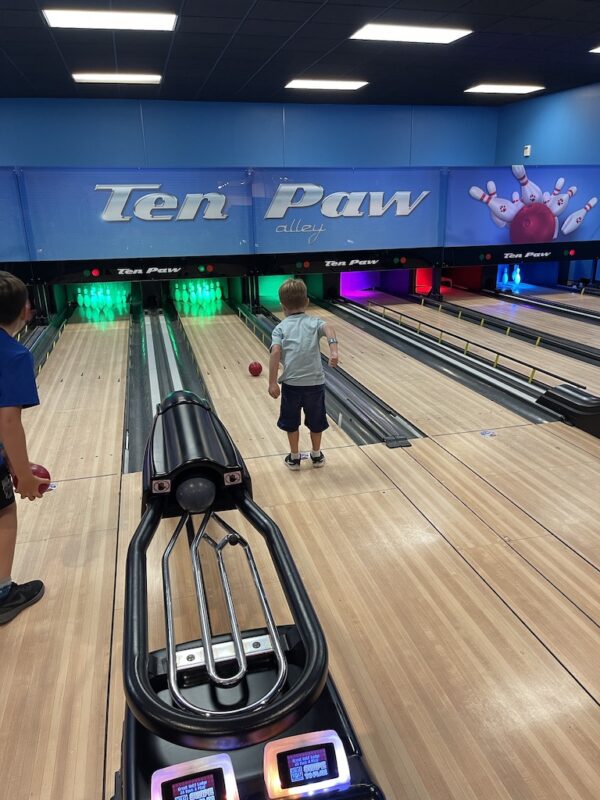 Back to the Arcade and to raid our wallets for more money!!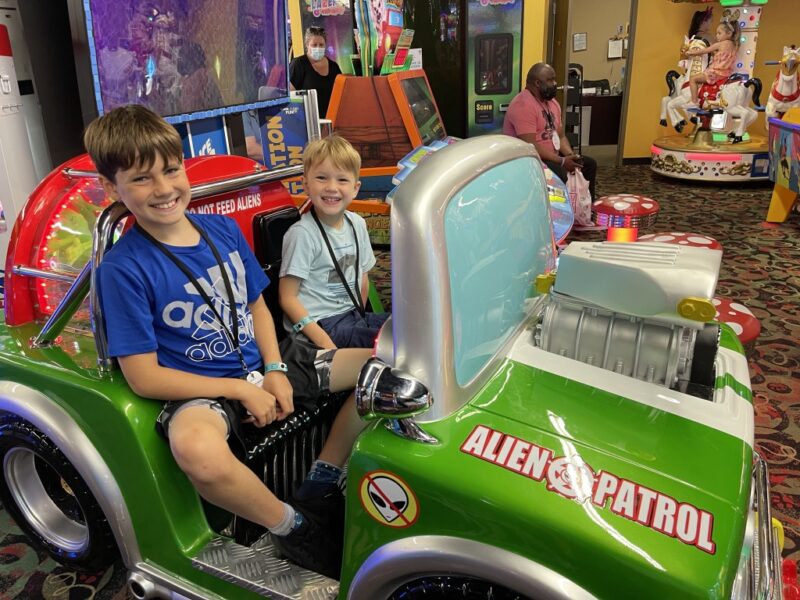 Received their bear ears! Tyler is a lover of donuts so of course we had to make a pit stop at Dunkin Donuts which was conveniently located inside the hotel.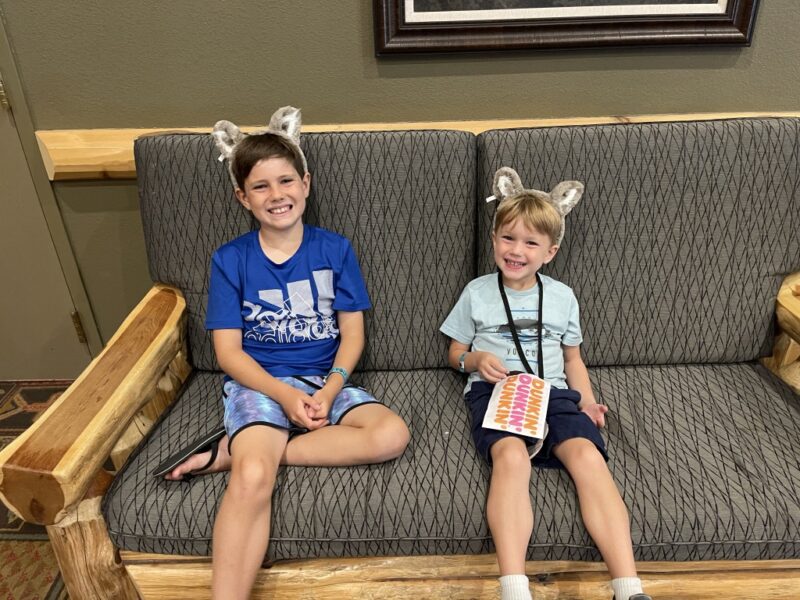 Inside Water Park
We went back to the water park until 6pm and I think it closes at 7pm.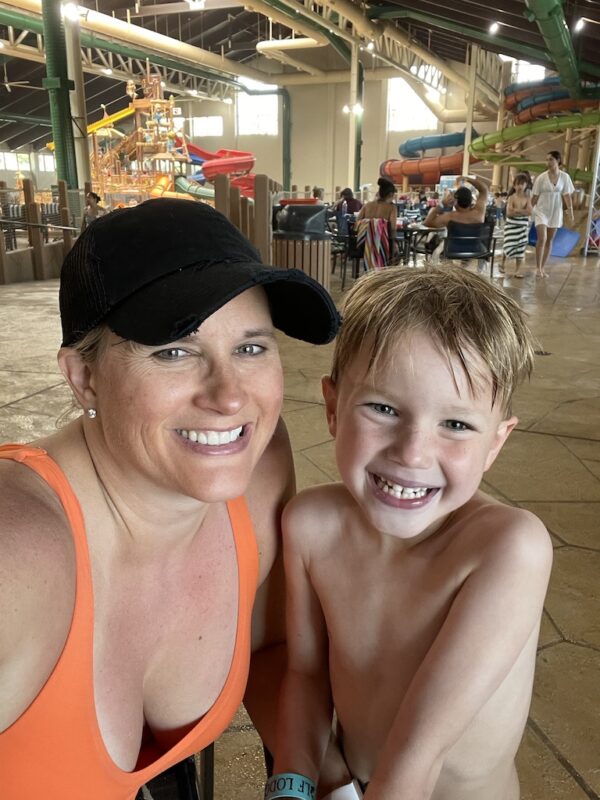 We are ready for a FUN day full of waterslides!!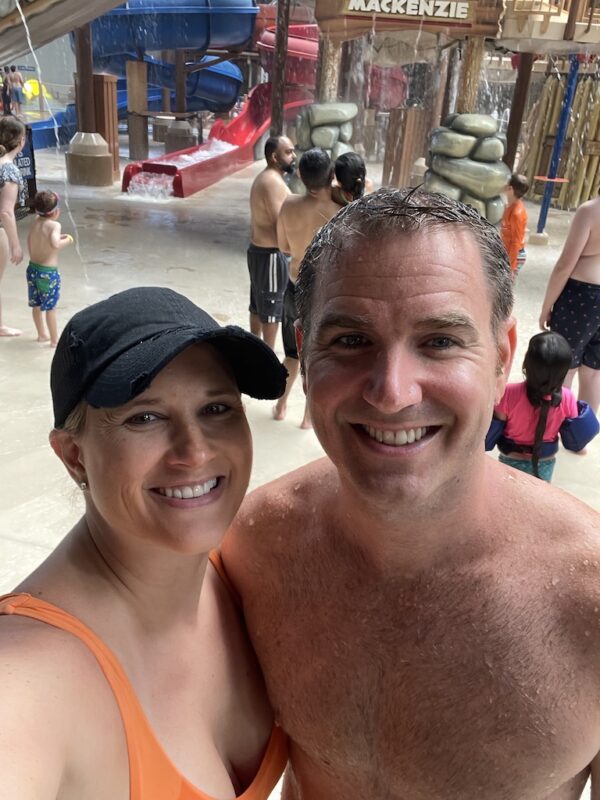 Look at my hat keeping my wet hair looking all pretty, lol. We ate lunch inside the water park. We had burgers and turkey sandwiches.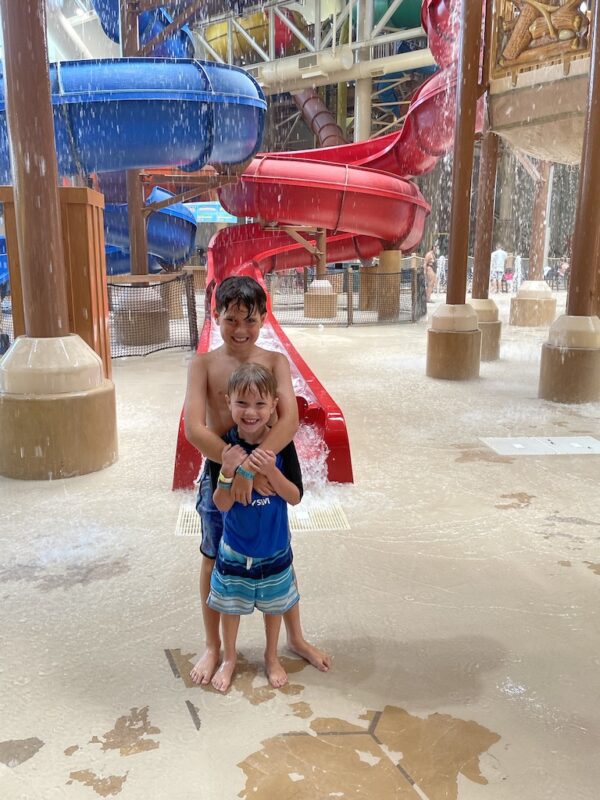 Having a blast!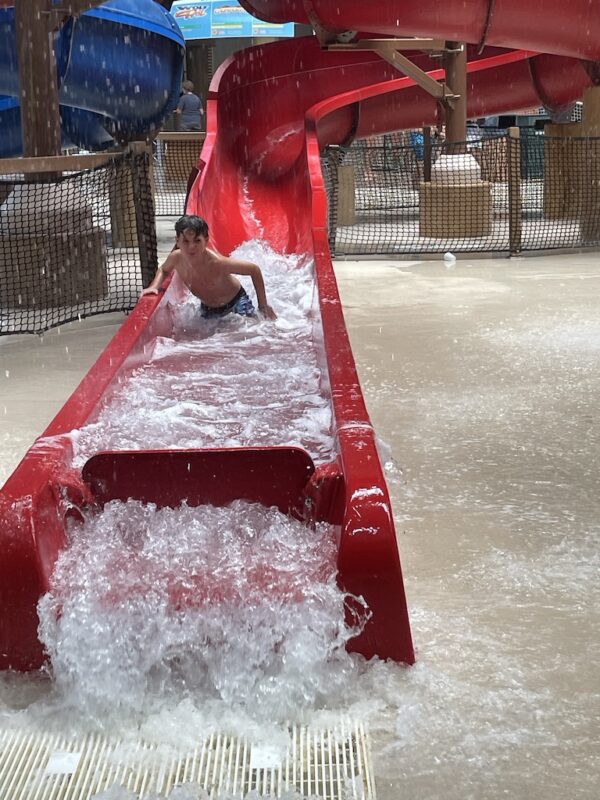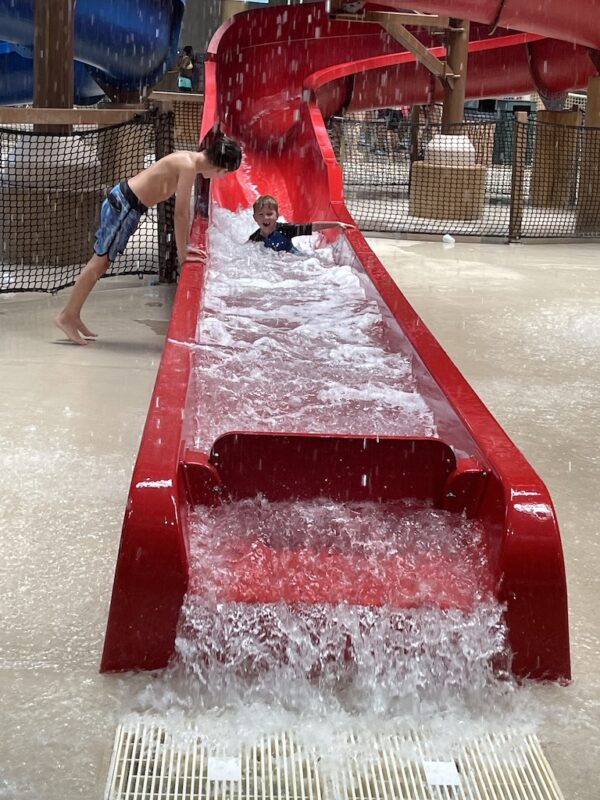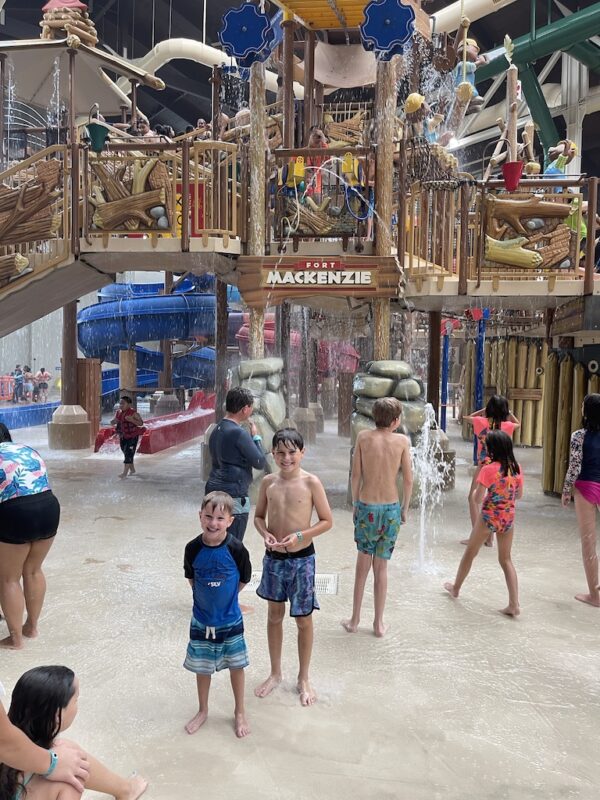 Waiting for that big bucket of water to spill out all over them!
Ice Cream
Before heading out they got their scoop of ice cream and cashed in all the arcade game tickets. They picked out the hats they are wearing AND…..
This funky headband of craziness, lol (back at home)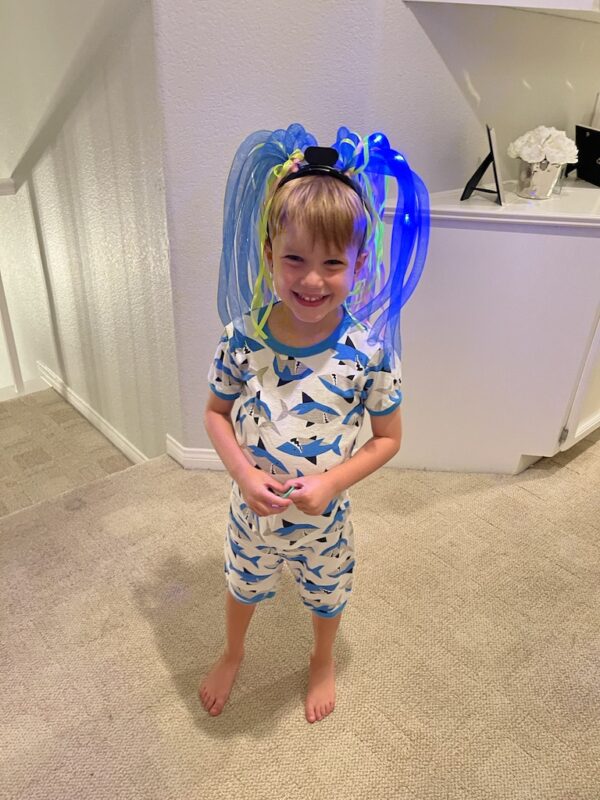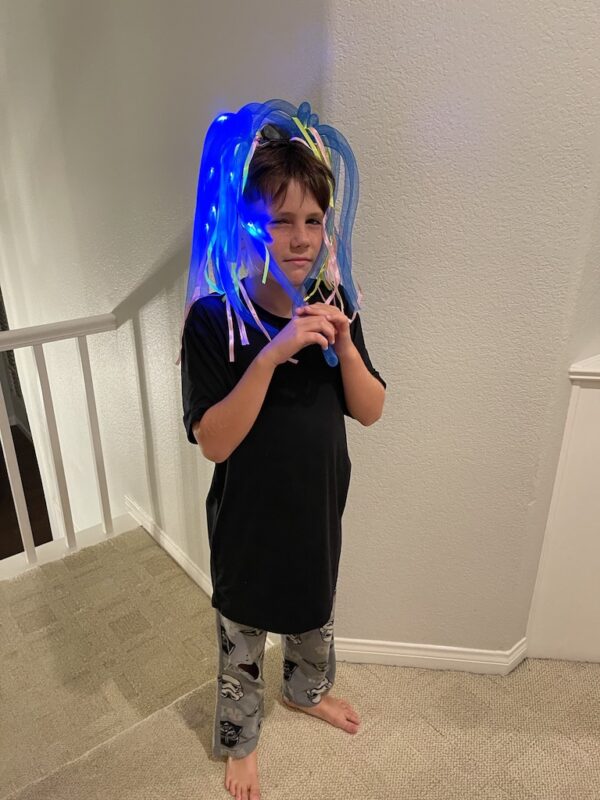 That's a wrap on the Gimeno Family vacation up Central Coast, CA and to the Great Wolf Lodge! Thank you for reading along today and I hope this post helps you if you plan on going to this amazing inside waterpark. It was a memorable trip and I will never get tired of having fun with my people.
XO