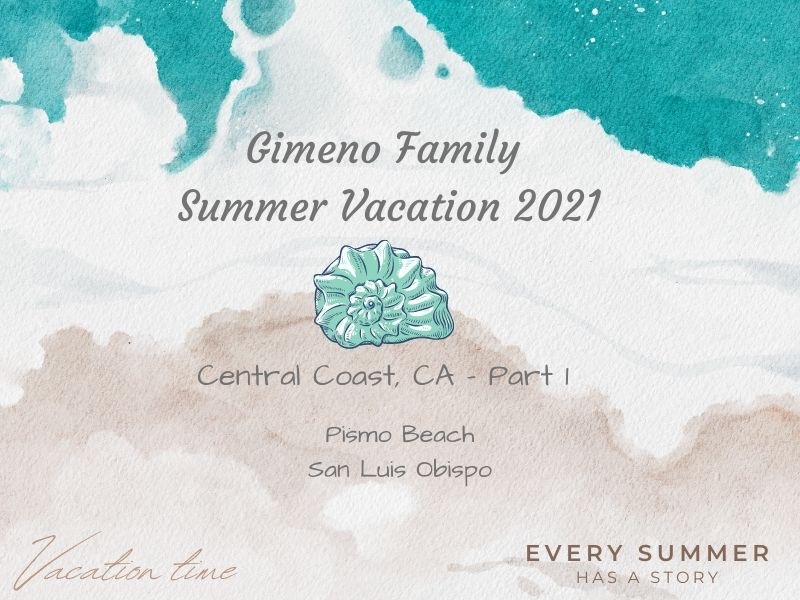 This past summer we took a road trip up Central Coast, CA and had a staycation!
I'm very thankful to Jason for planning out this trip! He made the hotel & dinner reservations and planned activities for us to do at each stop….he did it ALL! I was beyond thankful for Jason and his hard work, you see, I'm the primary planner of this family and it was busy time for me around when we needed to plan this trip. He stepped up to the challenge and did an A+ job!
We took Jason's new Ford Mustang Mach E electric car on this road trip adventure. Was I nervous about this, YES! Why you ask, because we have seen plenty of chargers out there not work when we needed to charge. It's not a well oiled machine of chargers out there yet but the charging situation is improving. My car is on it's way out so we needed to take his car but Jason enjoyed the challenge of figuring out where to stop to charge. As well as coming up with a plan B and C…I told him we needed lots of options, lol (can't help it it's the planner in me). I do want to add that we had a good experience with charging the car for the entire trip and we didn't need to use the plan B and C options, woohoo!!
**Disclaimer- lots of pictures (sorry, I can't help it)**
Day #1
We took off for the open road mid-morning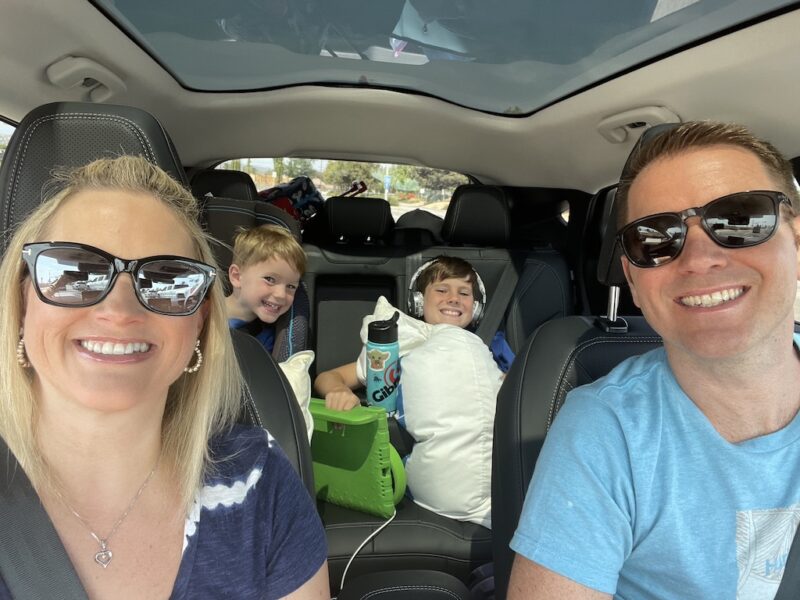 Driving up the coast was so beautiful! I love how the mountains meet the ocean up here.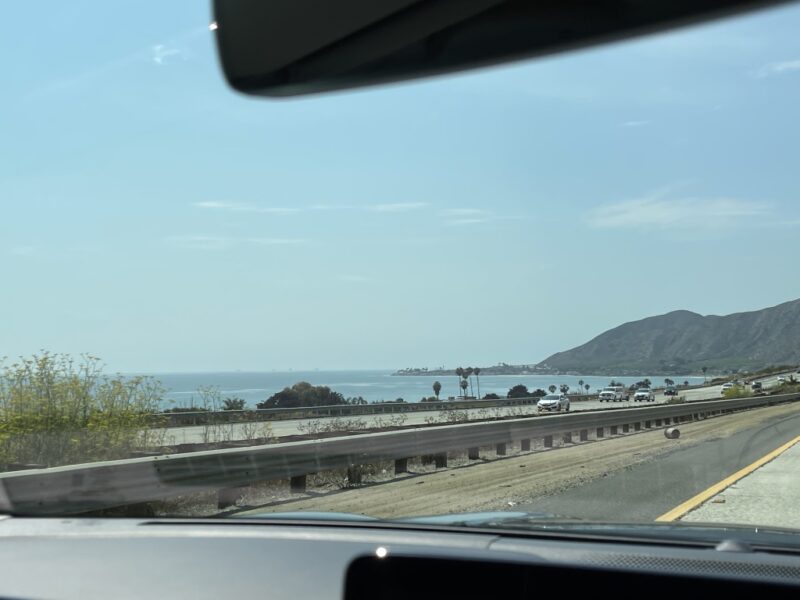 My vacation Book:

The One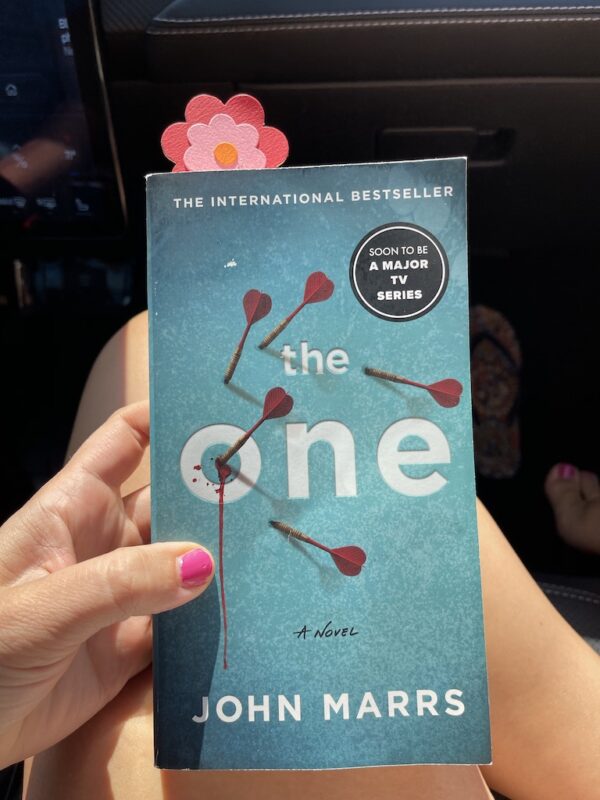 I enjoyed reading this book, it had a very interesting and unique plot and I look forward to watching the series play out on TV.
First stop: Pismo Beach Hotel- The Lighthouse
When we checked in they gave us coupons for ice cream for the kids. They both got to chose an ice cream from the old-fashioned ice cream man & truck. Of course, Tyler and Luke were thrilled!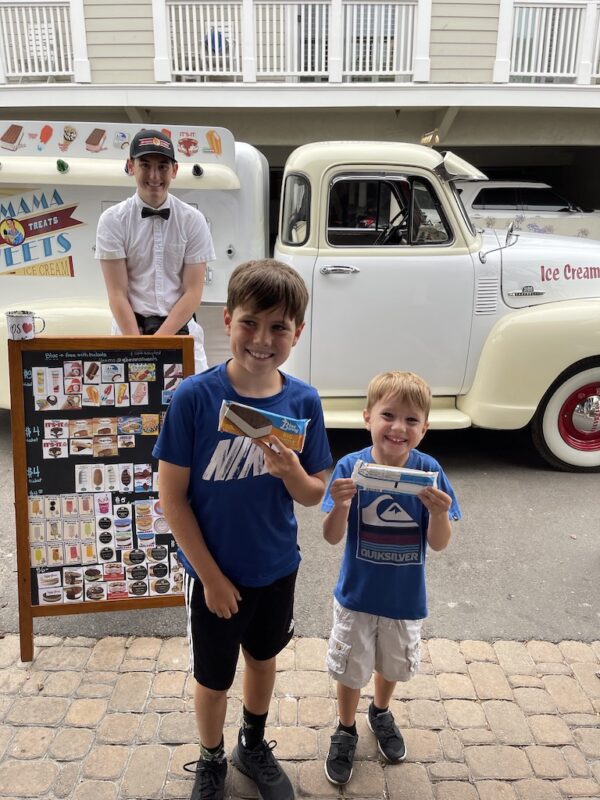 We checked out our hotel room. The rooms had a nice setup for families. Jason and I got our own bedroom and the boys slept in the living area. The sectional couch pulled out into a double bed for the boys to sleep in.
The Adult Room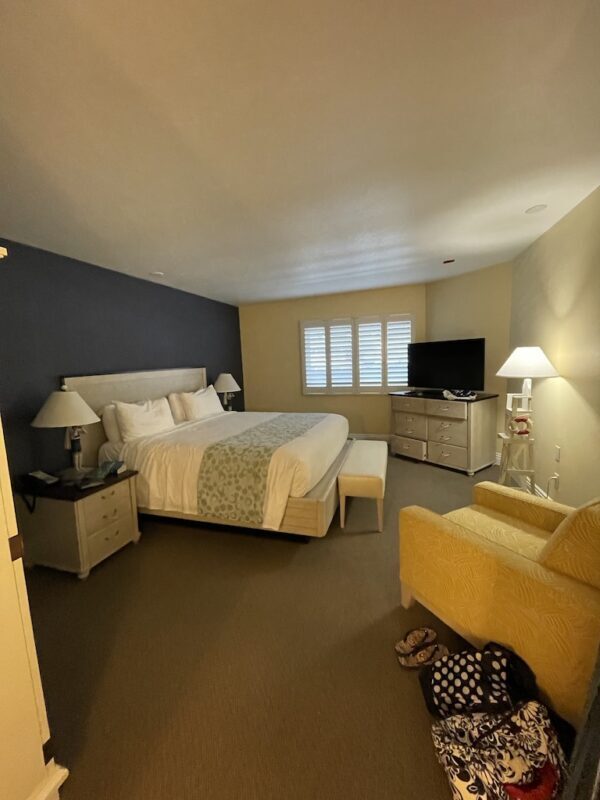 The kid quarters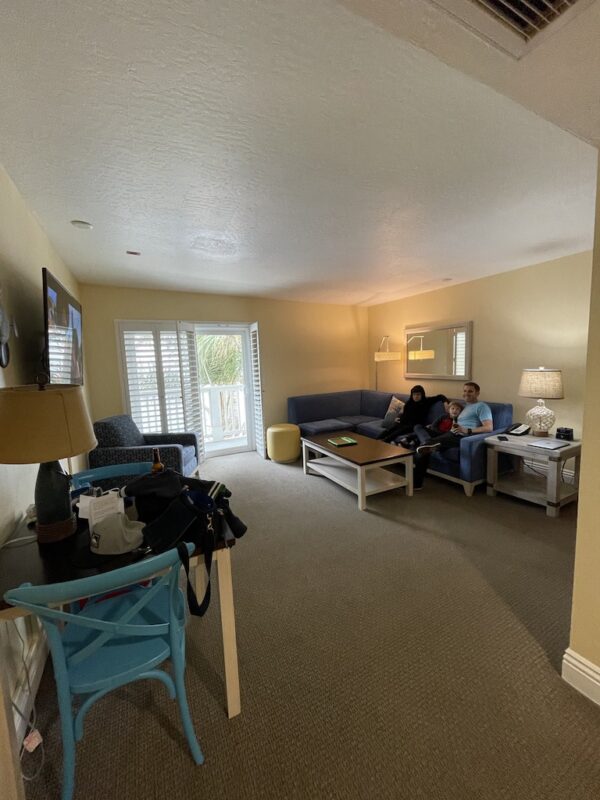 Our View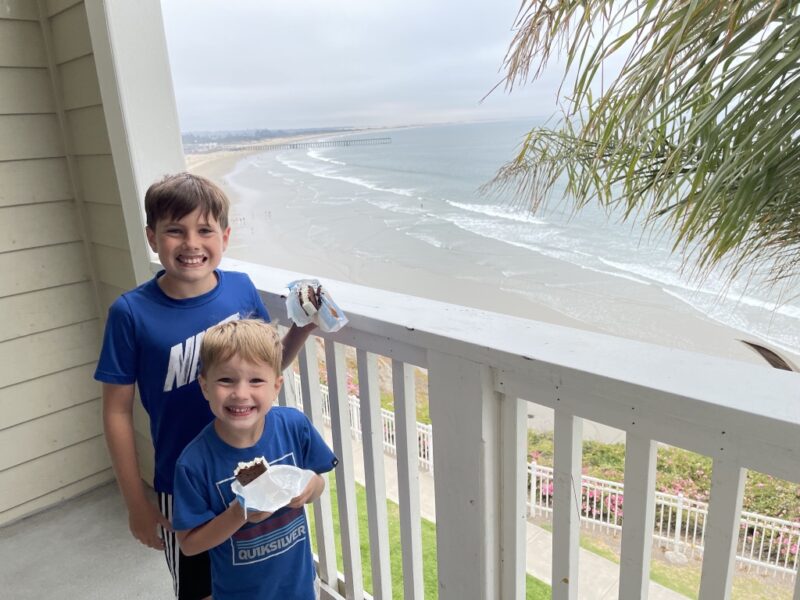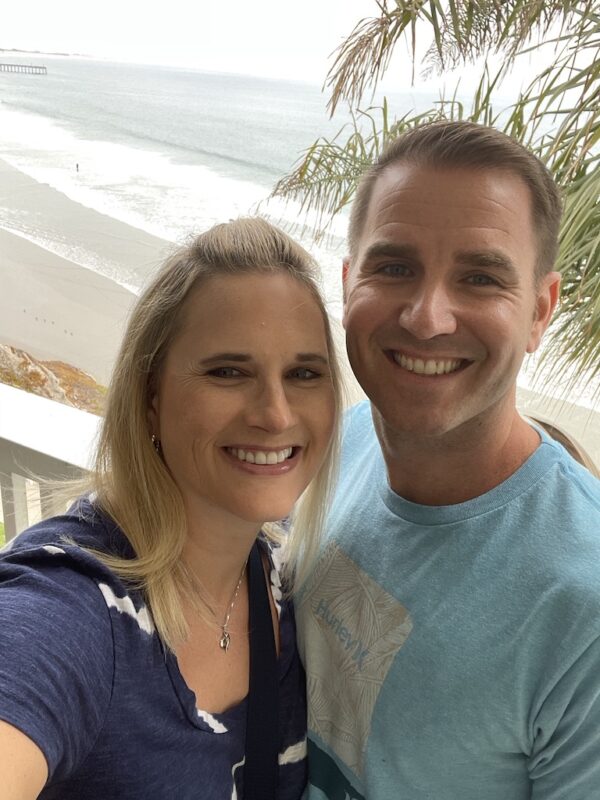 We're so happy to have this time with each other to explore new places and make some new memories!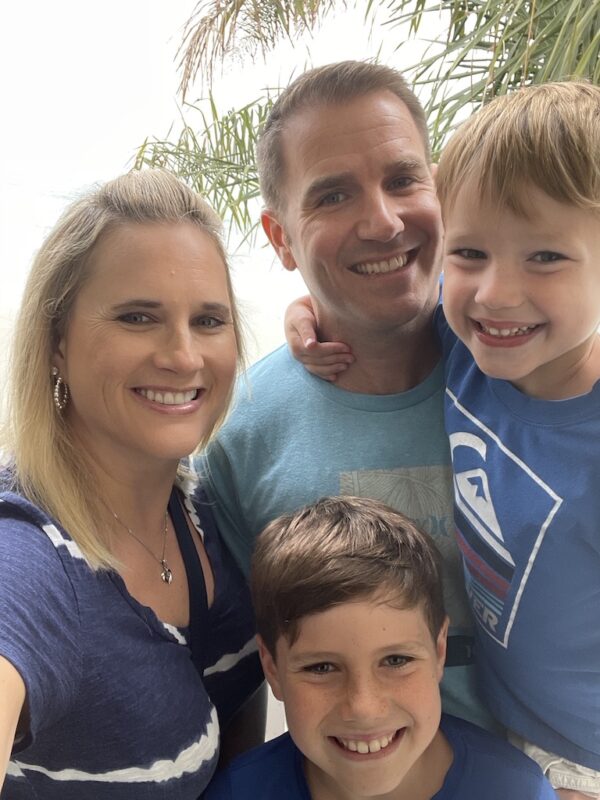 Next, we decided to check out the outside family game and activities area. We visited this area several times during our stay.
Outdoor Play Area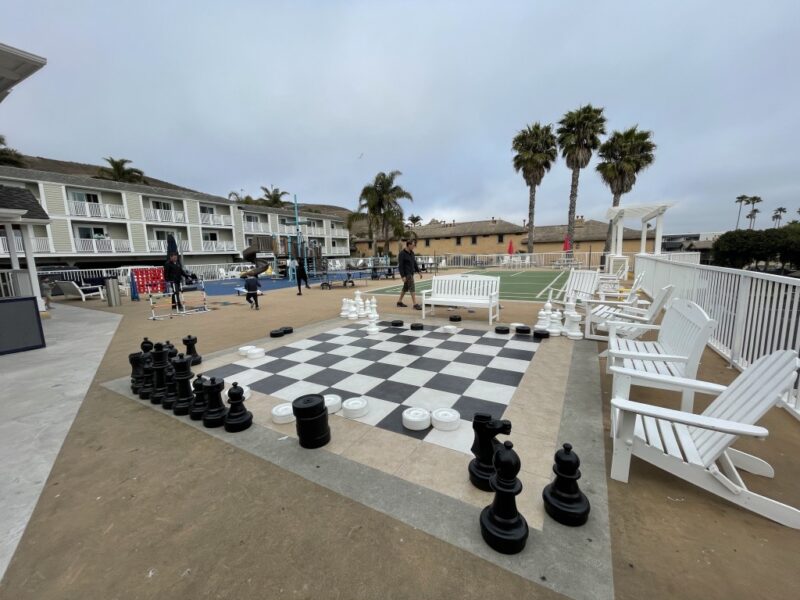 Connect Four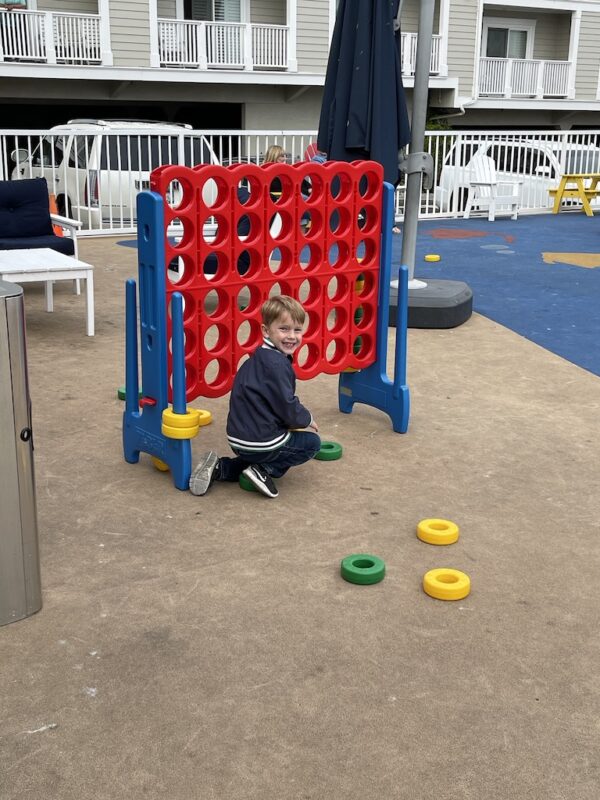 Even though it's summertime, Pismo Beach is chilly. We packed for cold and warm weather.
Ping Pong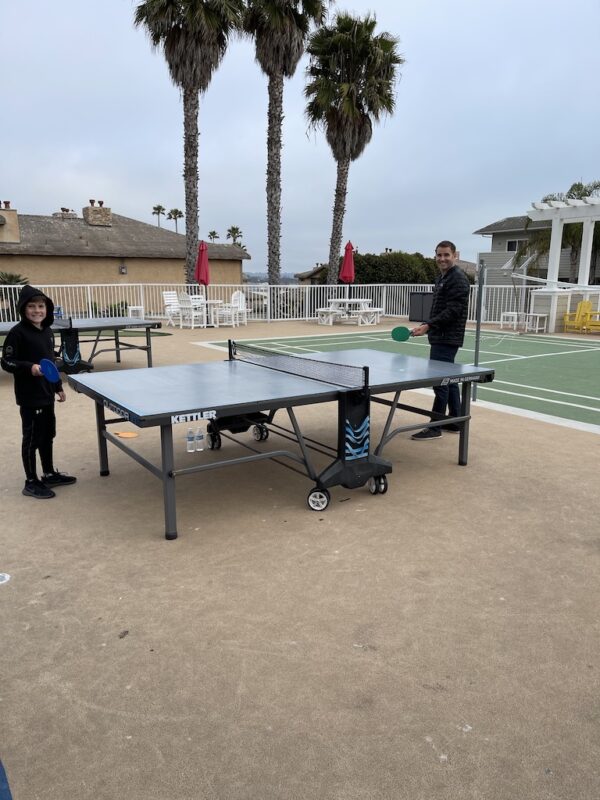 Playground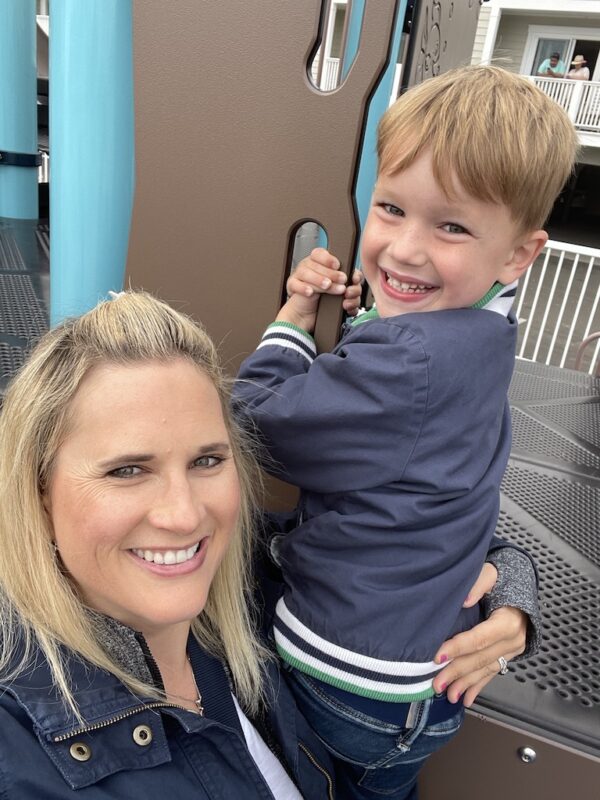 Dinner: Taste Eatery!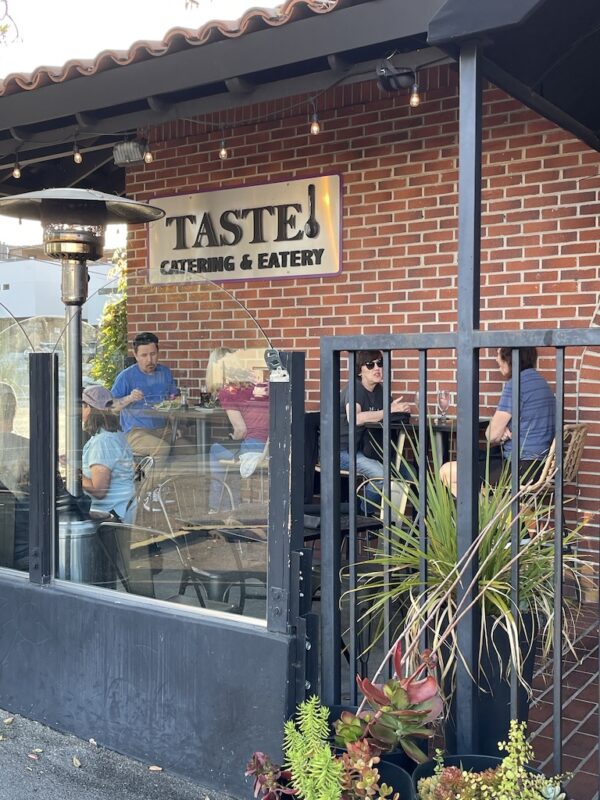 We liked the idea of the menu at Taste Eatery. All menu items are on the small side so you can order multiple things to eat. We both chose an option where you order 3-items: a burger, salad and a side. If i'm being honest it looks better than it tasted. The salad was over-dressed, the gouda mac and cheese was dry and wasn't creamy and the burger was just ok, womp womp.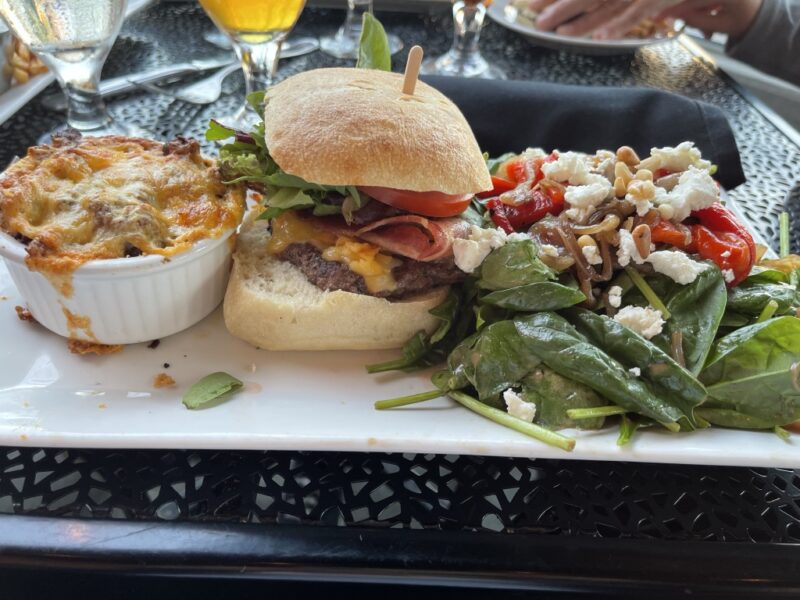 After dinner we attempted going to our first drive-in movie. There was a few problems with this plan, it was pretty cold outside even though I brought us jackets and blankets. The only movie showing was Black Widow. The boys have seen The Avengers and some of the super hero movies so we thought it could be ok. But nope, it wasn't appropriate and the boys weren't enjoying it so we left after 25 minutes into the movie. But they still got the feel for what a drive-in movie was like and the excitement of it but sometimes you gotta know when to throw in the towel and admit that your plans were a bust.
Attempt at a drive-in movie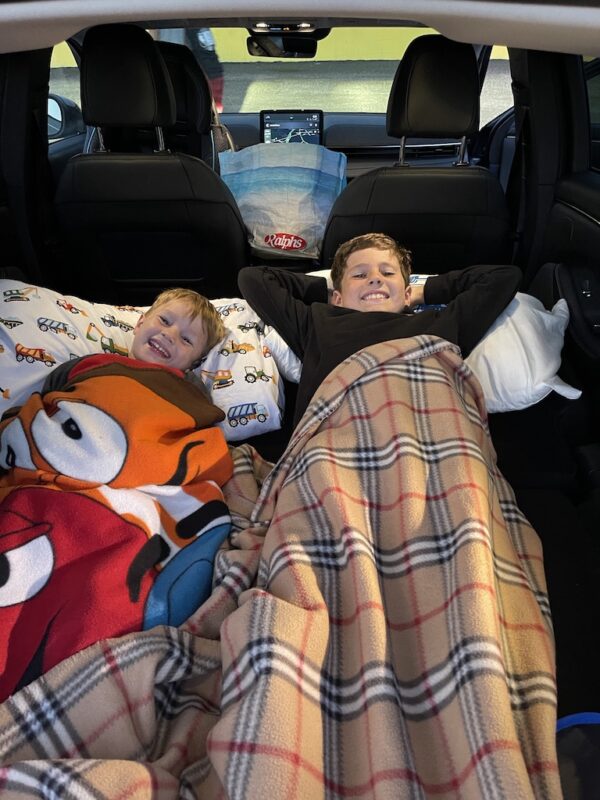 Day #2
Luke was dying to check out the beach and boogie board, so after breakfast we headed down to Pismo Beach Pier.
Pismo Beach Pier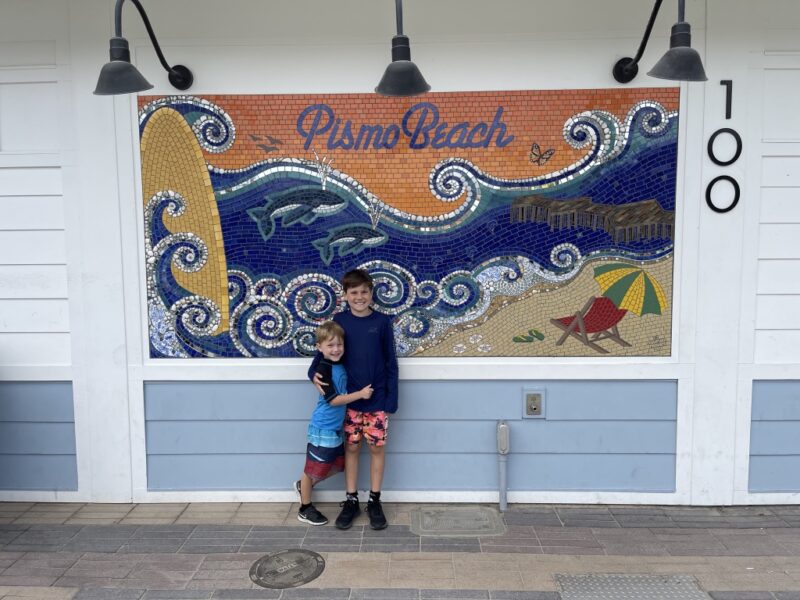 They had so many fun areas for photo ops on the pier
My Boys: Pismo Beach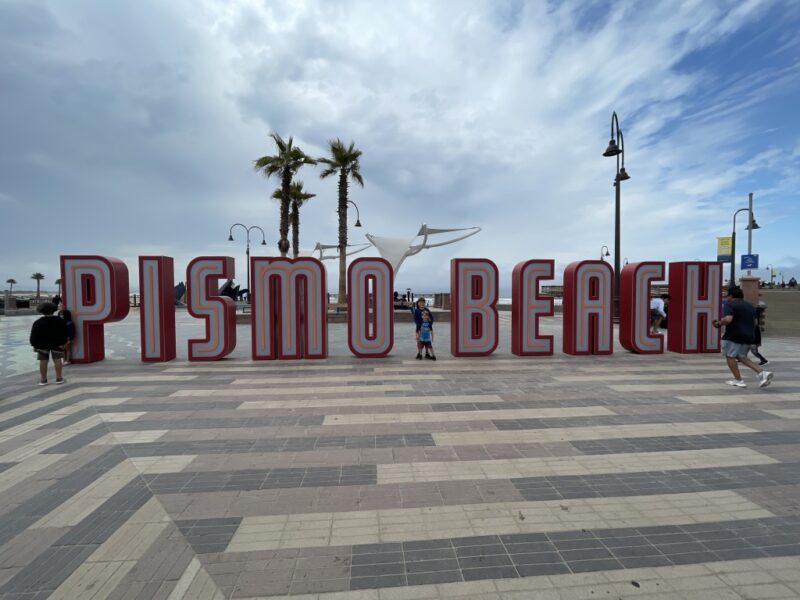 Our Crew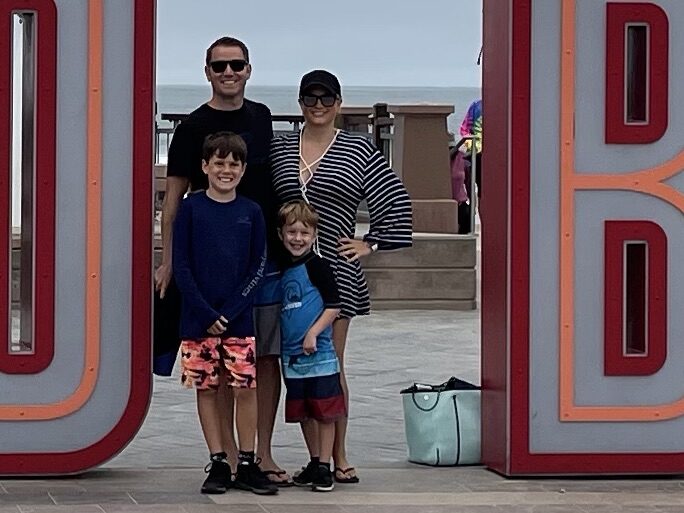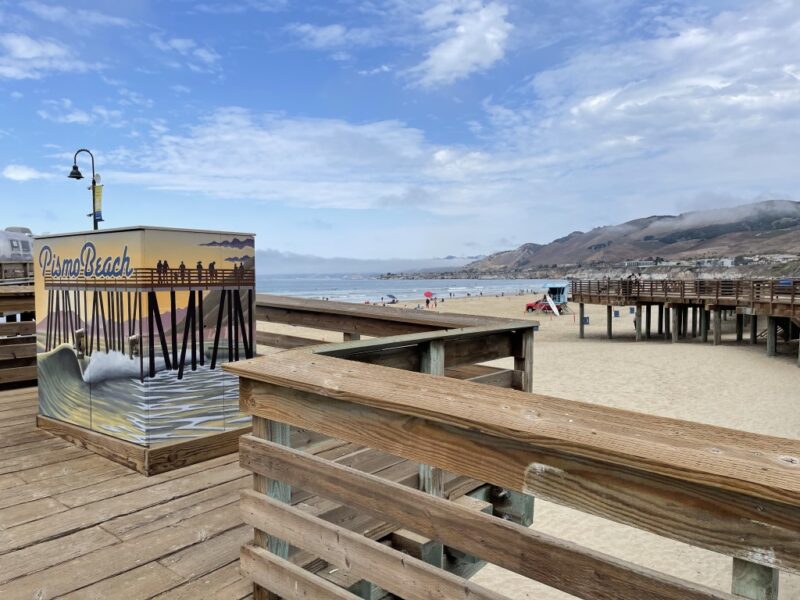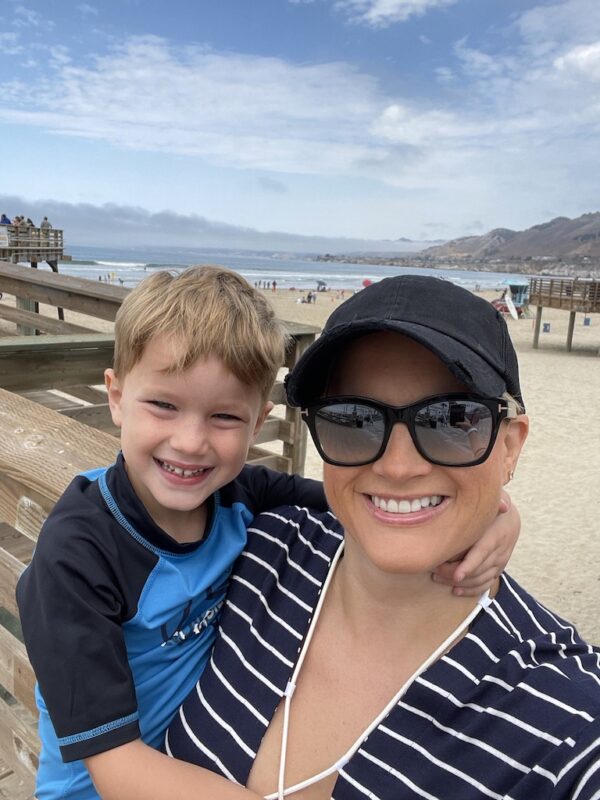 Pier Play Area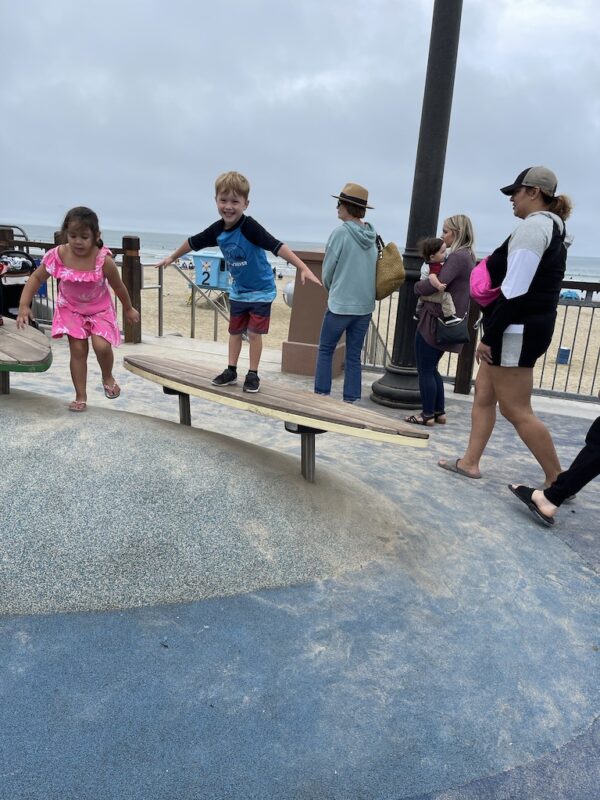 Slide down to the beach
The boys LOVED this fun slide that takes you right down to the sand on the beach…So FUN!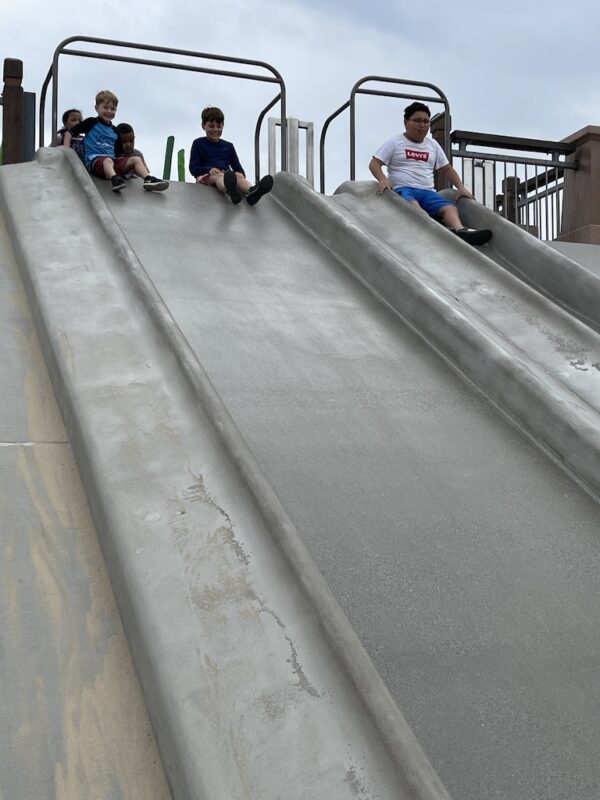 The sun never popped out to play. We knew rain was on the forecast but that didn't stop us from renting Luke a boogie board and letting him catch some waves. He was SO happy to experience boogie boarding at a new beach.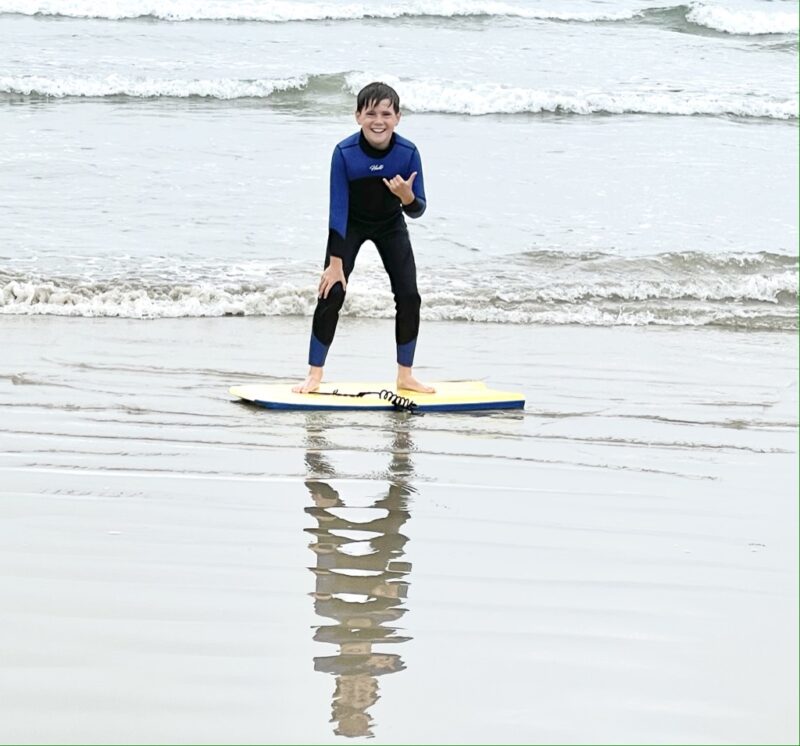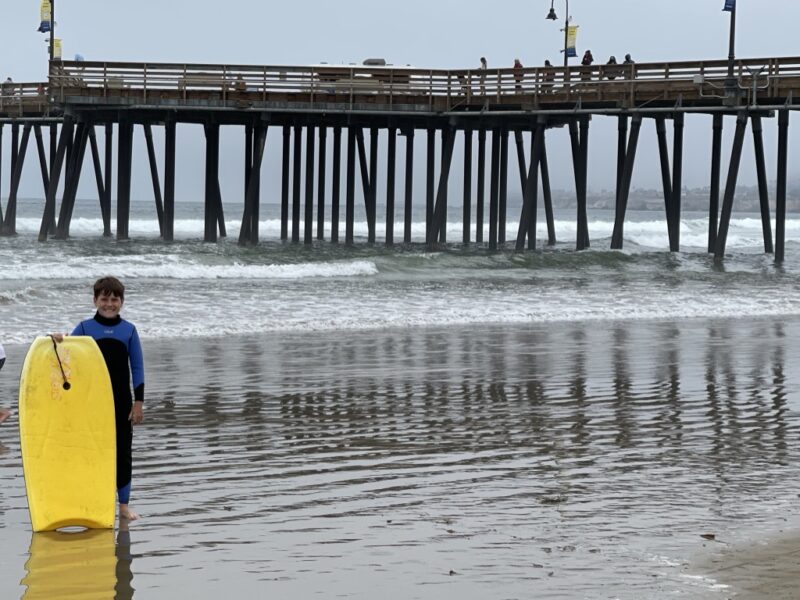 While he was living his best life catching waves, the weather forecast didn't lie and it started to rain. Jason, Tyler and I took shelter under the pier and hung out for another 45 minutes while Luke had an adventure boogie boarding in the rain, he LOVED it!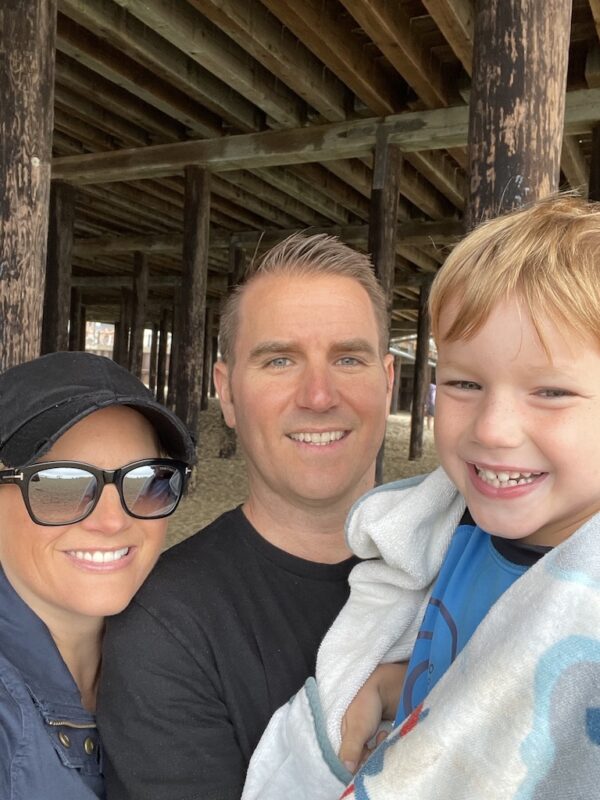 After the beach we ordered some food from a local diner and ate back at our hotel room while the rain finished up.
Next Stop: San Luis Obispo
Jason made reservations for us to go to a Kids museum in the afternoon so after lunch we headed to San Luis Obispo. It was only 20 minutes from our hotel in Pismo Beach.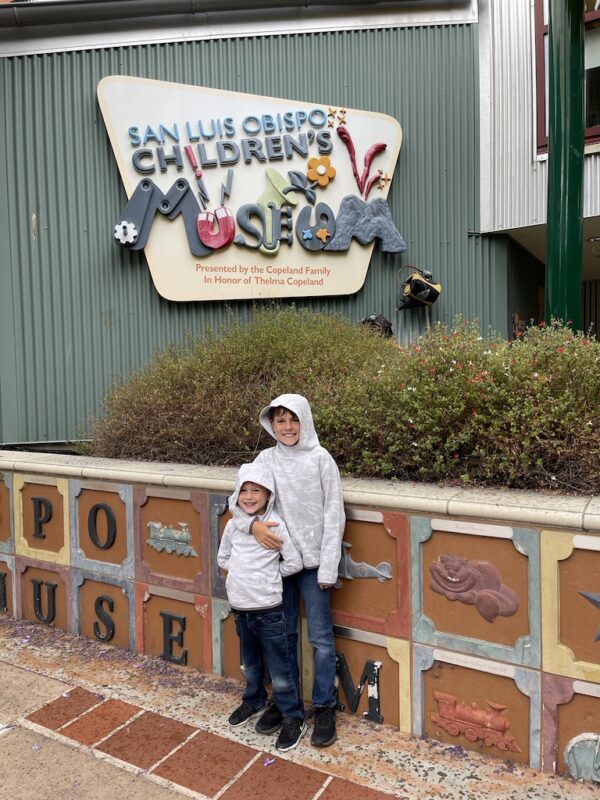 Exploring the museum
This kids museum was on the older side but our boys still had fun exploring everything it had to offer. You can only get in with an appointment and this helped it to not be over crowded.
Spaceship
This spaceship was fun, it had working buttons and I could talk to them from the control room while they were in the spaceship.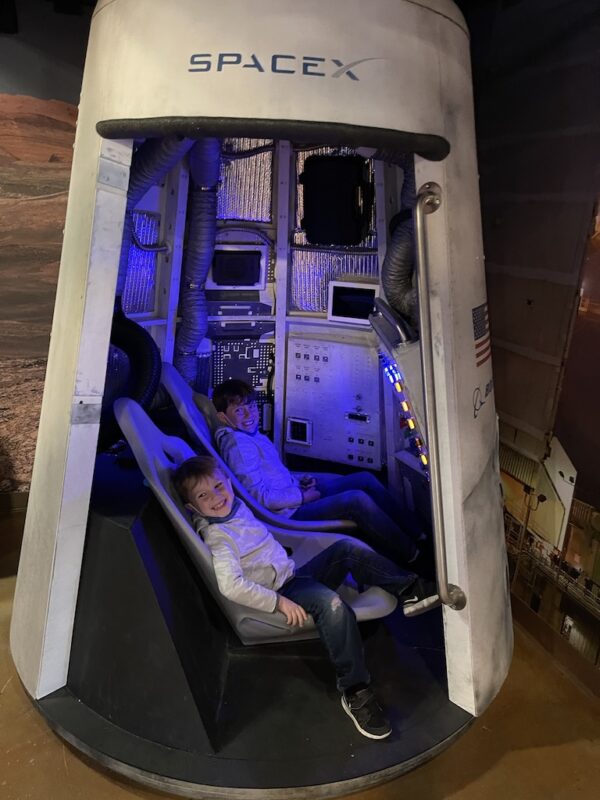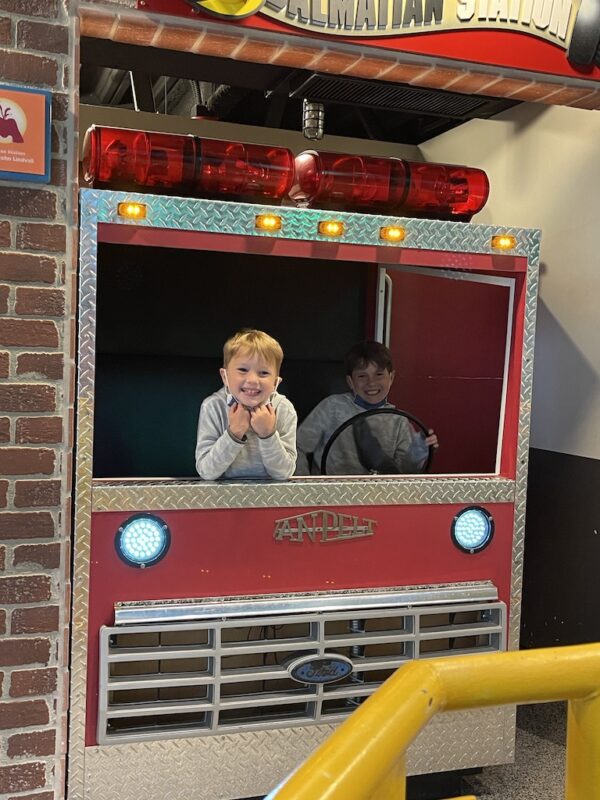 They had this fun imagery where you could take a picture of your body and it showed you a picture of your shadow.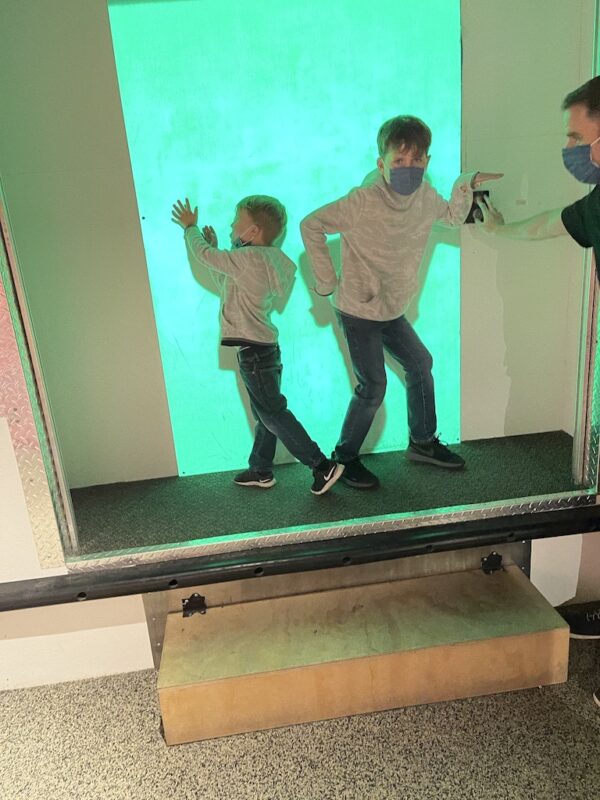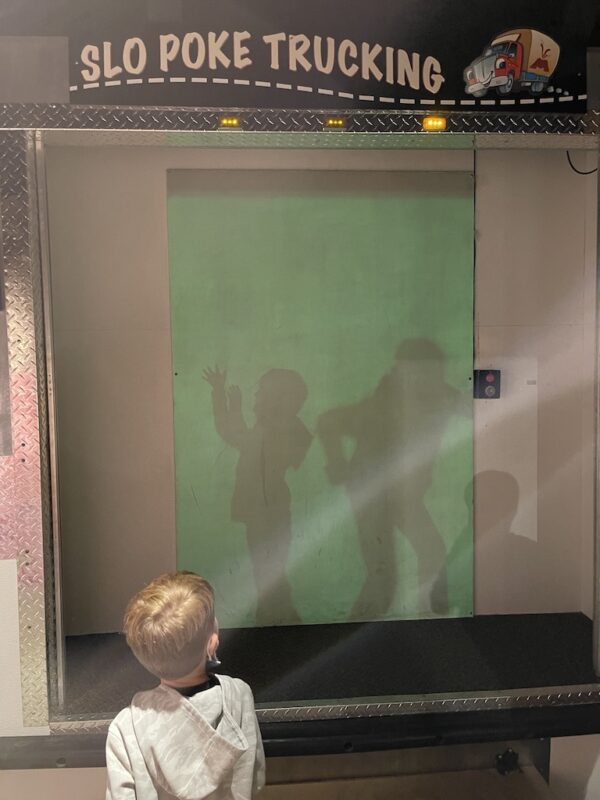 My cowboys!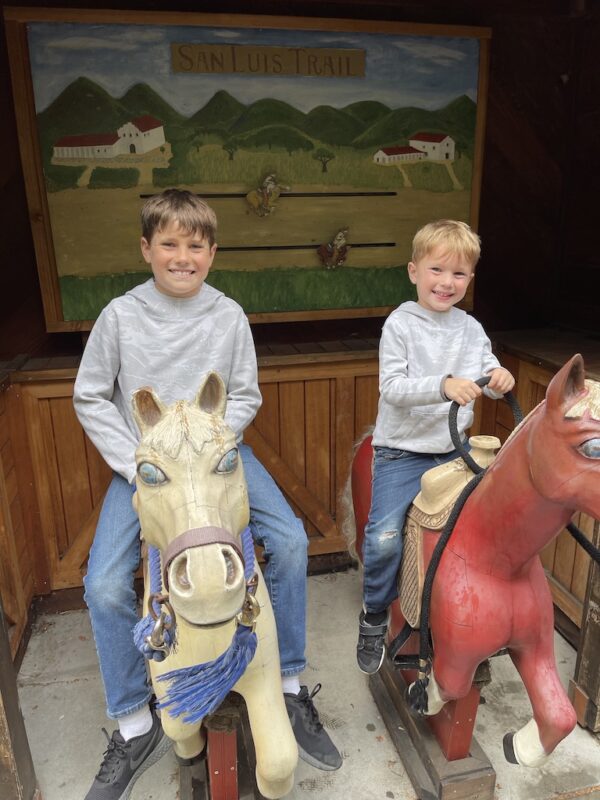 After the museum we wanted to walk around and explore downtown San Luis Obispo.
Downtown: San Luis Obispo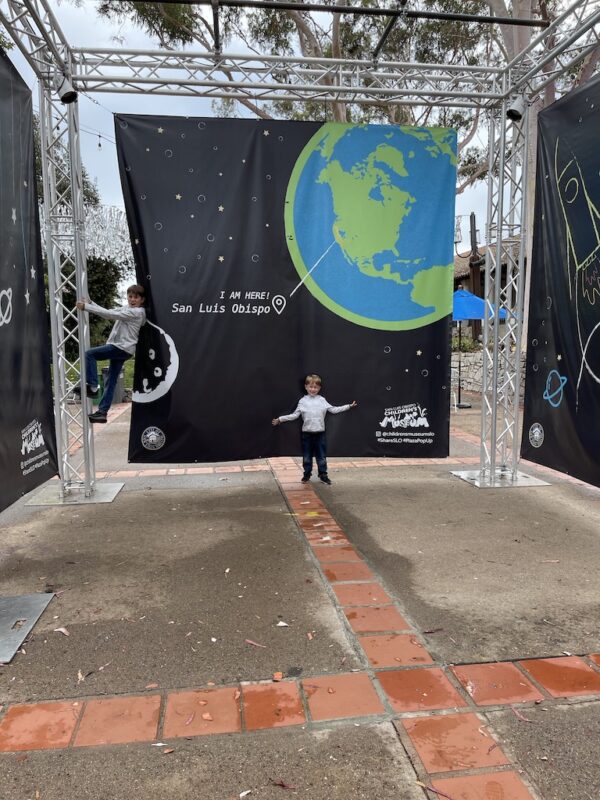 Mission San Luis Obispo de Tolosa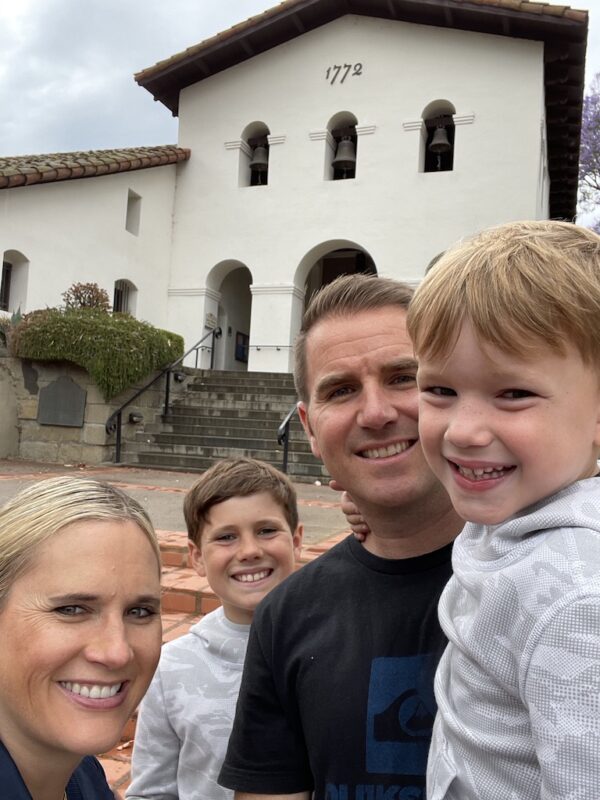 Bubblegum Alley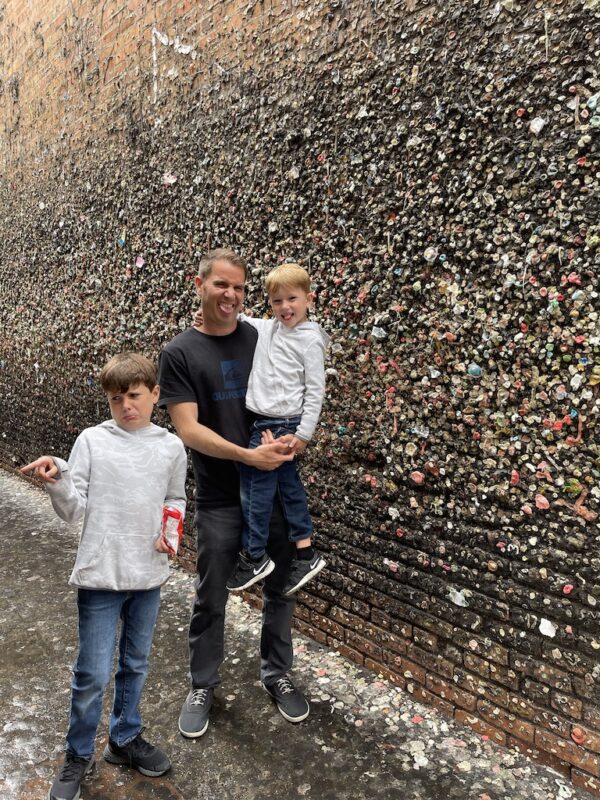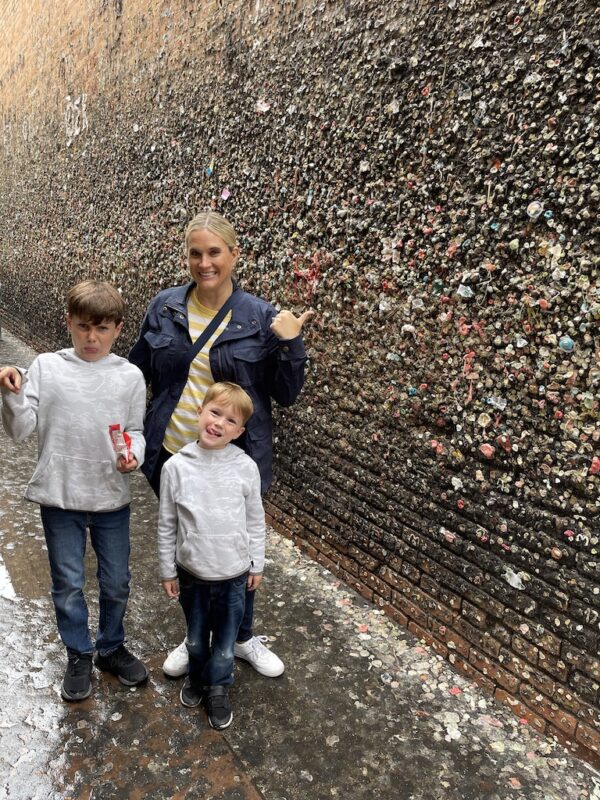 After seeing the gross Bubblegum Alley, we went to a candy shop, I checked out some cute shops and then we headed back to the hotel to chill before dinner.
Enjoying a drink and the beautiful view!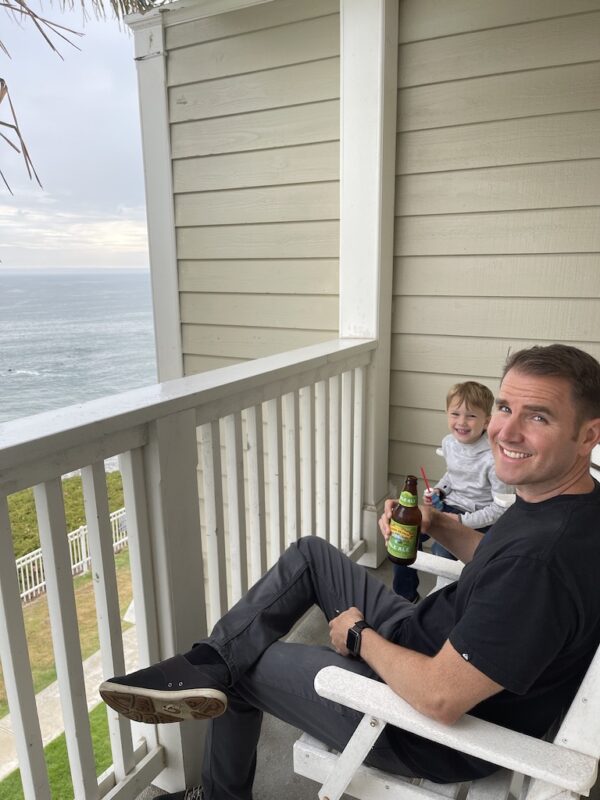 Dinner: Ventana Grill
Our dinner view…..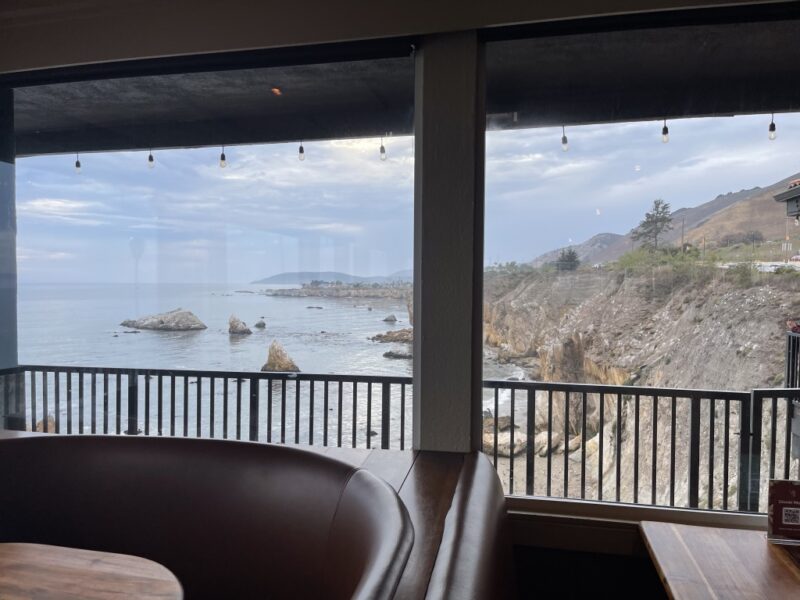 While at dinner each night we continued with our normal routine of each person saying their high, low and what they are thankful for….this conversation starter always leads to good informative family conversations. No electronics at dinner, only conversation.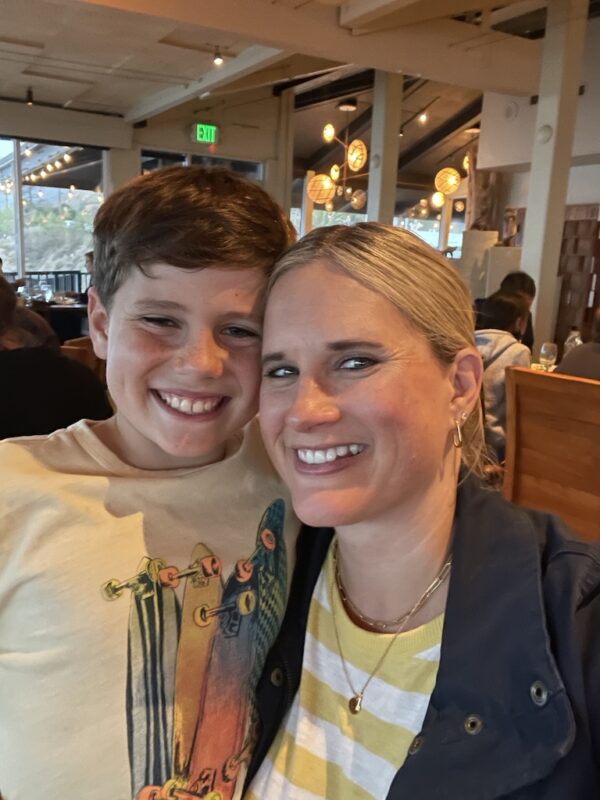 My Cocktail was delicious!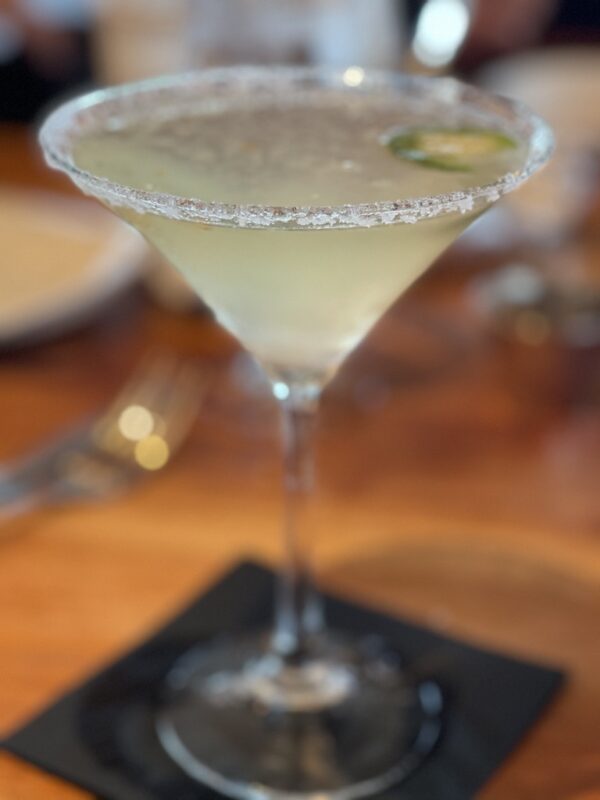 These two cuties….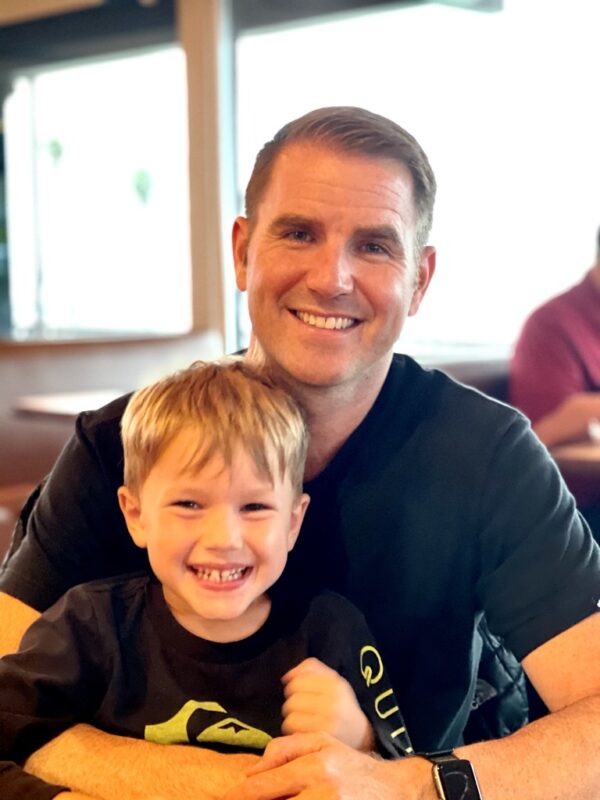 We're always trying to get our boys to expand their food palate, its not an easy task but sometimes we have success!
They tried and really liked the clams and dipping the bread into the flavorful broth!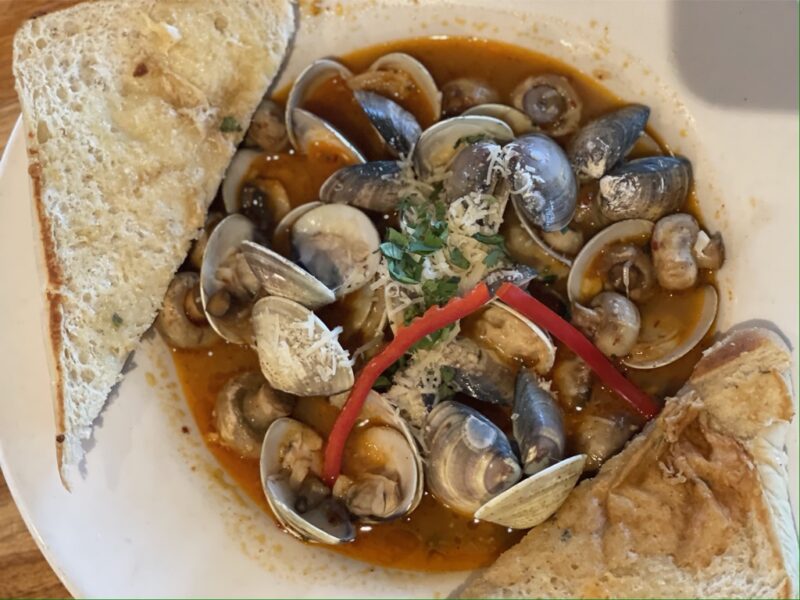 The views at the restaurant were gorgeous. I think I need to frame this picture. The food was really good and well priced, highly recommend!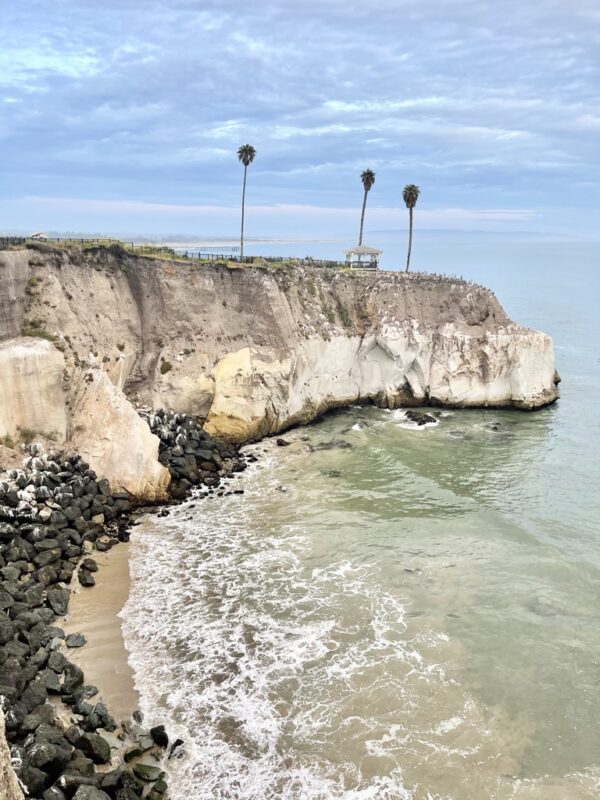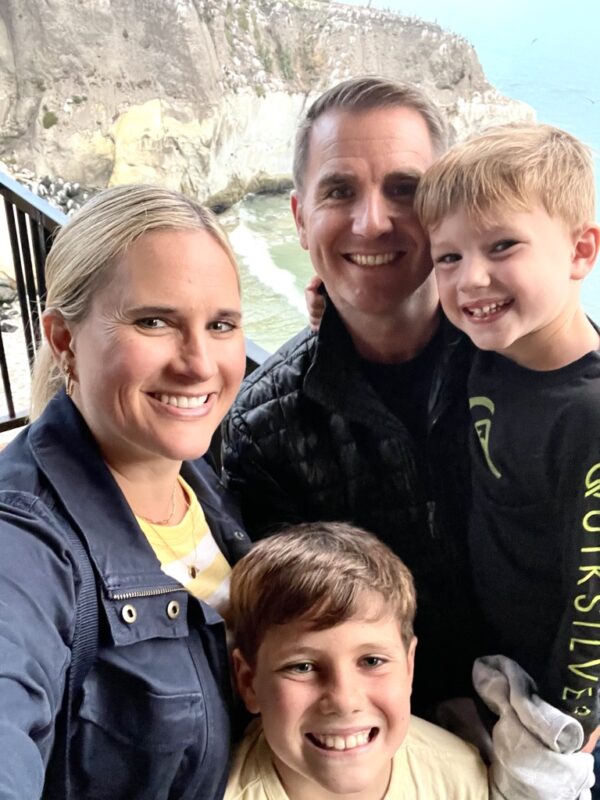 After dinner we headed back to our hotel and went night swimming! This is an activity that we all enjoy doing on vacation.
Day 3
After having breakfast at the hotel, we packed up and then enjoyed one last stroll around the hotel grounds. The cliff's on the beach were so beautiful!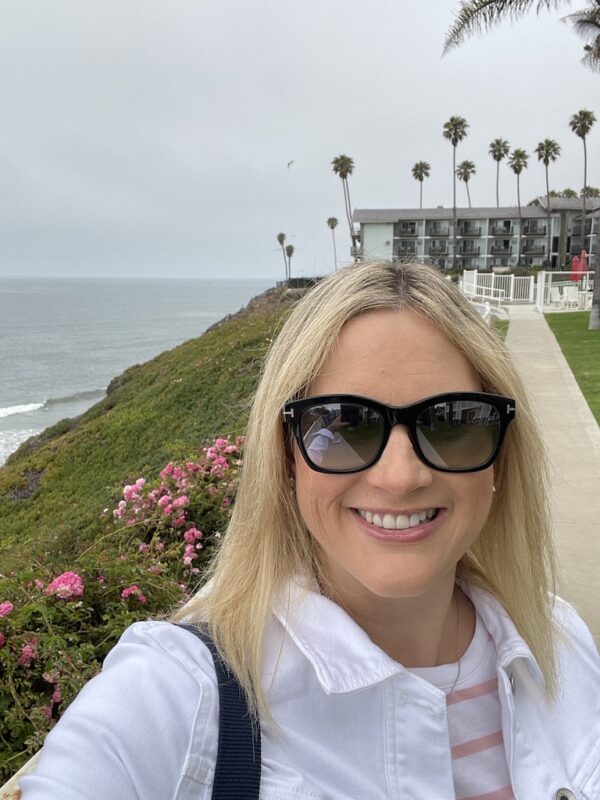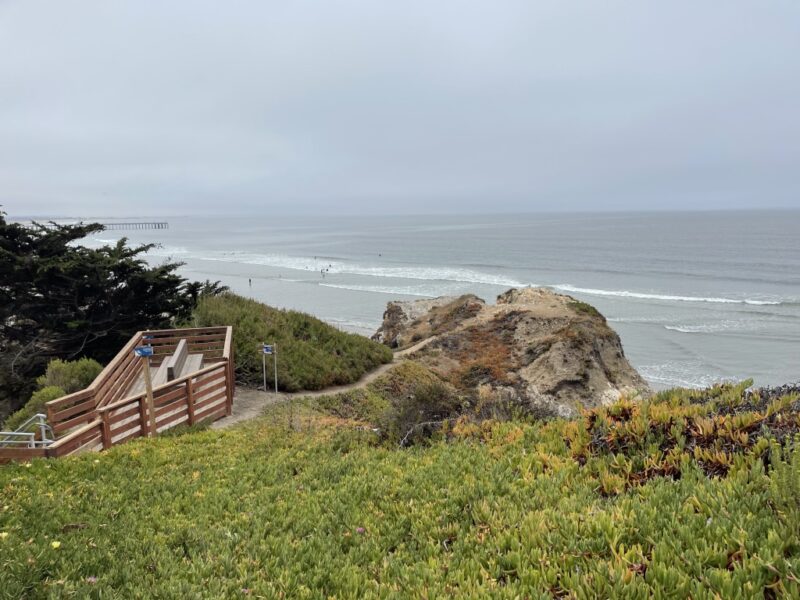 My forever love!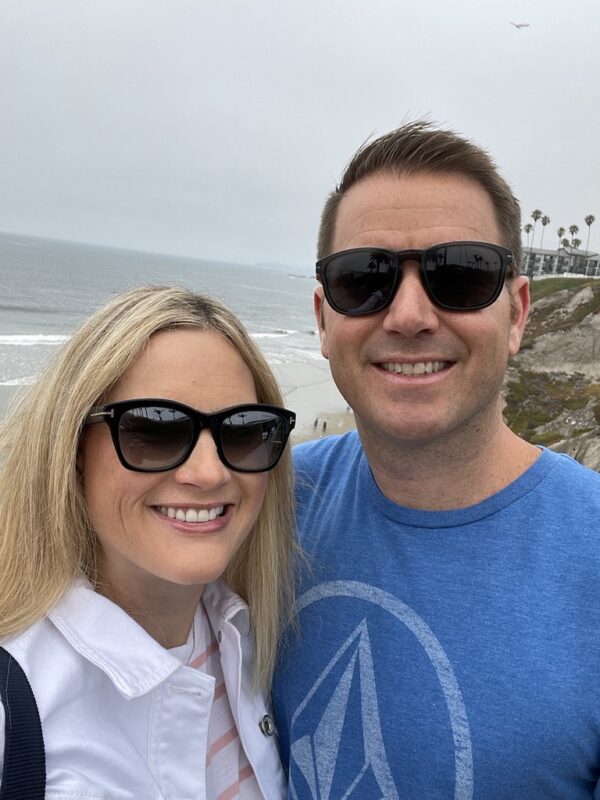 Always taking that family selfie!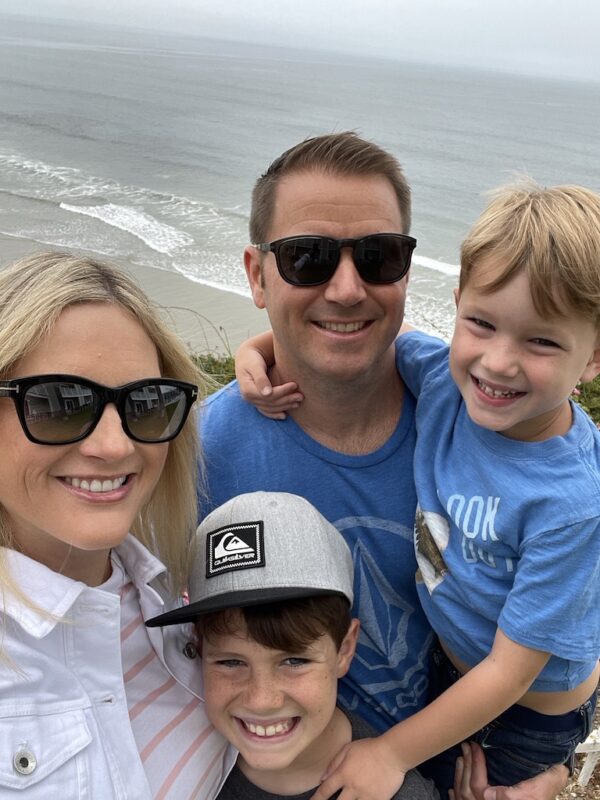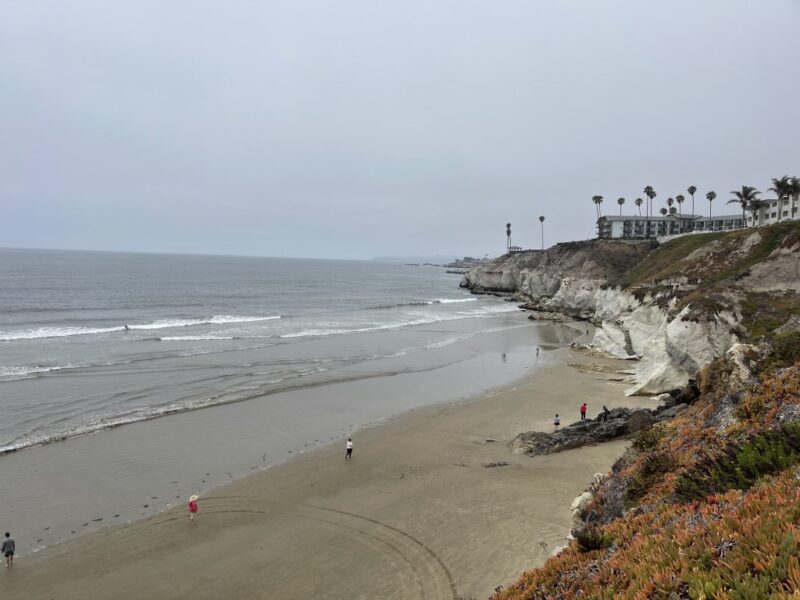 I love being a boy Mom!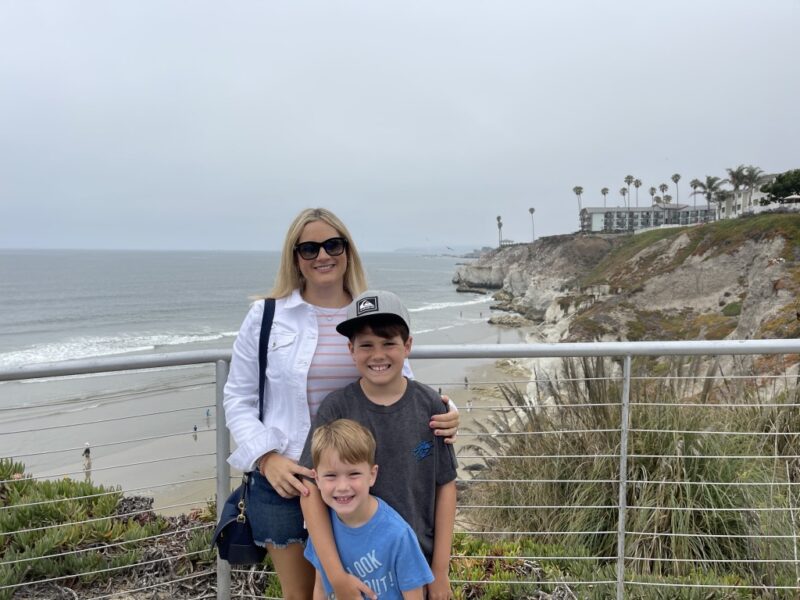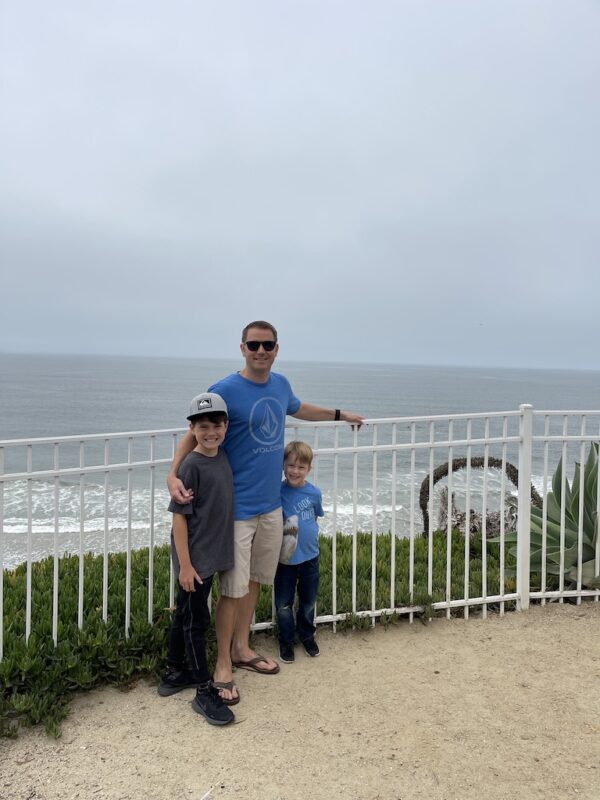 Pismo Beach, you may not be the most sunny city but you sure are beautiful and have lots of charm!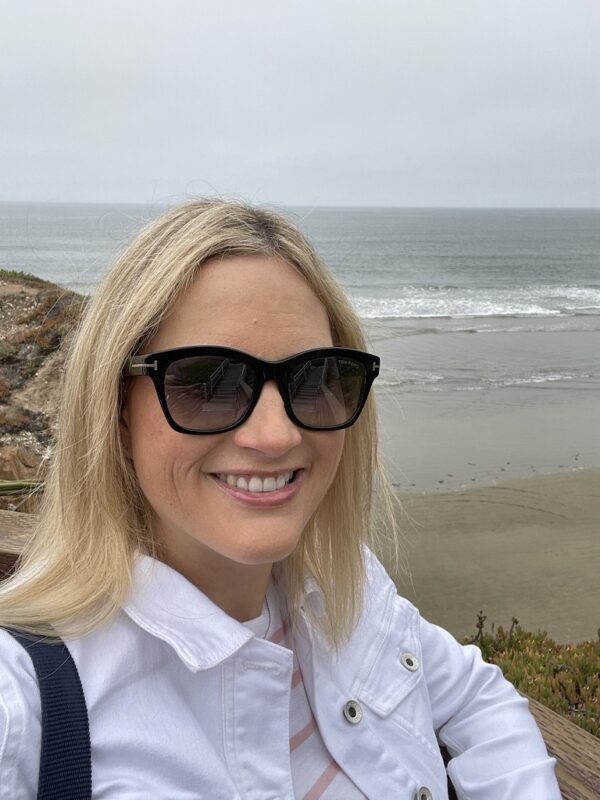 We headed south to Santa Barbara but we wanted to make a pit stop first….
Grover Beach: Sand Dunes
Lots of sand hills to climb and this beach is unique because cars are allowed to drive right onto the beach to park and hang out.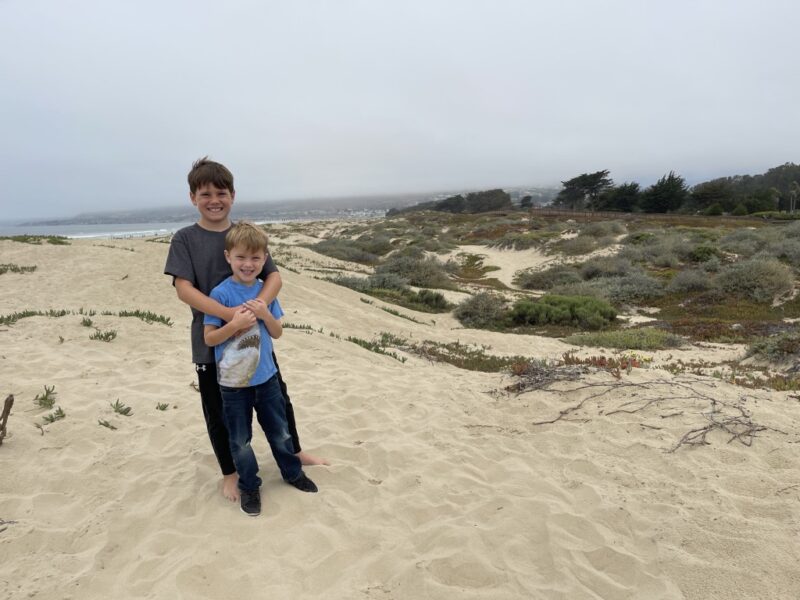 Every beach has it's own charm and uniqueness. It's been fun visiting beaches that none of us have been to before.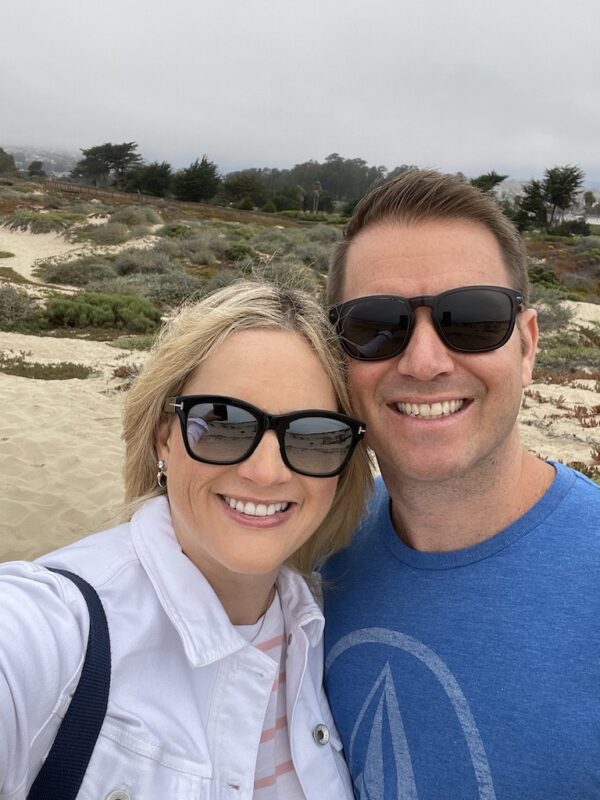 Bye Pismo Beach and San Luis Obispo, The Gimeno family had a great time!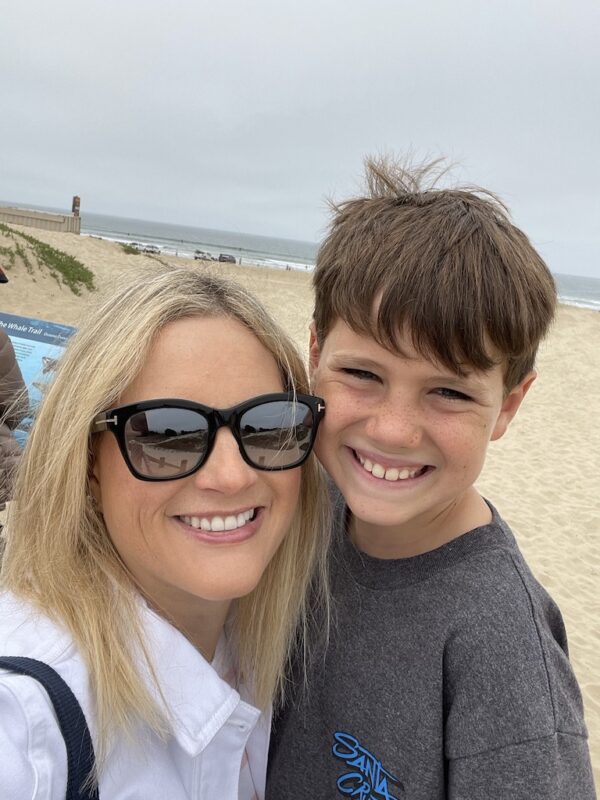 Thanks for reading along today. I know vacation recaps are not everyones cup of tea but I also just want to document these memories for my family. But they can be useful if you are looking to book a vacay in the same place. I will be back with Part 2 of our Central Coast family vacation to Santa Barbara.
XO