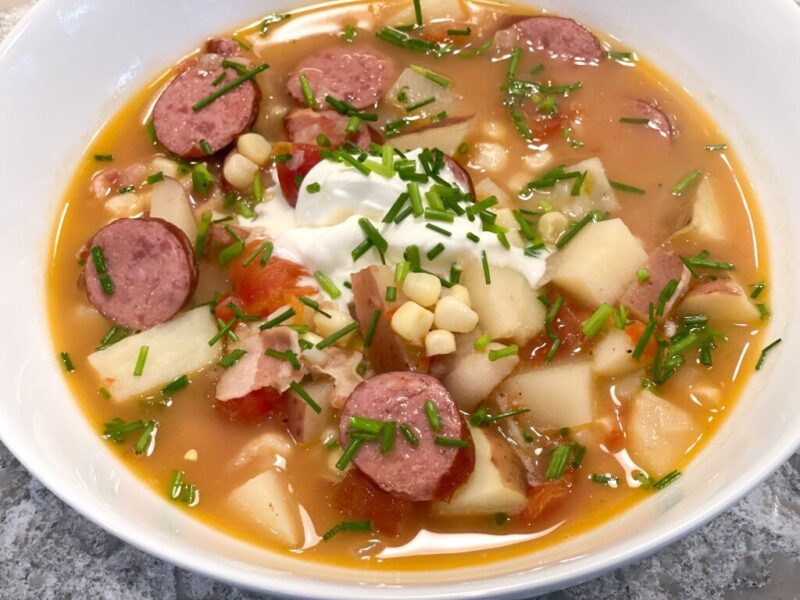 Summer Corn Chowder
I'm a lover of soups and just because it is the summer doesn't mean you can't still enjoy soups on occasion. This chowder is perfect for the summer because it doesn't have a heavy and creamy base and theres something about having corn in the summer. Trust me go and make this soup before the Fall starts but honestly it can be enjoyed year round.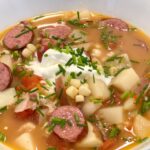 Summer Corn Chowder
Easy, light, and delicious!
Ingredients
Chowder
EVOO

salt and pepper

1

lb

kielbasa style sausage (I use turkey sausage)

cut into pieces

1

red onion

chopped

6

slices

bacon

chopped

1

jalapeno pepper

chopped (remove seeds & ribs)

1 (10)

oz

can rotel tomatoes

4

red potatoes

quartered

1

quart

chicken stock (entire container)

3

cups

fresh or frozen corn kernels

splash of cream or milk

creme fraiche (or sour cream)

to garnish

chives

chopped to garnish
Instructions
Chowder
Get out all of your ingredients, EVOO, S & P, sausage, red onion, bacon, jalapeno, rotel tomatoes, potatoes, chicken stock, corn, cream or milk, creme fraiche, and chives

Get out a large soup pot and over med-high heat add a big drizzle of EVOO. Next, add the sausage, onion, and bacon. Sprinkle in a big pinch of salt and pepper. Cook until bacon is crispy and onion has caramelized for about 8 mins.

Stir in the jalapeno and saute for a minute.

Next, stir in rotel tomatoes and potatoes.

Add in the chicken stock and another big pinch of S & P. Cover and bring everything to a boil. Then reduce the heat and simmer for 10 minutes, check to make sure the potatoes are tender.

Next, stir in the corn and let it cook for 4 minutes.

When you are ready to serve, add in a splash of milk or cream.

Laddle soup into a bowl when ready to serve and add a big dollop of cream fraiche (or sour cream) and chopped chives. Enjoy!
Recipe Notes
The original recipe is brought to by one of my favorite bloggers, Mix and Match Mama, she has published cookbooks too, you can find the recipe HERE.