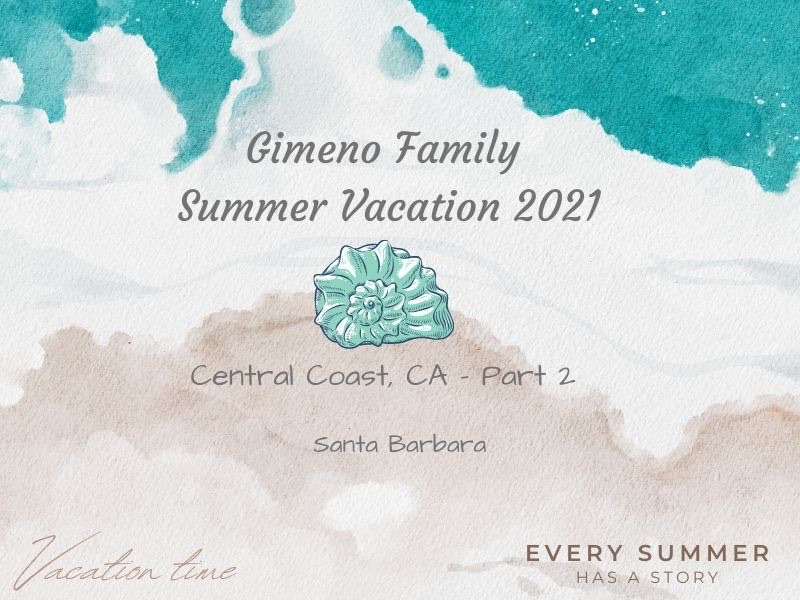 In case you missed it here is the Part 1 of our vacay to Pismo Beach & San Luis Obispo.
After checking out the sand dunes at Grover Beach we made our way down south to Santa Barbara, CA. There was a little traffic and so it took us under 2 hours to get there.
Day 3
Hilton Beachfront Resort – Santa Barbara, CA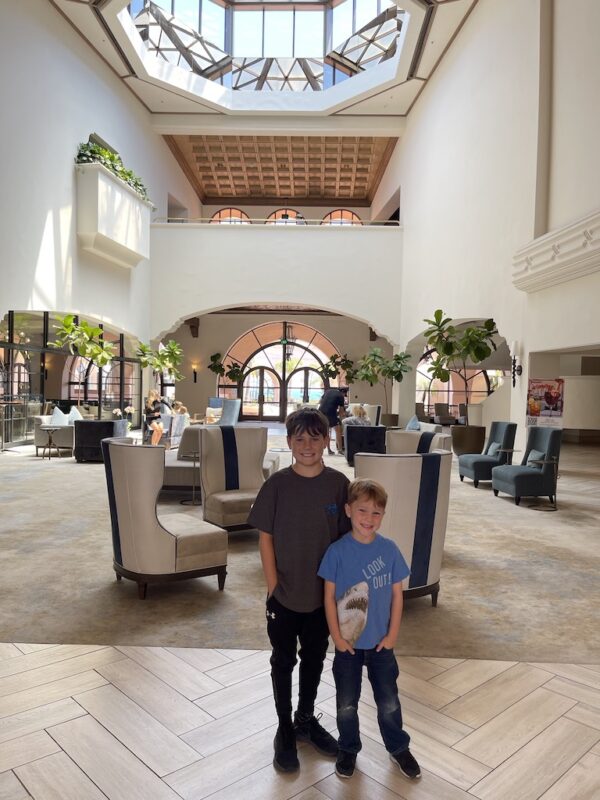 After checking in we were all very hungry so we headed to the restaurant inside the hotel for lunch. We were greeted with absolutely gorgeous views! This cocktail was so refreshing and started off the next leg of our trip on the right foot!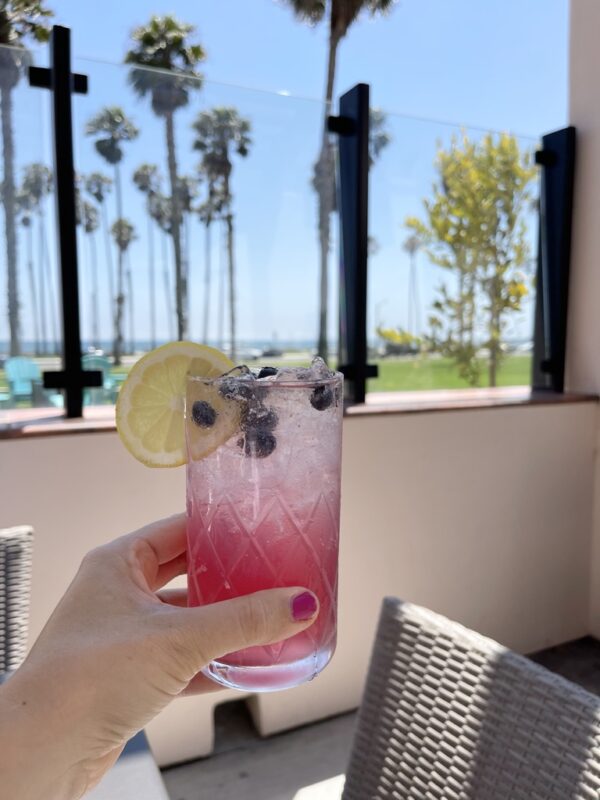 I mean this is the face of a man that is relaxed and on vacay mode 🙂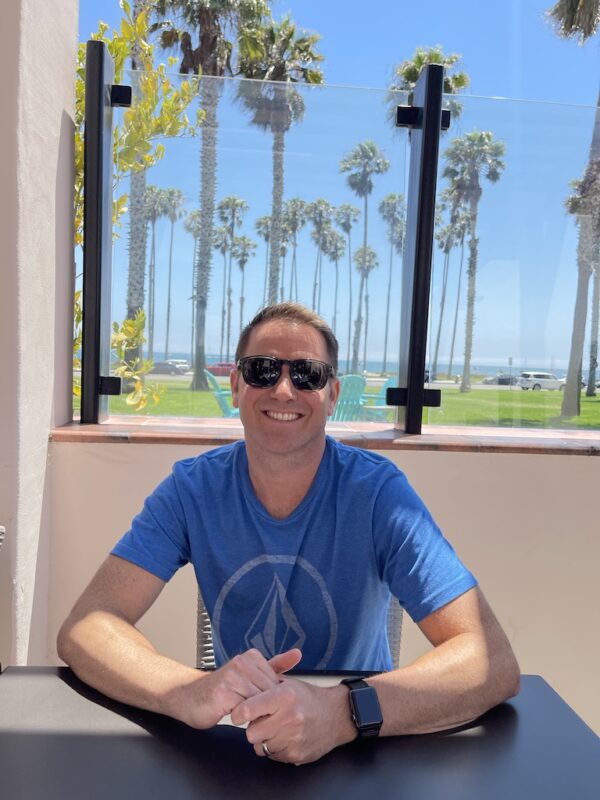 After lunch we wondered around a little bit…and look at this cool chair we found with the beautiful beach backdrop behind it. These two were also very much in vacay mode, those smiles say it all!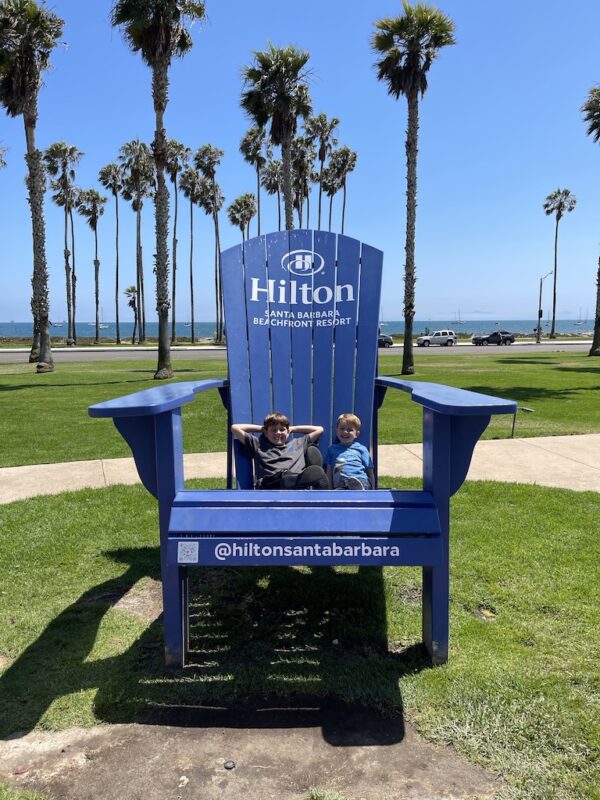 The view from our hotel room balcony…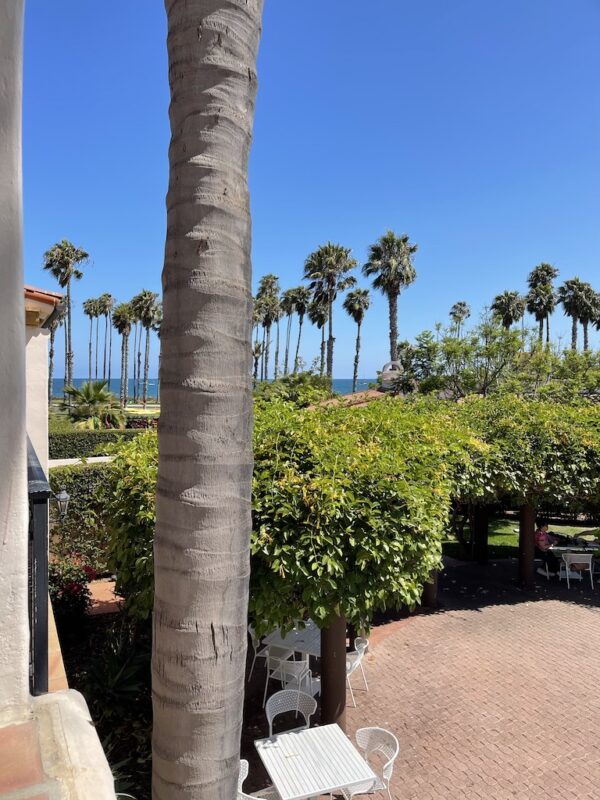 Another view from our balcony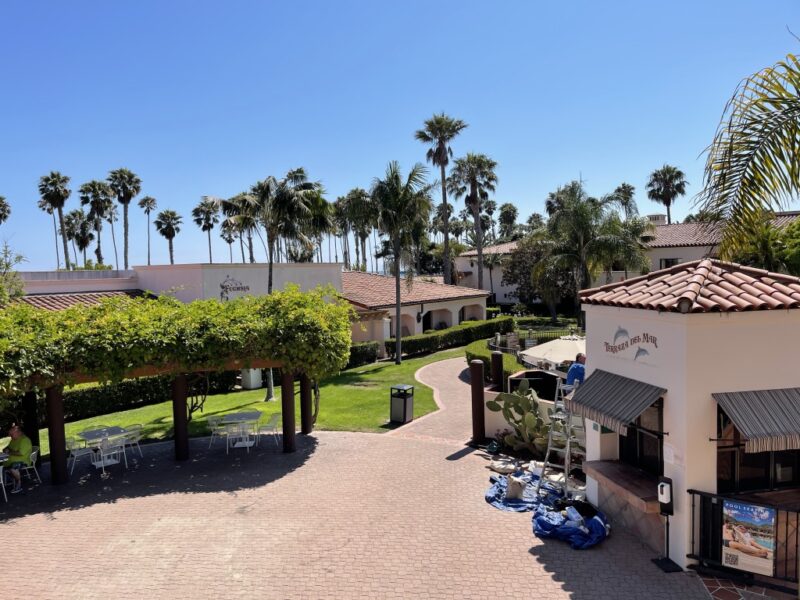 And another view from our balcony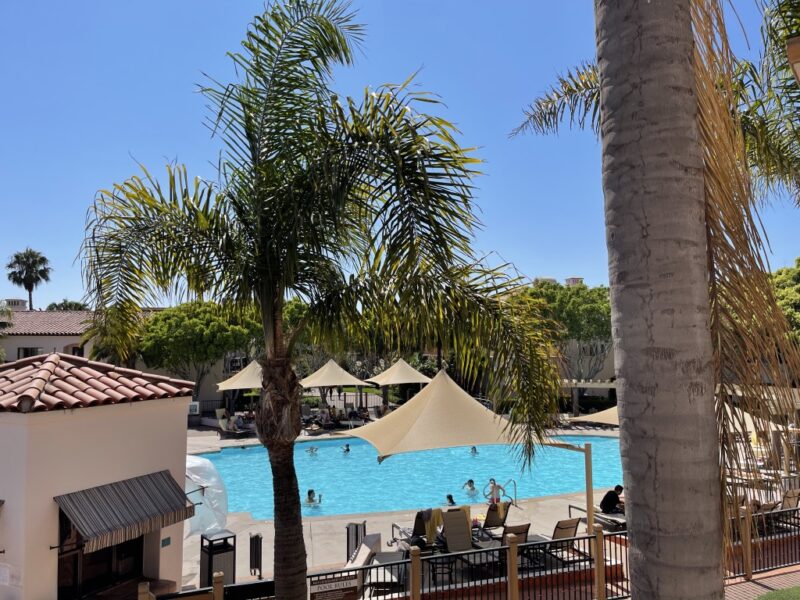 Ohh this mama was in vacay mode too and LOVING it!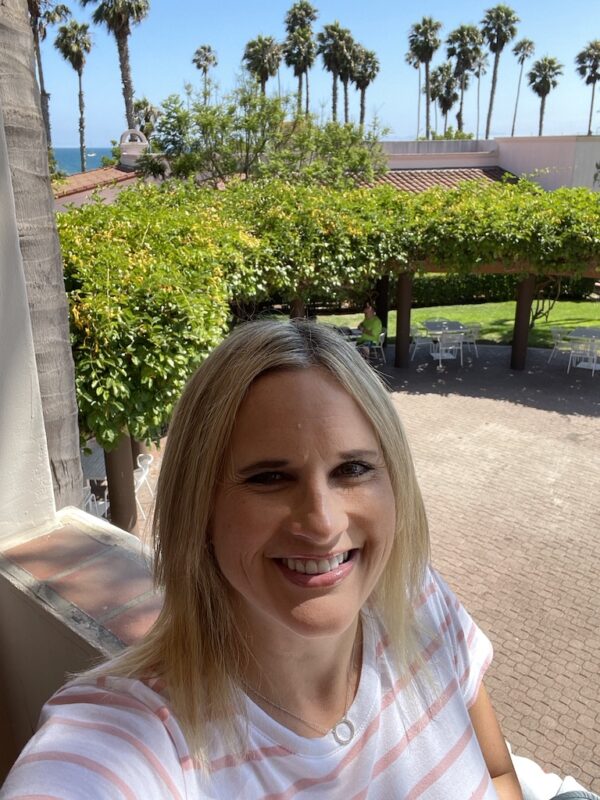 First order of business was checking out the pool…yup I approve!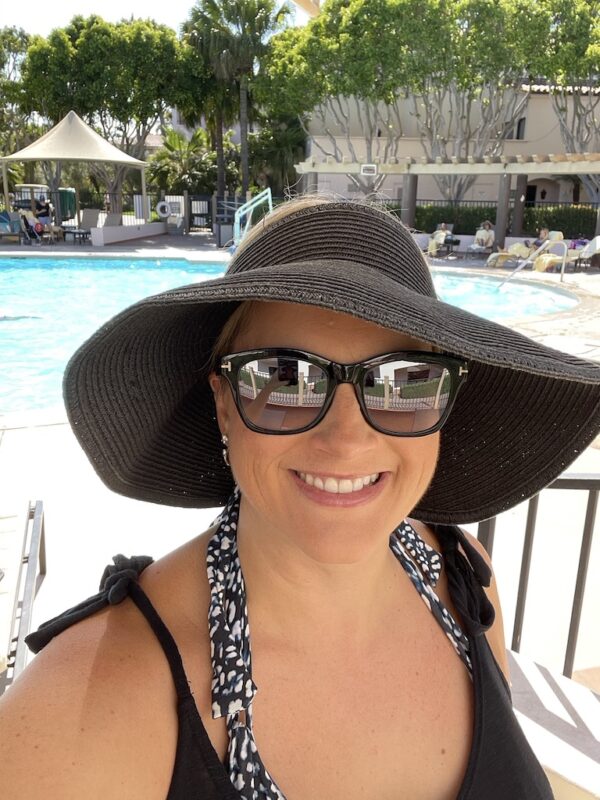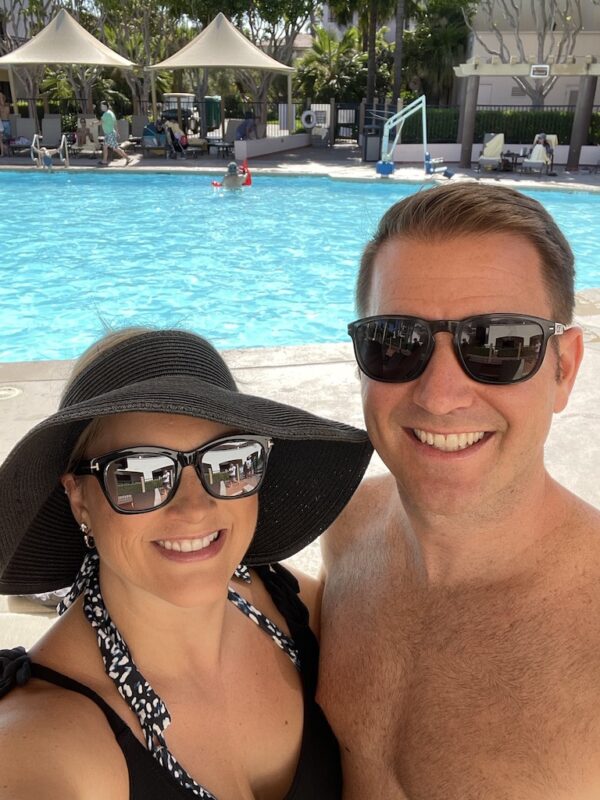 Playing with my boys in the pool while having no to-do lists to tend to is just pure happiness.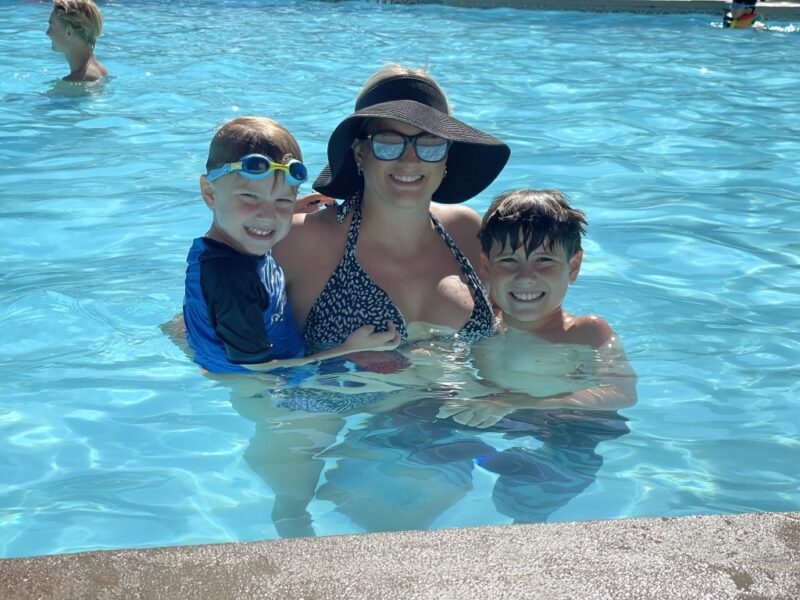 After the pool…Luke was of course dying to check out the beach. On our way out of the hotel grounds we ran into a foosball table so an impromptu family game happened. The teams were Jason & Tyler against Julie & Luke.
Daddy and Tyler WON!!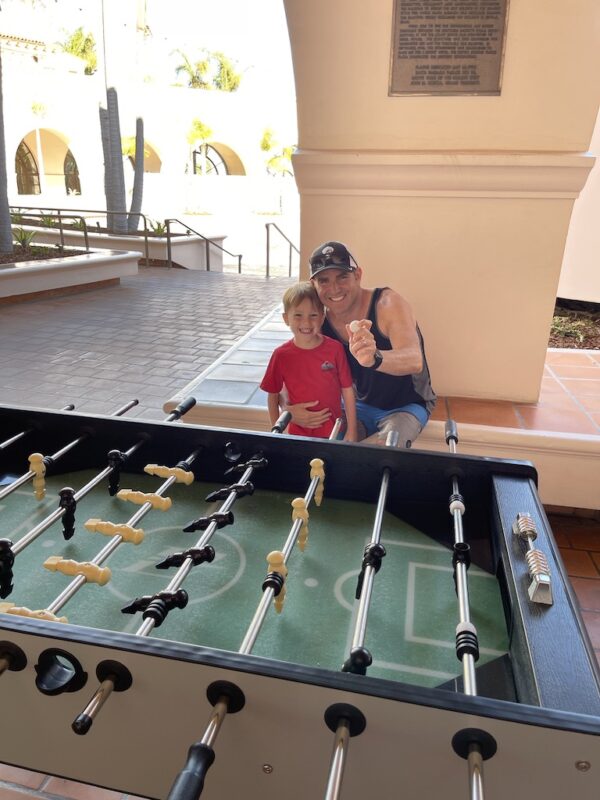 We were nice losers, lol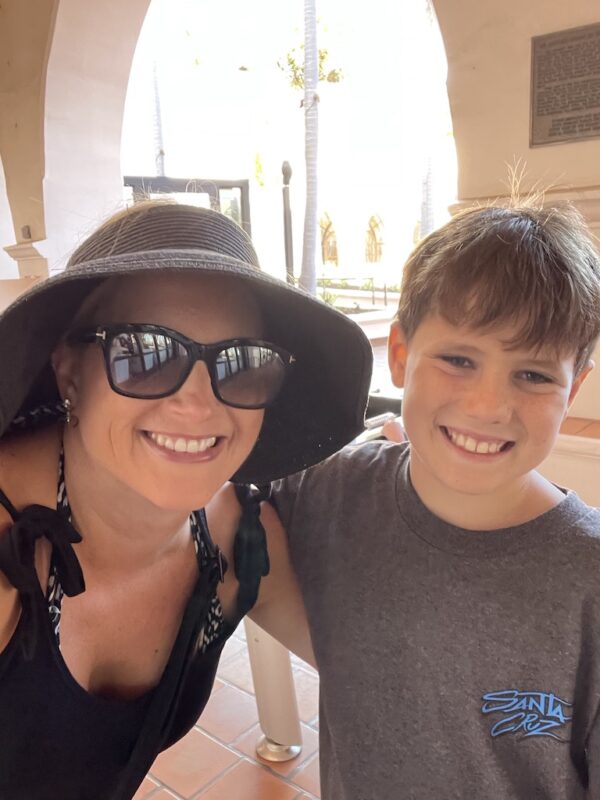 This courtyard part of the hotel was breathtaking!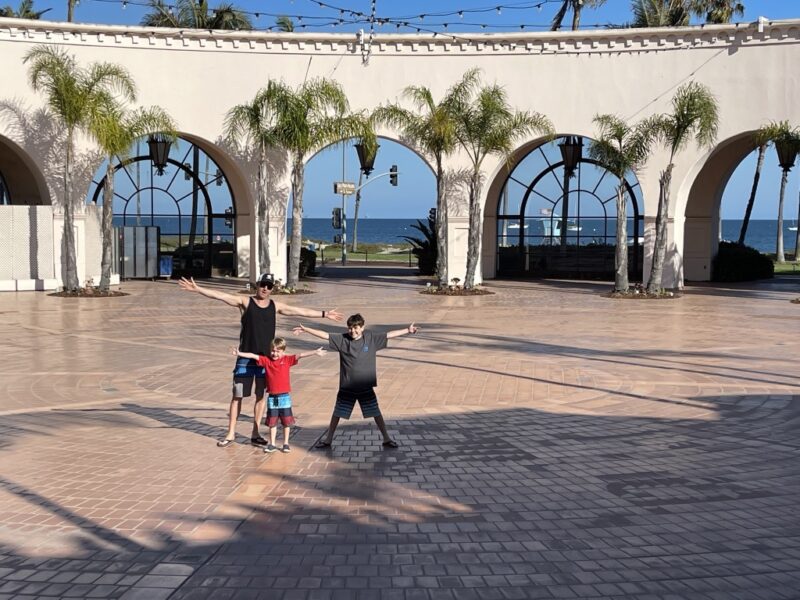 The view of our hotel from across the street beach side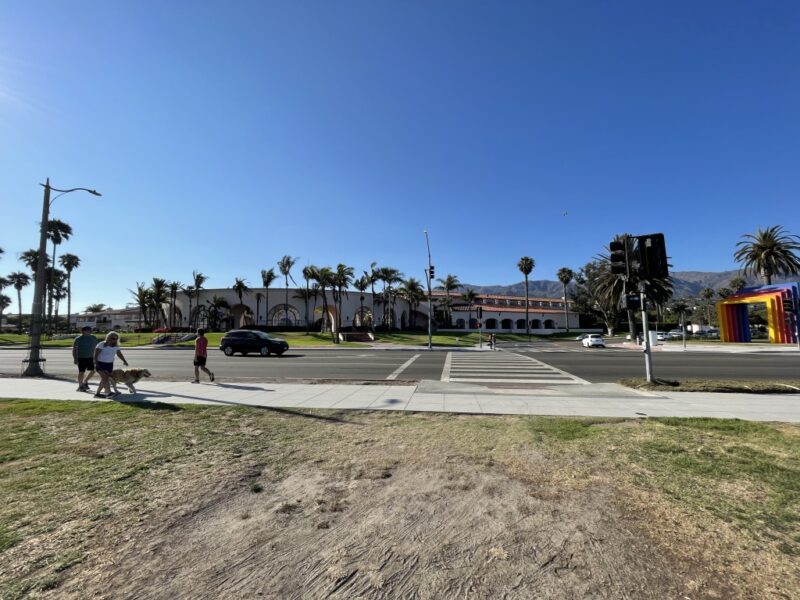 Santa Barbara Beach
The waves were a little underwhelming so Luke was a little disappointed. We told him we would go on a mission to find a beach in SB with better waves, hmm can we make that happen?!?!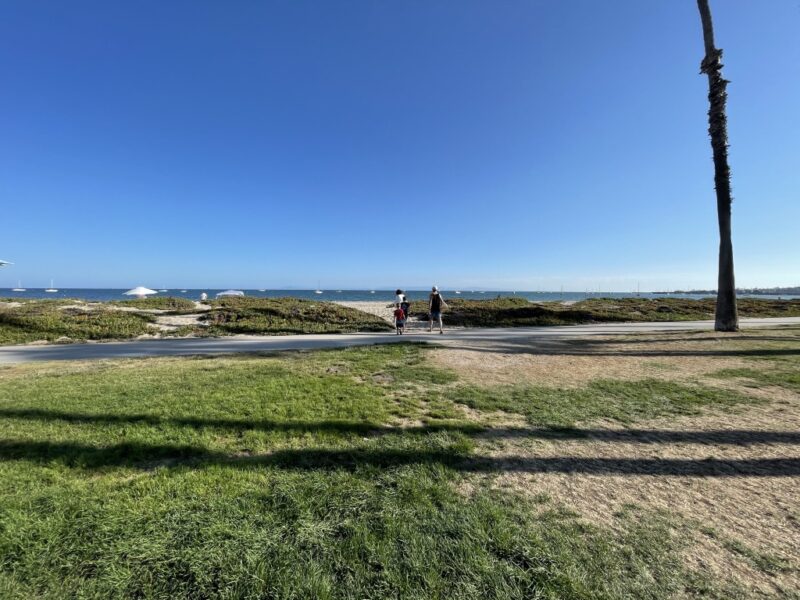 We went back up to our room to freshen up and then headed out for dinner downtown.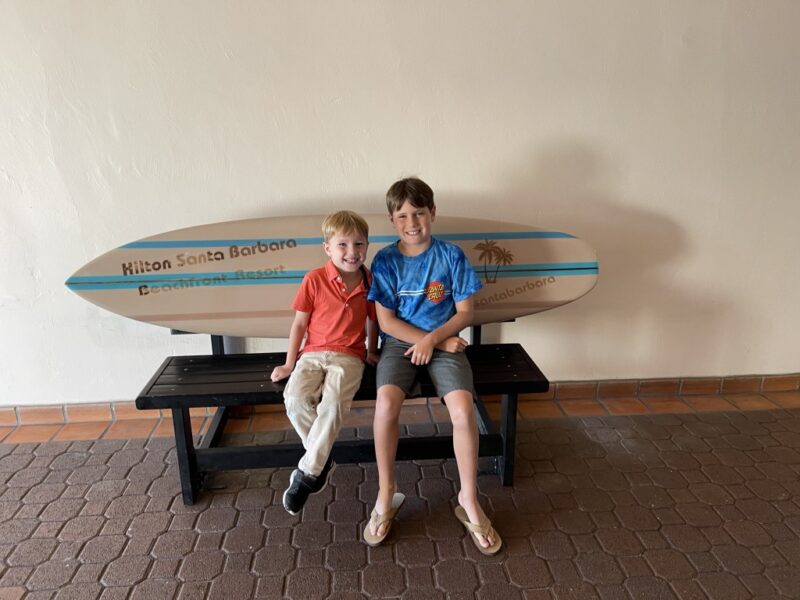 We changed plans and ended up not having a dinner reservation but found ourselves enjoying dinner at The Cruisery. Most of the stores were already closed for the evening so we did some window shopping.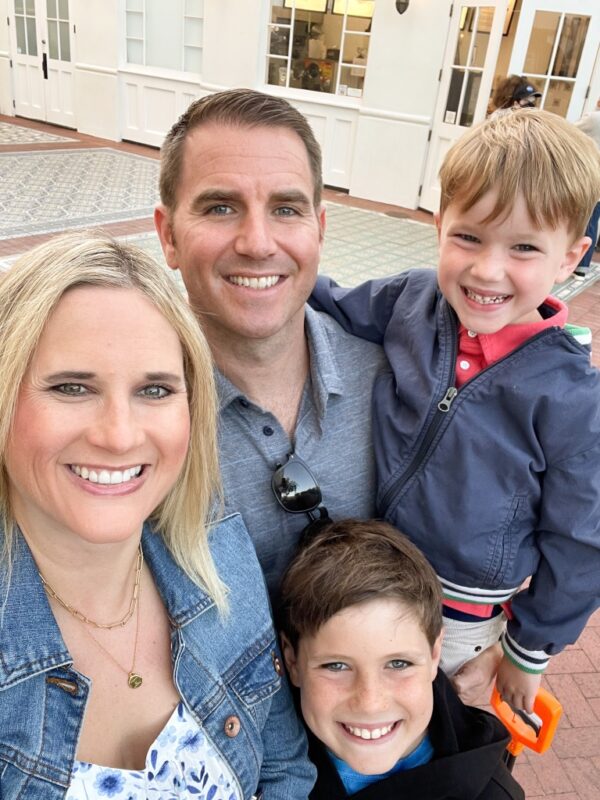 Day 4
Good Morning sunshine and Starbucks! They have a Starbucks on the hotel property so what a treat to enjoy a yummy coffee while looking out onto our view.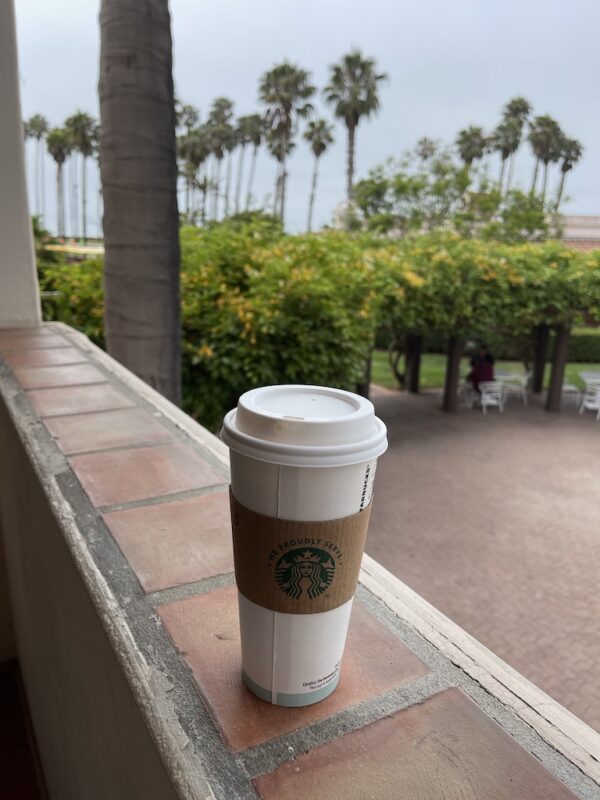 We had breakfast at the hotel and it was enjoyable and delicious especially sitting next to this cutie.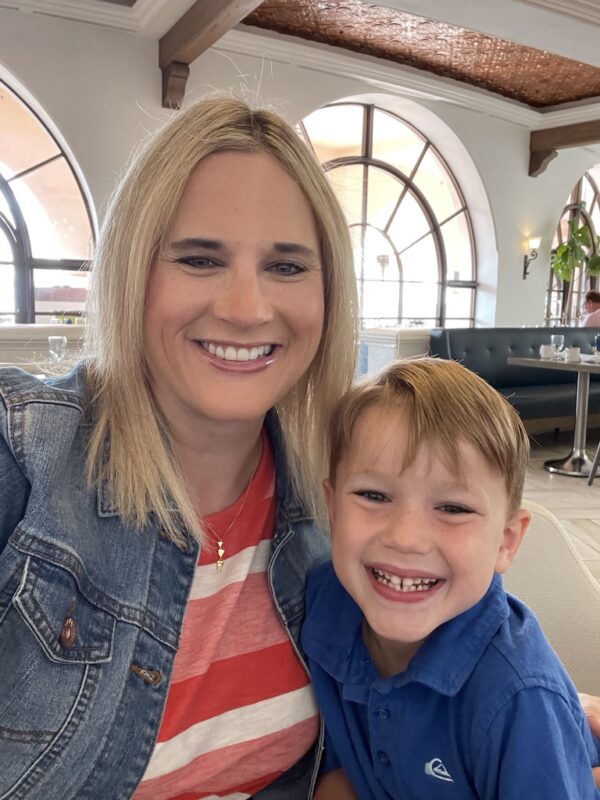 Jason made reservations for the Moxi a Children's museum so we headed there after breakfast.
Moxi Children's Museum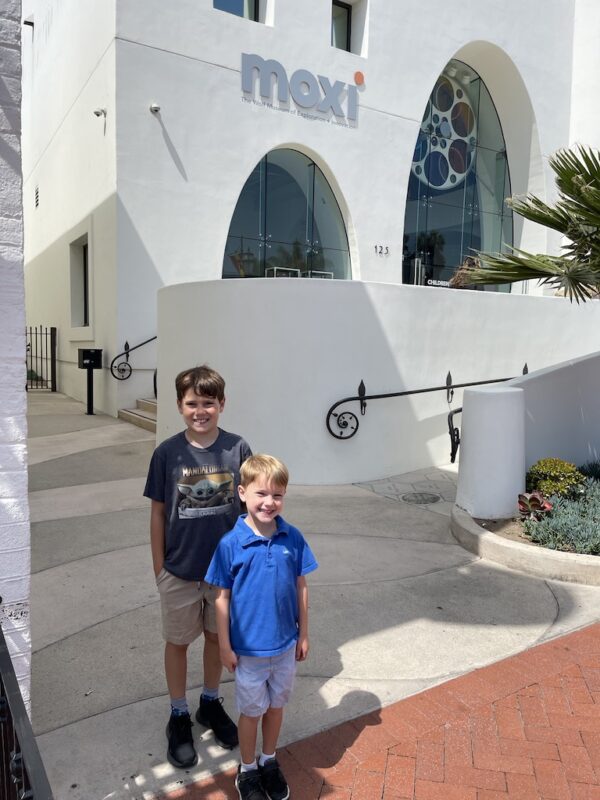 This children's museum was so cool and innovated. We all had a blast exploring all 3 levels.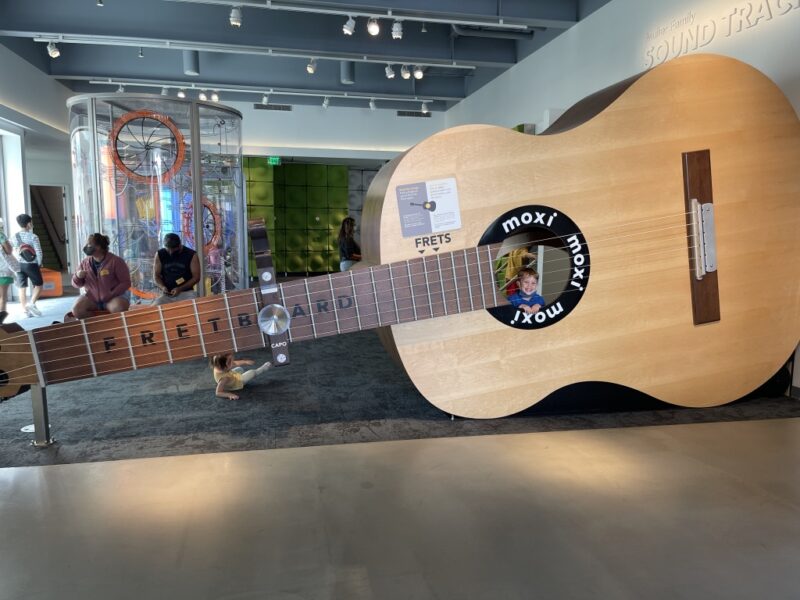 Inside the first level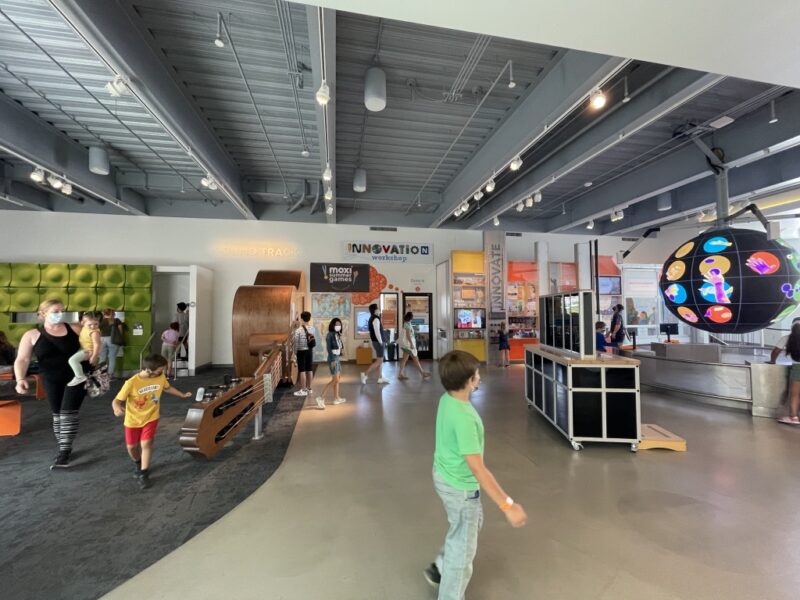 Every section had such a cool experiment, tool, exercise to stretch your thinking or to explore how the world works.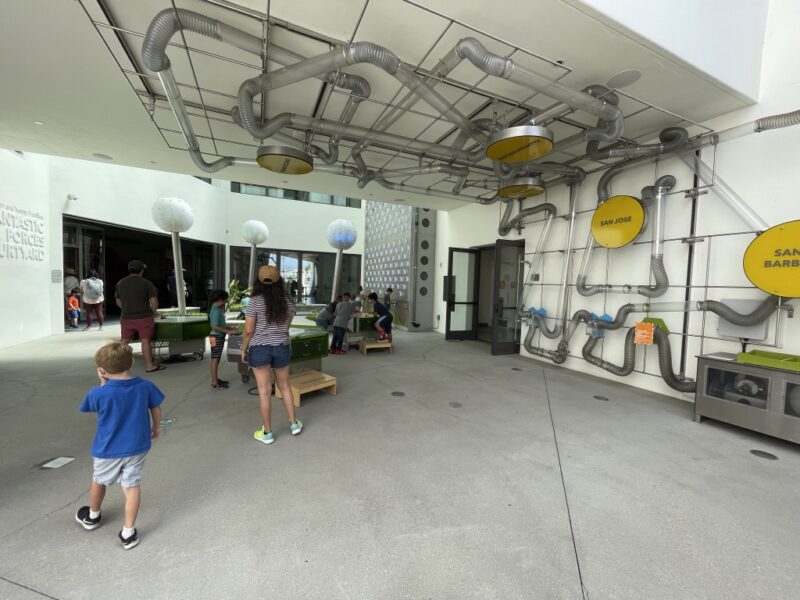 Even the stairs had a fun display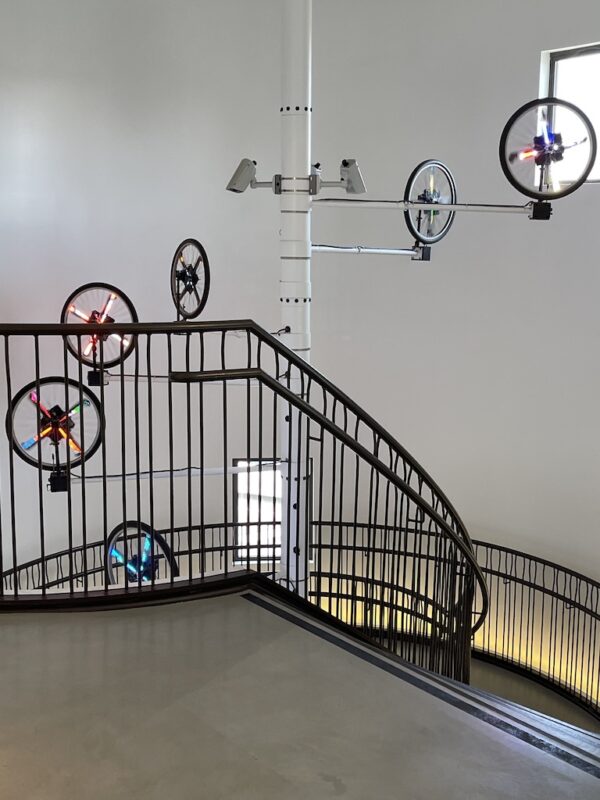 A look at the second floor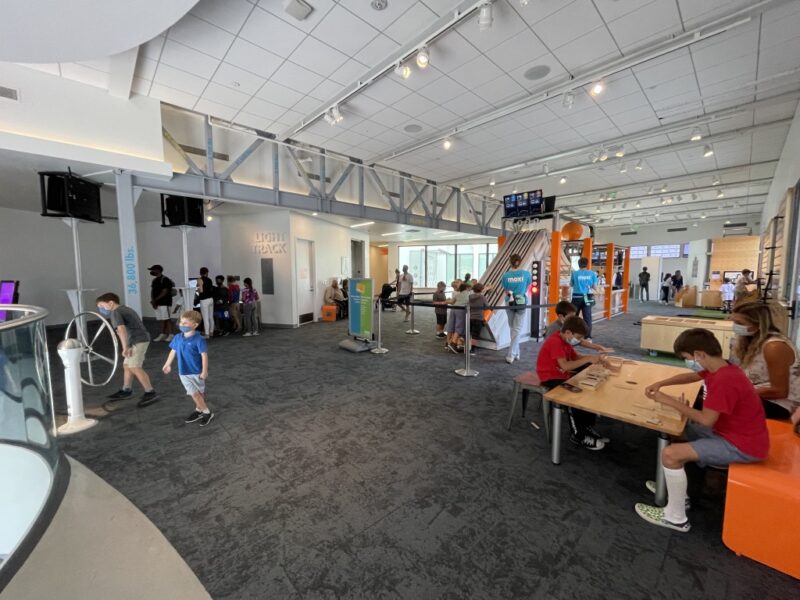 Building your own car to race!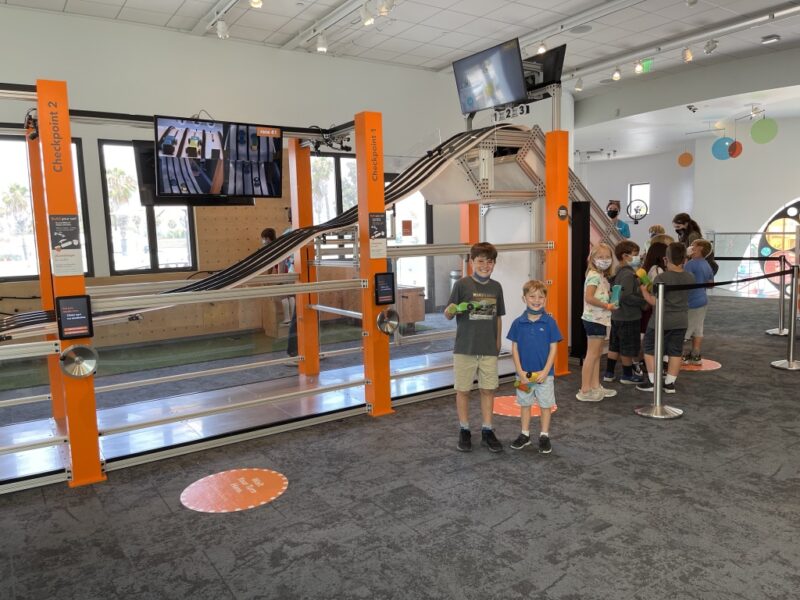 Gaming Section but without using a controller!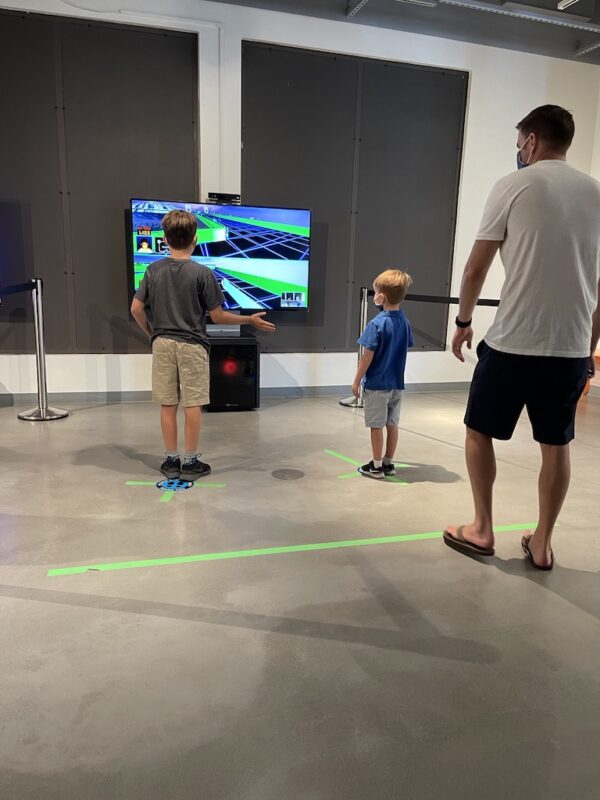 The rooftop Floor
I loved this area the best. They had such innovative ways to show how we can use the sun, wind, water, and sounds to do different things. Exploring was a fun time for all of us.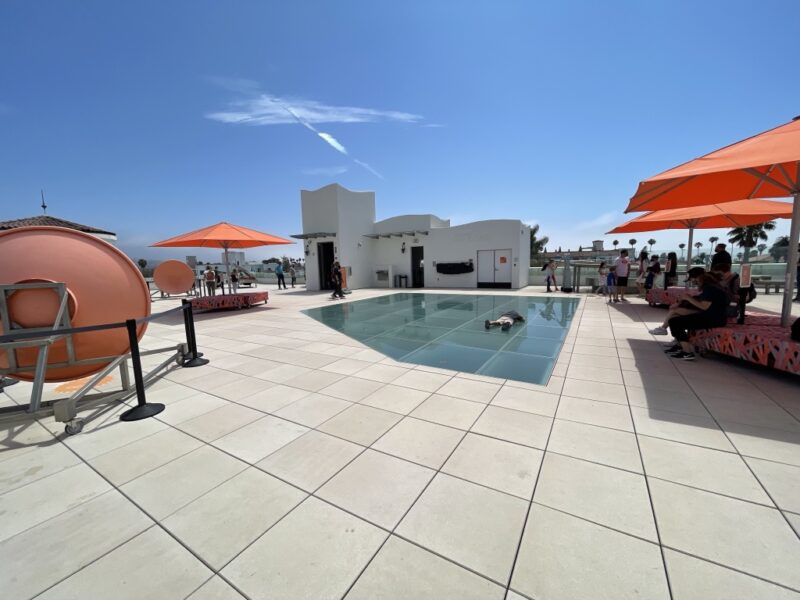 We spent a lot of time at this contraption discovering how you can make things happen with water.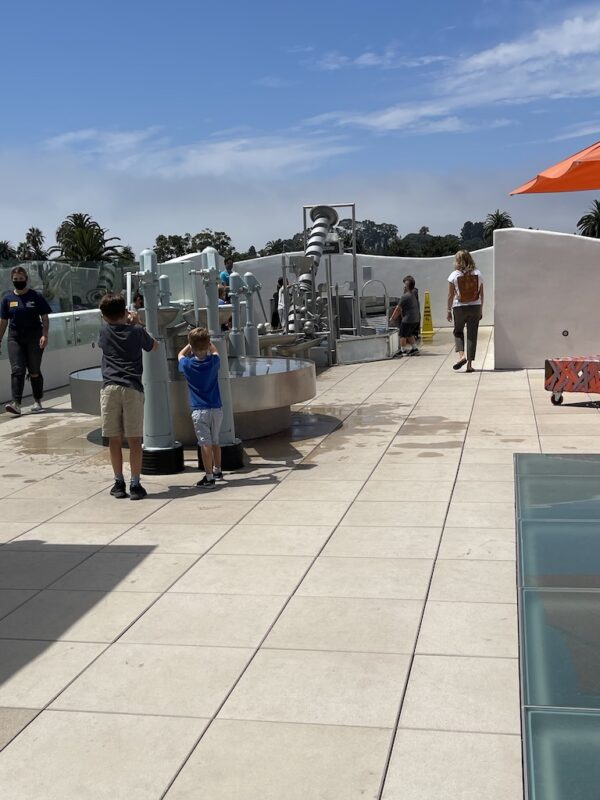 The VIEWS were amazing, you could see a panoramic view of Santa Barbara from the rooftop!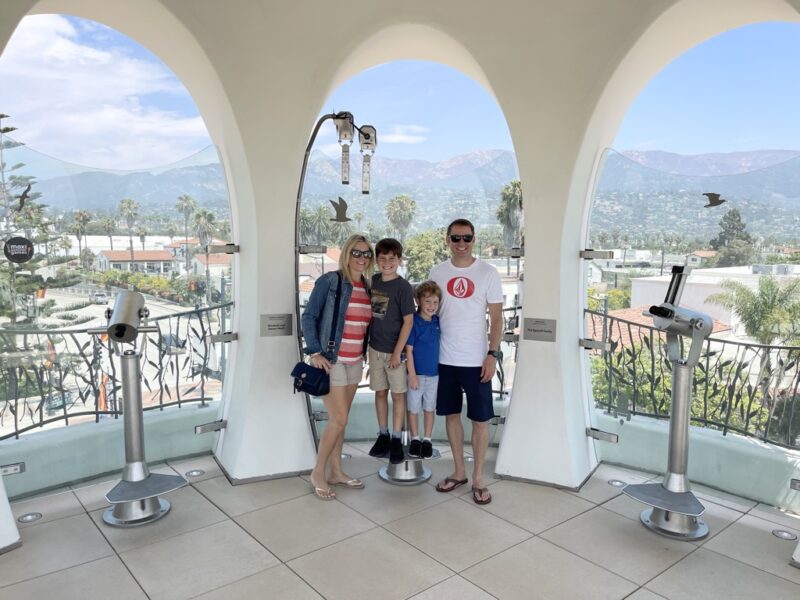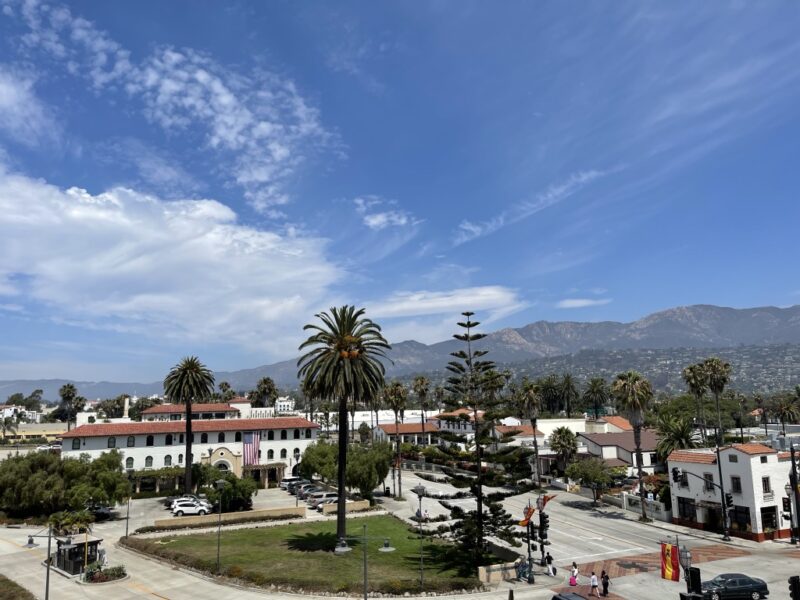 Overall, if you are in the area I highly recommend taking your kids to this fun, informative and innovated children's museum!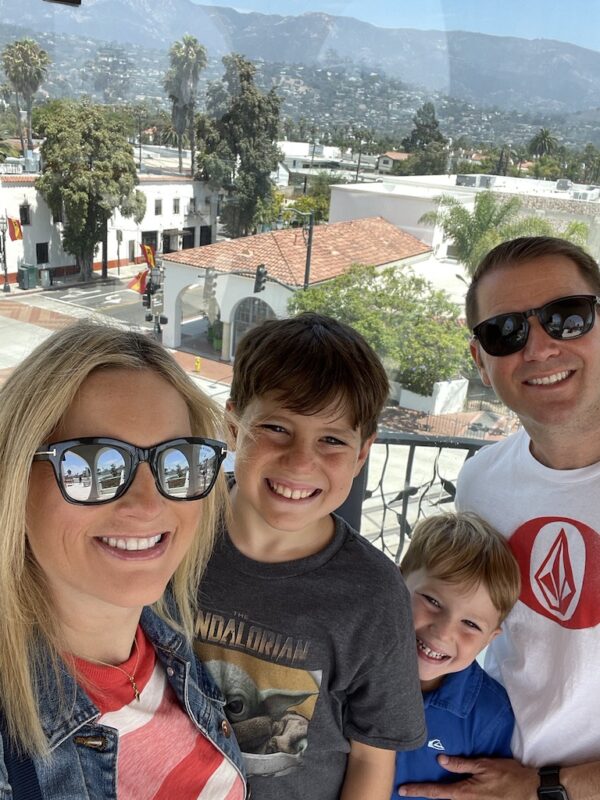 Downtown Santa Barbara
We roamed around more downtown, I wanted to check out the shops again since the majority were closed when we went the night before.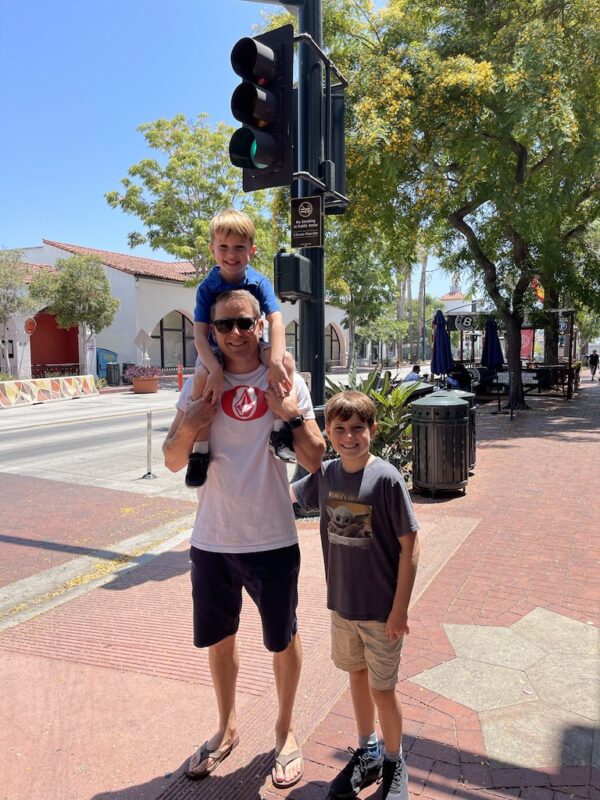 Shopping & FROYO
We spit up because Luke and I wanted to shop and Tyler and Jason did not, lol Before we shopped Luke and I are also the ones that enjoy frozen yogurt and ice cream so we took this opportunity to indulge ourselves with a tasty treat! Then we went to Volcom and Tilly's and did some back-to-school shopping for Luke and he LOVED his new cool purchases 🙂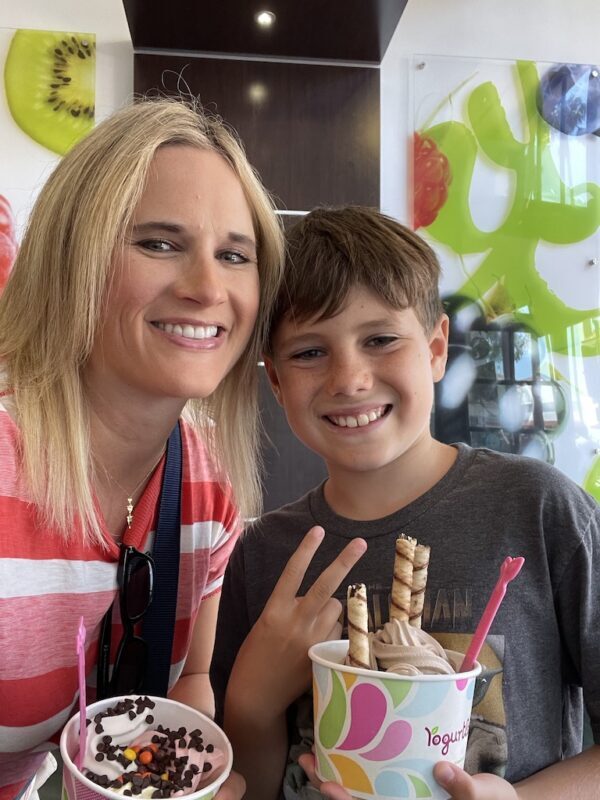 Back to the Beach
We found a beach in SB online that said it was supposed to be the best place to boogie board. But sadly, the waves weren't good and we came to the realization that Santa Barbara is not great for surfing and boogie boarding. Luke was very appreciative for our beaches back down south where they were more his speed. We still enjoyed ourselves tho.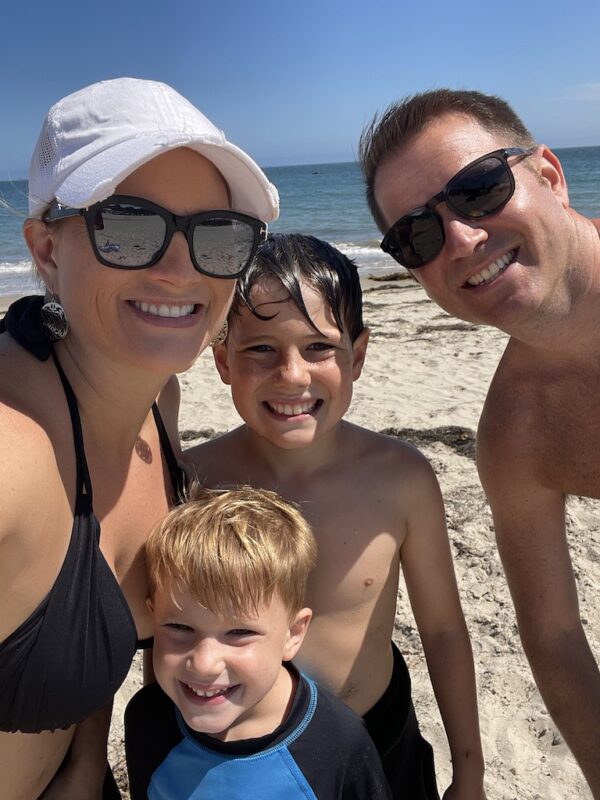 Boys splashed around in the small waves, lol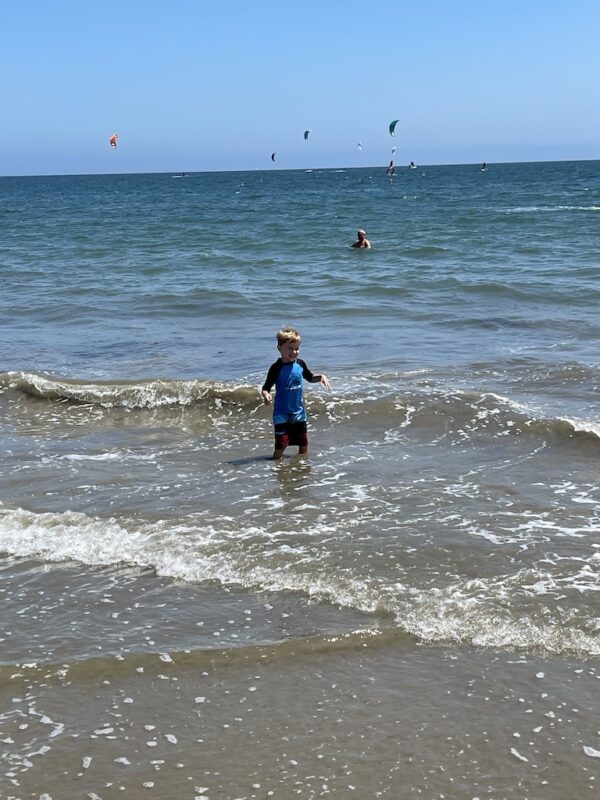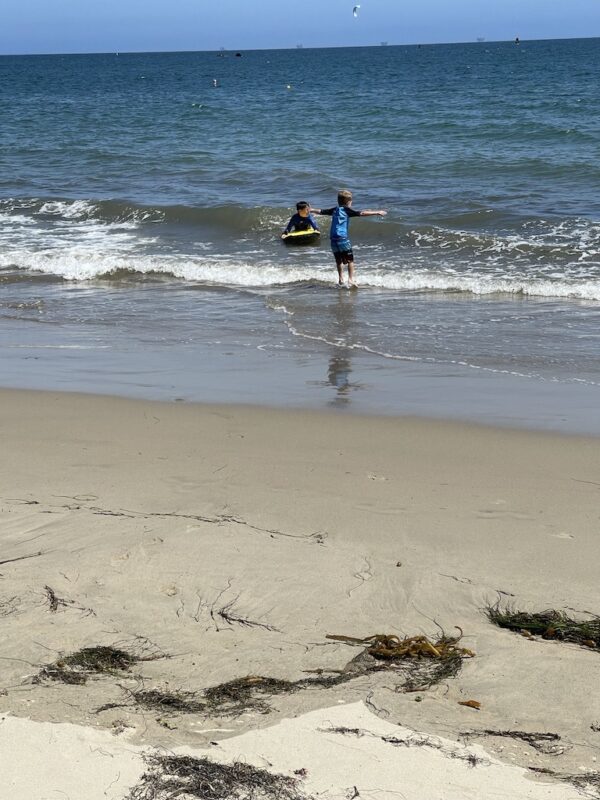 We enjoyed a late lunch at Shoreline Beach Cafe and it was right on the beach!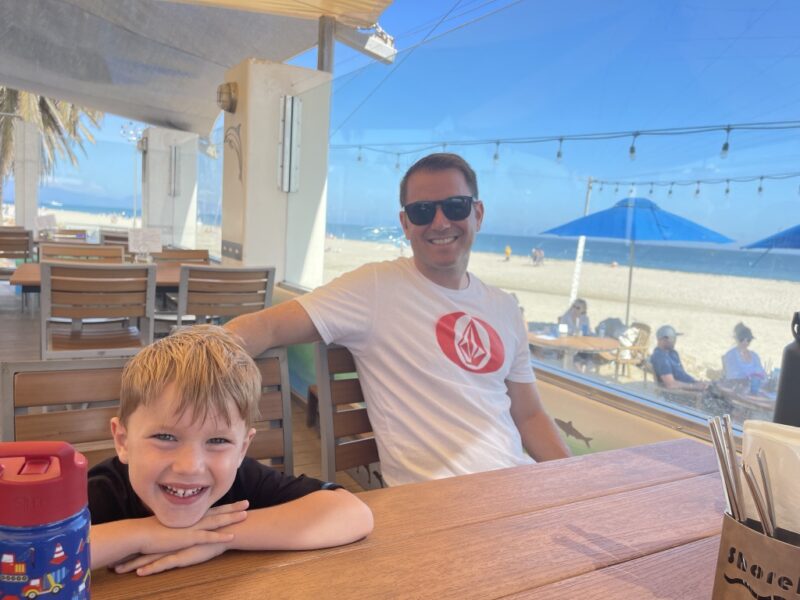 We headed back to the hotel to relax and chill until our dinner reservations at The Bluewater Grill.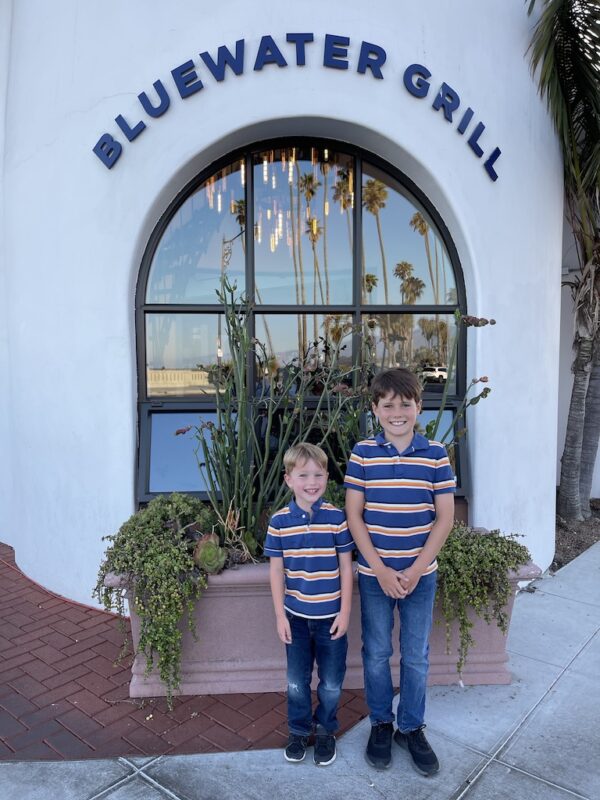 Love these crazy high energy boys!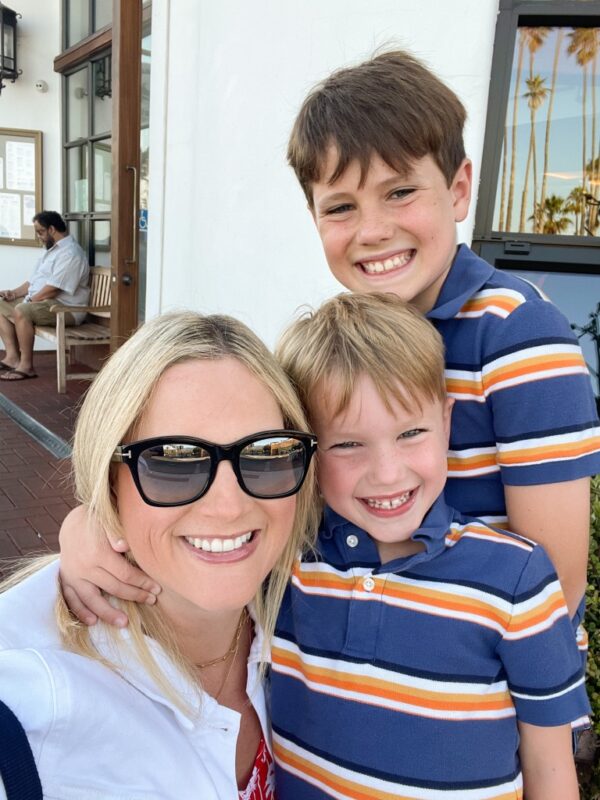 They were in a silly mood, I'm sure the people sitting near us loved their energy, lol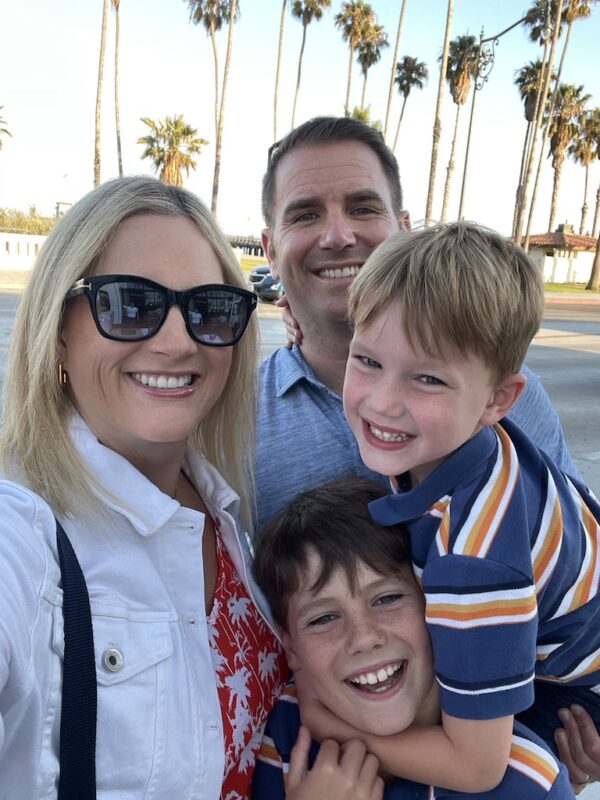 I loved my Espresso Martini!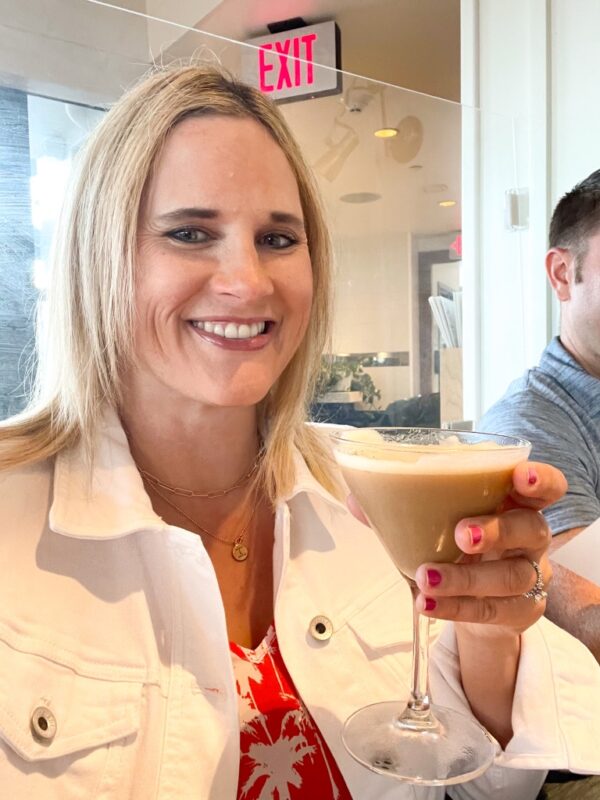 I'm going to be honest, dinner at The Bluewater grill was a bust! We've eaten at this restaurant before but in a different city, however, this night the chef was off with his cooking. The clam chowder was very disappointing and we were so looking forward to it. My scallops were so off in their seasoning that I couldn't even eat most of them, womp womp. But I enjoyed my cocktail!!
I looked up different experiences that you could arrange through the hotel. The one that caught my eye was having our own fire pit and roasting marshmallows. I arranged for this to happen on our last evening of being in Santa Barabara. Their fire pits were on the hotel grounds facing the ocean and it was a fun family moment to have this private experience together.
Bonefire – Roasting Marshmallows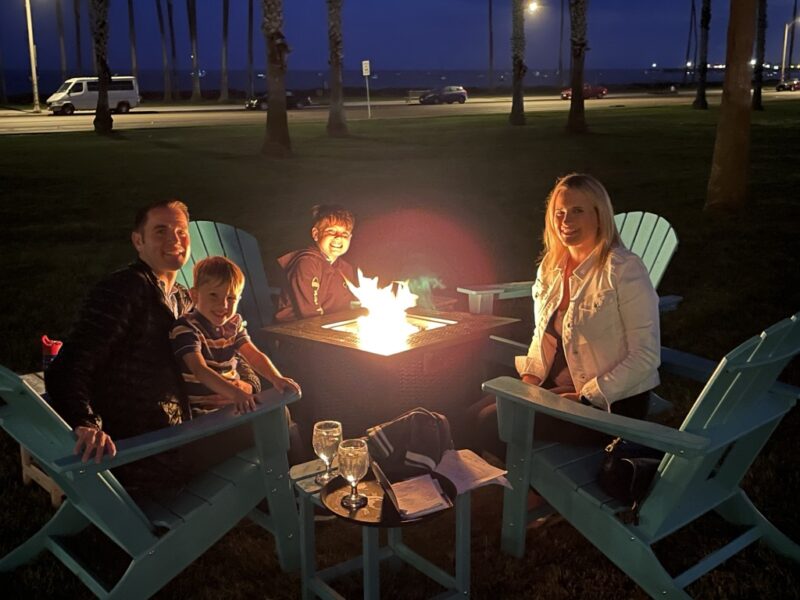 Cocktails by the fire!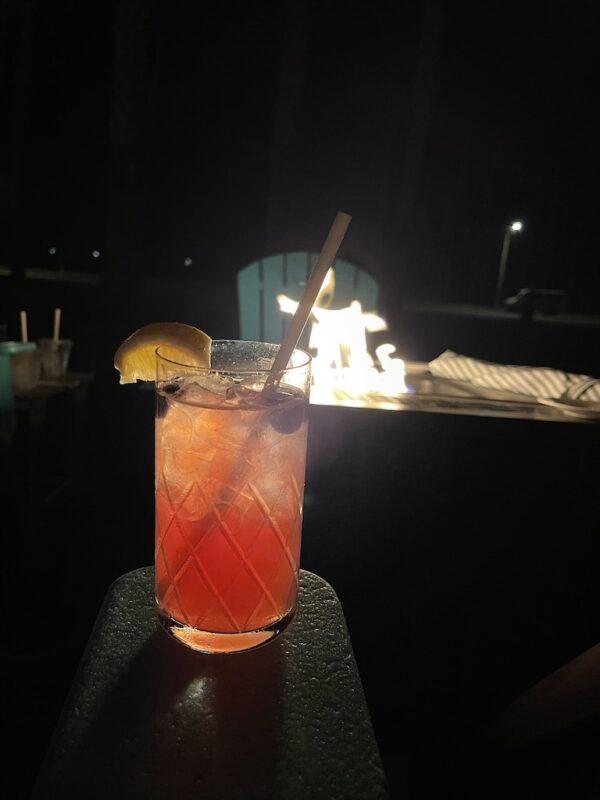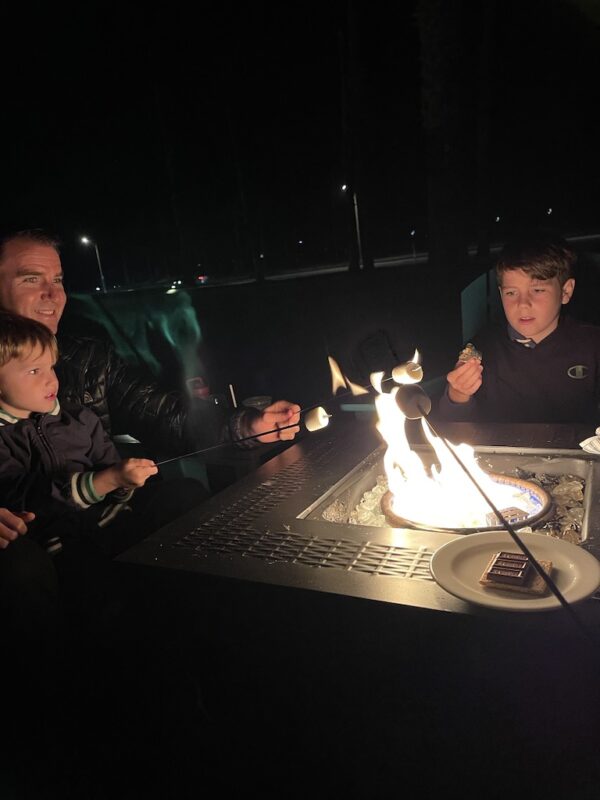 Our Gorgeous View!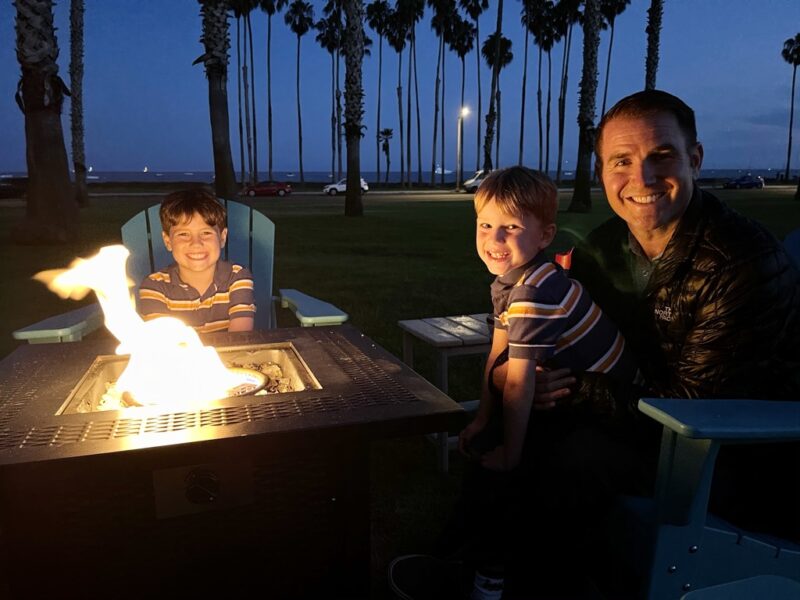 They loved roasting them so of course we had to order another set, lol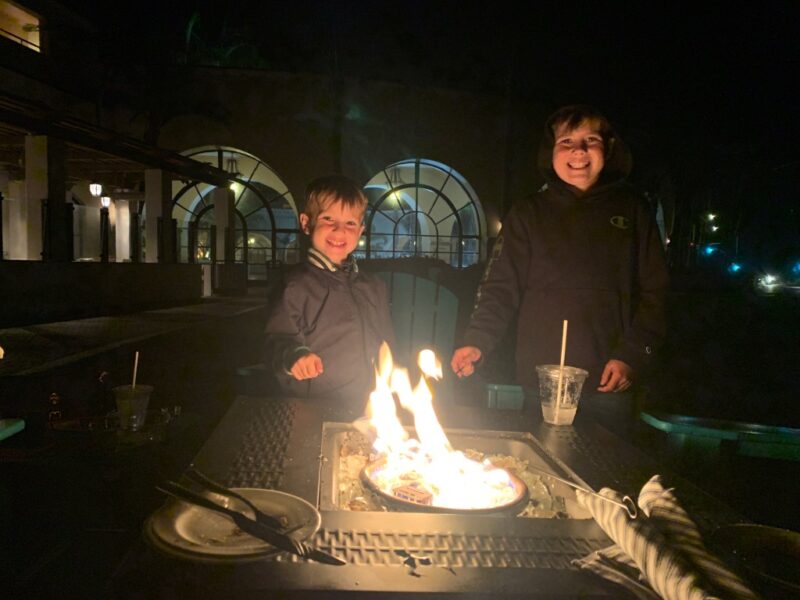 Very thankful for these memories together, they will live on in our memory's for years to come.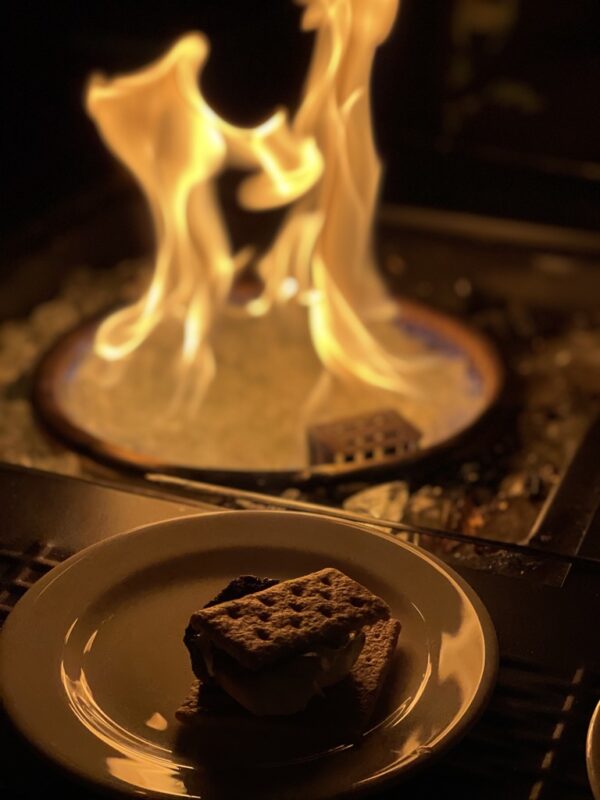 Souvenirs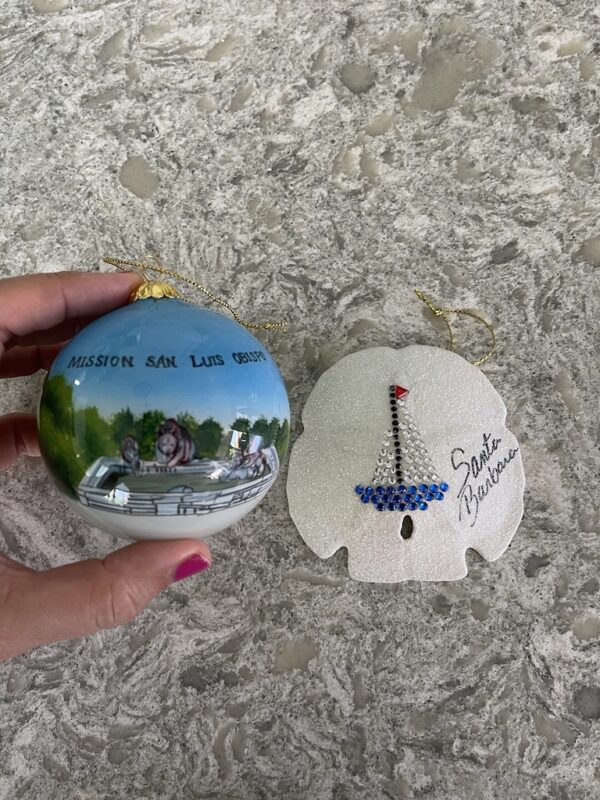 I like to purchase Christmas ornaments on our travels. I write the vacation date on the ornament and when I hang it up on our Christmas tree it reminds me of our trip or a special moment. I've collected ornaments since I was little and it makes for a very sentimental tree at the holidays.
That concludes our stay in Santa Barbara. Thank you for reading along today. The next and final stop on this family vacation is the Great Wolf Lodge.
XO