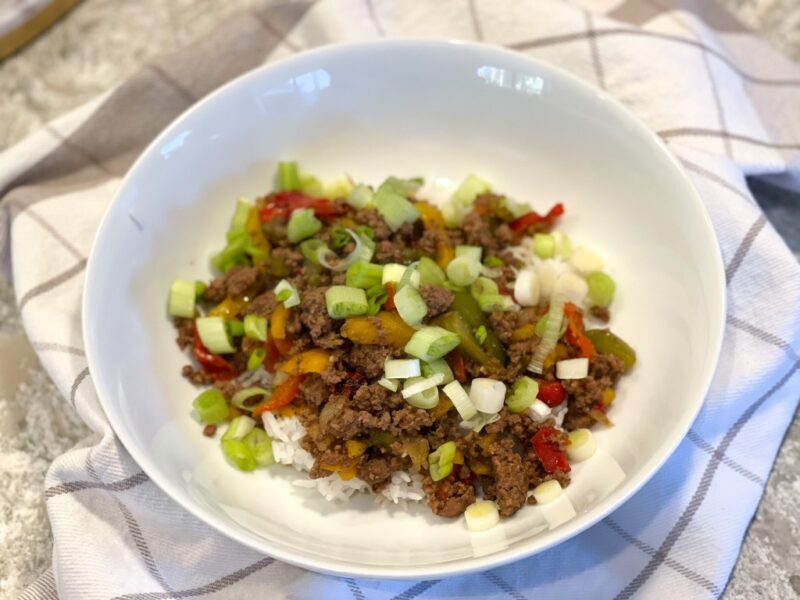 I don't know about you but I'm always on the hunt for simple & easy to make weeknight dinners that are still packed with flavor and this Spicy Beefy Rice Bowl checks all the boxes!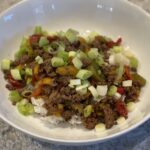 Spicy Beefy Rice Bowls
This bowl is easy to make, yummy and is a perfect fast weeknight meal! You don't have to make it spicy, just omit the sauce at the end.
Ingredients
Beef Bowl
2

lbs

ground beef (use only 1 lb if you are making for 3-4 people)

EVOO

salt and pepper

½

cup

soy sauce

½

cup

beef stock

3

cloves

garlic

chopped

frozen mixed veggies from Trader Joe's. I like the one with bell peppers & onion. Other good ingredients for the mixed veggies are shredded carrots and mushrooms.

jasmine white rice (trader joe's frozen section)

prepared and cooked

6

green onions

chopped

fresh chili garlic sauce from the Asian food aisle or get Trader Joes Sweet Chili Sauce-it's SO good!

Optional Topping
Instructions
Jasmine White Rice
I used the Trader Joe's option from the freezer section. Microwave according to the directions.
Beef Bowl
Gather all the ingredients, ground beef, olive oil, S & P, soy sauce, beef stock, garlic, mixed veggies, rice, green onions, and chili garlic sauce.

Get out a large pan and over medium-high heat start cooking the ground beef. Drizzle EVOO over the meat. Break up the meat until crumbly. Season with s & p. Drain off the fat after the meat is no longer pink.

Stir in the soy sauce and the beef stock and bring the meat mixture up to a simmer. Simmer for 2-3 minutes and then add the garlic and simmer for another minute.

Next add in the mixed veggies and simmer them in the meat for 3-4 minutes but not too long, you don't want mushy veggies.
Assemble the Beef Bowl
Add the cooked rice to your bowl and top with the meat and veggie mixture. Sprinkle green onions and the chili sauce over top. Easy Peasy-Enjoy!
Recipe Notes
The original recipe is brought to you by one of my favorite go-to-bloggers for recipes, Mix and Match Mama. You can find the recipe HERE.