Home Tour Posts:
Welcome to the home tour of Tyler's updated bedroom!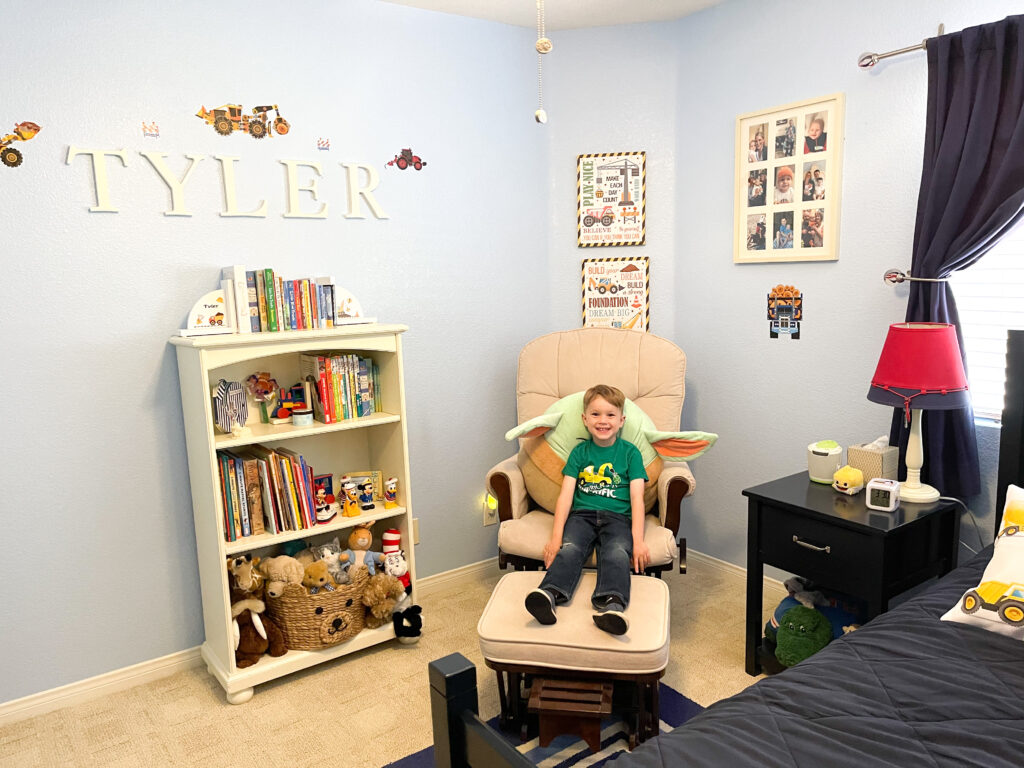 We just finished Tyler's bedroom and we are so happy with how it turned out! Tyler chose a construction truck theme and he is in love with his "big boy" room. Hope you enjoy the home tour of Tyler's bedroom.
The Layout from every angle of his room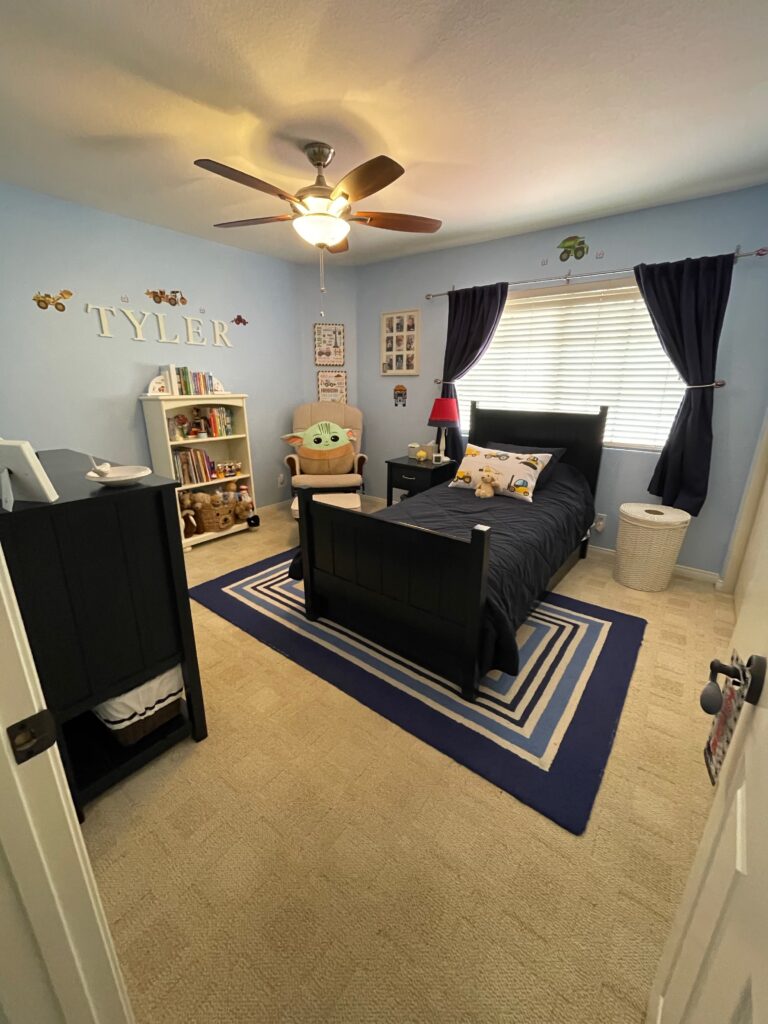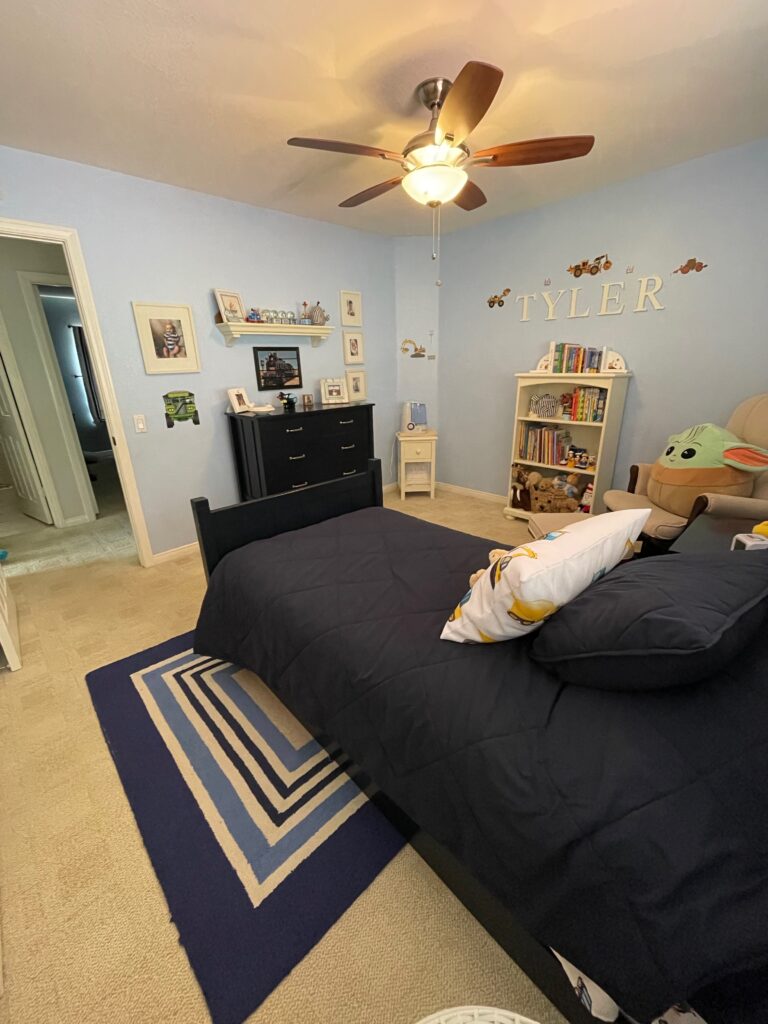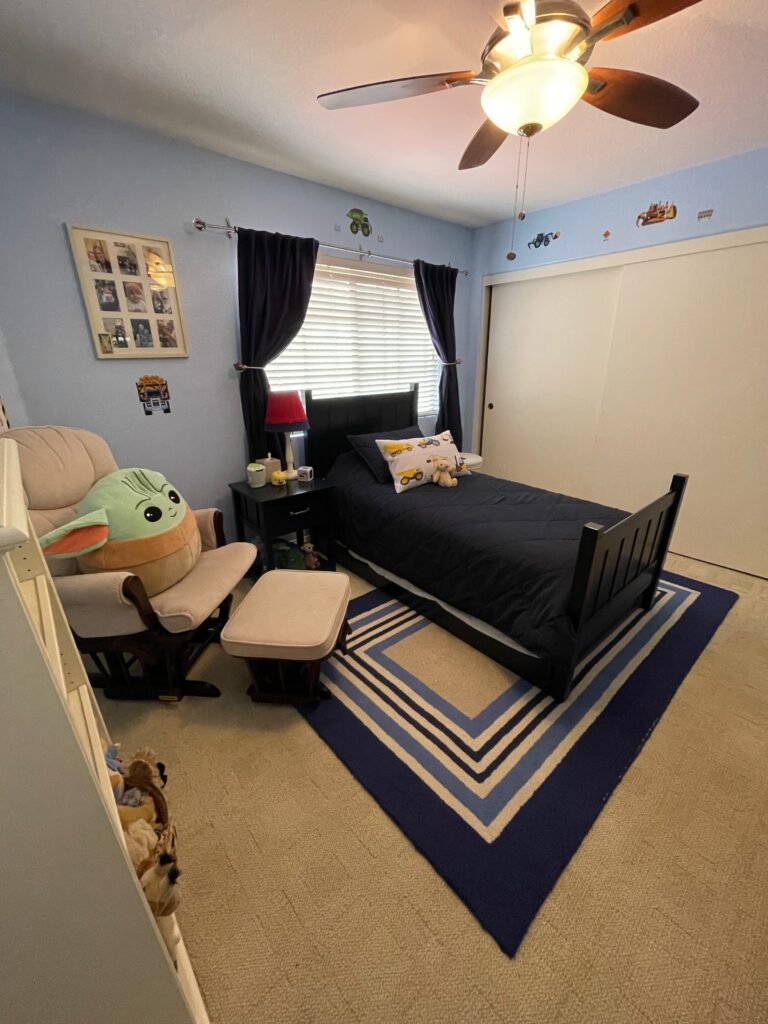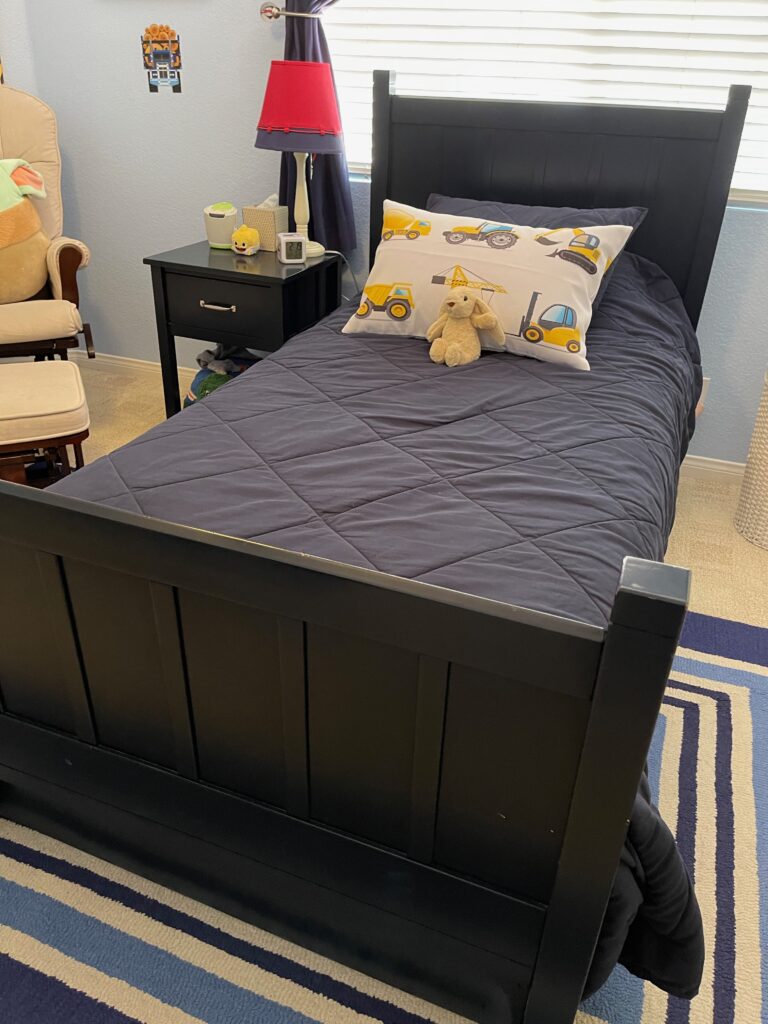 The bed is from Pottery Barn and is apart of their Camp Collection. There is a trundle bed underneath that comes in handy when we have cousins or friends spend the night. The bedspread and navy pillow sham are from Pottery Barn and Truck Sham Pillow Case is from Amazon.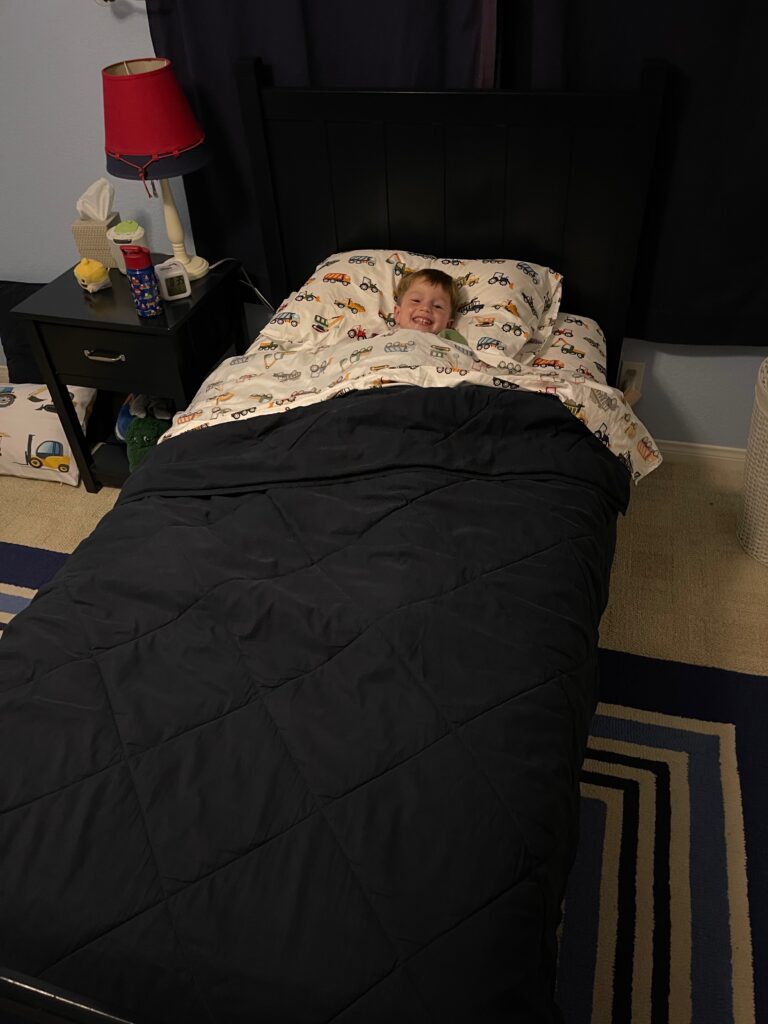 Keeping to the construction truck theme we purchased new truck sheets, you can find them HERE from Amazon.
Window Treatments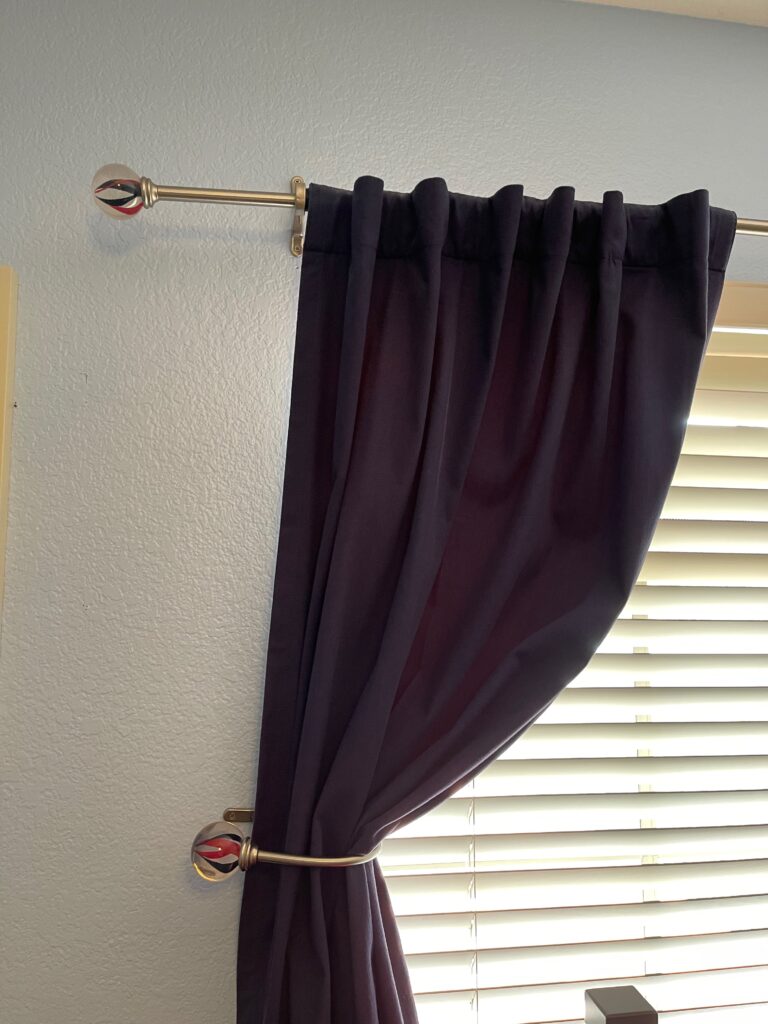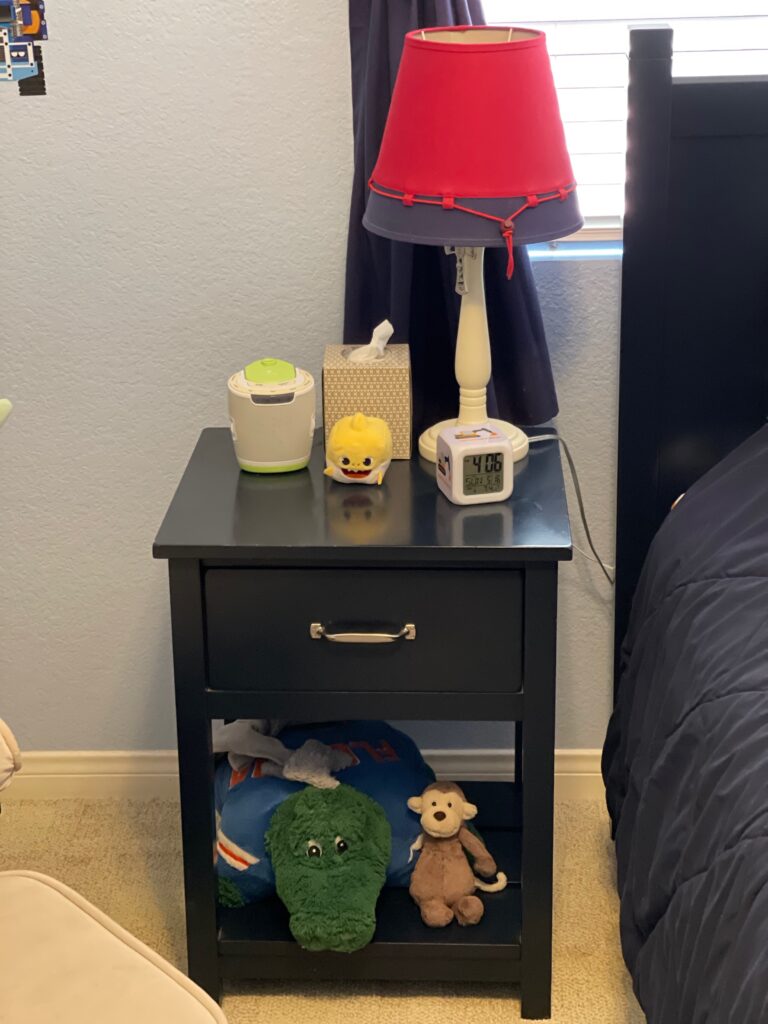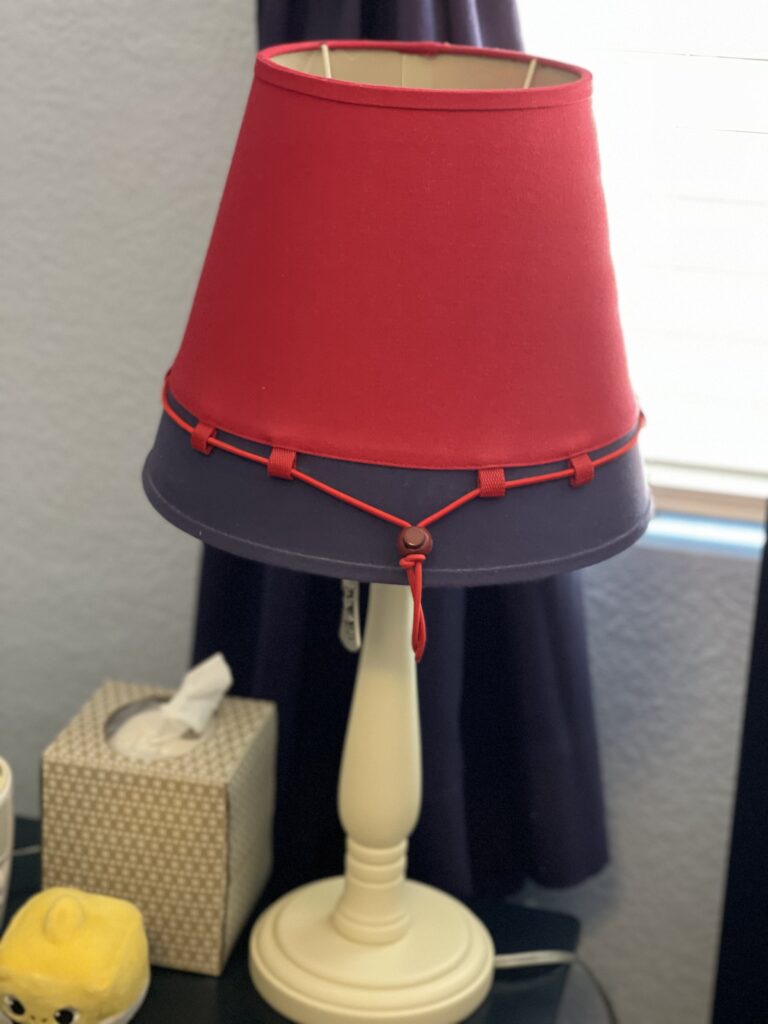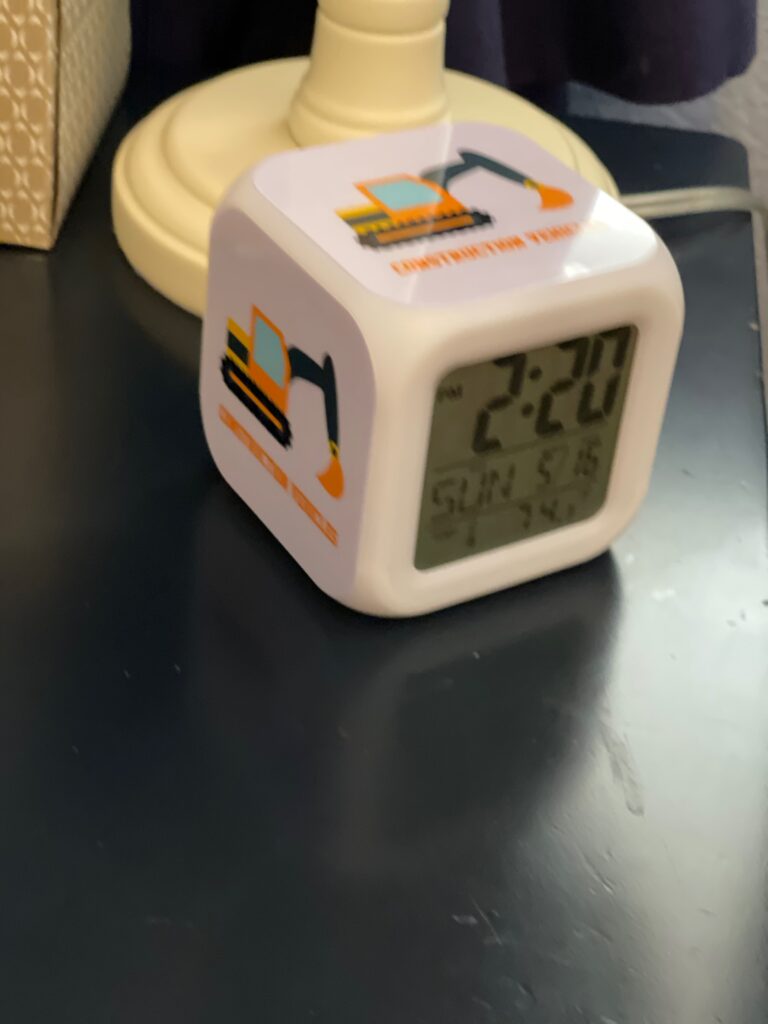 Pottery Barn Frame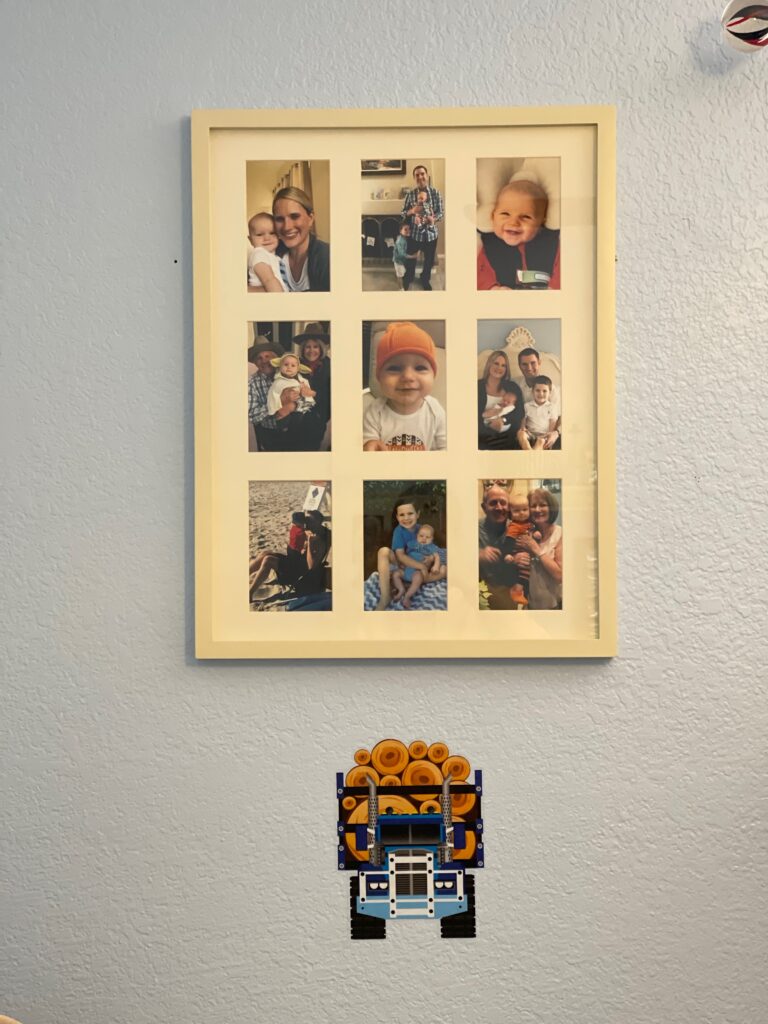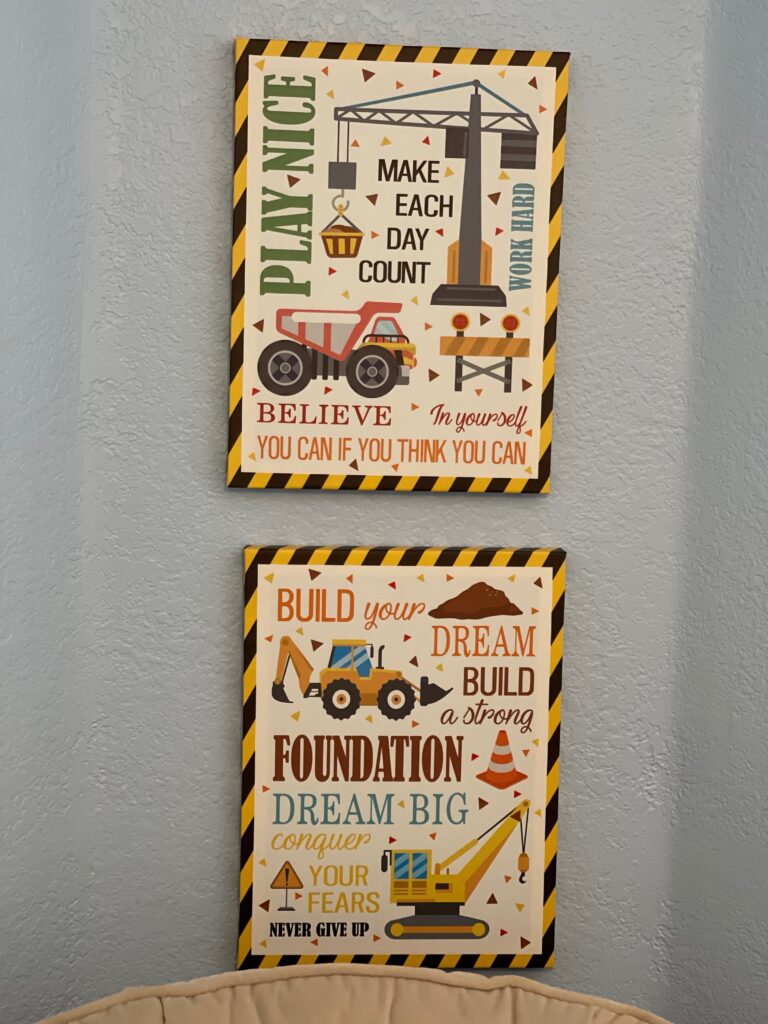 Rocking Chair & Baby Yoda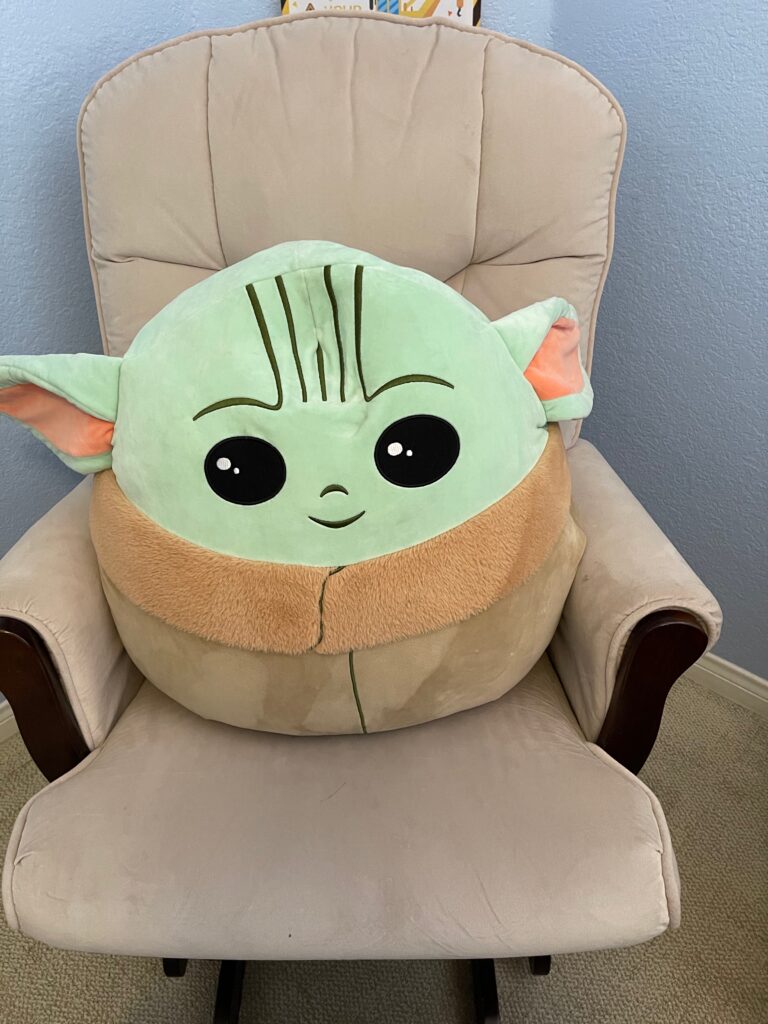 The rocking chair is super old from when Luke was born and I think it was from babies R Us. Baby Yoda is from Costco.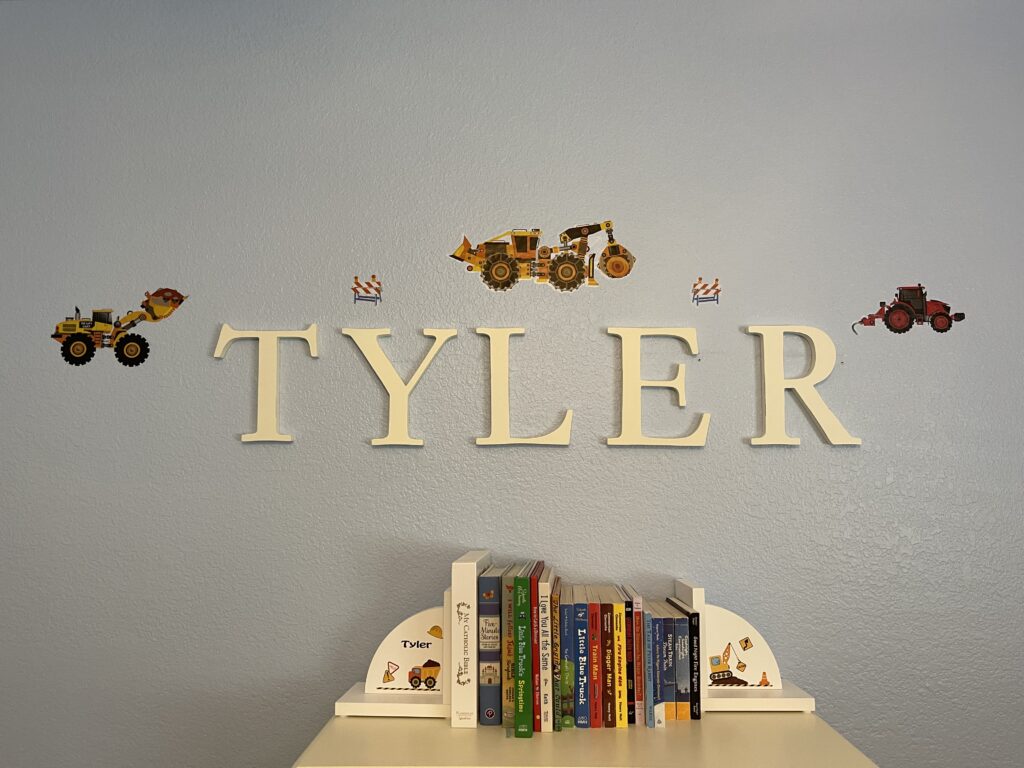 Using decals to decorate your kids room to a theme has been a great option for us. It doesn't mess up the paint and they look great. We took down the sailboats and added construction trucks and they add so much to the look of the room.
The Bookshelf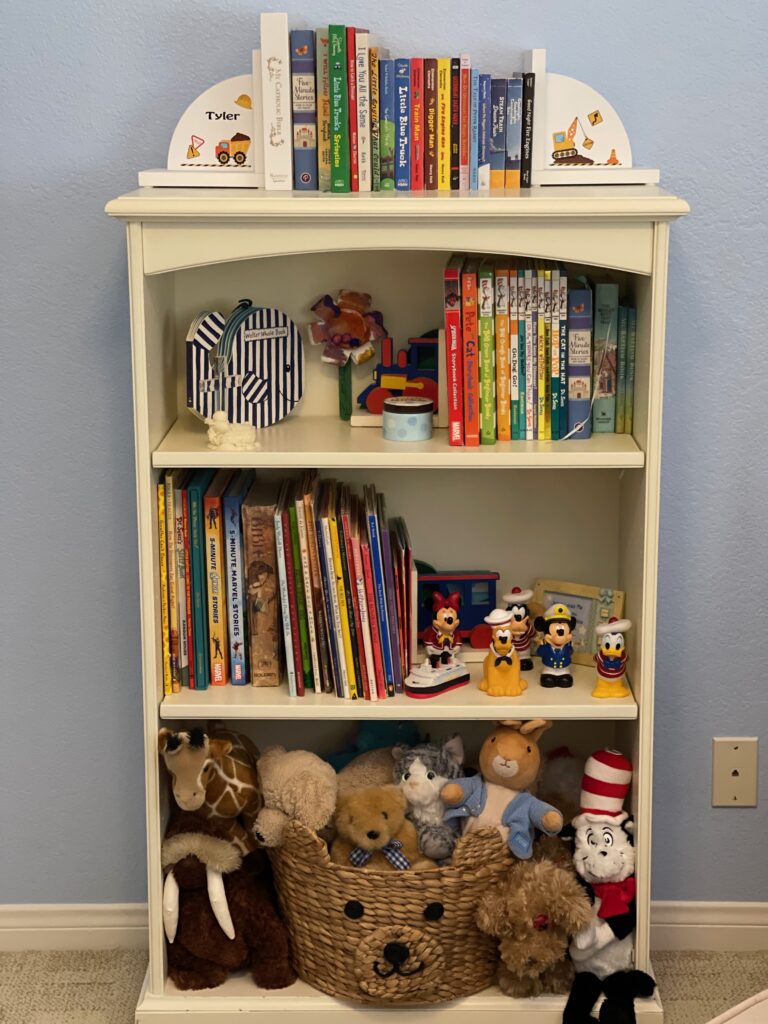 This bookshelf was part of the Pottery Barn Catalina Collection but they no longer carry it, this one is similar.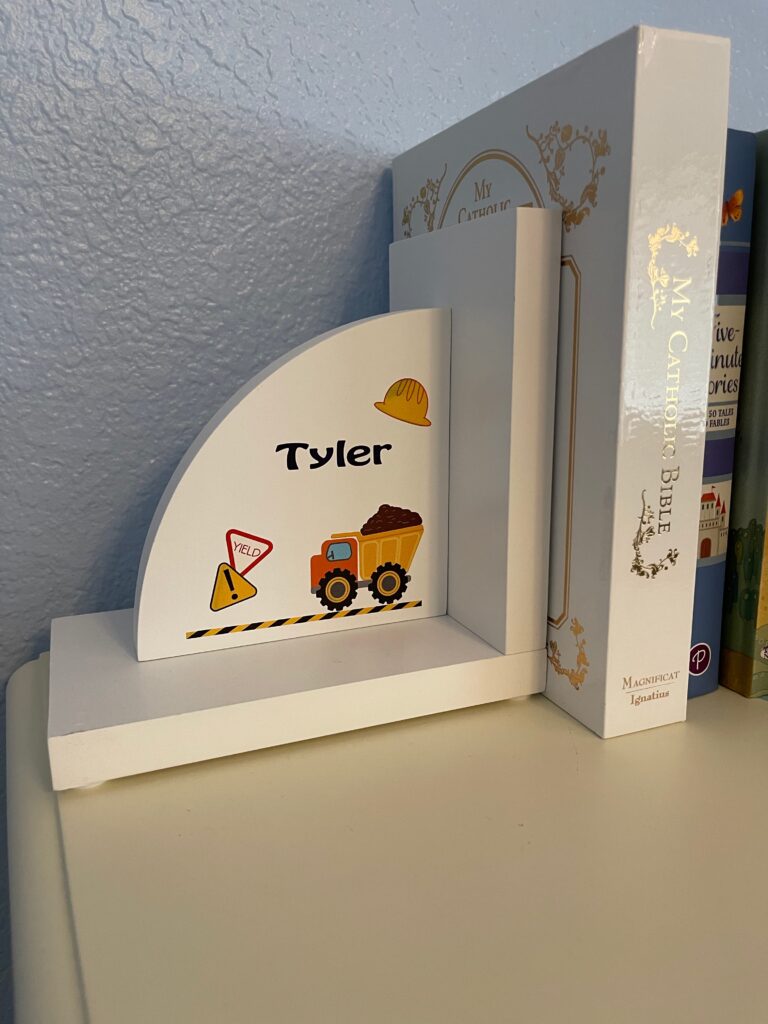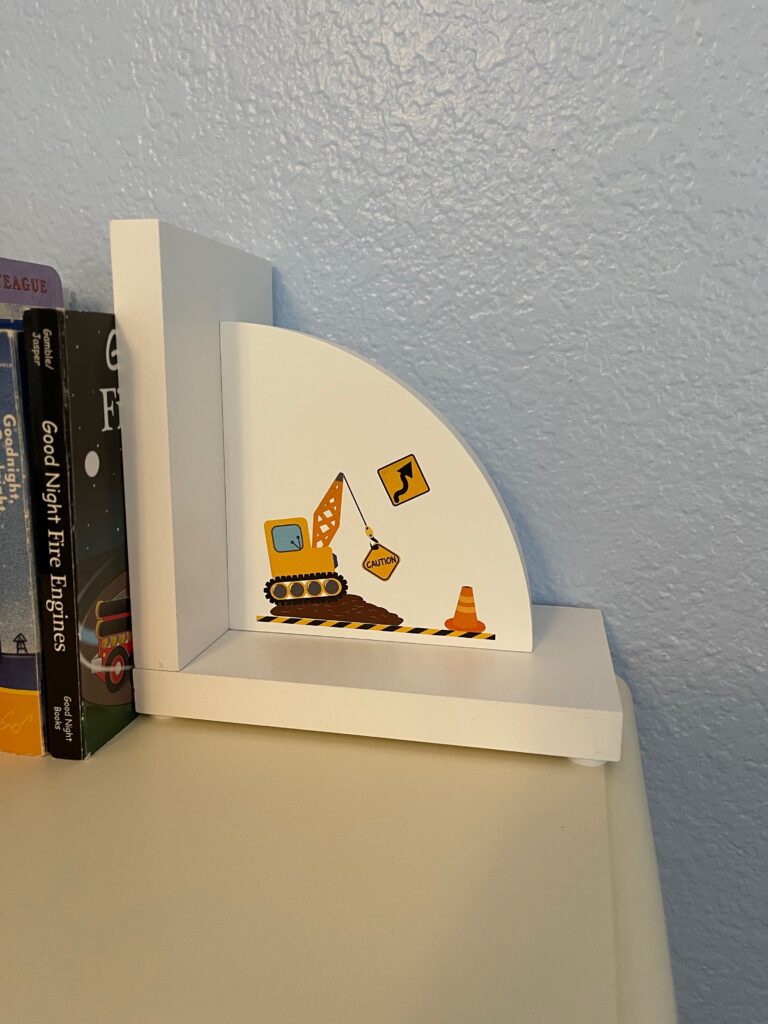 I think these bookends are so cute and I love that I could personalize them with Tyler's name. They have several different themes for boys and girls, you can find them HERE.
Bookshelf Decor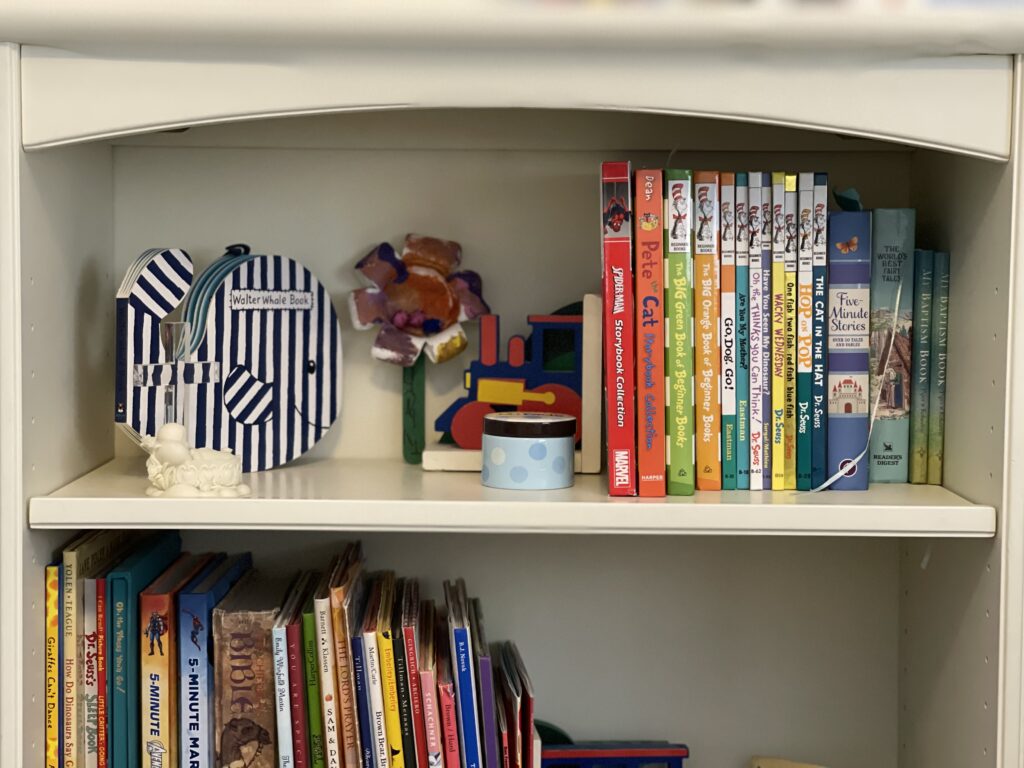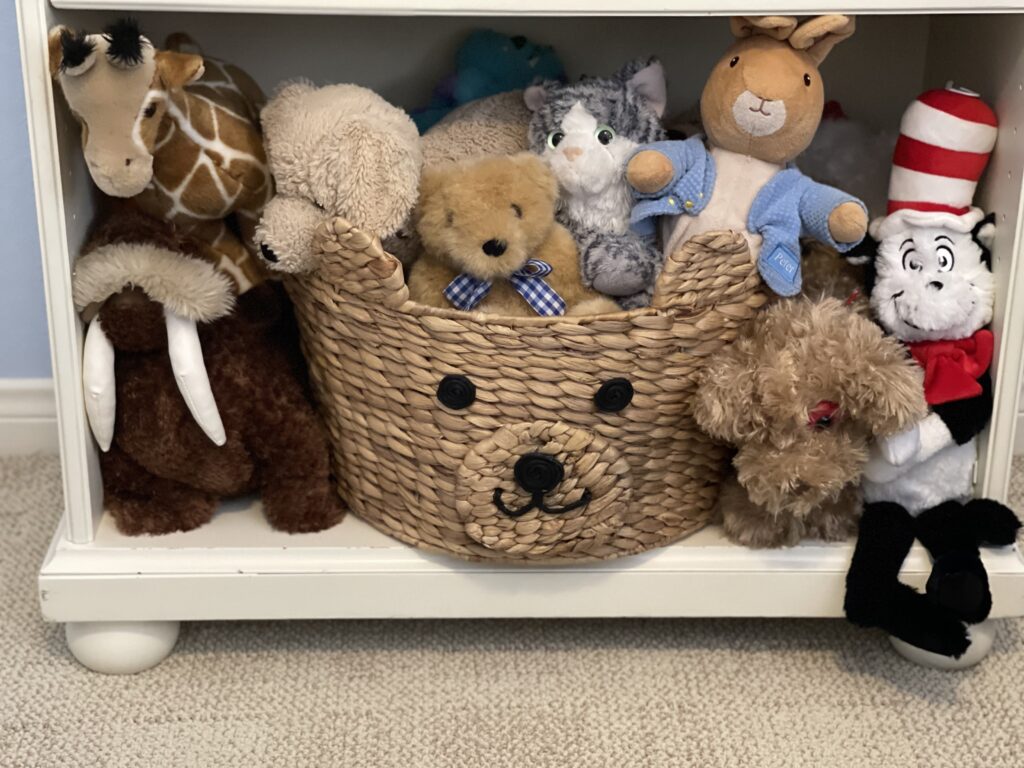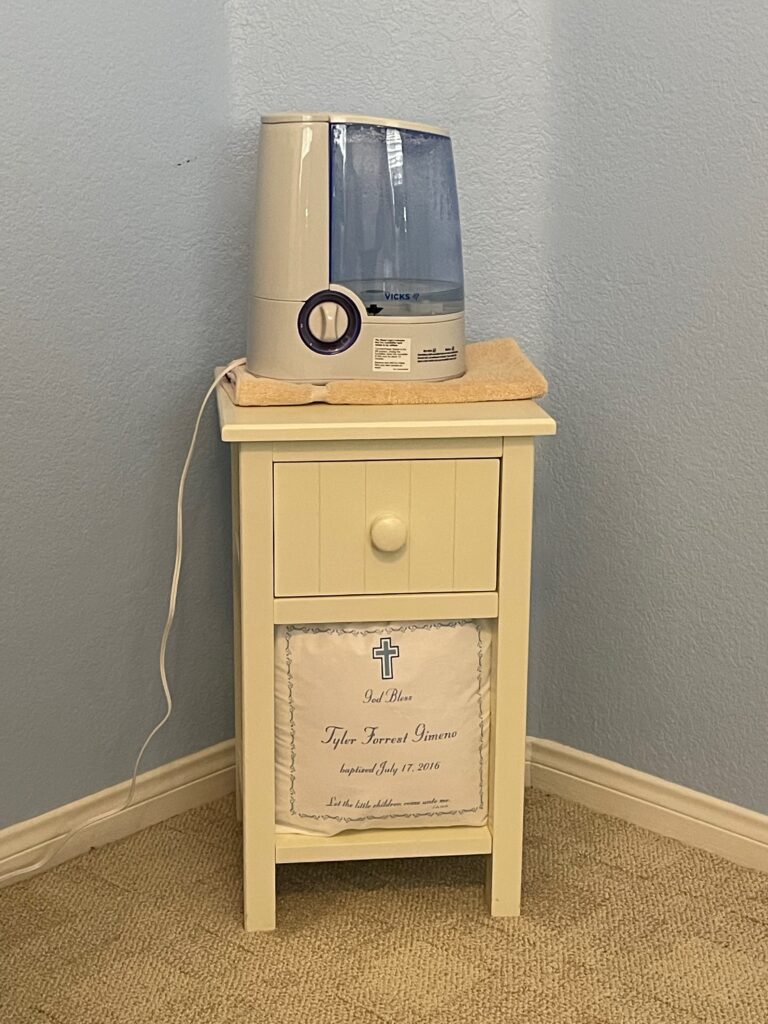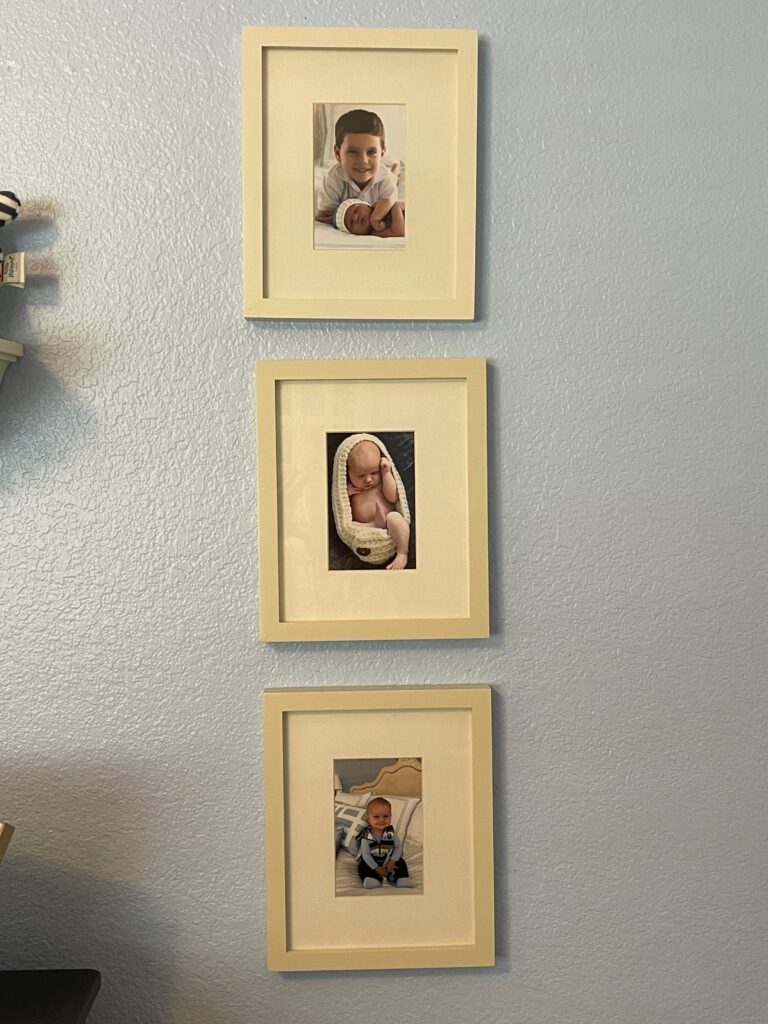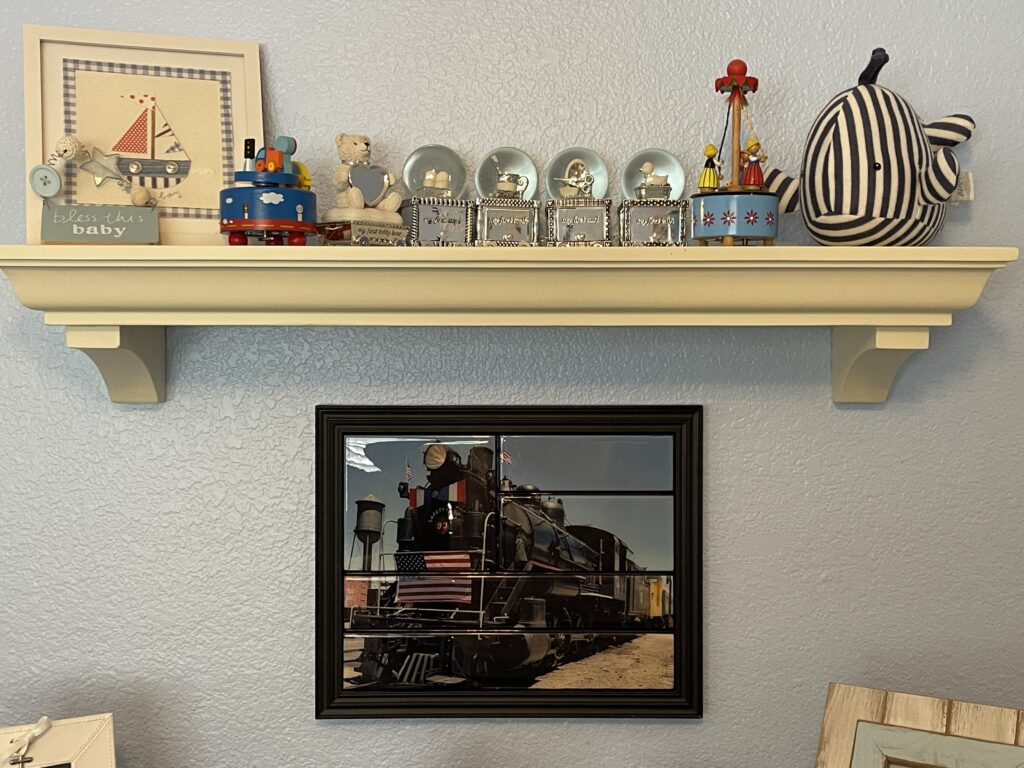 Music Boxes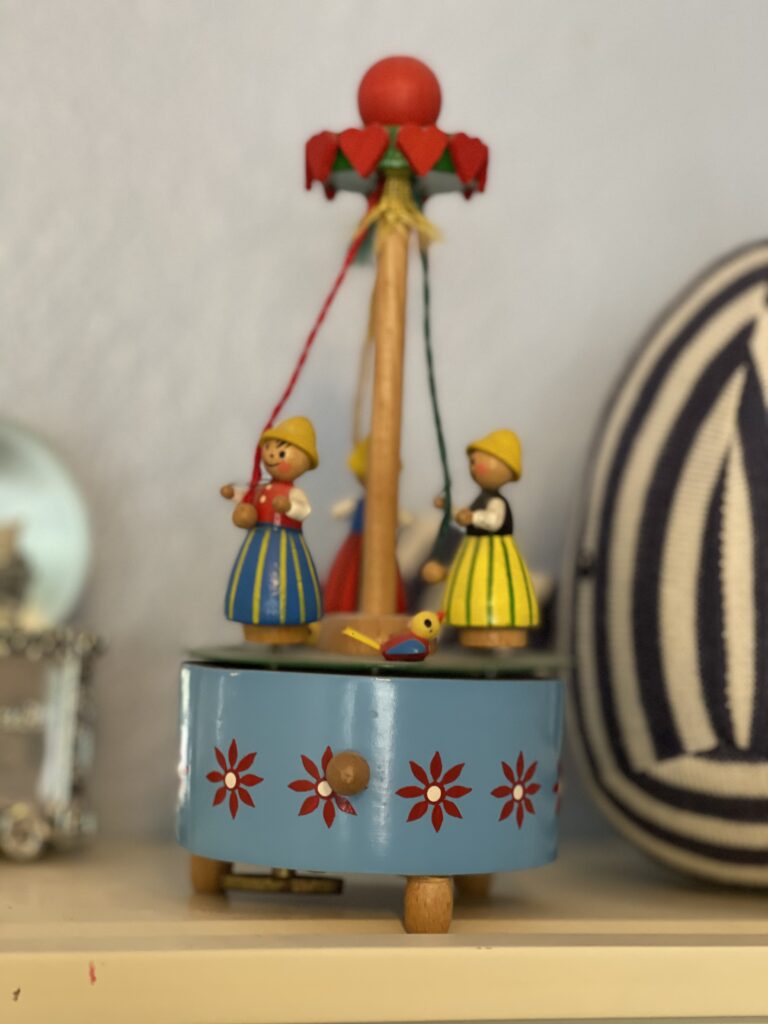 This music box is very special, it was mine as a little girl. It's from Germany.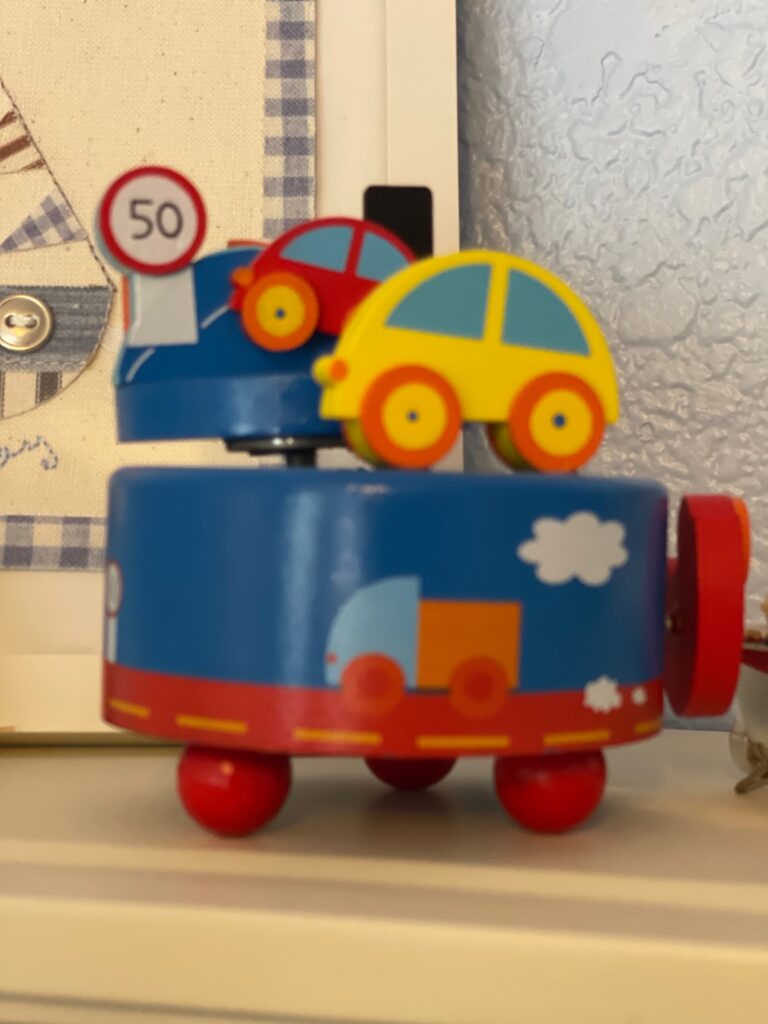 My music box stopped working and when Tyler was a baby and a toddler every night he liked to fall asleep listening to the music box so I got him this cute car one.
Decor on Dresser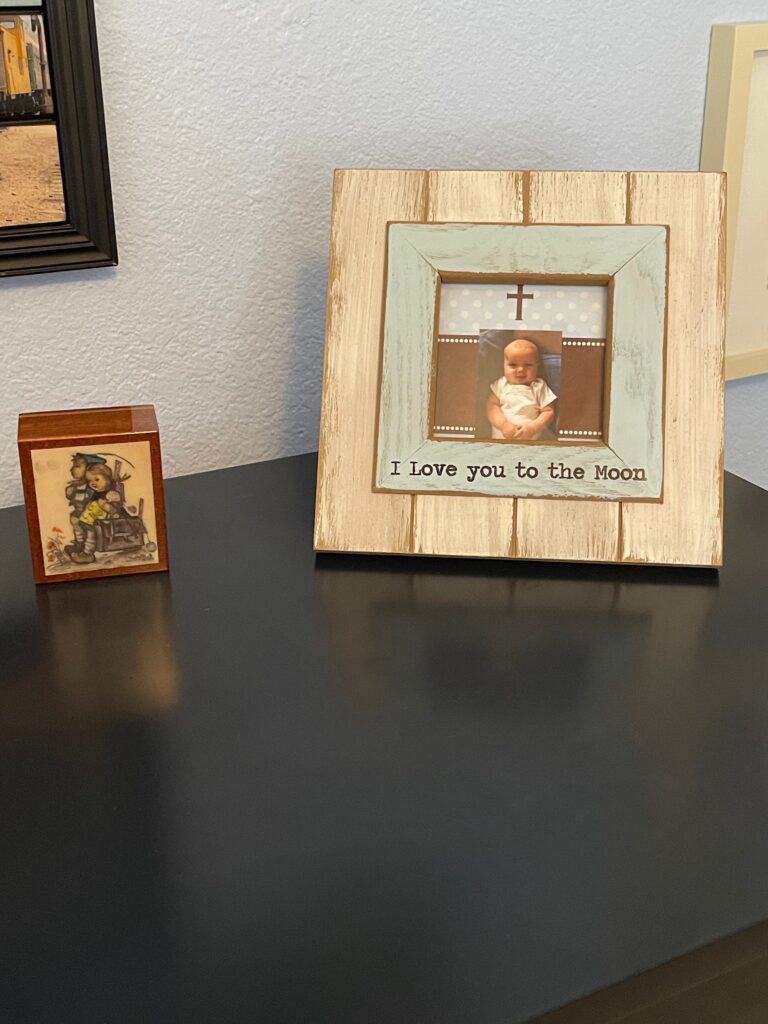 The music box is another one from my childhood. This frame was given to me be a dear friend for Tyler's baptism and framed is his baptism invitation. I love it!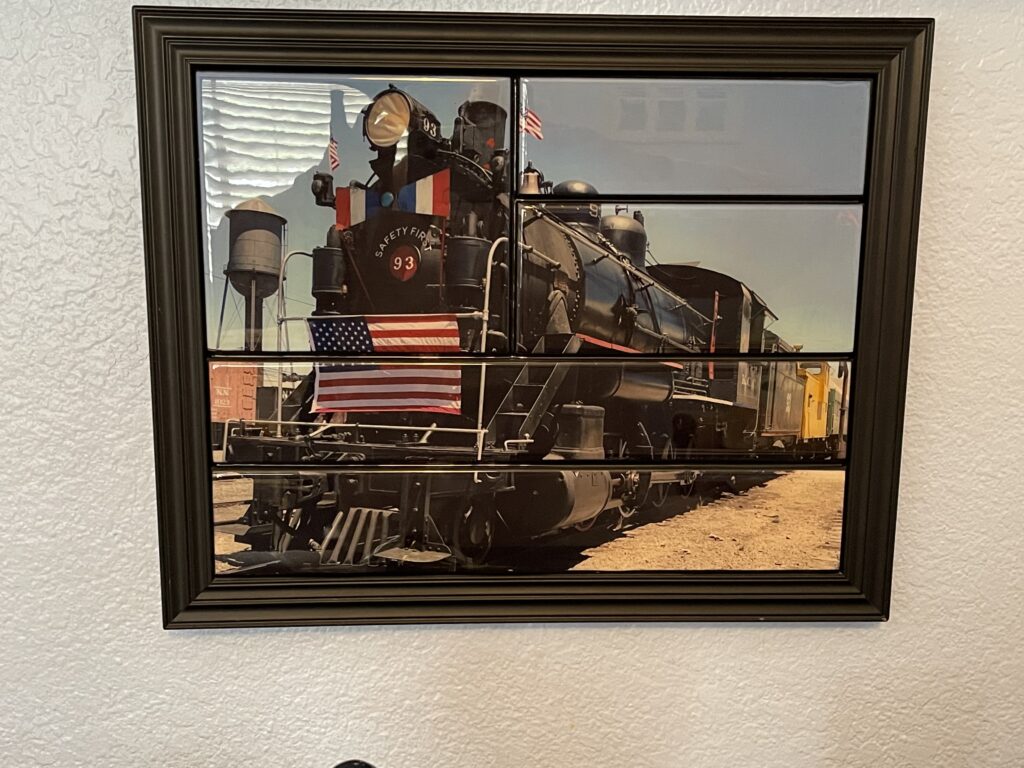 My parents went on a trip up North from California and purchased this photograph of a train printed onto tiles and it was perfect for Tyler because of his love for trains.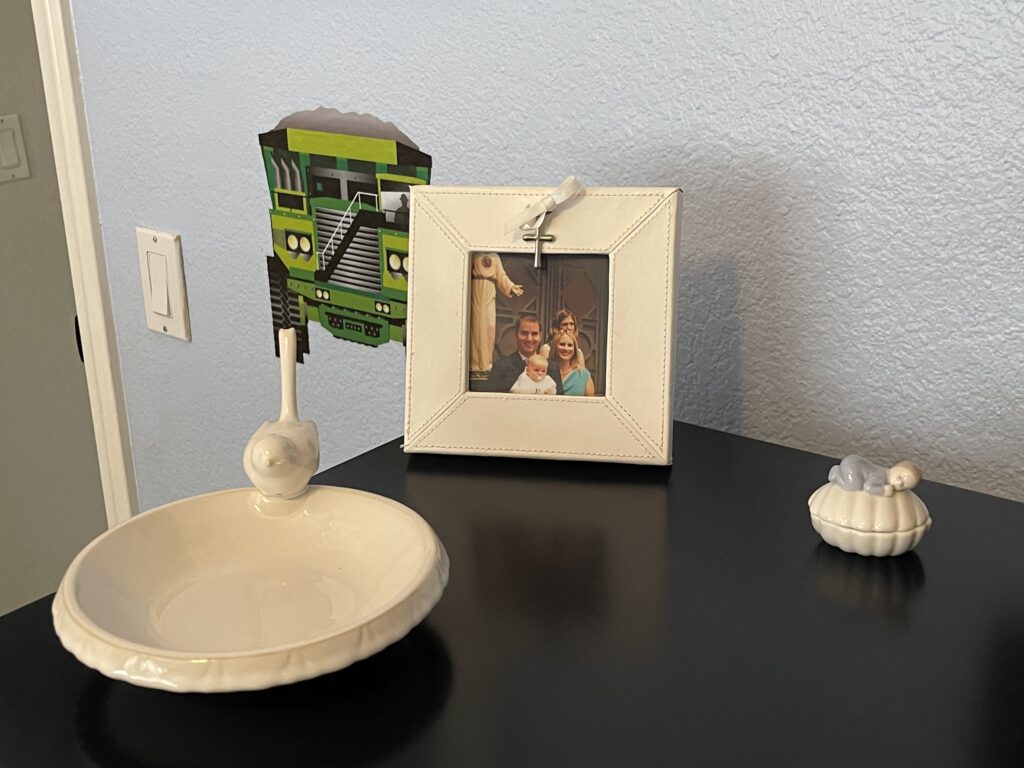 The bird bowl is a bowl is for him to hold his little watch. The framed picture was from Tyler's baptism and the little boy shell dish holds a rosary also given to him for his baptism.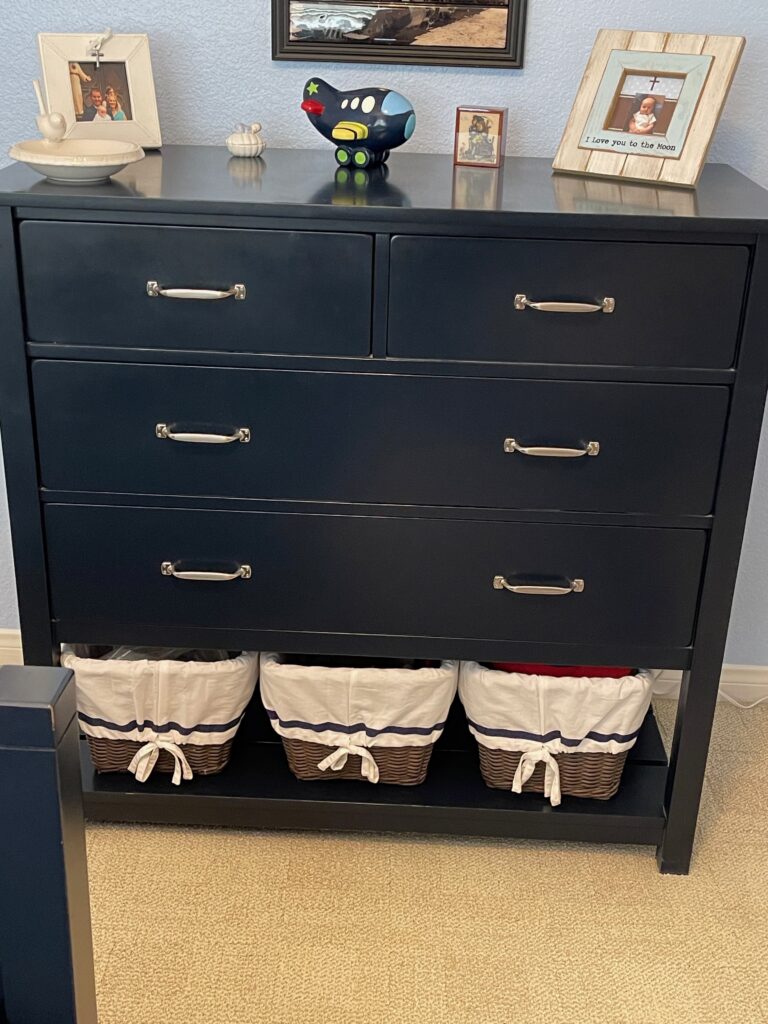 Baskets // I can't find the liners
In the baskets, One holds belts, the other hats, and the other one winter gloves and hats.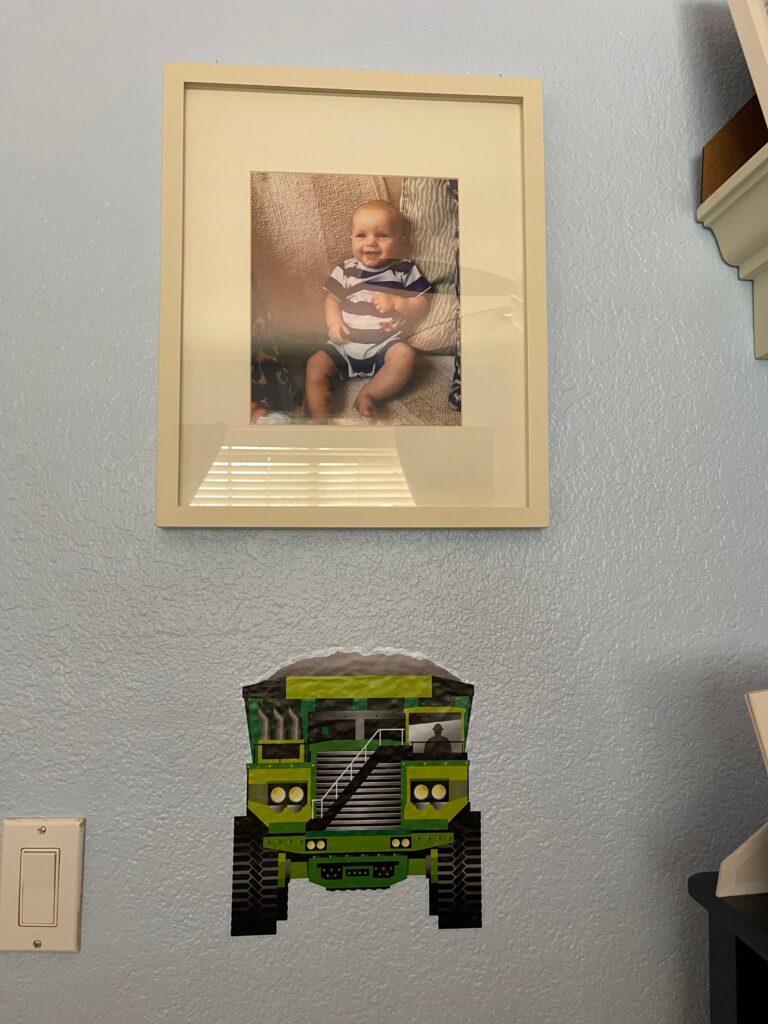 This is one of my favorite baby pictures of Tyler. It was taken on a random day at my parents house and that smile just kills me.
Name Door hanger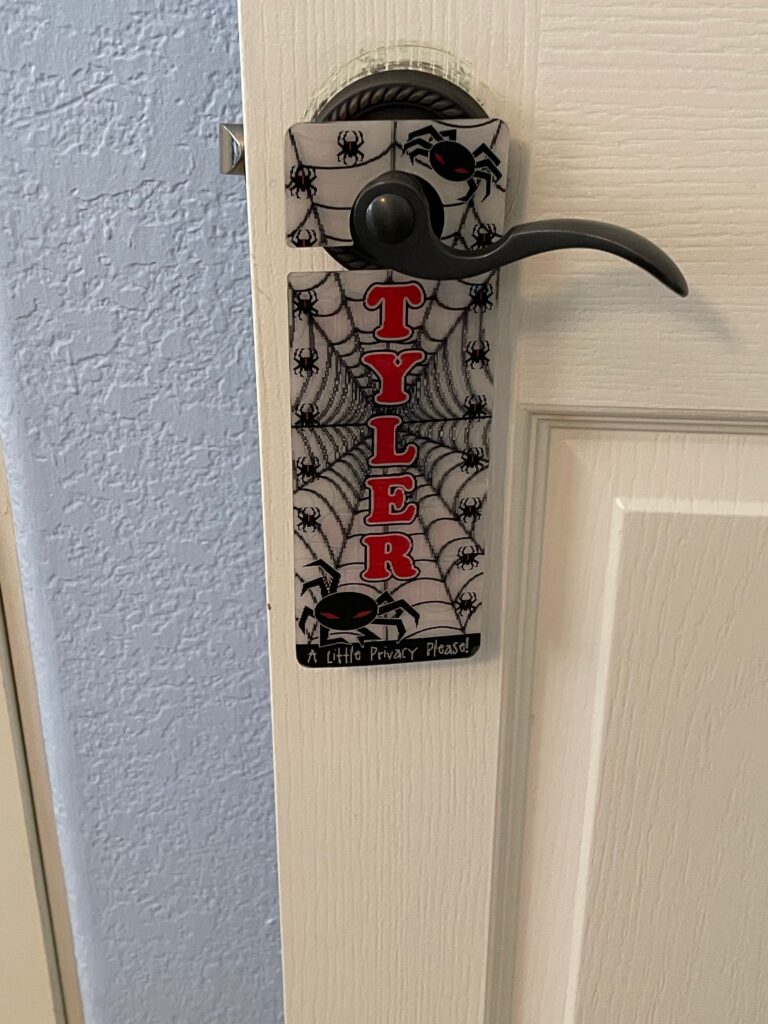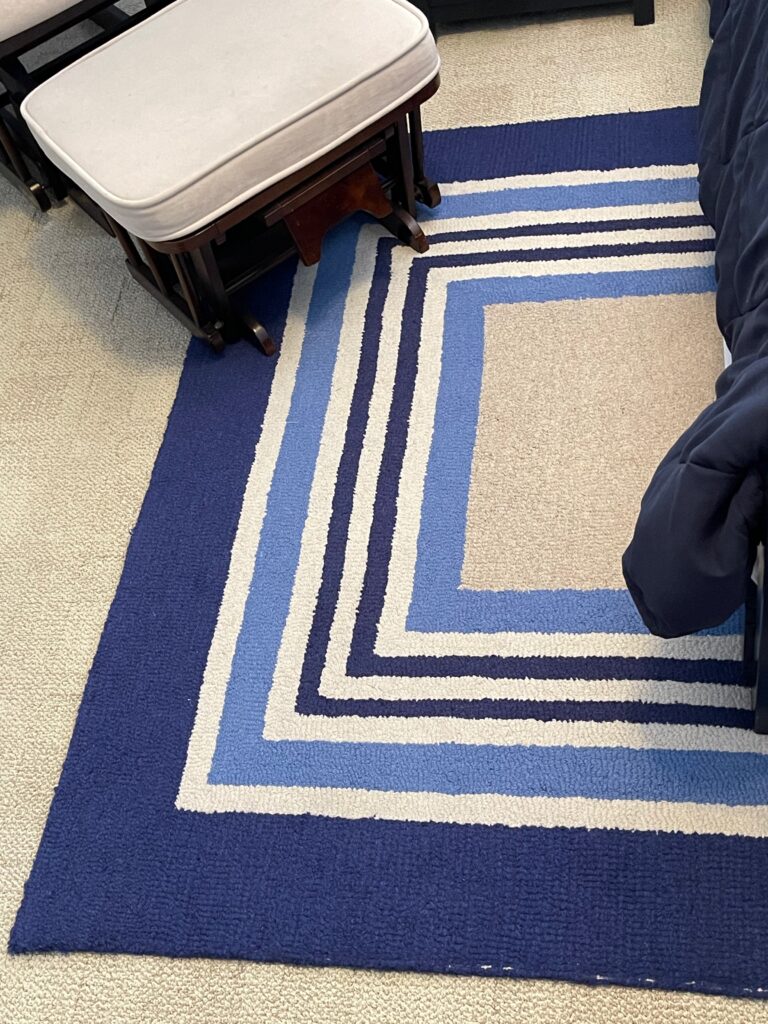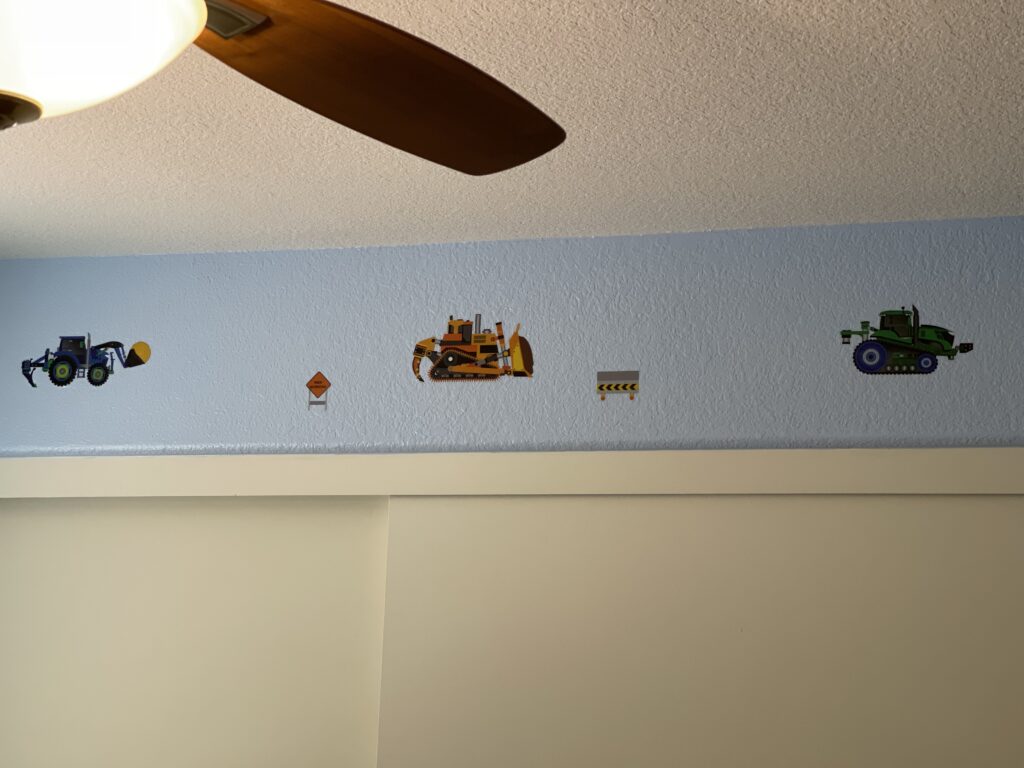 Inside Tyler's Closet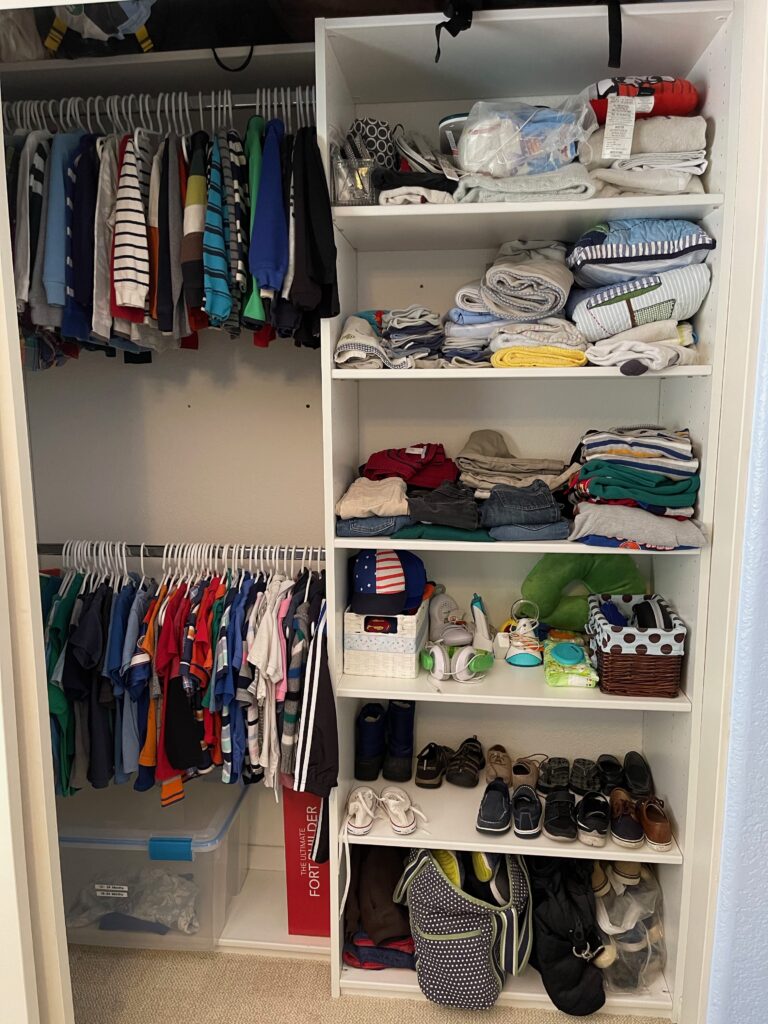 Kid closets are always a work in progress. They always need to be cleaned out, updated and in rotation of things being hand downed or donated. I do my best but it's not perfect.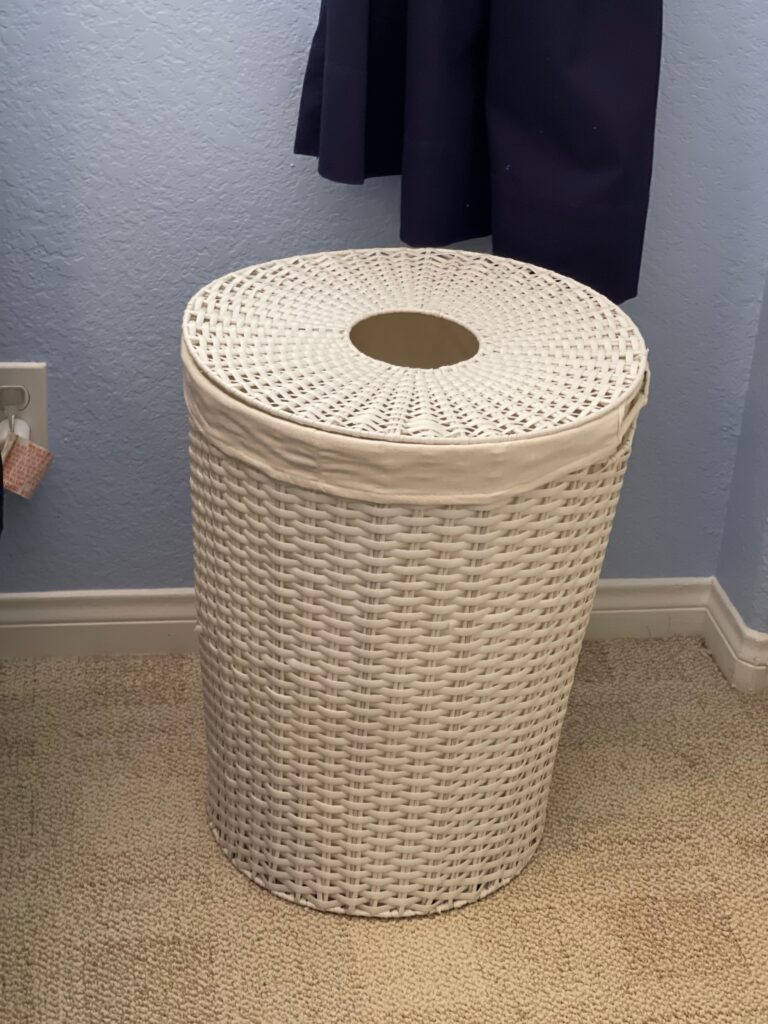 Thanks for reading along today. I hope you enjoyed taking a look into Tyler's room. I had fun updating his room and I think choosing a theme always makes it easier to update. Also, picking furniture that they can grow with helps too. It makes all the effort worth it when I see Tyler loving his room and feeling proud of it!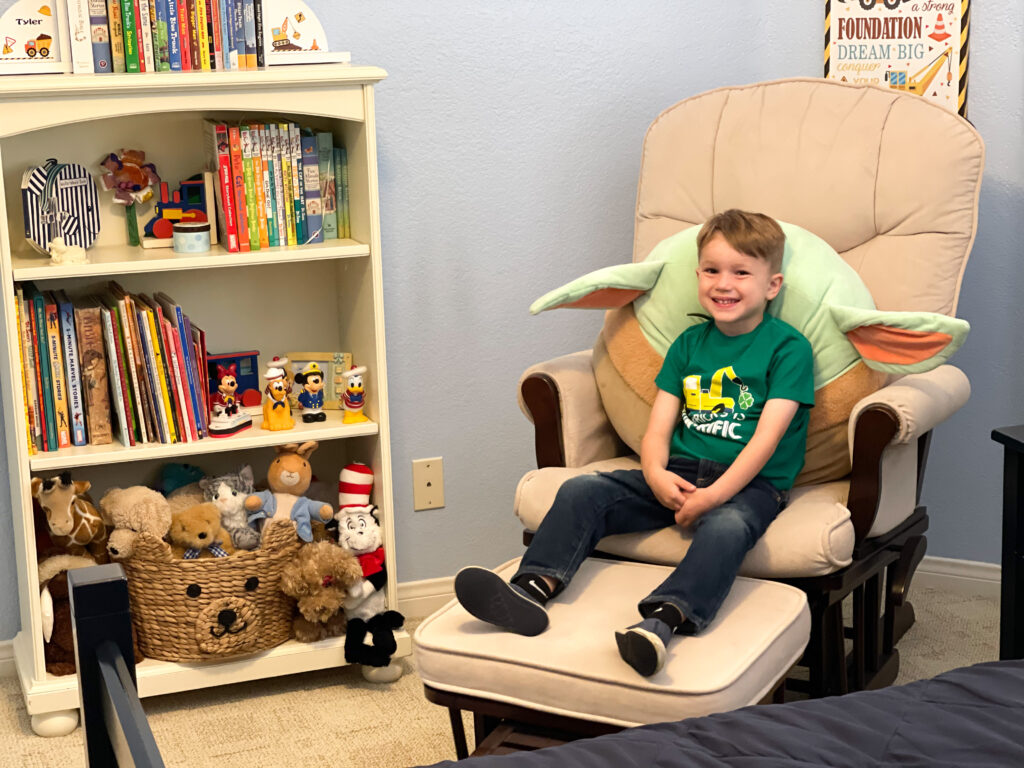 XO