Mother's Day is around the corner and I know ALL the mama's out there deserve to be spoiled and pampered! I love finding the perfect gift and I enjoy spending time finding exactly want they don't even know they want but will use and enjoy. I had a lot of fun putting together this gift guide for you and I hope it gives you inspiration to find the perfect gift for your mom.
In case you need more idea's here's my Mother's Day Gift Guide from last year!
A Gift Guide For All The Special Mom's!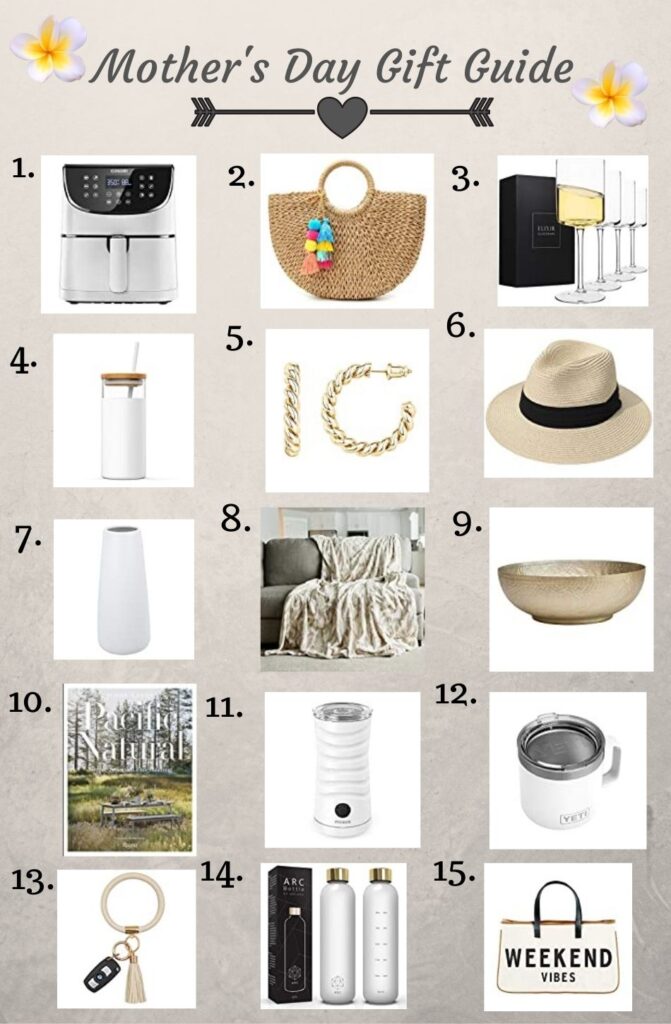 ** Please use my links if you find something that you like, it helps support my blog. Thank you for your support! **
1 | White Air Fryer -These are all the rage right now. I still need to get one, lol. This would be great gift and you could write a note to your mom saying you can cook a meal together using her new air fryer.
2 | Large Straw Beach Tote Bag -This tote is so cute & feminine and would be great to pair with any spring or summer outfit.
3 | Edge Wine Glasses– Don't these wine glasses look so cool?!?! I love the look of them and they would add a unique flair to any wine glass collection.
4 | 20 oz Glass Tumbler– This tumbler is so sleek and would make any women feel good drinking a smoothie or afternoon tea out of it.
5 | 14k Gold Rope Hoop Earrings– These earrings are a fun twist to the traditional gold hoop earrings. They will help elevate any outfit.
6 | Wide Brim Straw Hat– I love this hat, it's perfect for travel because you can fold it up into your suitcase and it will return to it's original shape. Us ladies need to protect our face from the sun and this hat will do the trick while looking cute.
7 | White Ceramic Vase – Everytime you receive flowers you always need a go-to vase and I love the simplicity of this one. You could even fill it with flowers and give it to your mom on Mother's Day.
8 | Oversized Elegant Fur Blanket– You can never have enough blankets at least that's how it goes in our home. This oversized fur blanket looks so comfy. You could write a note to your mom on how you guys will have a daughter/mother date and watch her favorite ROM/COM together.
9 | Gold Hammered Bowl– This bowl would look gorgeous on any kitchen island. Fruit would look beautiful in it.
10 | Pacific Natural Simple Easy Entertaining Hardcover Book– You can help spruce up her coffee table book collection with this beautifully illustrated easy entertaining book.
11 | White Milk Steamer & Foam Maker– Help your mom take her hot drinks to the next level with this milk steamer & foamer.
12 | YETI 14 oz White Mug– No one likes to drink their coffee cold. I love this yeti coffee mug and every mom needs to own one.
13 | Leather Key Ring Bracelet – Now your mom won't loose her keys and she can look stylish while having this useful gift.
14 | Water Bottle with Time Marker– I don't know about you but I'm always telling my parents to drink more water. This water bottle seems like the perfect gift and solution to making sure your mom is getting all the water she needs.
15 | Weekend Vibes Tote Bag– How fun and cute is this tote bag! It's the perfect bag for a weekend getaway. Using it just gives you all the good feels for a fun trip!