We are riding the 2021 wave and it's been full of ups and downs already. I mentioned in my insta-stories how things have been hard for me in recent and in a nut shell I had a family member pass away that was related to Covid and another family member injure themselves and they had a Covid scare too.
These two events with loved ones stopped us in our tracks and we were overcome with worry and sadness. It's been a tough 10 months, I'm sure for many of us. By now you or you know of someone that has dealt with Covid and it's HARD and rocks your world. I pray that the tides will start to turn and as a country we will come out of this hardship and gain some peace.
Ok, that was heavy, but I wanted to share my heart and what's been going on with my family. Let's move forward and get to my fave's of the week…that's the funny thing about life, there are hard times mixed in with good times too.
We have been home a LOT and are continuing to enjoy playing games as a family. I purchased one of my fave's as a kid for my boys for Christmas and it's called The Allowance Game. It's a fun game that helps teach about money, counting, debt, and having to deal with a bank.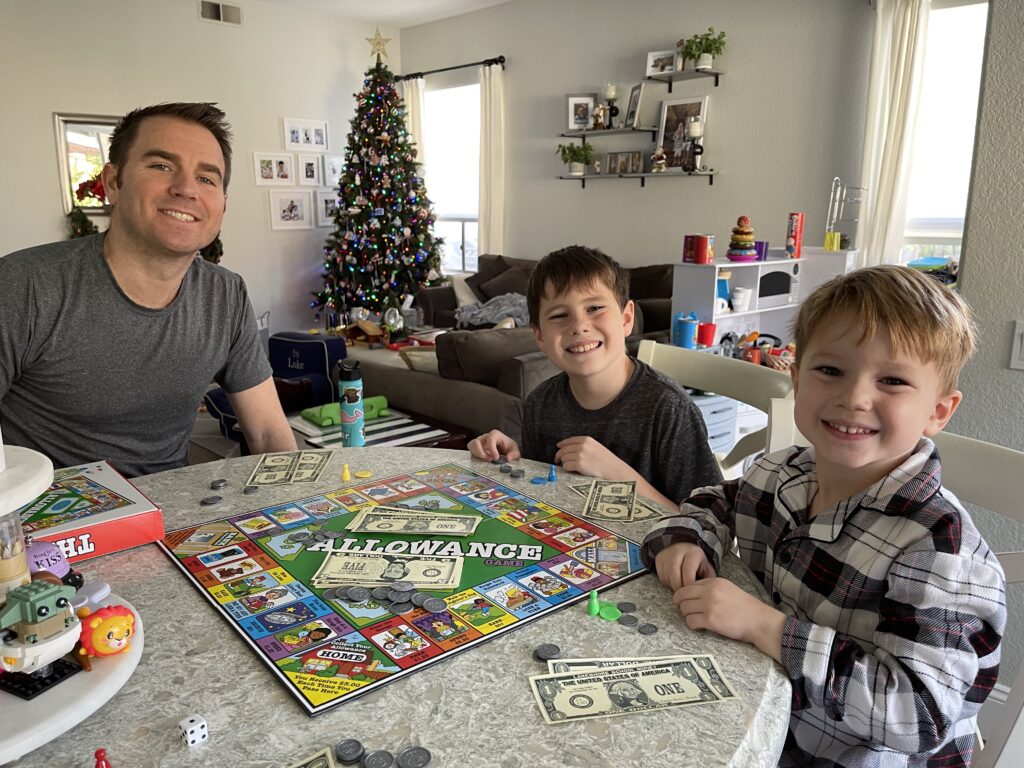 A new fave of mine has been purchasing new workout tanks and workout shoes. I'm doing workouts everyday so I was in need of more workout clothes. My old shoes have holes in the toes so these new shoes were a long time coming in needing to be replaced.
The front look (ignore my bed, its sheet washing day, lol)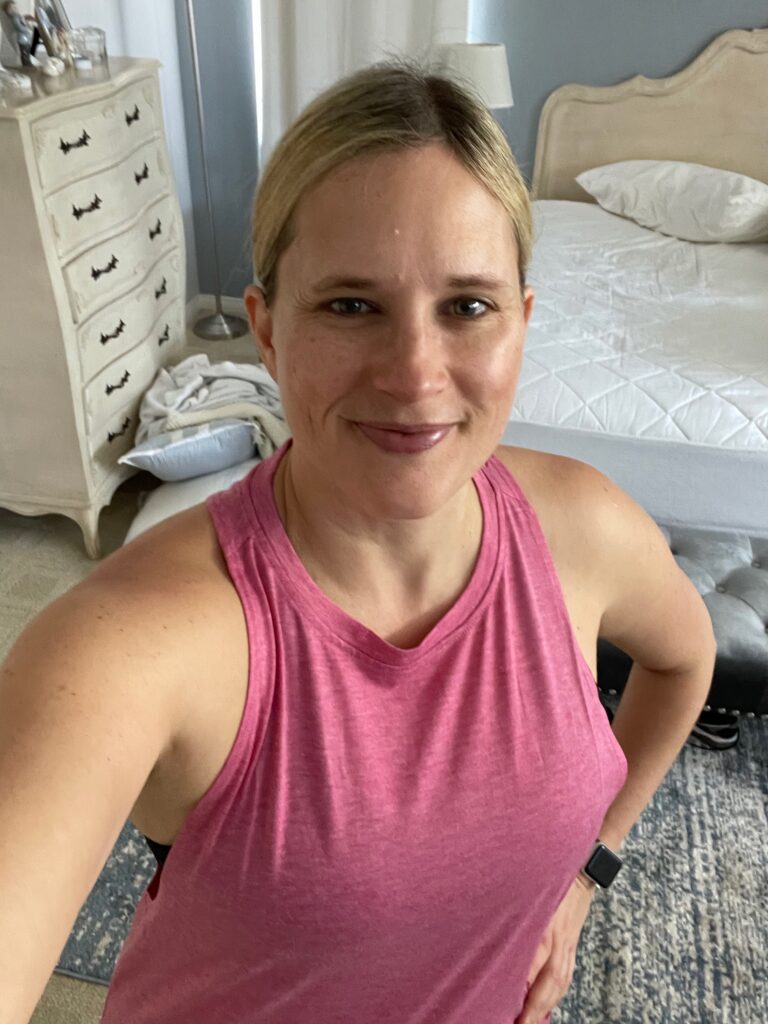 Side angle…the shirts come in packs of 3 and offer a variety of different colors.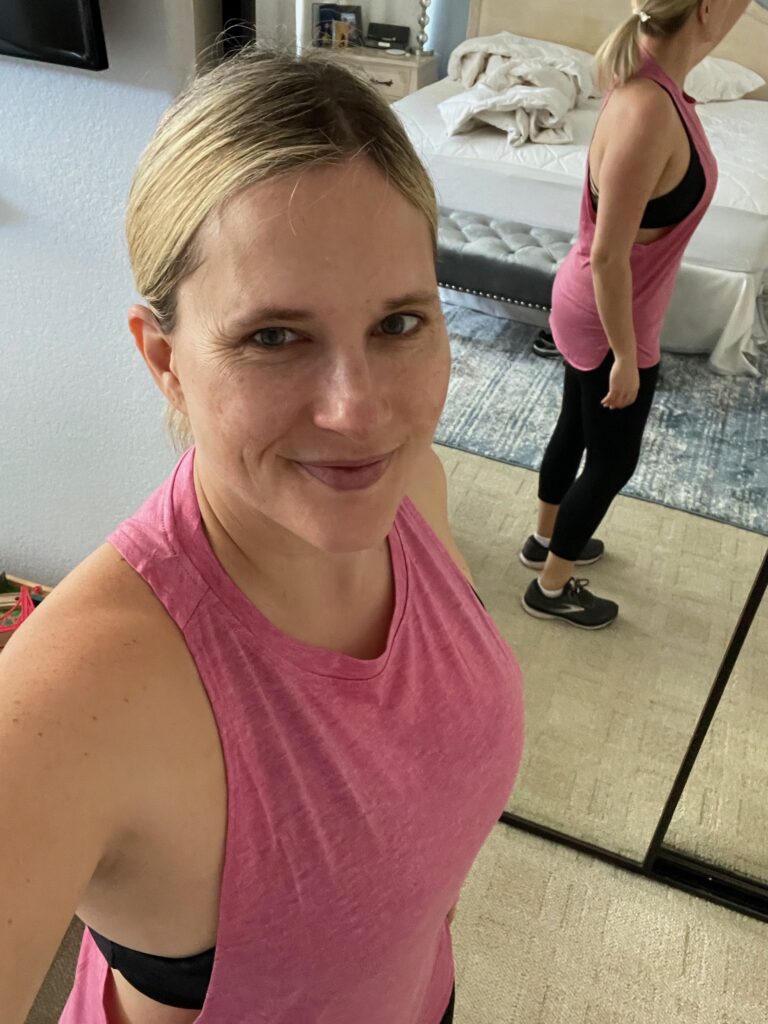 The back side…I love how they are light-weight, inexpensive and are sleeveless.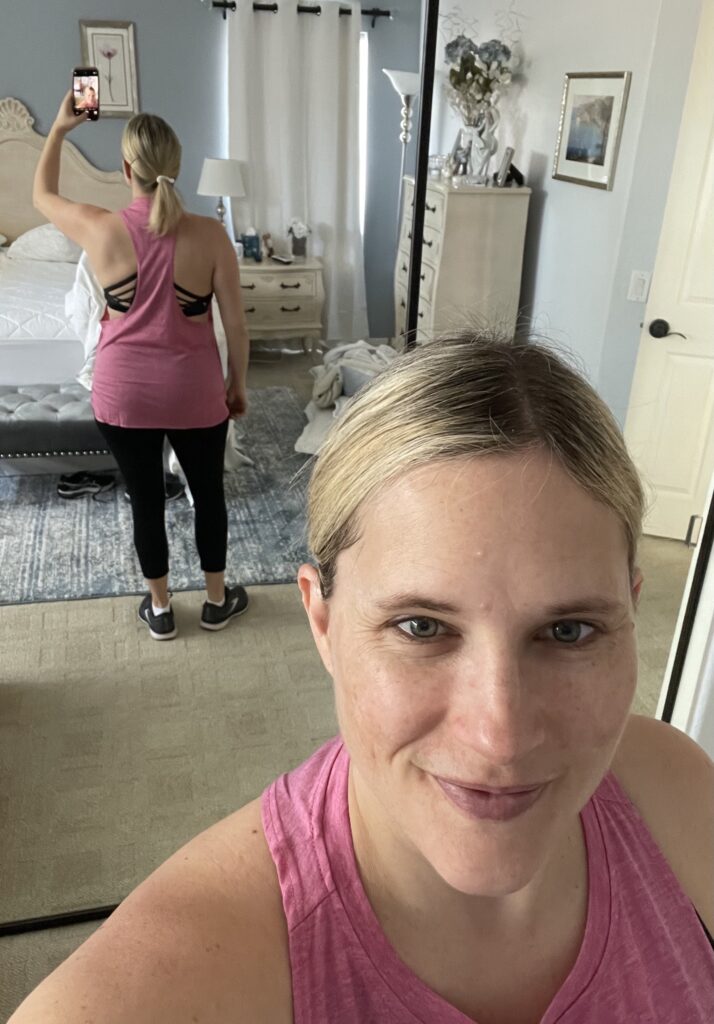 New Brooks workout shoes. I purchased them on sale at Dick's. They are more expensive but my difficult feet didn't like any of the other options and these were so light weight and went higher around my ankles to provide more support.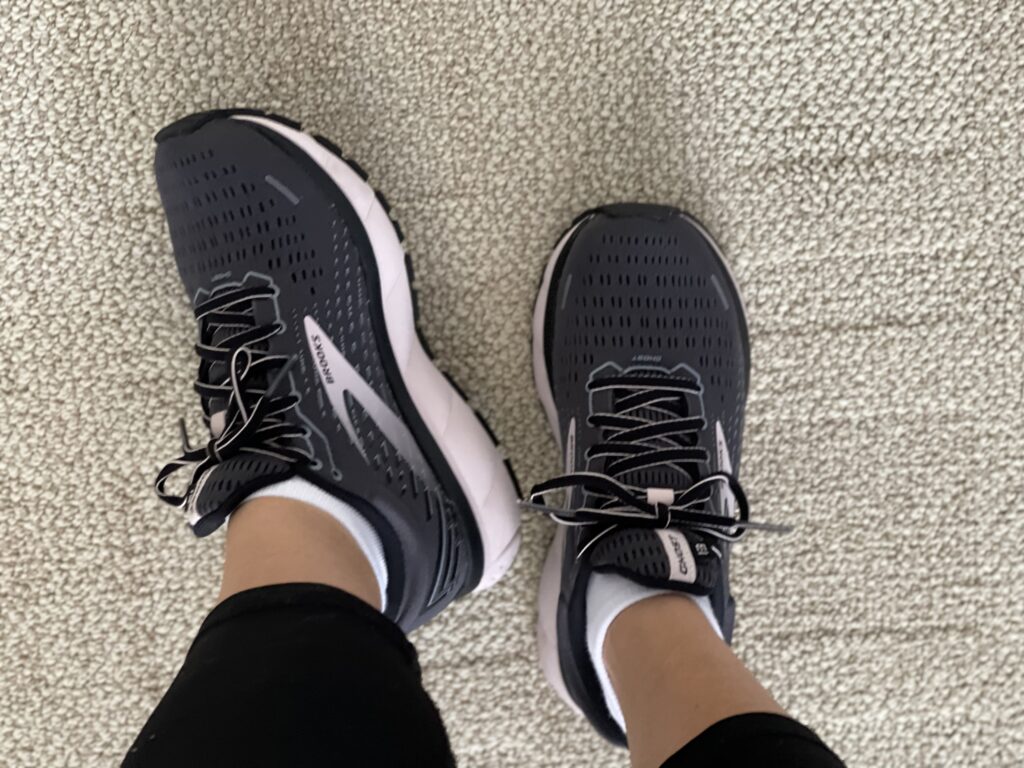 I'm loving my new Journal that I purchased to track my measurements and progress. I also write in there simple recipes to refer back to and the colors and design make me happy 🙂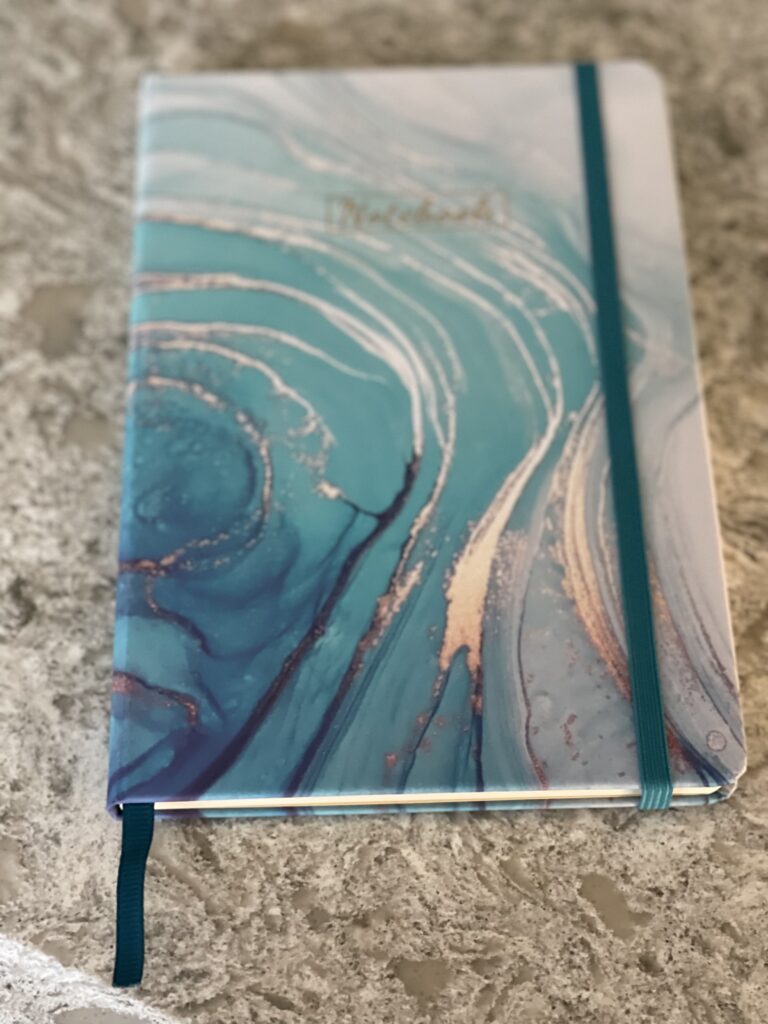 Regular lined paper inside, with a page marker.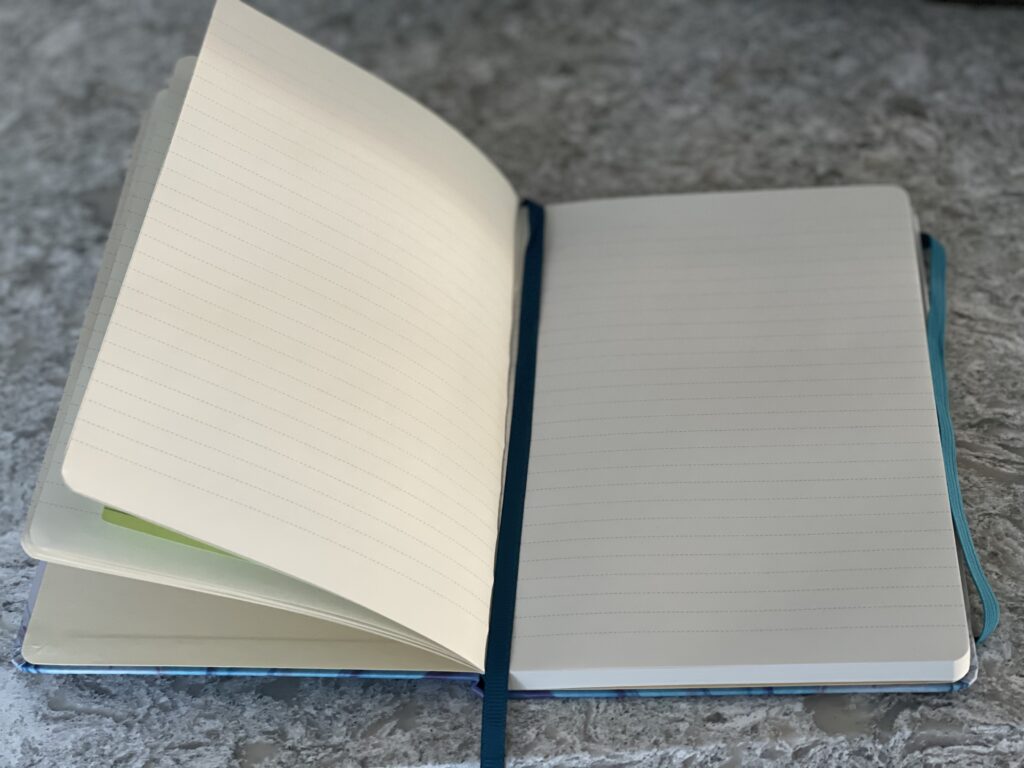 On regular macro days when I'm having carbs, I've been embracing overnight oats. I break my fast at 11am with this meal a few times a week.
You can make a few batches on the same night to enjoy for several mornings.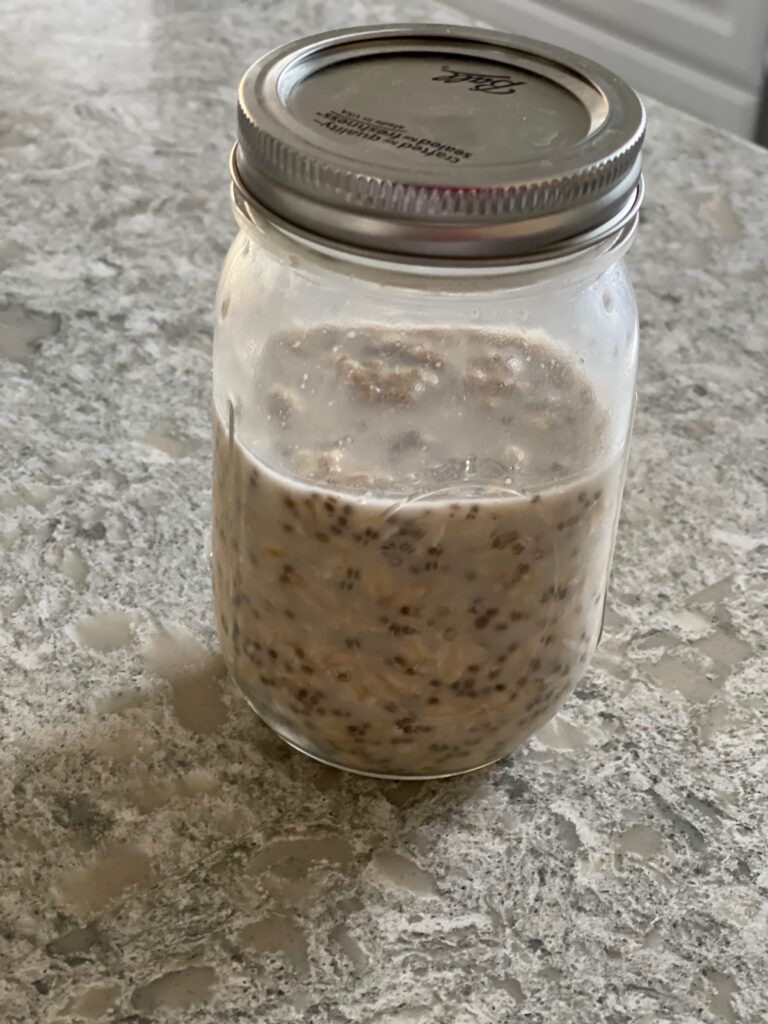 Overnight Oats Recipe:
1/2 cup Oats (quick or traditional)
1 1/2 tsp Chia Seeds
1 cup Unsweetened Almond Milk
1 serving Collagen Powder or Protein Powder
2 tbsp Raspberries
2 tbsp Blueberries
1 1/2 tsps Almond Butter
Directions:
In a large bowl or a mason jar combine the oats, chia seeds and almond milk and mix together to combine. Place in the refrigerator overnight for at least 8 hours.
After the oats have set, remove from the fridge and add protein powder and mix well. You can add 1 tbsp at a time if the oats are too thick.
Top your overnight oats with raspberries, blueberries and almond butter and Enjoy!
Side note: traditionally this recipe is intended to eat cold but I like it warm. I add in my frozen fruit and mix it all up and then put it in the microwave for 35 seconds 2x and then top it with almond butter. This is just my preference so I wanted to let you know of this option too.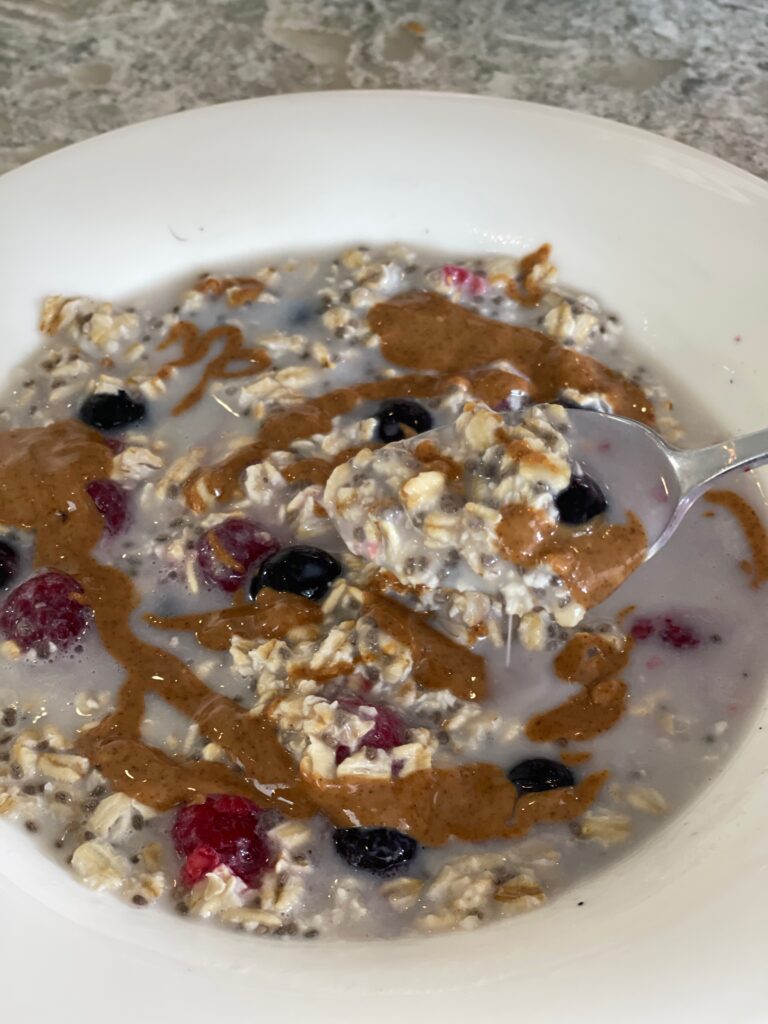 This particular batch had more liquid but you can definitely adjust the almond milk to the consistency you enjoy.
We are at home a LOT right now so lots of time spent out front of our house. Luke loves playing with sticks and roaming around amongst the nature by our home. I was checking in on him and found him sitting on this tree stump. He said, "it's my thinking stump". I loved this idea of him thinking about life and processing all his thoughts while taking a break outside.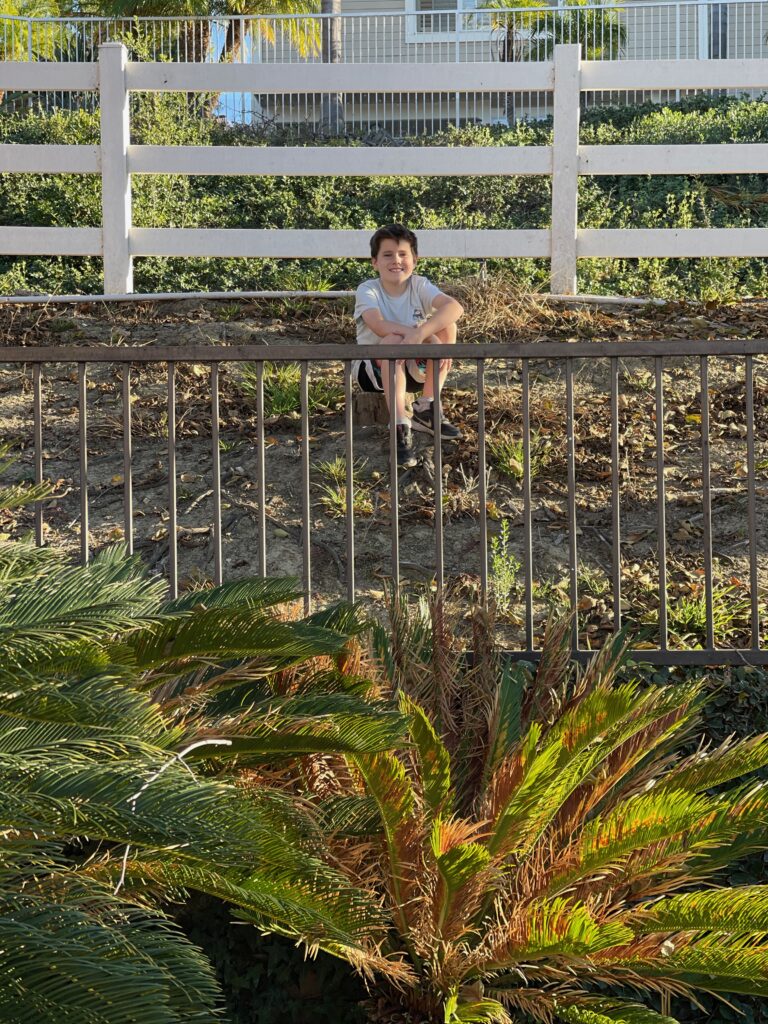 One of my boys FAVORITES from this week has been playing laser tag.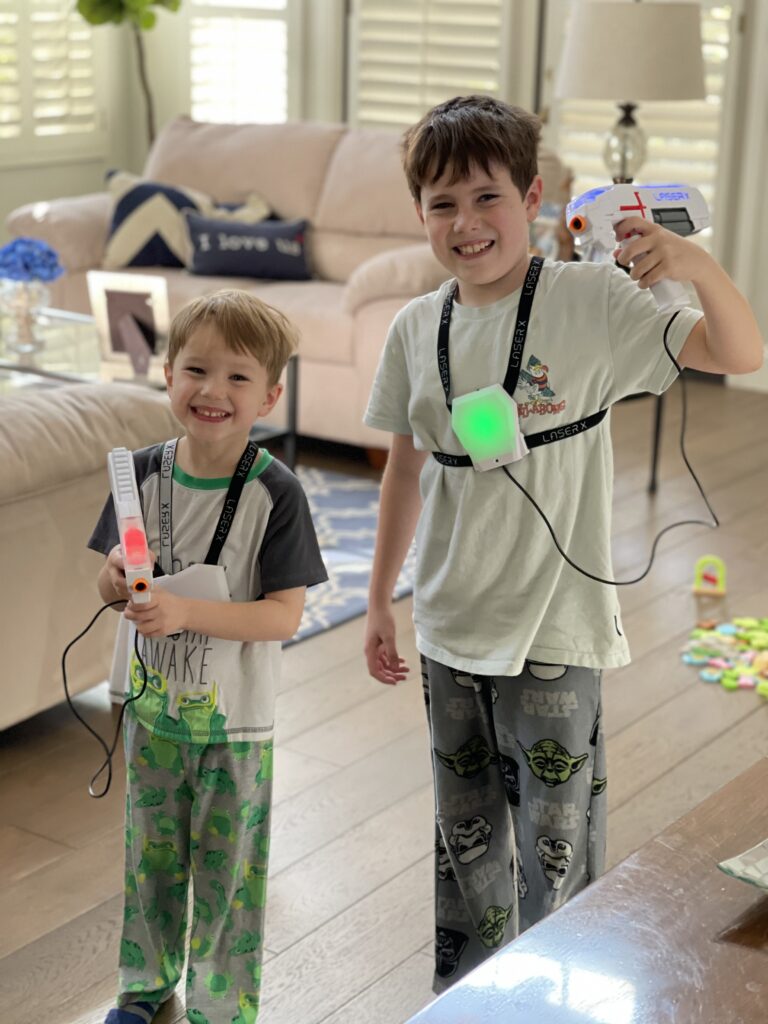 My boys love to chill in their pajama's….It's a struggle to get them to get dressed on the weekends, anyone else have this issue??
No, surprise here Tyler is moving on from duplo legos and is taking an interest in regular Legos. He put this bulldozer set together completely by himself and we were all very proud of him! It was a FAVORITE moment for my almost 5 year old…cue the mommy tears!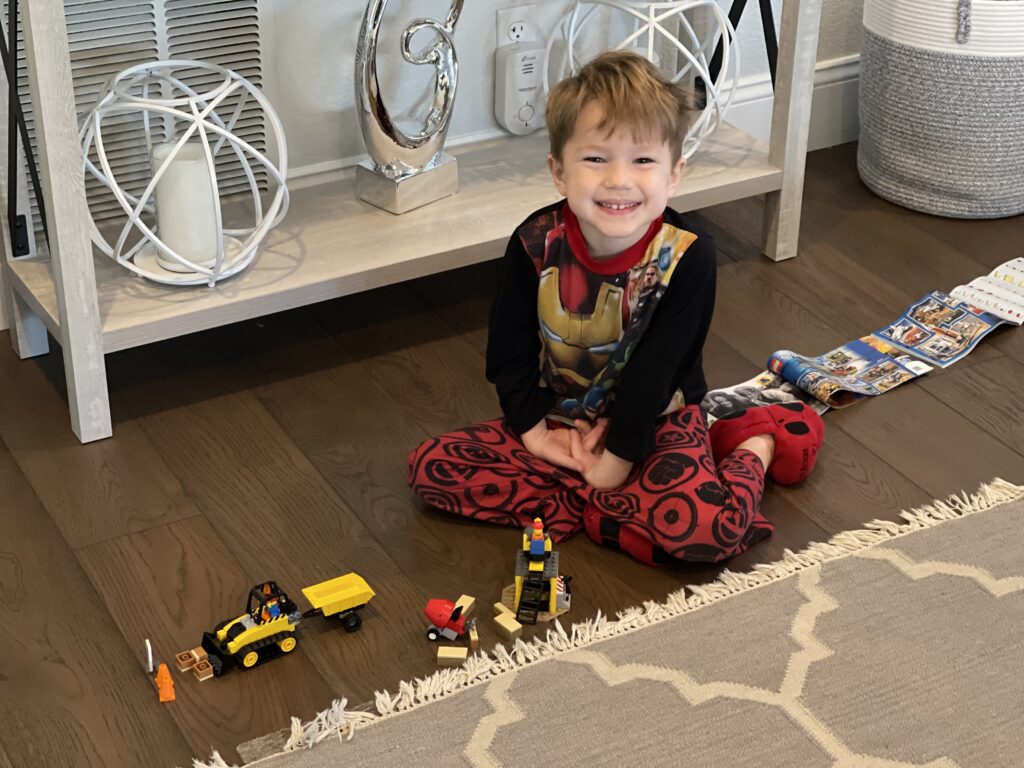 Our dinner menu for this week….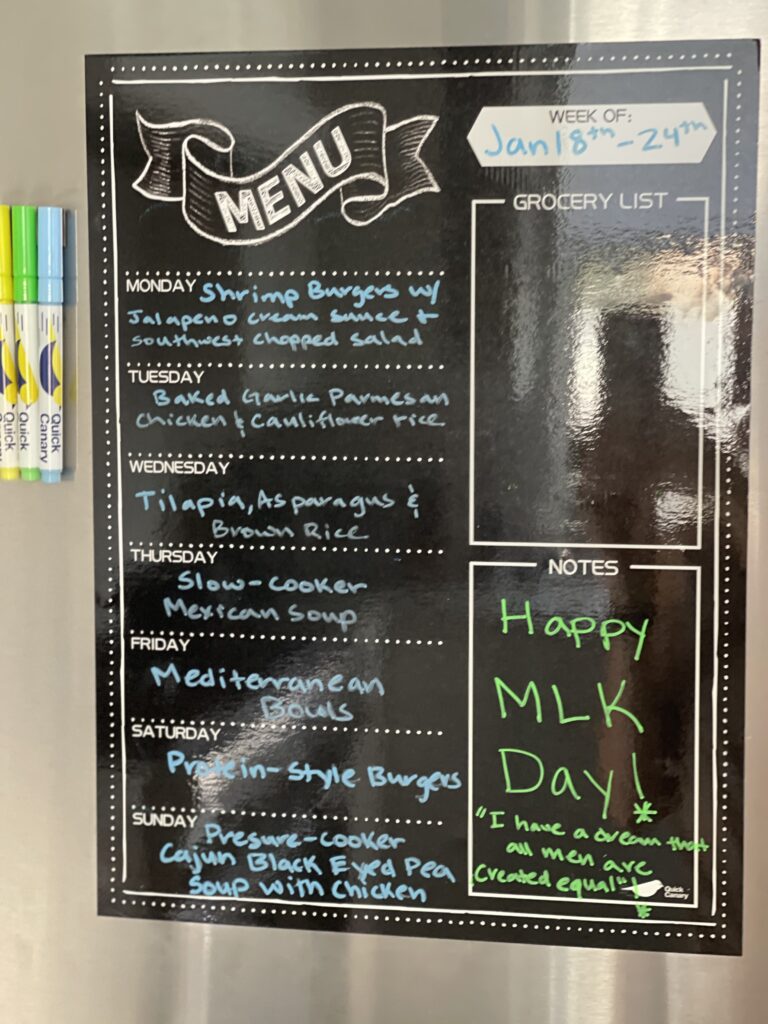 A FAVORITE this past week for Jason and I was to get our garage cleaned out and organized. We also had plans to get our garage gym in working order. We felt proud that we worked together on this big task and we got it done!!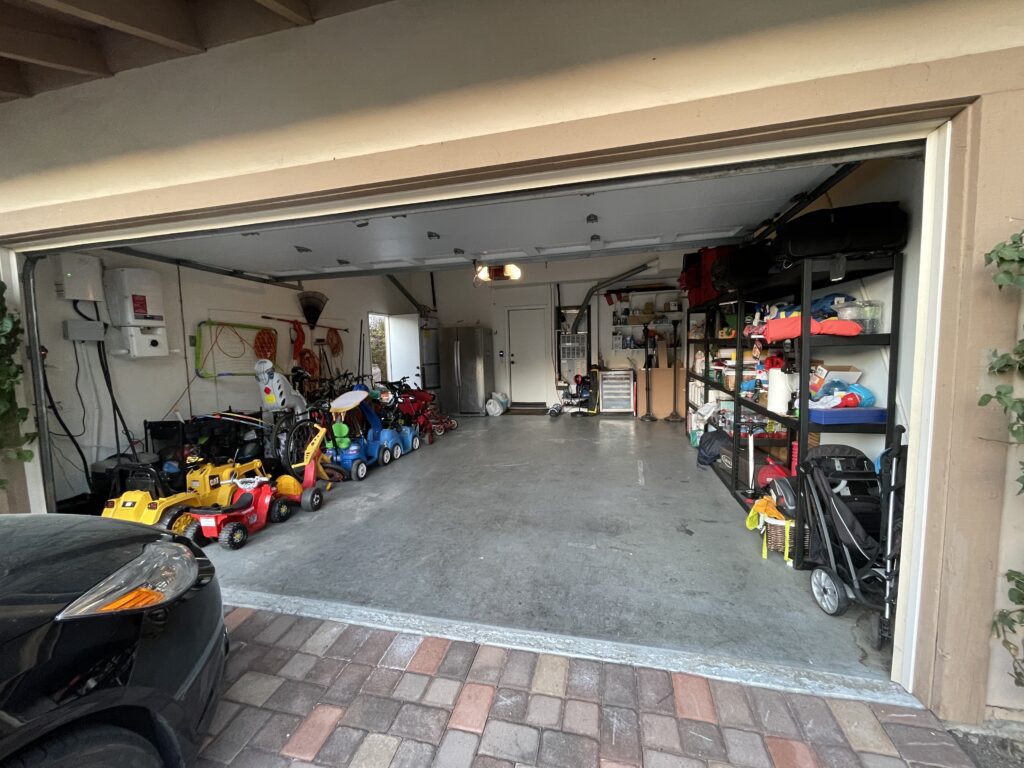 Jason is getting a new car in a couple of weeks and his motivation was to clear space to be able to park his car in the garage.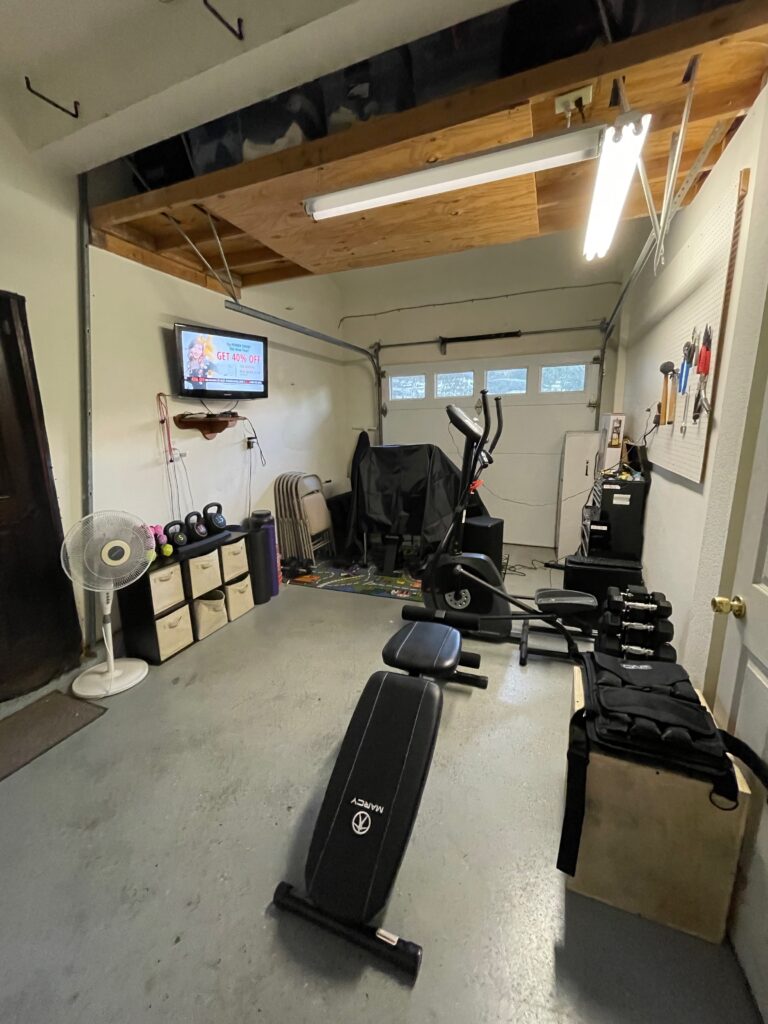 My motivation was to have a functional area to workout out in. I needed the TV hung up on the wall for my FWTFL workout videos. We cleaned out this space and rearranged the area and are so happy with it. Our new floor mat will arrive soon and then this space will be complete. Side note: it's also a music room, Jason's drums are under that black tarp.
In case you missed it and you are looking for ideas on kids school lunches and on how I give me boys love notes in their lunches, you can check out the post HERE.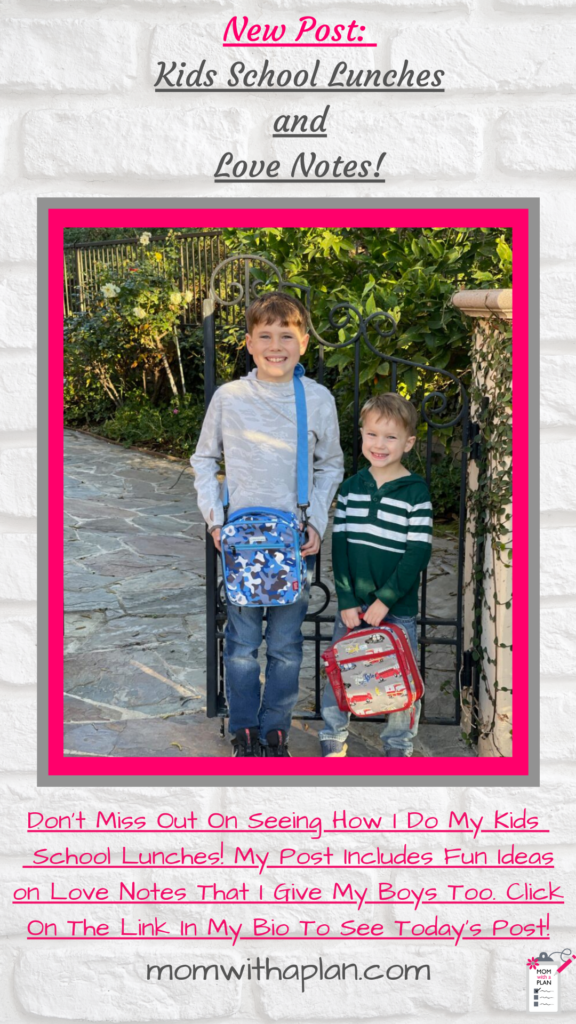 Have a great weekend, friends! I'll see you back here on Monday with a Valentine's Day gift guide for kids, it's full of fun gifts for boys and girls!
XO