Quick Life Recap….
It feels good to be back! I've missed this creative space. I didn't intend to take a few weeks off but life had other plans. Covid + other colds went around our house and I fainted and hurt myself. When I fainted my head broke the fall and I ended up in the emergency room with a concussion. My injuries and my concussion took two weeks to heal and it had me completely out of commission. Thankfully, I had a very supportive husband and love from my family & friends and I recovered. I still have a bump on my forehead thats on top of my eyebrow. I swear you hit your forties and things just take longer to heal and go away. I got better just in time for Super Bowl Sunday, Valentine's Day, and Tyler's 6th birthday…queue in praise hands! Phew….I got that said and now we can move on to more happy and exciting things…
Valentine's Day!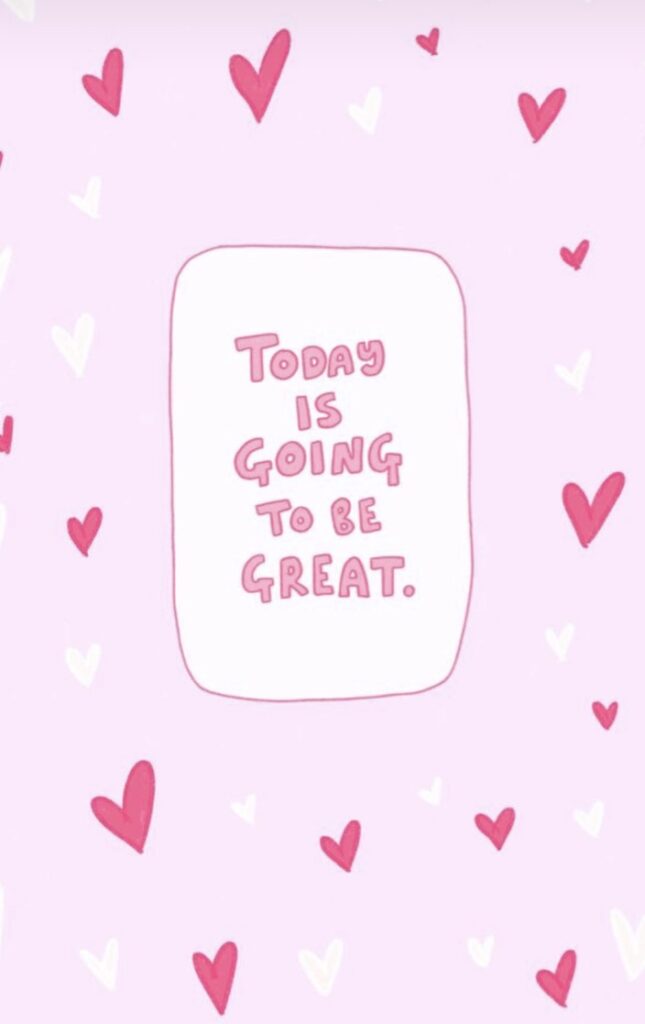 I love Valentine's Day! I love the Valentine card exchange at school, I love decorating with hearts and with red & pink. I love celebrating love and exchanging cards with our our special people that tell them I love you and here's why and I love exchanging gifts.
I'm the perfect target customer for Hallmark, they love my enthusiasm, lol!
Decorations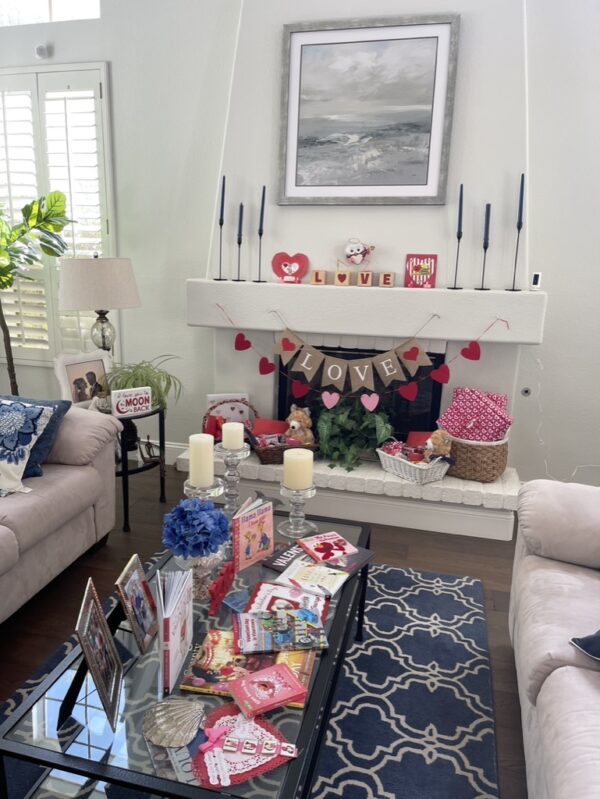 I don't have a ton of decor but there's a good sprinkle of love in our living room. I love to decorate with seasonal books too. I add to our collection every year.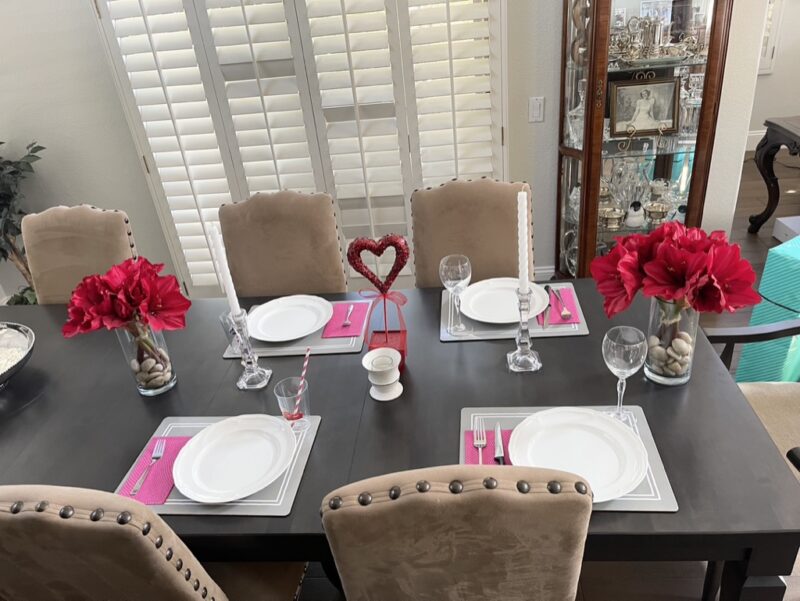 Table is set for our family Valentine's Day dinner!
Gifts for the boys & Jason!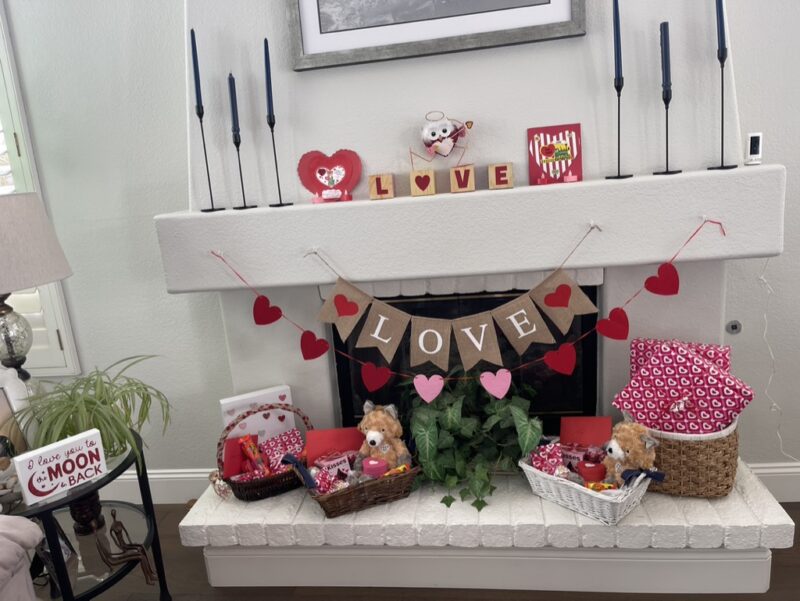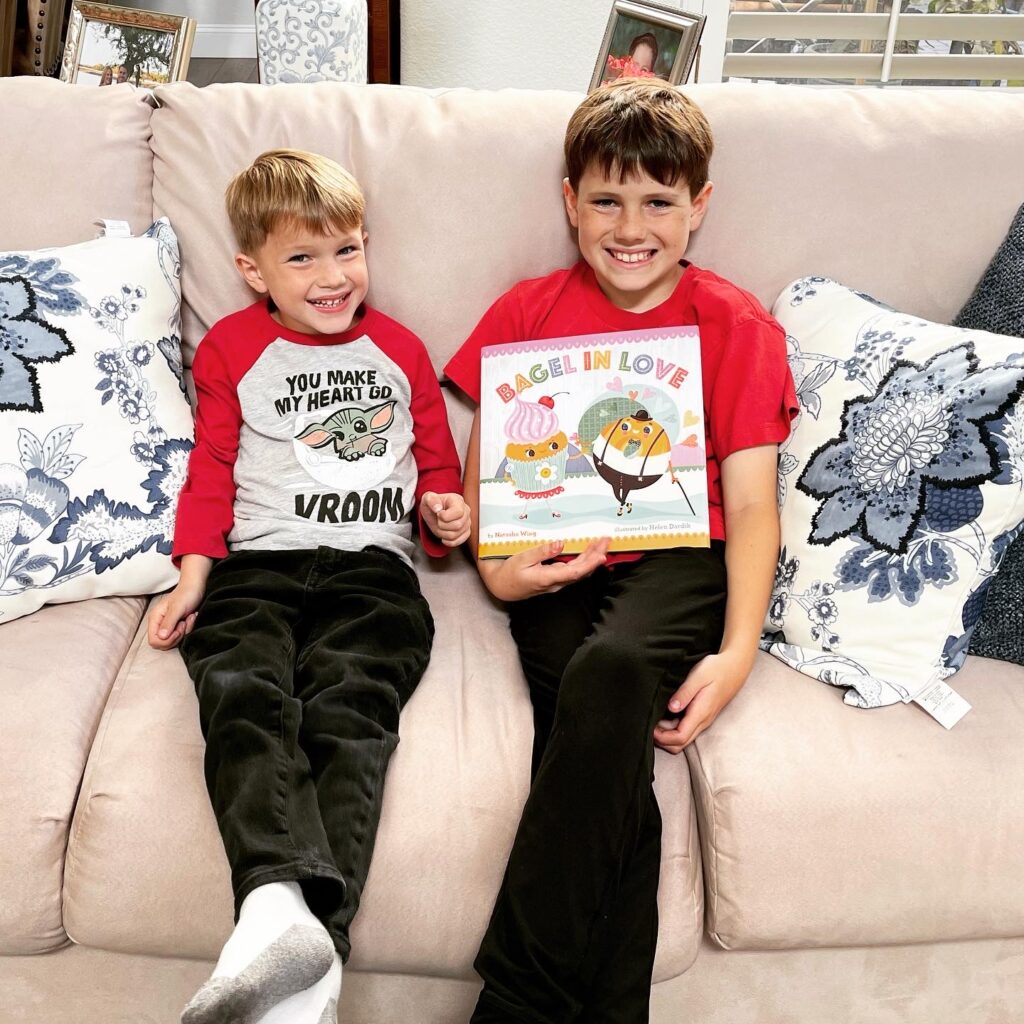 I'm obsessed with the book I chose for the boys this year, it's SO adorable. I love all the play on words and cute phrases and the beautiful & fun illustrations. Both of my boys enjoyed this one, I highly recommend purchasing it for your V-day book collection at home.
Valentine's Day Box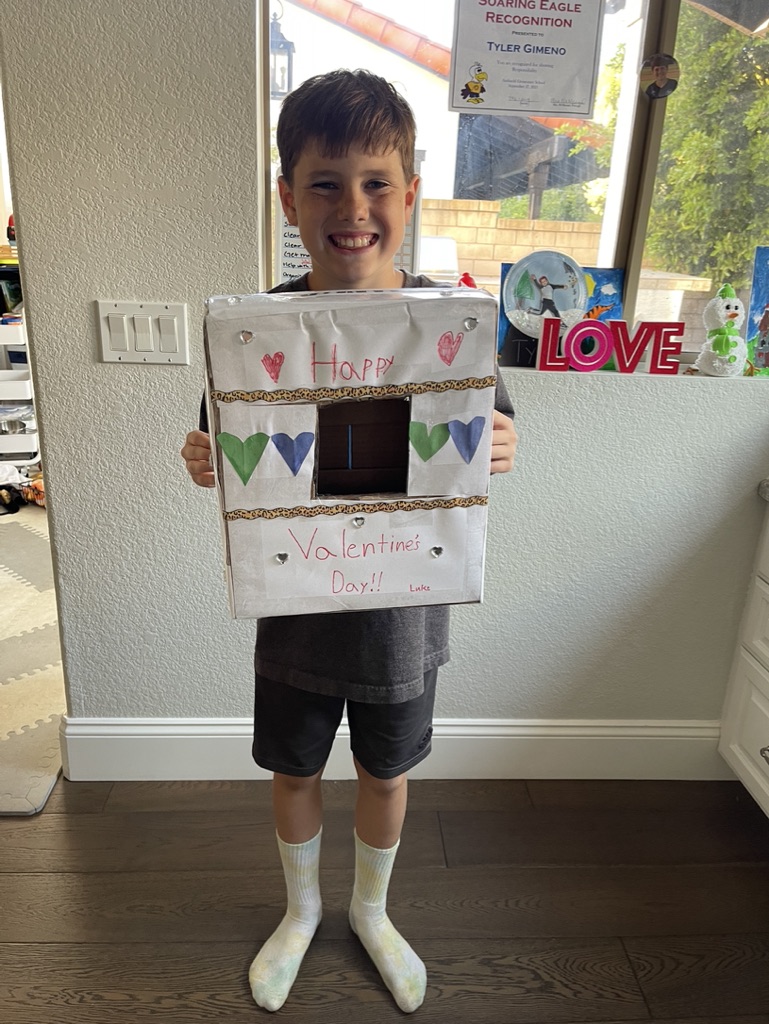 Luke made a Valentine box for his cards and it turned out so cute! Tyler decorated a Valentine bag at school for his cards.
A rose for each of my boys!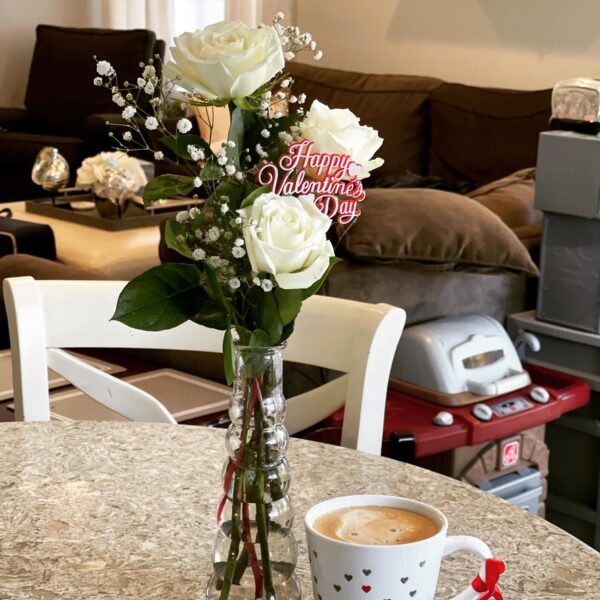 I woke up to these beautiful roses on my end table by my bed. Jason is very sweet like that and I'm always amazed how he purchases flowers without me knowing. We had super bowl Sunday the day before and were gone all day. When did he have the time to get these for me before I woke up early?? Such a mystery to me, lol but I LOVE it!
Surprise romantic breakfast at home for two!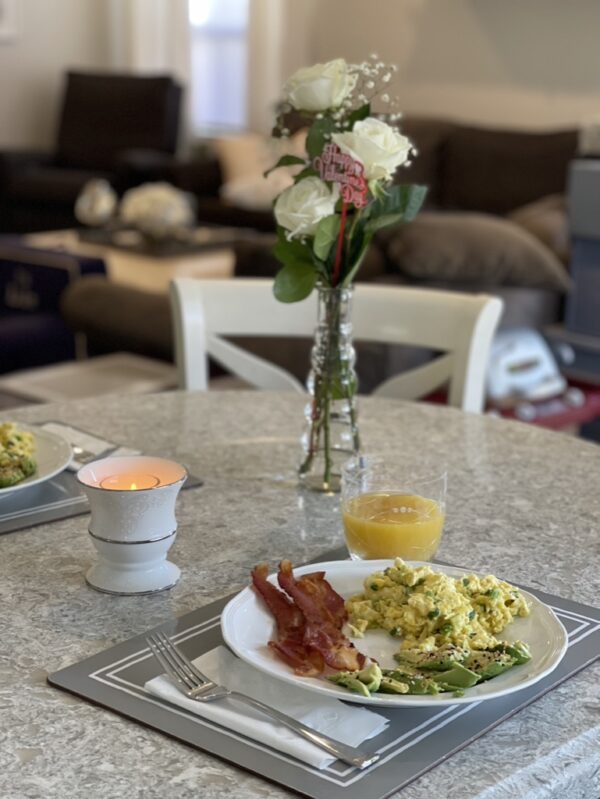 Eggs with cream cheese and green onion, bacon, and avocado with everything but the bagel seasoning on top….so yummy! Fun side note: the candle holder is from our china we received from our wedding and I received it from my maid of honor, Stephanie. I find it humorous that I can remember details like this but can't remember a name of a restaurant I just went to.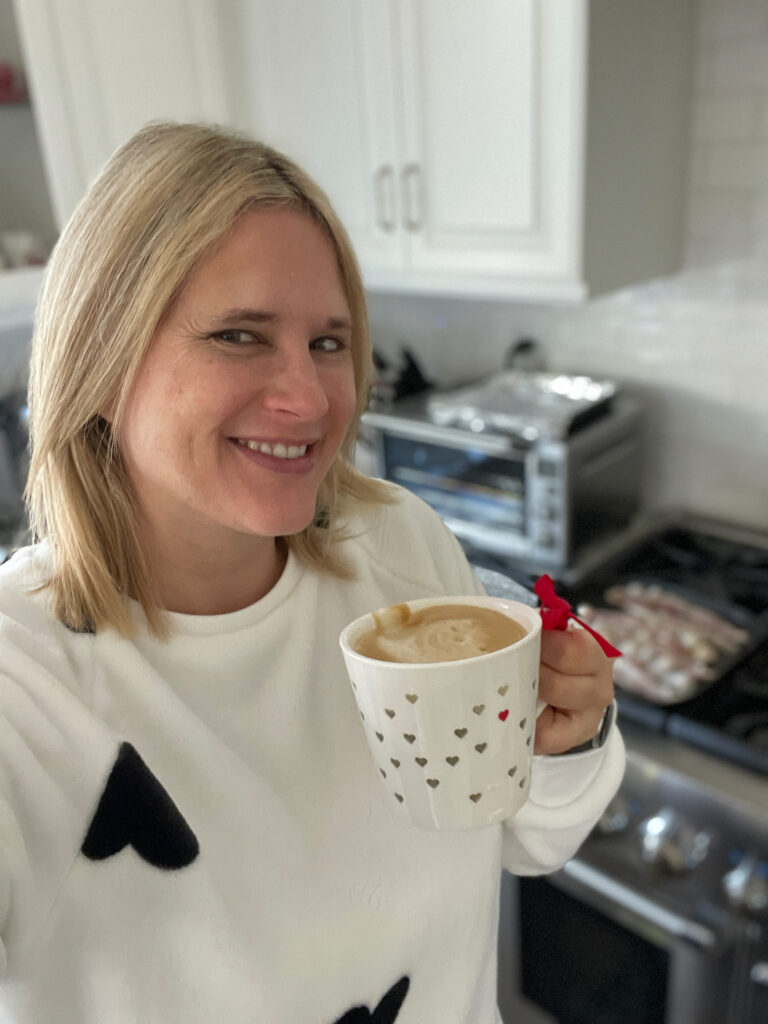 I'm wearing my new "comfy n cozy" as Tyler would say, sweatshirt from the Loft. I enjoyed a nice hot cup of coffee in my festive heart mug while I cooked up the bacon.
My Love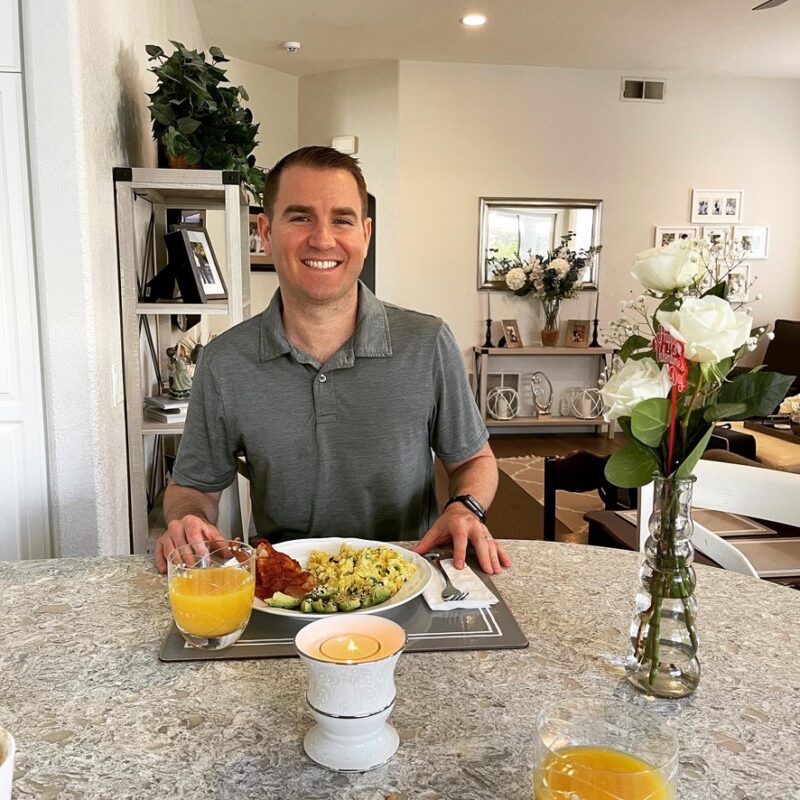 Surprise breakfast complete! Working from home has its perks, we get to enjoy alone time together while the kids are at school. It was nice having this moment alone together on Valentine's Day!
The gifts!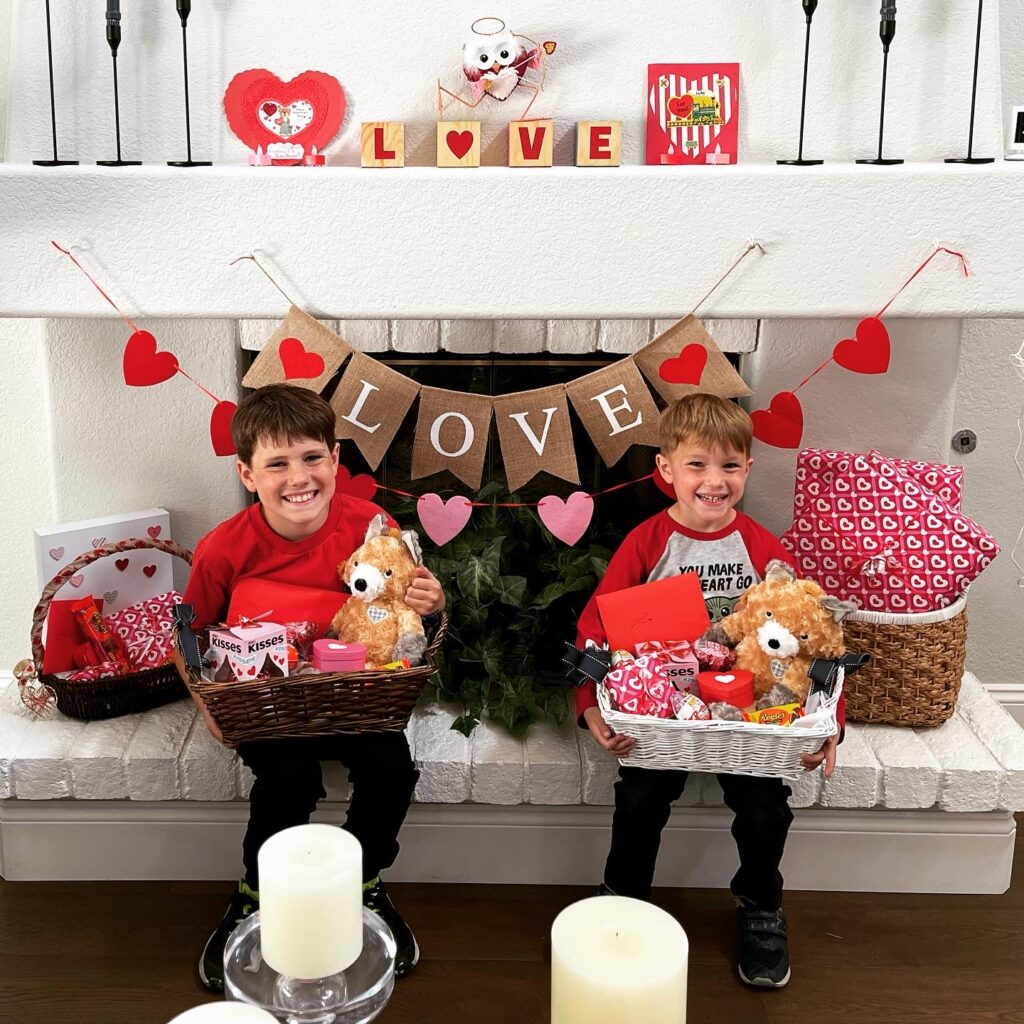 The boys returned from school and were chomping at the bit to start our Valentine's Day celebration!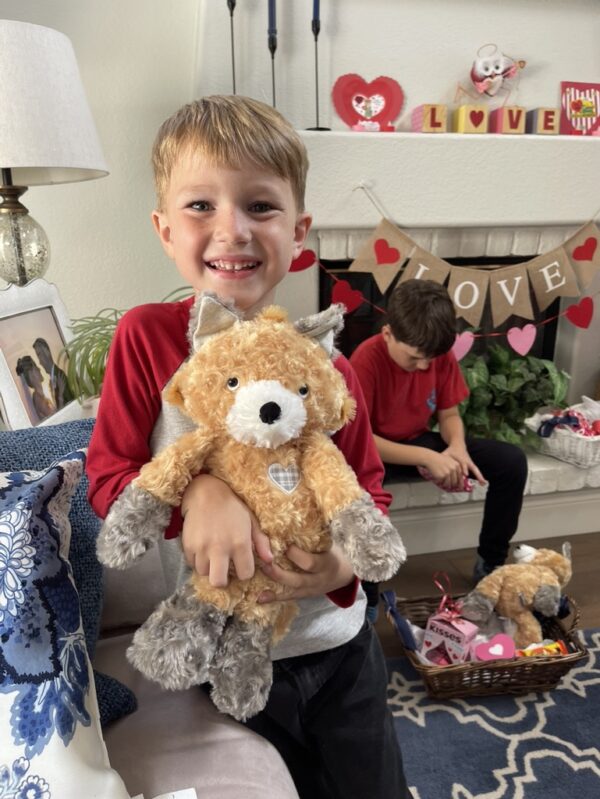 These cute foxes were from Hallmark and we all loved them! Super soft and good quality. Tyler named his Foxy and Luke named his Charlie. Luke informed me that he still likes stuffed animals, so I loved purchasing these for them and they have slept with them ever since.
Tyler got a new beach lifeguard lego set, a roblox gift card and candy. Luke received a new volcom outfit shorts and a t-shirt, vbucks gift card and candy.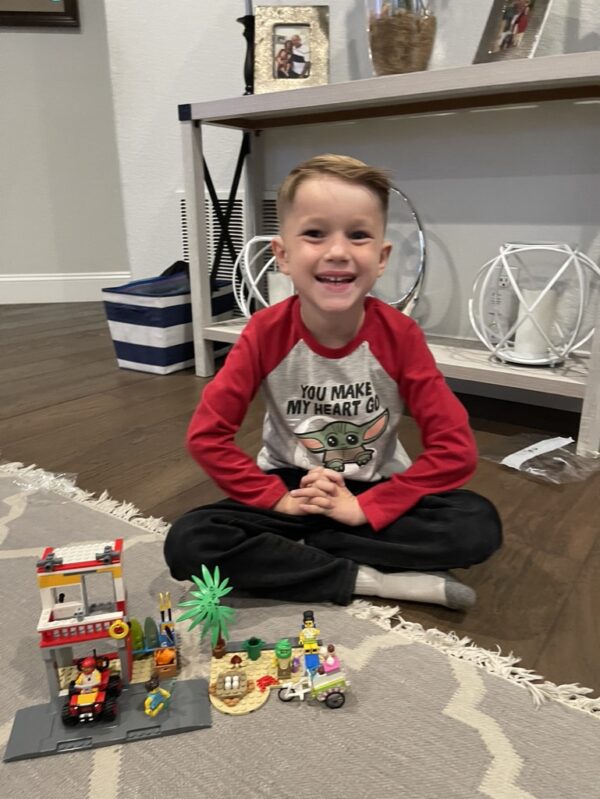 It didn't take long for this lego master builder to complete his new lego set!
Haircuts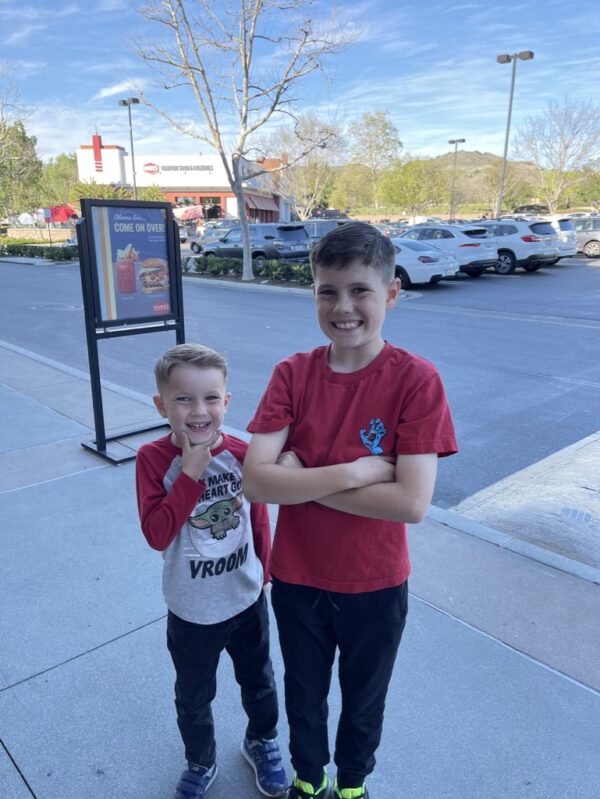 I realized that spring school pictures were on Wednesday so haircuts on Valentines Day it was.
Making family Valentines day dinner together!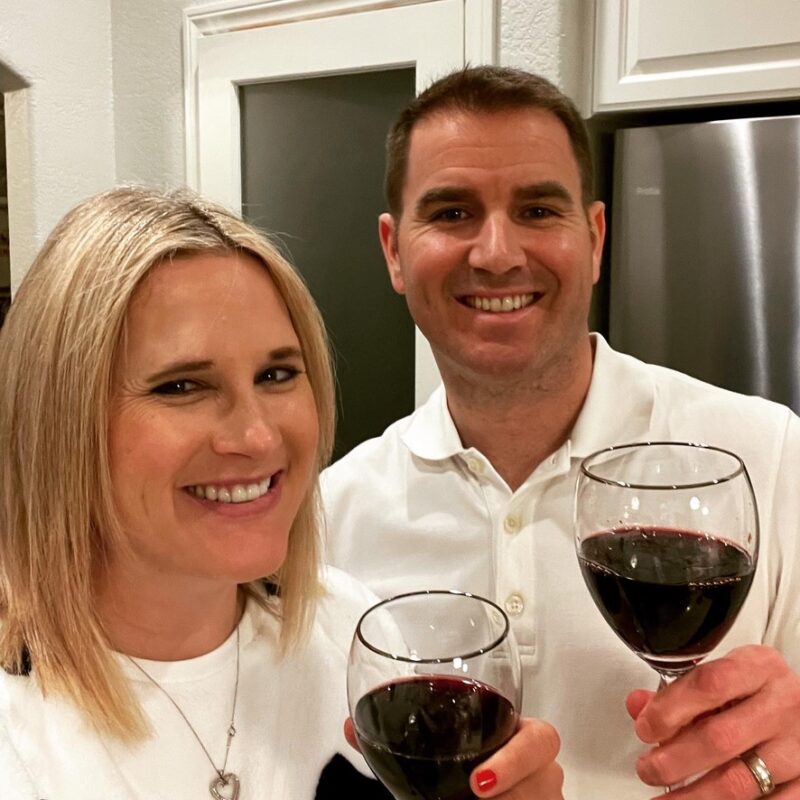 Jason and I enjoyed some good quality red wine while we cooked our boys a yummy steak dinner.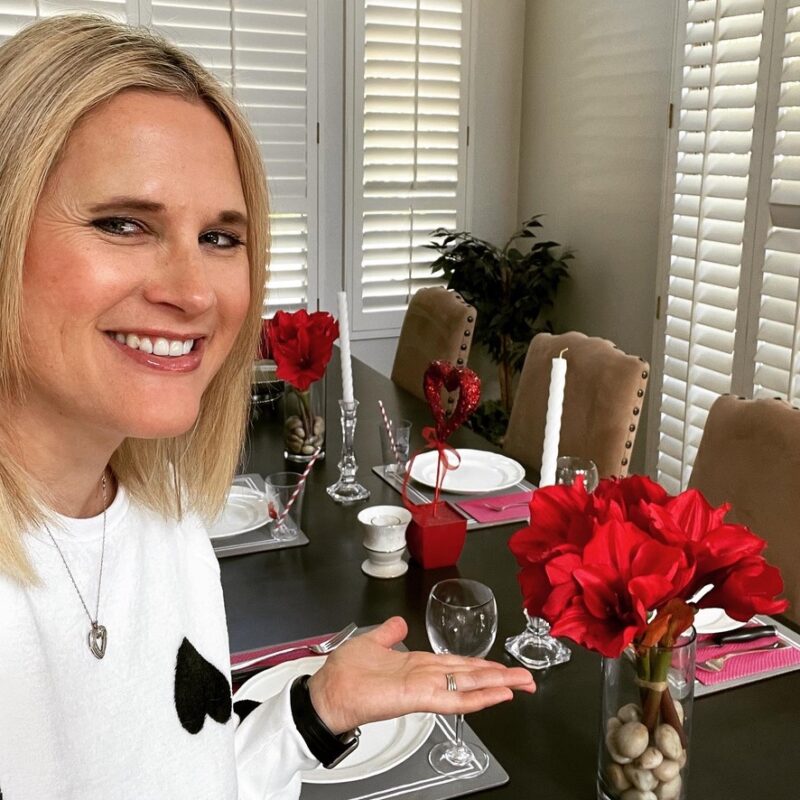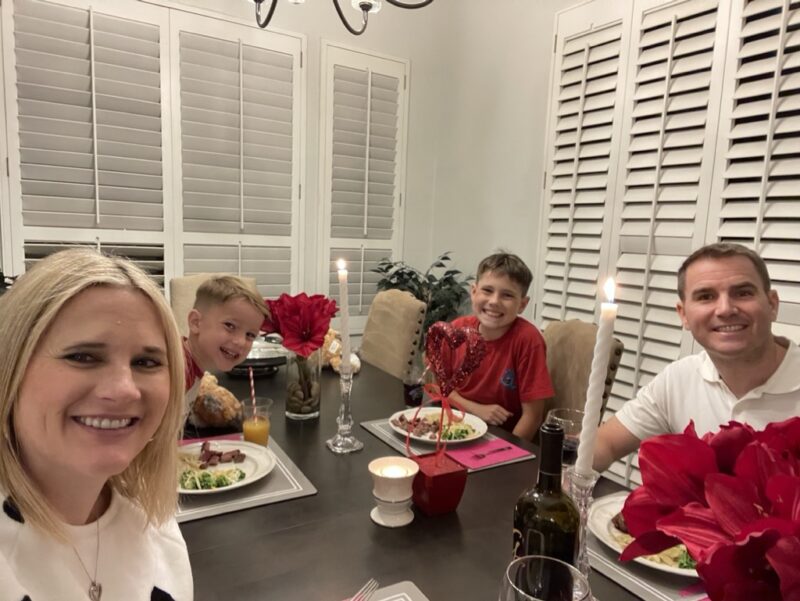 For dinner we enjoyed filet mignon, butter and herb pasta and broccoli over candlelight while listening to music.
Our gifts
In case you were wondering what Jason and I gifted each other, I thought I would share. I didn't get pictures of everything. I gifted Jason a Travis Mathew shirt, one of his favorite brands and it was from Nordstrom. And some Jack Black skincare products from Sephora. I worry about his lack of skincare routine so I took matters into my own hands! I got him a face wash to use in the shower, then a moisturizer/spf lotion to put on for the daytime, followed by an eye repair cream to put on at night. He still needs to use a few more things but this is a good start.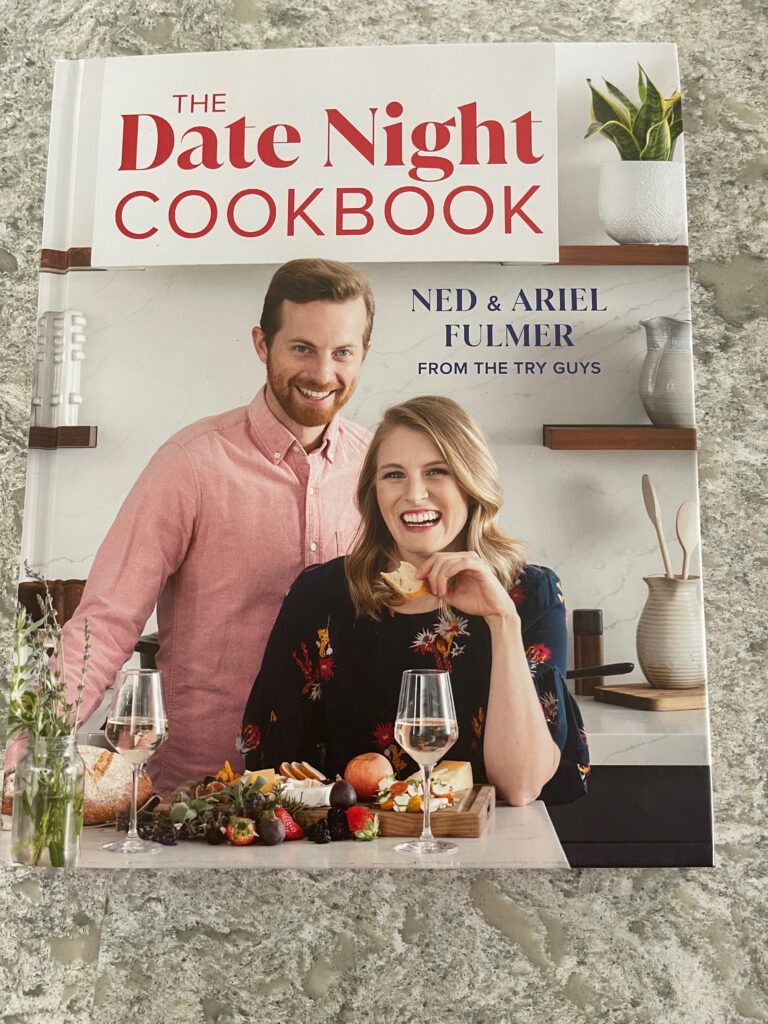 Jason is a thoughtful and great giver and I LOVE it! He got me this date night cookbook to use together. We had our share of health issues and colds since the beginning of 2022 and there was a big chunk of time where Jason was doing the dinner cooking for the family. He realized that he'd missed cooking. We used to cook a lot together in the beginning years of our relationship and marriage. So now the plan is to pick a recipe from this book to cook on Sunday nights together. We're both excited about this new plan!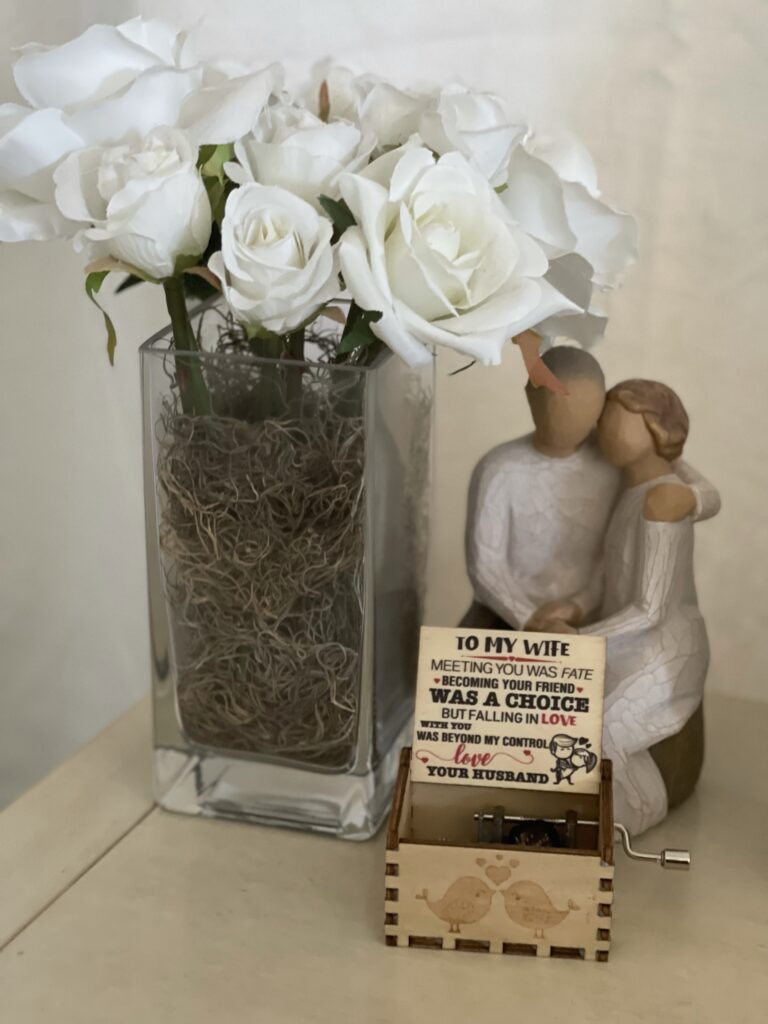 He gave me this sweet music box that plays "you are my sunshine" a favorite song of ours that I sang to our boys as babies often. Do you see what I mean, he continues to win over my heart all the time!
Jason also gifted me a couples cooking class at tSpoon, a local place in San Juan Capistrano. It isn't until March but I'm soooo excited. We will be cooking a Japanese meal and I can't wait for this fun date night!
Thanks for reading along today! I hope you had a memorable time with your family and spoiled them with love!
XO