Last year we went to Arizona and did the Polar Express Experience which had been a dream of mine to do with my boys!
We went with our good friends Kelly and Chip Adkins and their two boys, Hunter and Parker. We knew this trip was going to be at a challenging time because we went to Florida for Thanksgiving (Thanksgiving is when this train ride becomes available) and we were flying out 10 days later to Arizona.
Our trip got off to a rough start. The week before going, Tyler got sick and had a fever. We took him to the doctor and they told us as long as the fever goes away, everything should be fine. When he didn't have a fever for 24 hours, we decided to still fly instead of changing our plans to driving.
Well, there was a ton of fog that morning in Orange County and our flight got delayed 5 hours. Yes, you heard that right, when does this ever happen in Orange County?!?! That put us in a tough spot because we were flying into Phoenix, AZ, and needed to rent a car and then drive a few hours to Flagstaff to catch the Christmas bus to see the North Pole Experience. There was also an hour time change that made us even closer to not making it.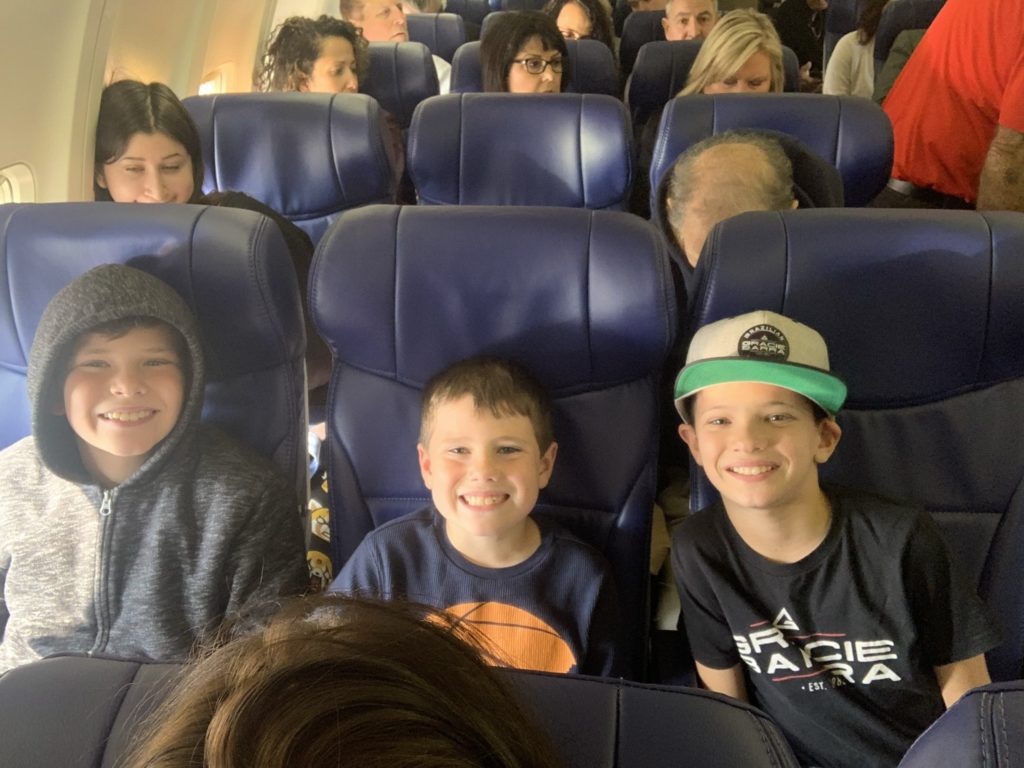 Tyler started to not feel well again and was crying and in pain the entire drive from Phoenix to Flagstaff. We felt so terrible for him!! You can imagine how uncomfortable it is for 8 people in one van with nowhere to stop out in the middle of the desert. At this point, Tyler was not eating much and concerns were starting to rise.
We were trying desperately to make the Christmas Experience! We called, there was no way they could wait for us. It's a tight, well oiled machine and we had no wiggle room to be late. We finally arrived and ran through The Little America Hotel and caught the Christmas bus that was taking us through a portal to the North Pole!!
We had maybe 2 minutes to spare but we made it, hallelujah, the first Christmas miracle of our trip!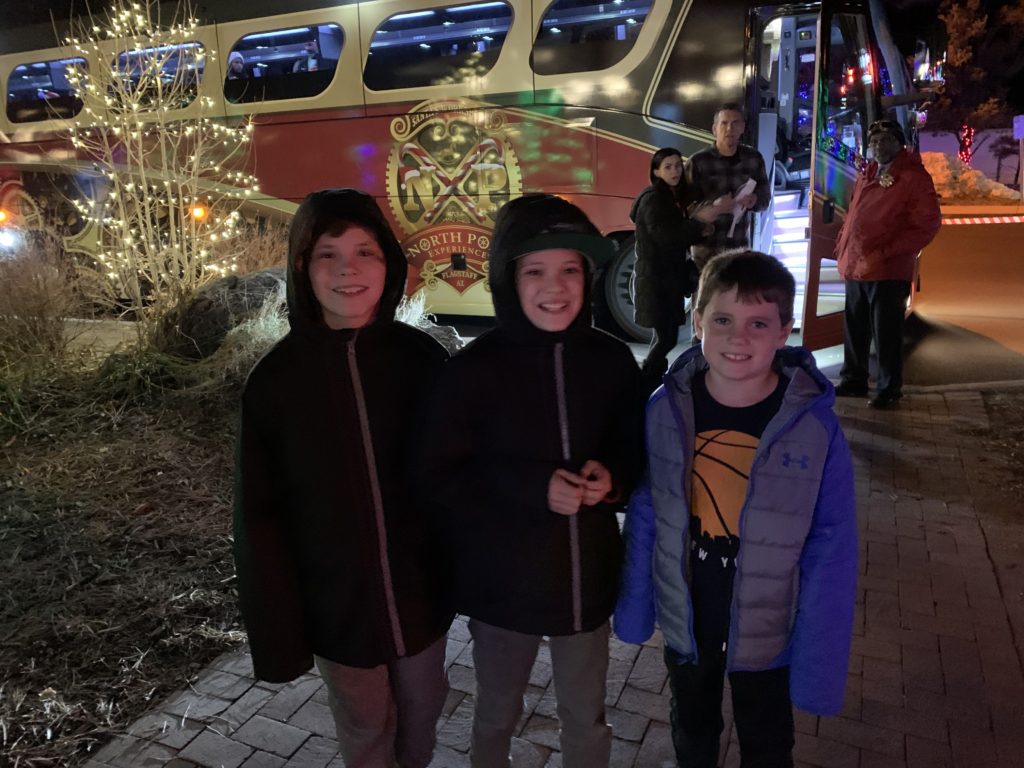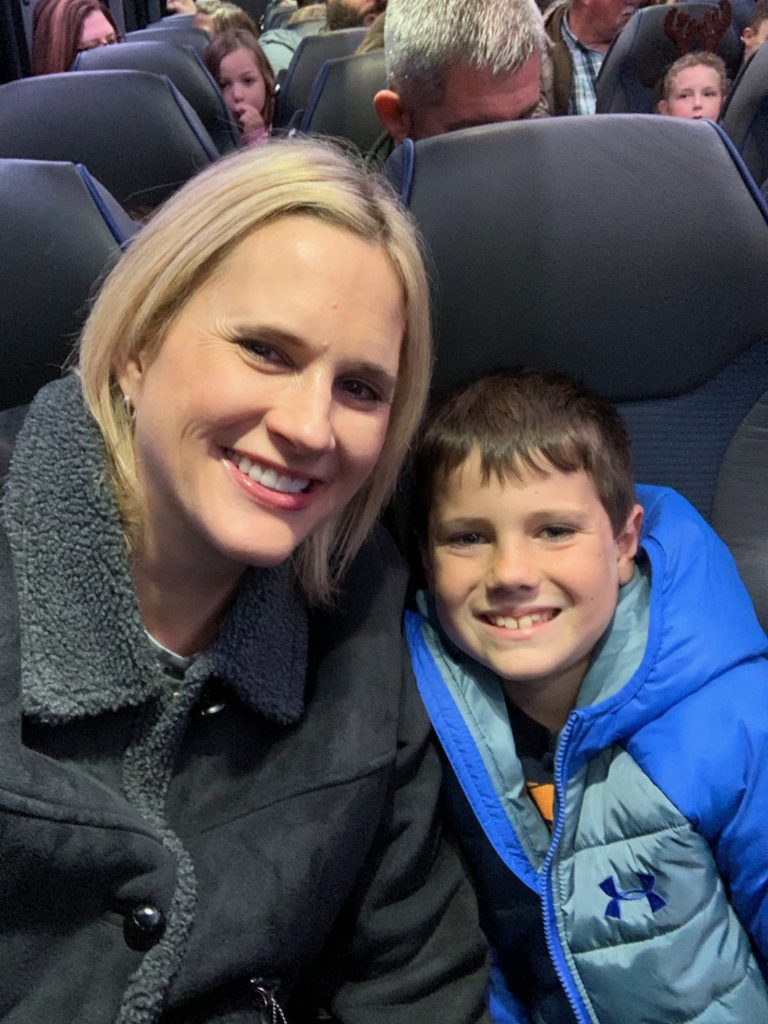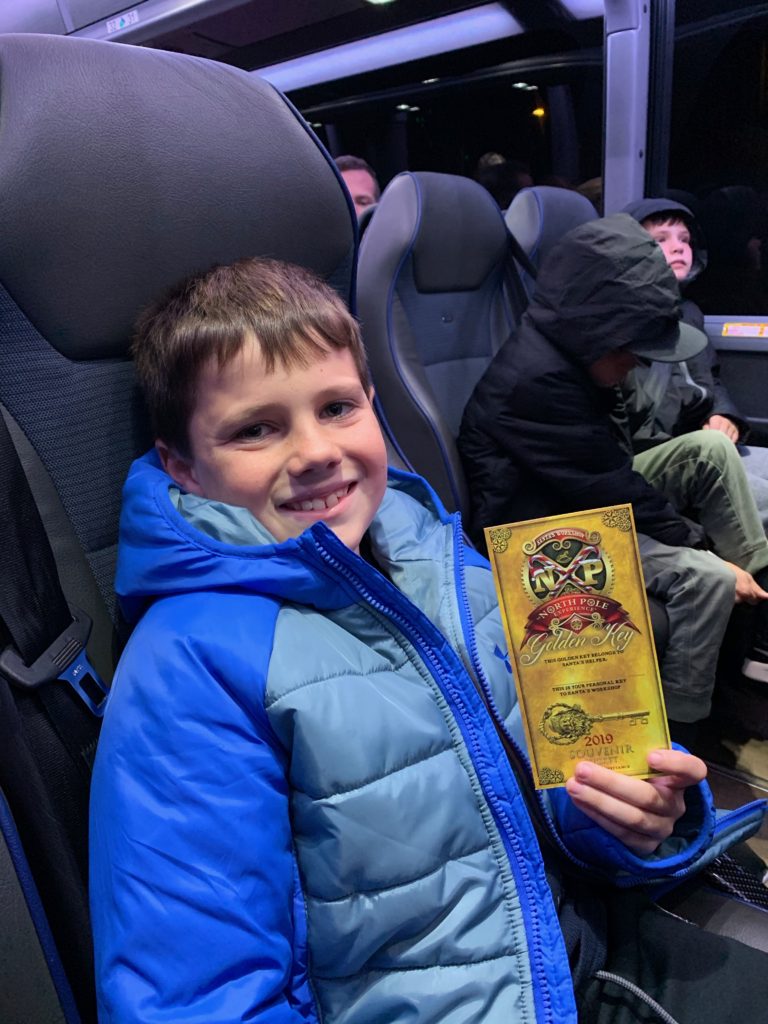 The North Pole experience was SO cute!! Our boys were a little bit on the older side to fully appreciate it, though. I would say it's best for ages 2-6 years, which would have been perfect for Tyler but he wasn't feeling well during it and mostly slept.
The bus takes you to a barn-like building which is separated into several rooms. 25 or so kids and their parents are in each room at a time so it isn't overly crowded which is great. Each of the rooms had a different theme. In the first room you get to meet some elves, next you enter a toy workshop.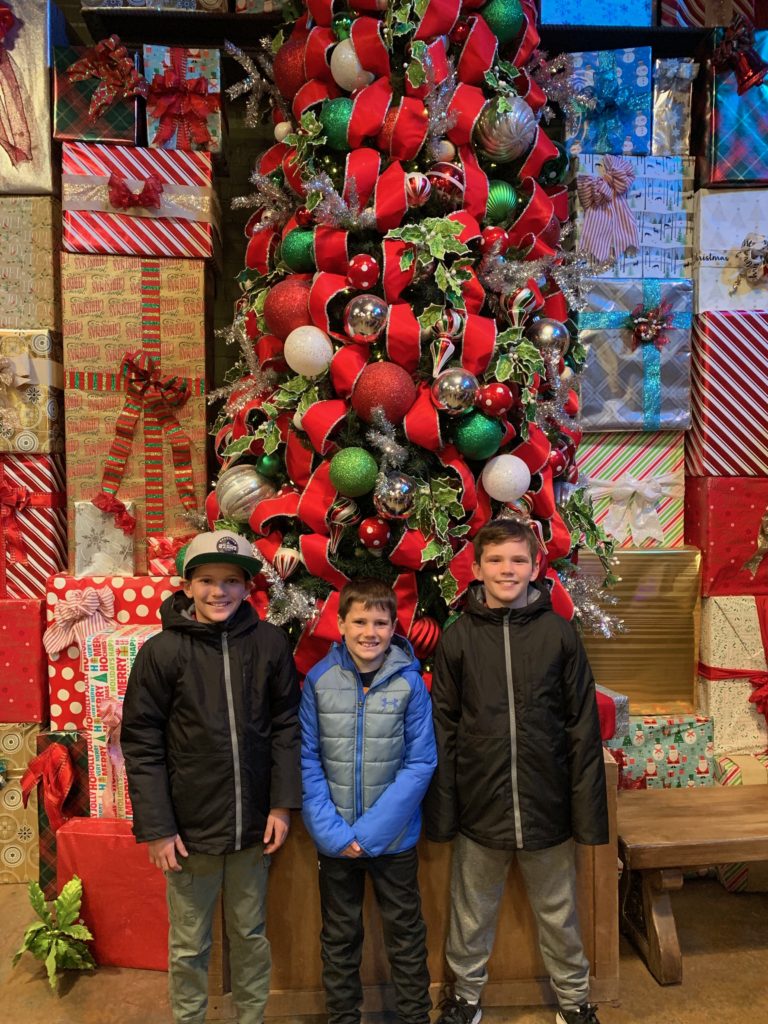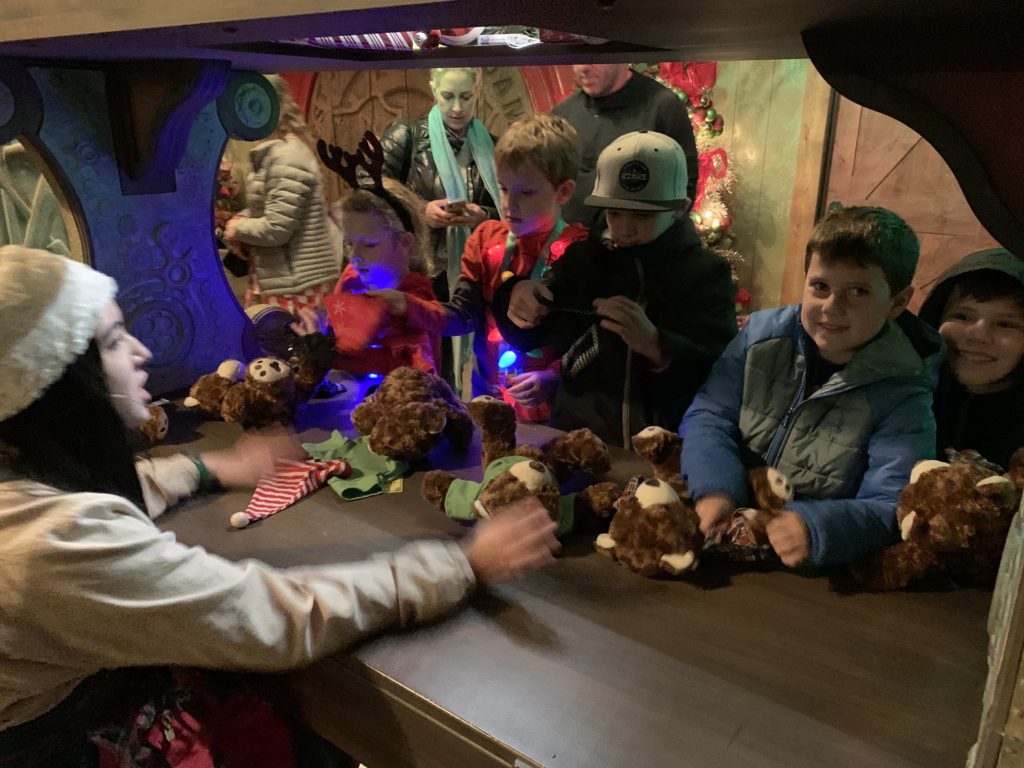 Then we headed into a room where they ship out all the toys to go into Santa's sleigh and the kids actually get to put boxes on a moving belt.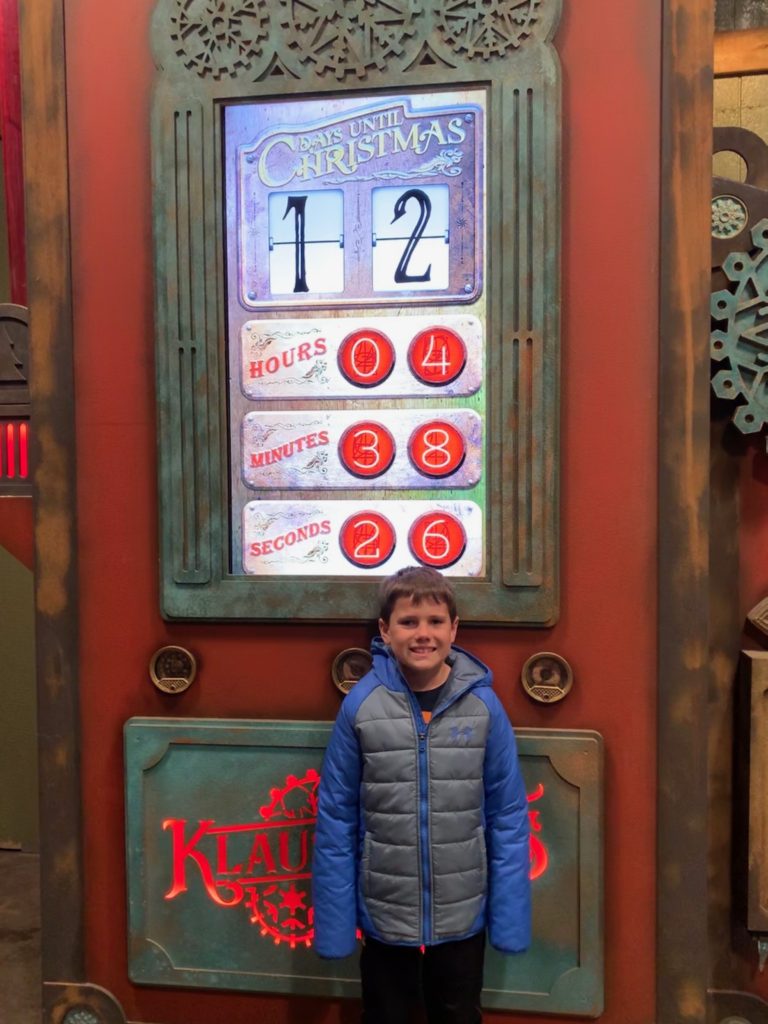 Next, was a room where they wrote notes to Santa. You get to see where all the letters to Santa go from children all over the world.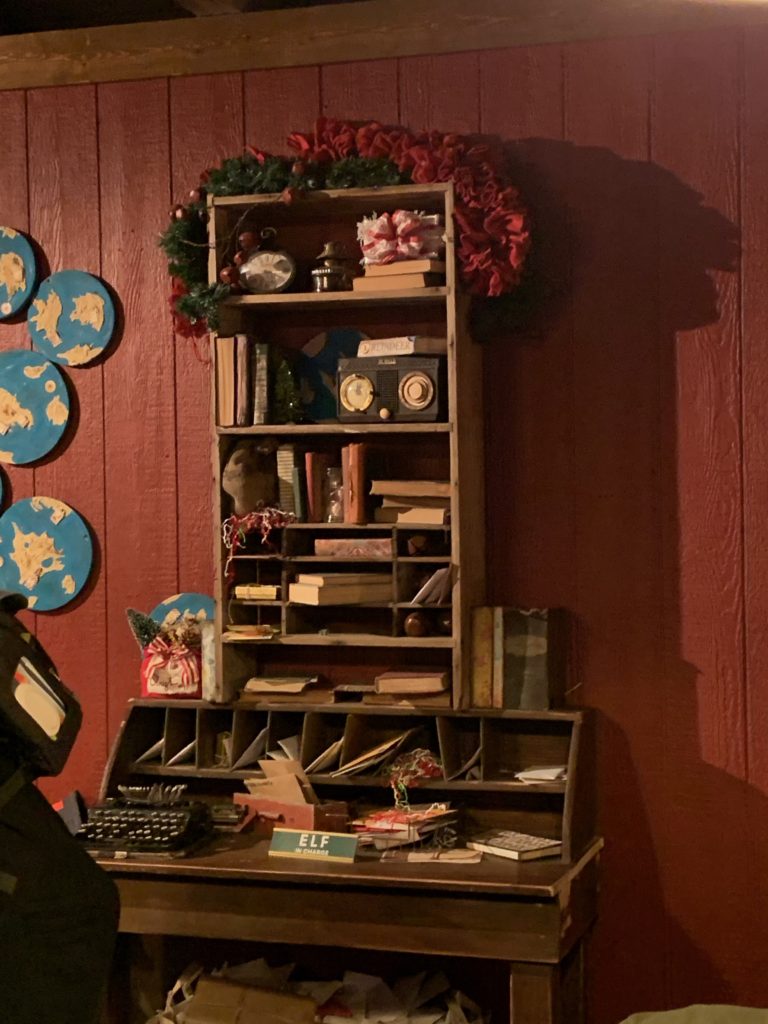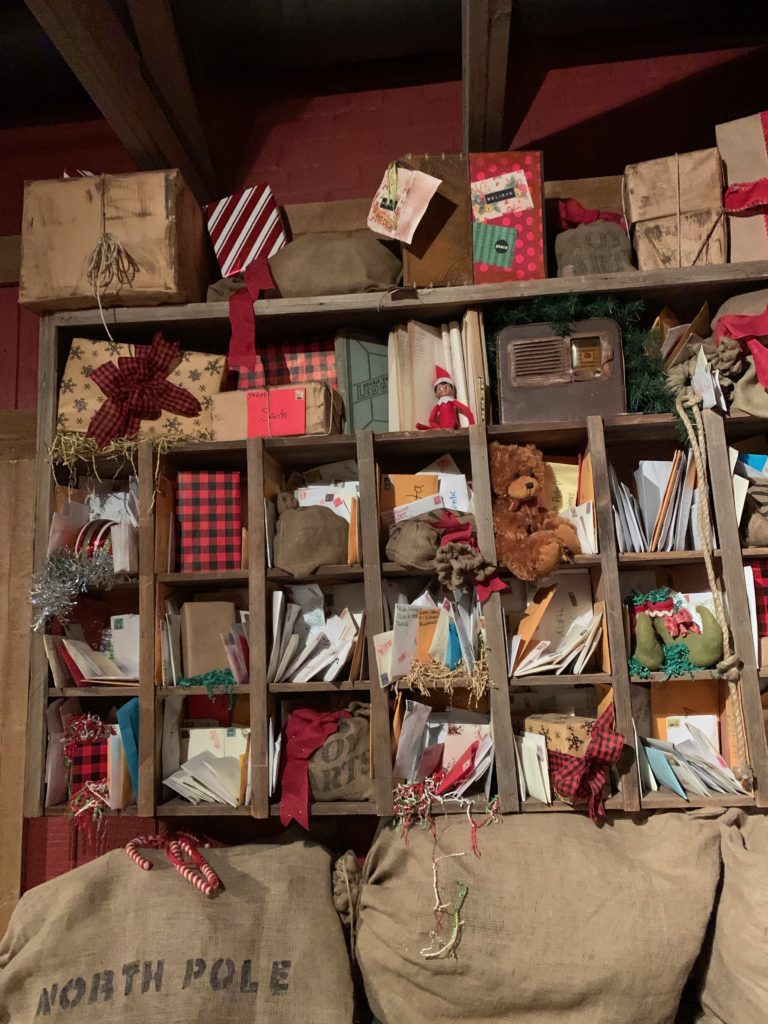 We then went to Elf school, where we learned Santa's 9 Golden Rules!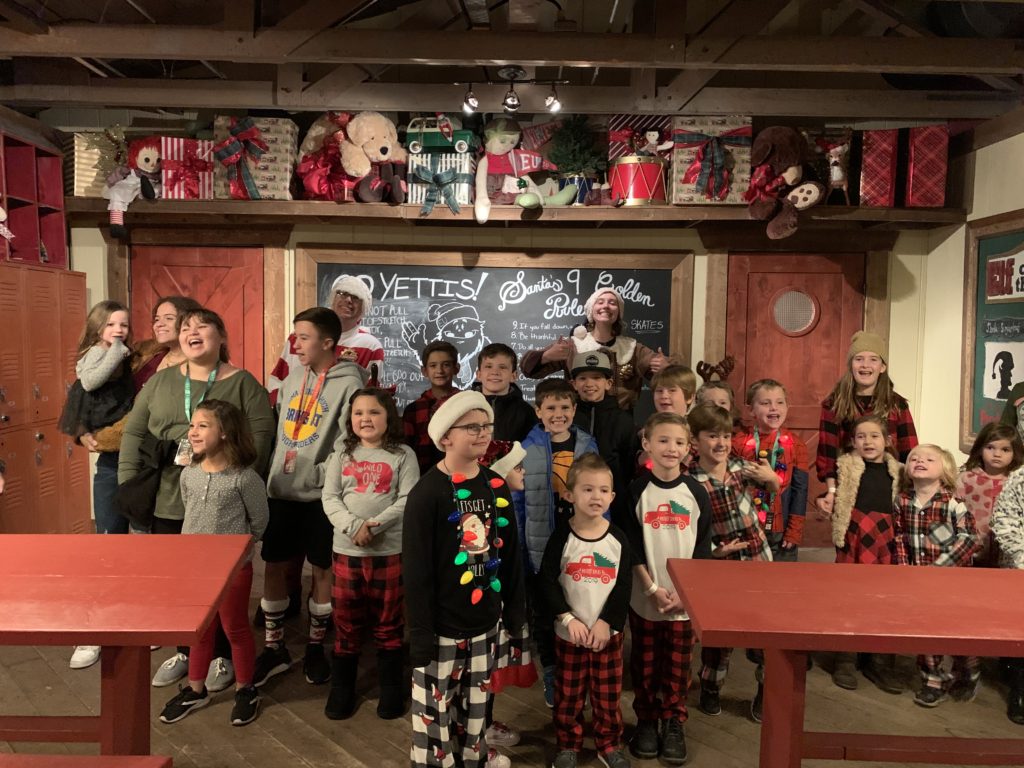 In the next room, we were given homemade donuts and hot chocolate with Mrs. Claus and got to enjoy a musical performance from the Elves!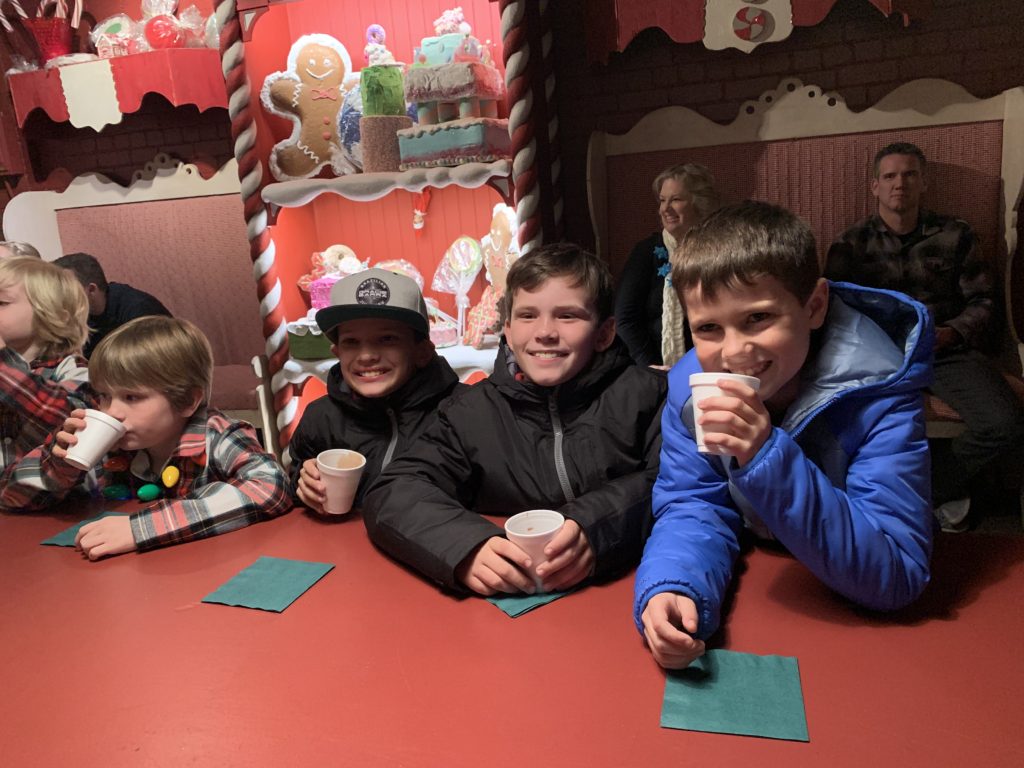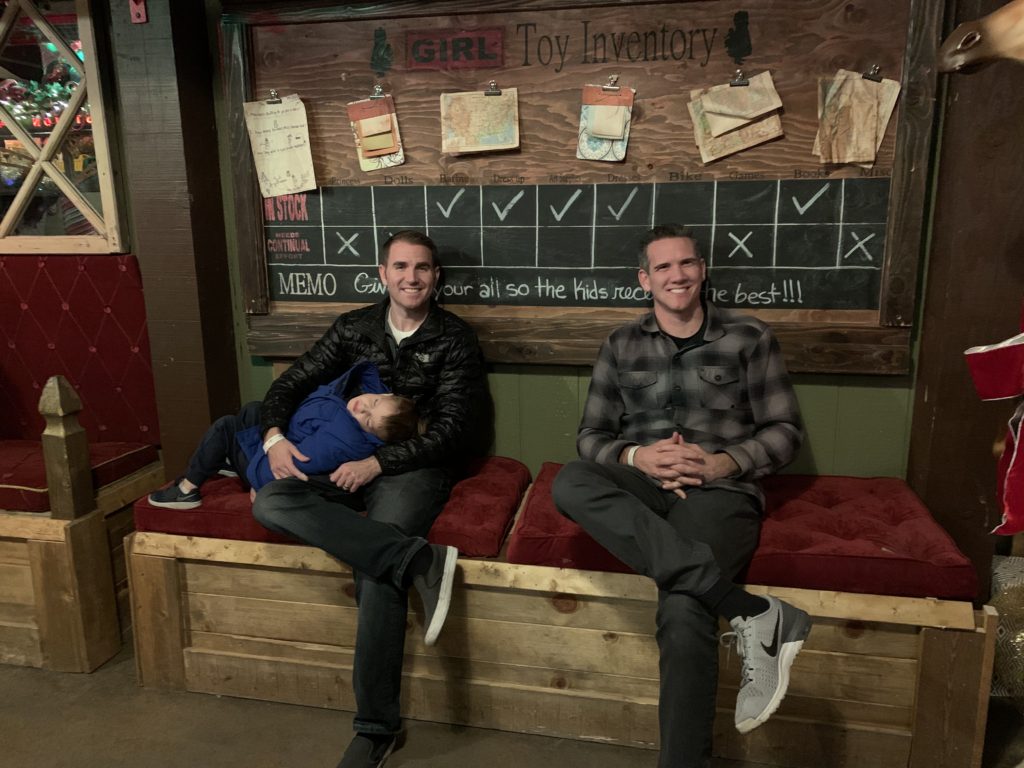 We then headed into a holding room where we waited to see Santa. It was awesome to see all the technology Santa uses to fly his special sleigh.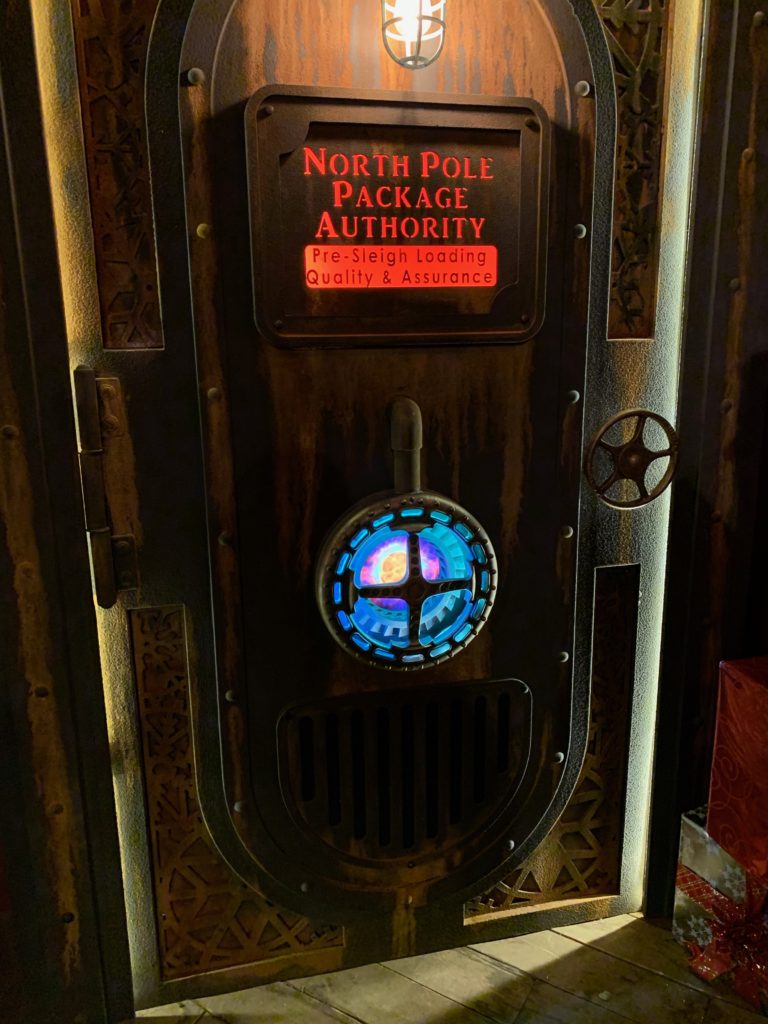 They let you in to see Santa by families or by your group so you get special one on one time with Santa. They take professional pictures of you with Santa, you get a bear and you get to give Santa the letter you wrote. He reads the letter with you and goes over your wish list. Santa was so amazing with Tyler, he was still asleep and Santa insisted that Tyler be in the pictures even though we warned him that he is sick. The pictures turned out adorable. My only sadness is that Tyler didn't get to enjoy and experience this special night at all.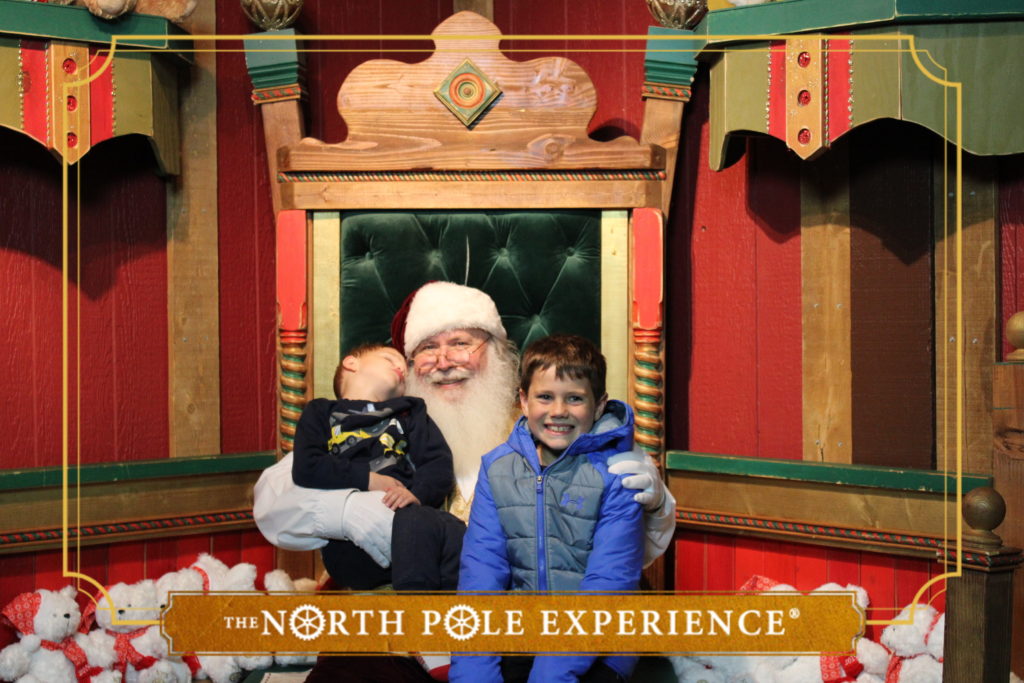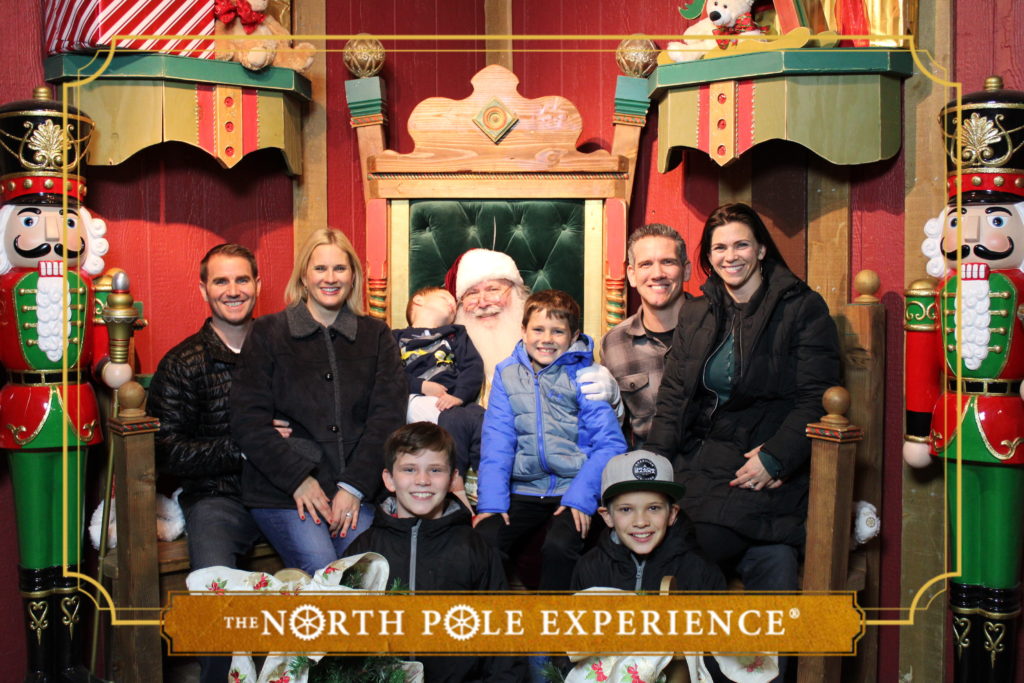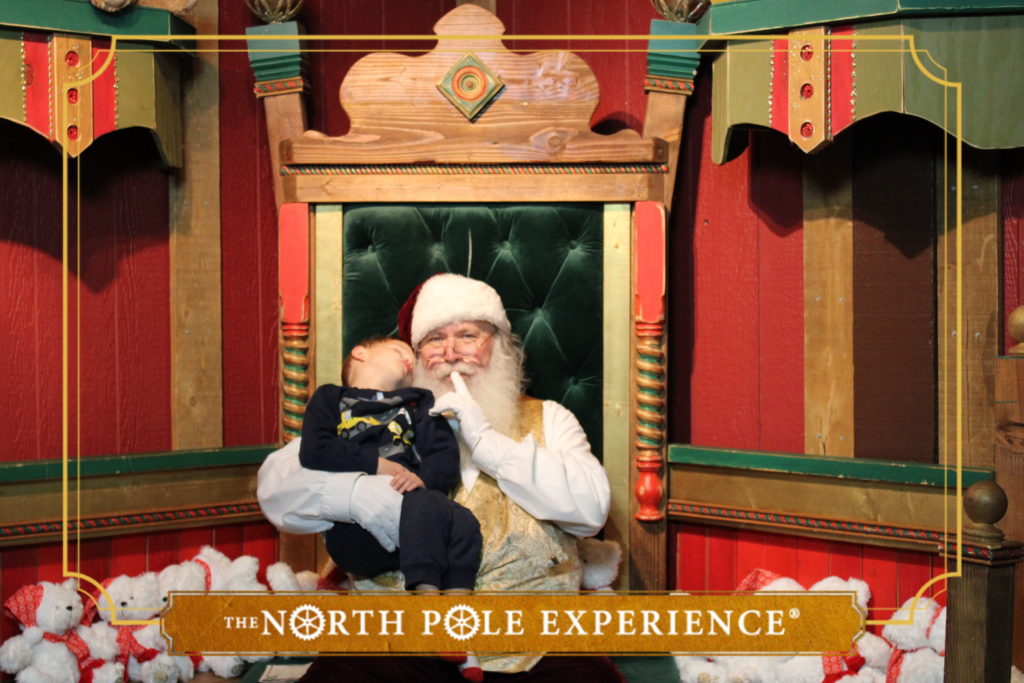 On Saturday we headed out to see The Grand Canyon. It was around 1.5 hrs from where we were staying in Flagstaff, AZ. When we were headed out, Tyler had a meltdown and said he couldn't get in the car and go so instead of powering through and pushing him, we decided on Jason staying back with him since he had already seen the Grand Canyon. We figured it would be good for Tyler to rest so he could feel better.
At this point, he wasn't eating at all and we started to notice his tummy getting really bloated. While we were gone Jason started researching how it is a red flag if a toddler is oversleeping. While we were gone he started rejecting all fluids so now he wasn't consuming anything and his lips were getting chapped. It was time to get him to the hospital because he was showing signs of dehydration. Jason was without a car thinking he was just going to be at the hotel so he had to get an Uber to the Flagstaff Medical Center.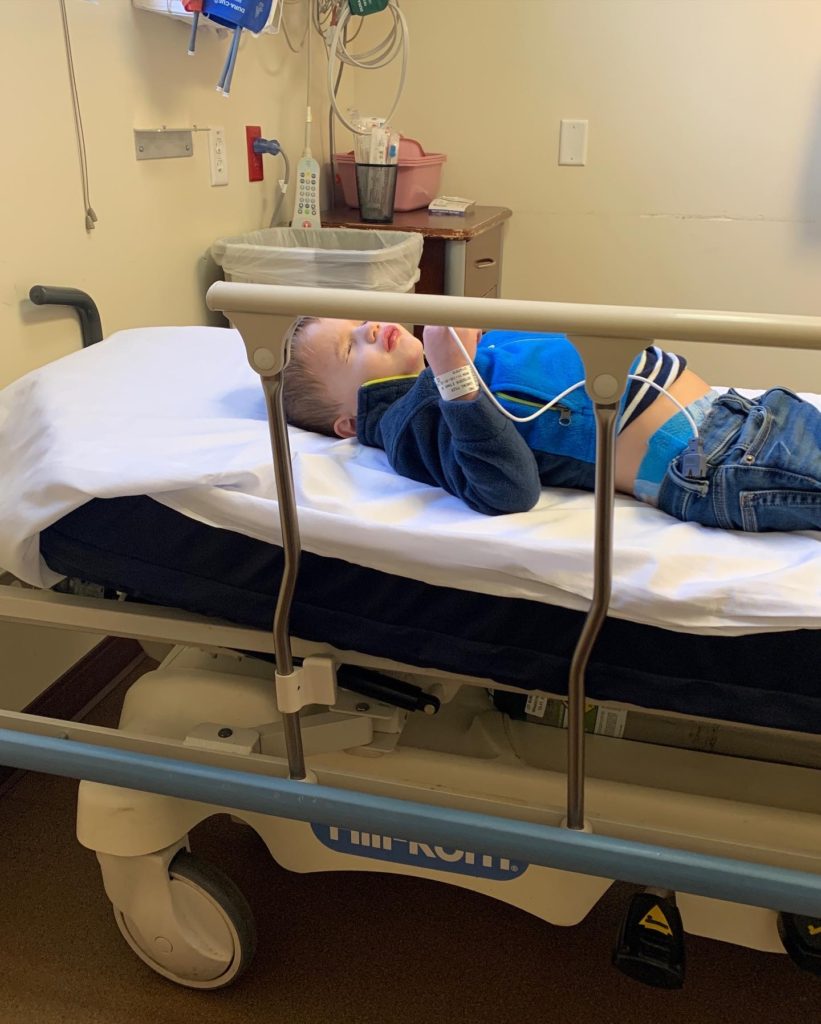 Meanwhile, we arrived at the breathtaking Grand Canyon! We experienced the Grand Canyon while at the El Tovar Hotel. We walked around and the views were spectacular.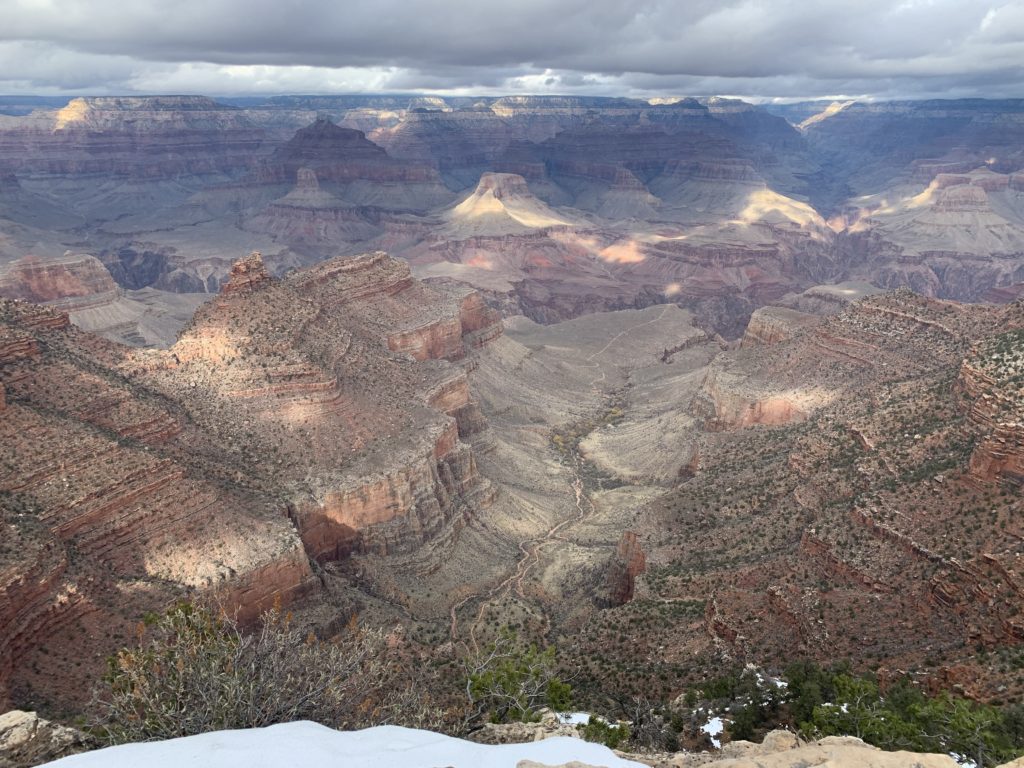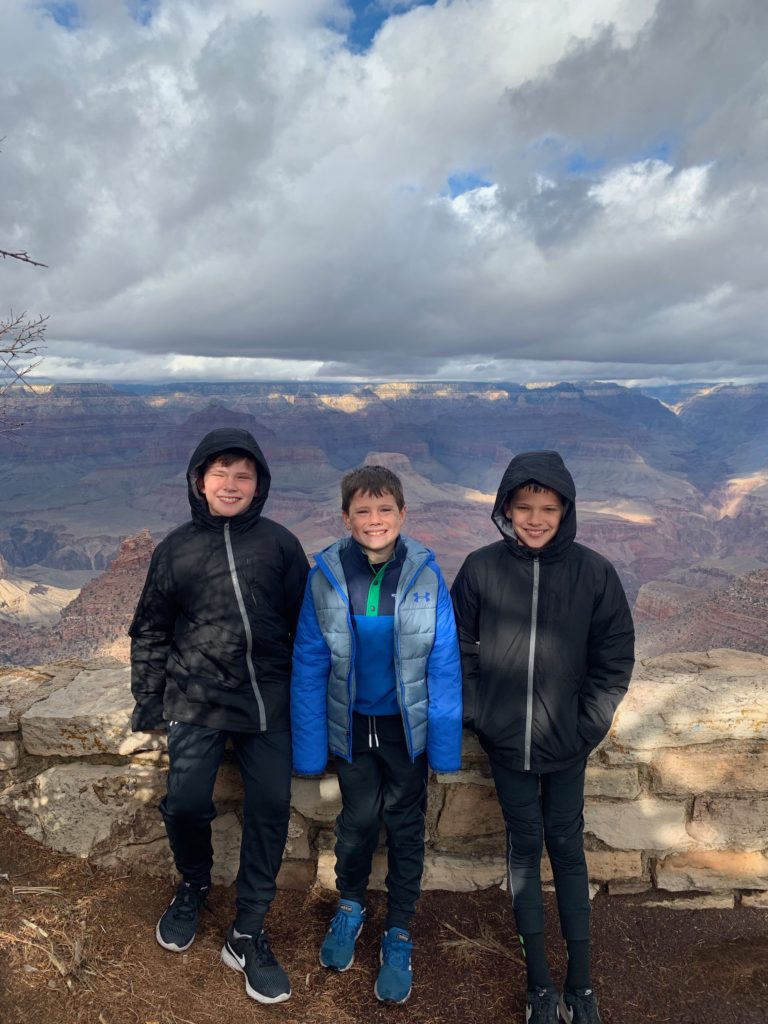 We enjoyed some delicious appetizers and beer while the boys were playing right outside. We could see them through the large window from the table we were sitting at. They had a blast playing in a large patch of snow and having a snow ball fight, it was happiness seeing pure joy on their faces! Right after this moment I received the call from Jason about needing to head to the hospital. We needed to head back to Flagstaff ASAP so I could be with my sick boy!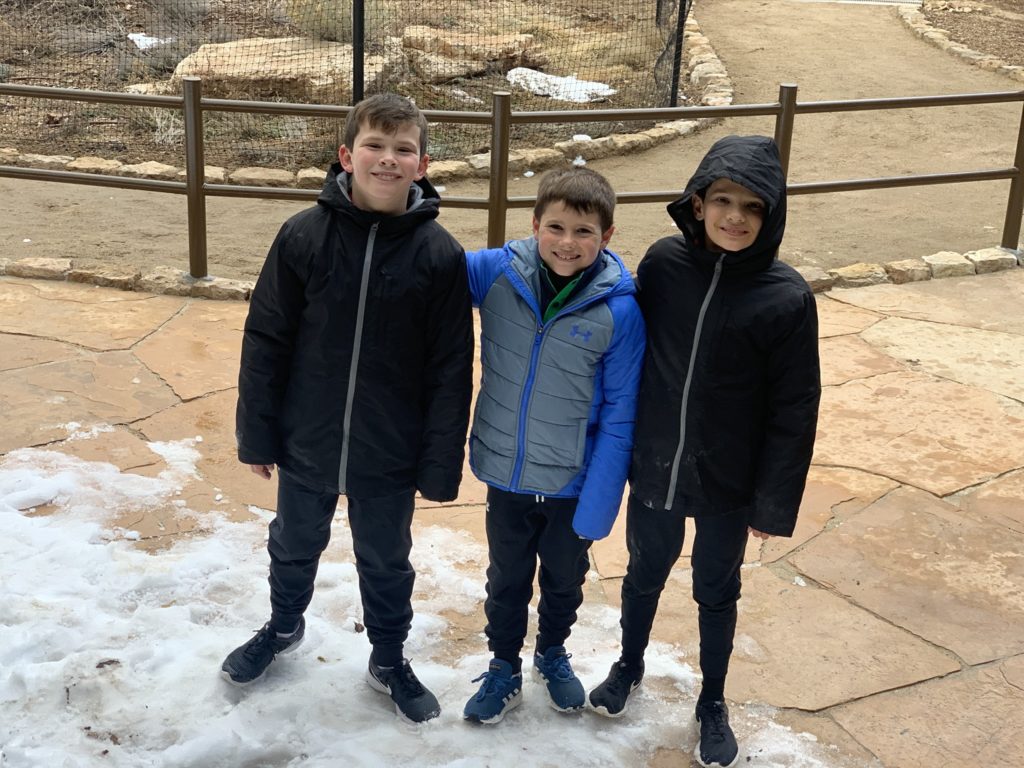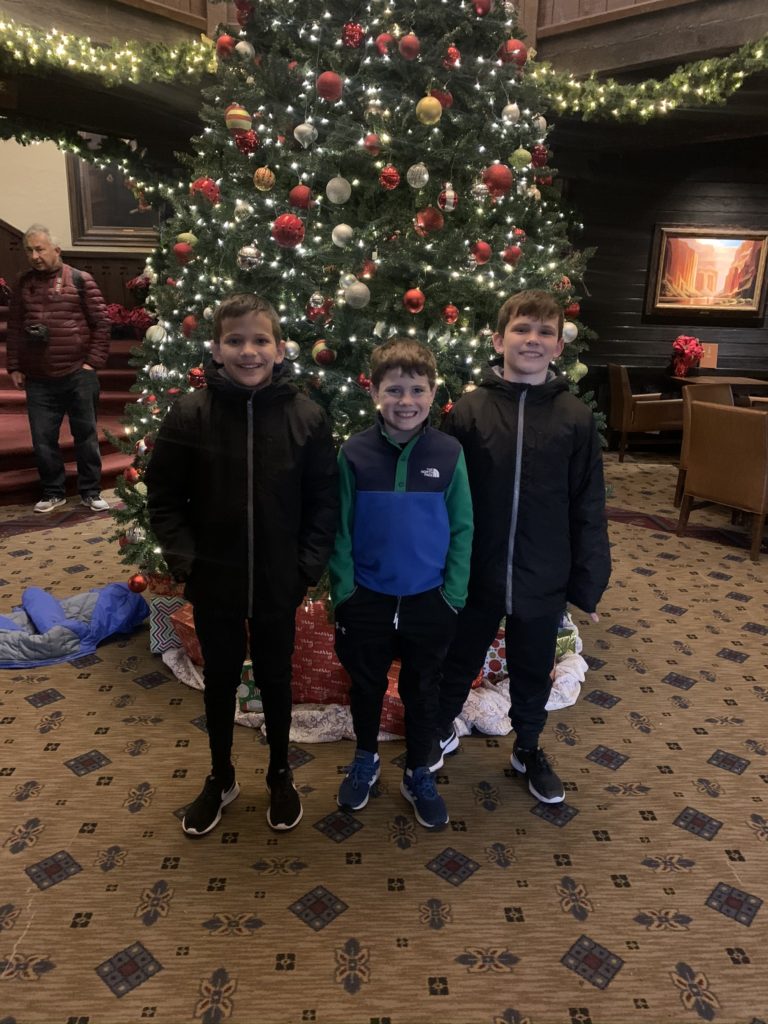 During the drive back to Flagstaff, we learned that they were going to be keeping Tyler overnight at the hospital so I first headed back to our hotel to pack up some stuff for staying the night. Luke stayed with the Adkins family while Jason and I both stayed at the hospital. We couldn't have asked to be with a more supportive, understanding and easy-going friends, they truly were wonderful during this whole ordeal.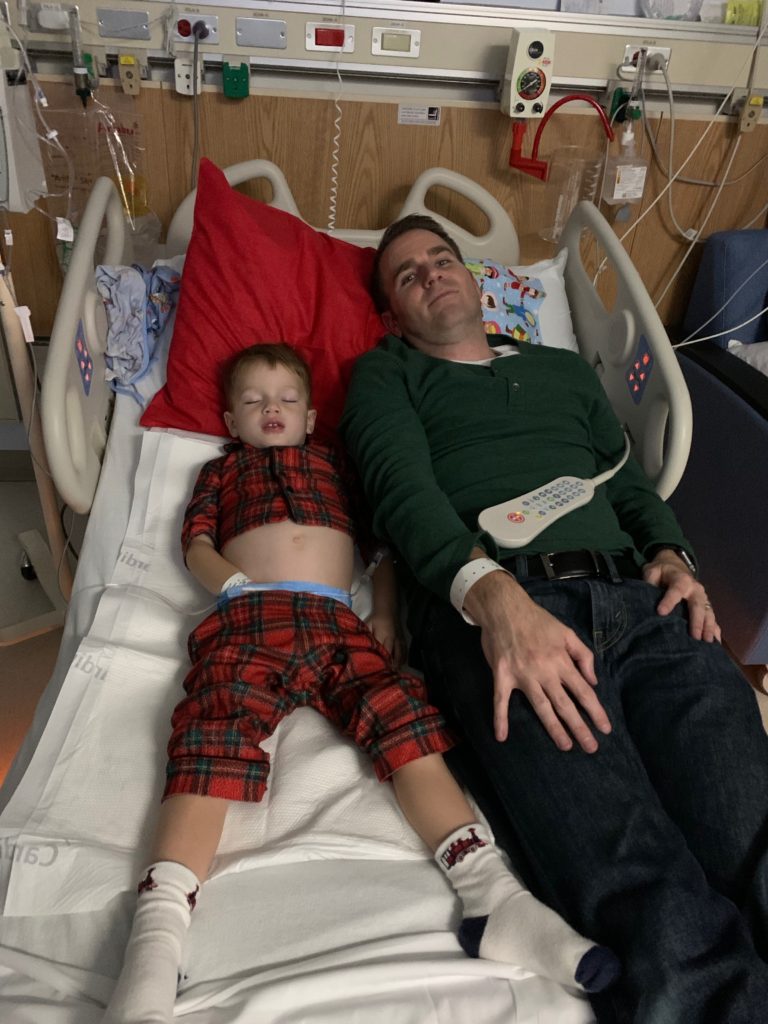 We can't say enough good things about the Flagstaff Medical staff, they were amazing and gave us so much love, compassion and attention during our stay. They poured gifts onto Tyler, he got to open a stocking full of fun stuff, stuffed animals and nice lego sets, it was so kind and generous of them.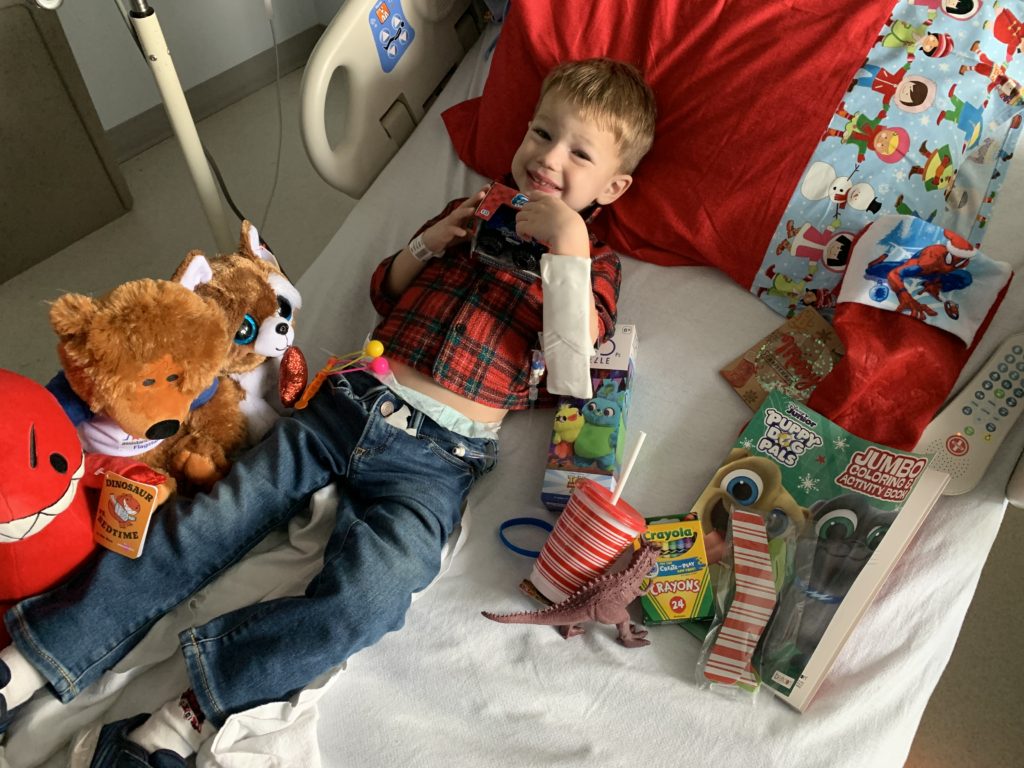 We came to find out that he had the Adenovirus. The symptoms are worse in kids than in adults and can range from standard respiratory symptoms to gastrointestinal issues. For Tyler, it was a week of having a fever and then was tricky because he seemed better but then symptoms came back from the cold. Flying in a plane & the high altitude probably didn't help matters either. He accumulated a great deal of gas in his stomach and it made him so bloated that he was too uncomfortable to eat and then eventually led to not consuming fluids either. They had him on an IV and then it was a waiting game to get the gas to go away.
The next day, it came time to decide what to do….I went back to the hotel to pack us up. The hospital knew we had the Polar Express Train Ride that evening but obviously, they weren't comfortable letting him go until he pooped, his stomach got back to normal and he was able to eat and drink on his own.
Our group was headed to Williams, AZ that afternoon to go to Bearazona and then to the train ride. We didn't want Luke to not be with one of us so my sweet husband took one for the team again because if it came down to Tyler having to miss the train ride he didn't want me to miss out on that experience with Luke. It was so hard to leave my sweet Tyler but sometimes difficult decisions have to be made. So we were off to Bearazona!
You enter the park by driving through to see a variety of animals from Bears, Wolves to Mules and Deers! They are walking right alongside your car, it's like being on a safari, it was amazing!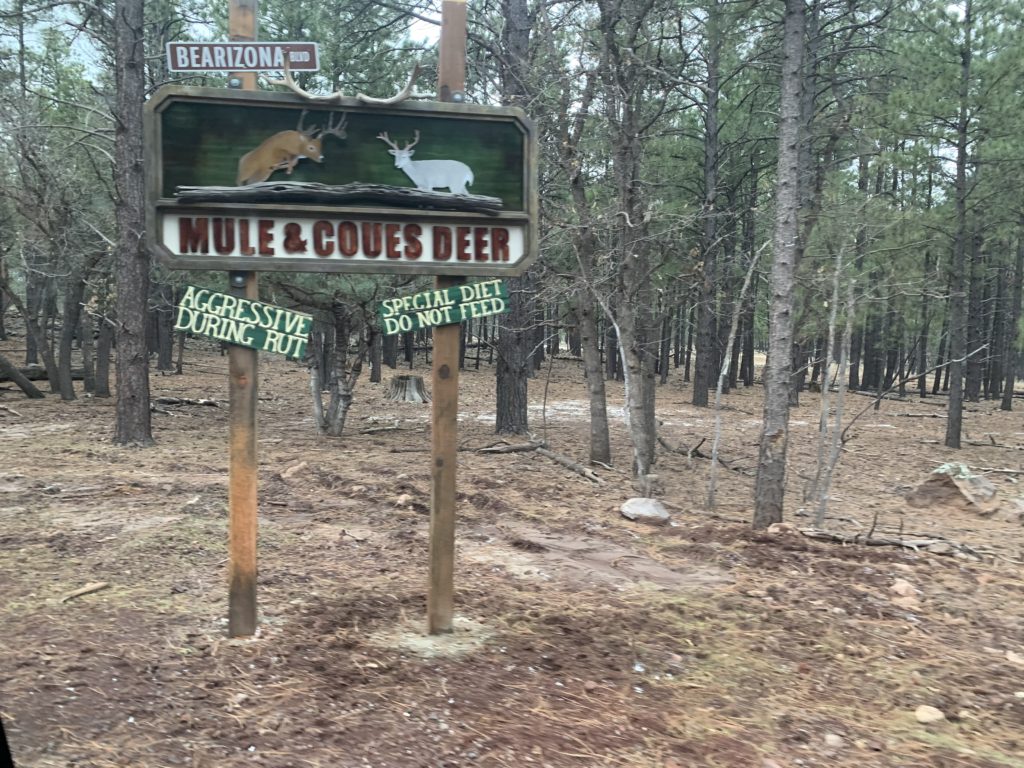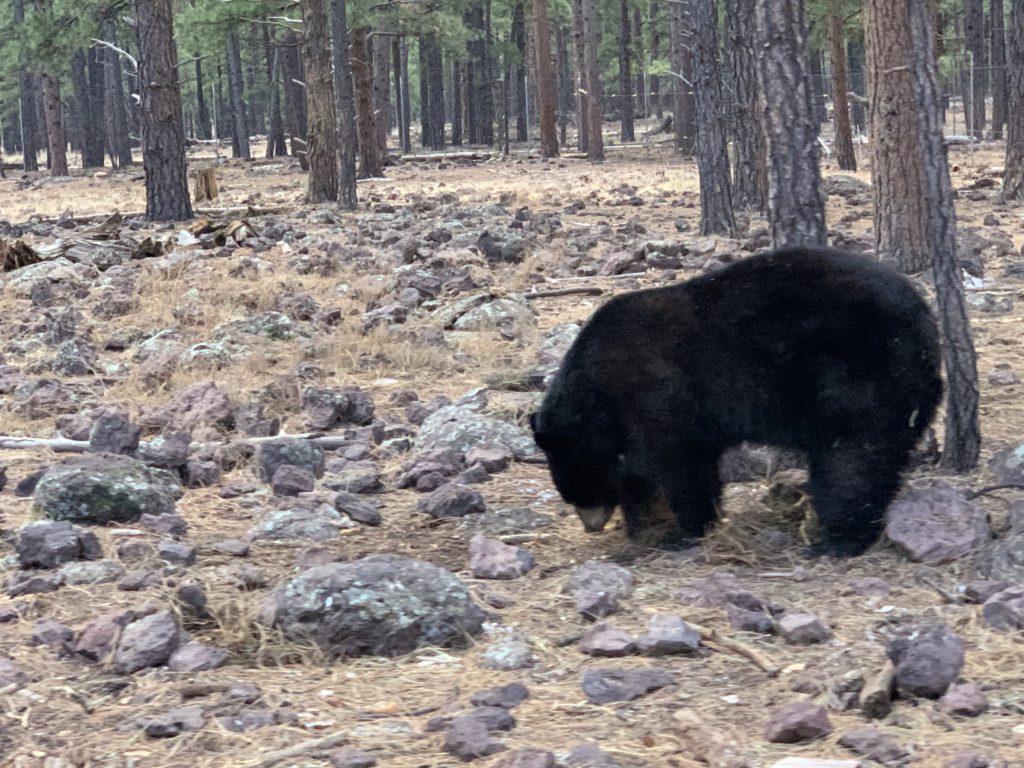 Then you park and head into the charming Bearazona!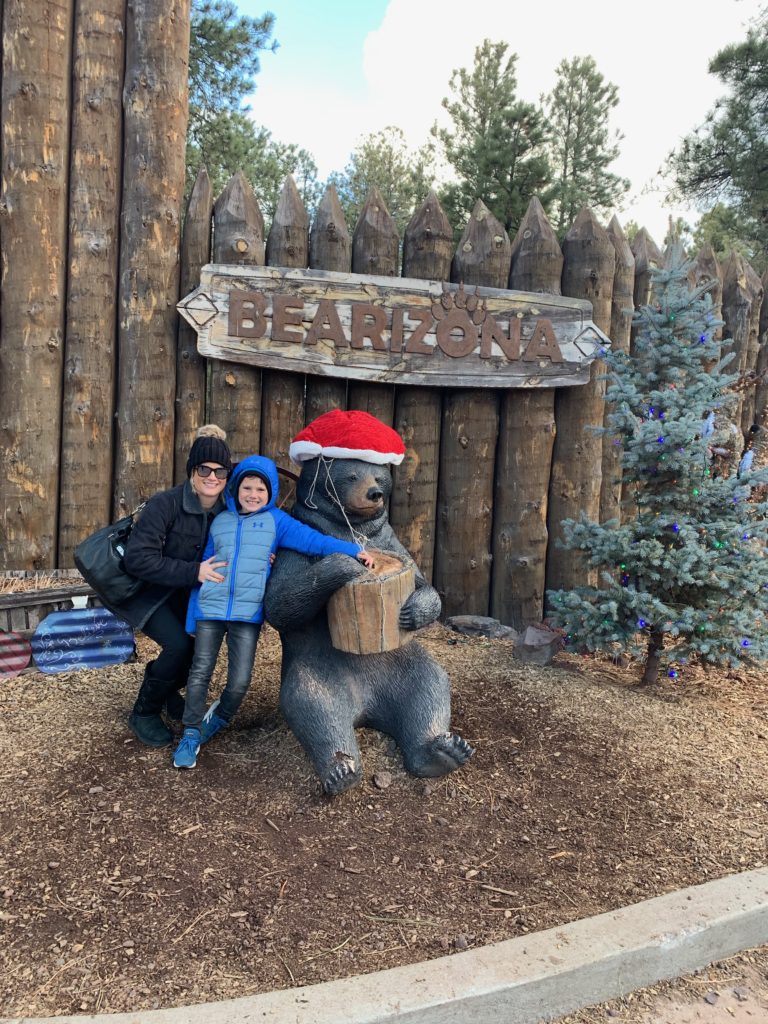 The animal exhibits were awesome, the park was all decorated for the holidays. We enjoyed a delicious coffee drink and then made our way around to see everything.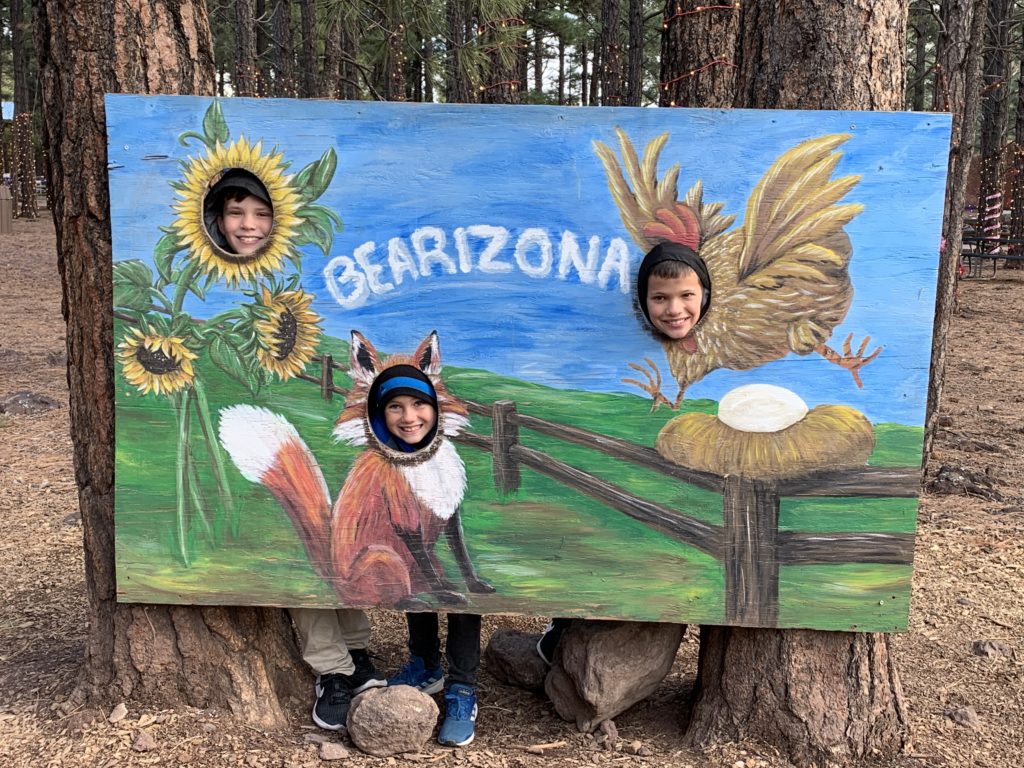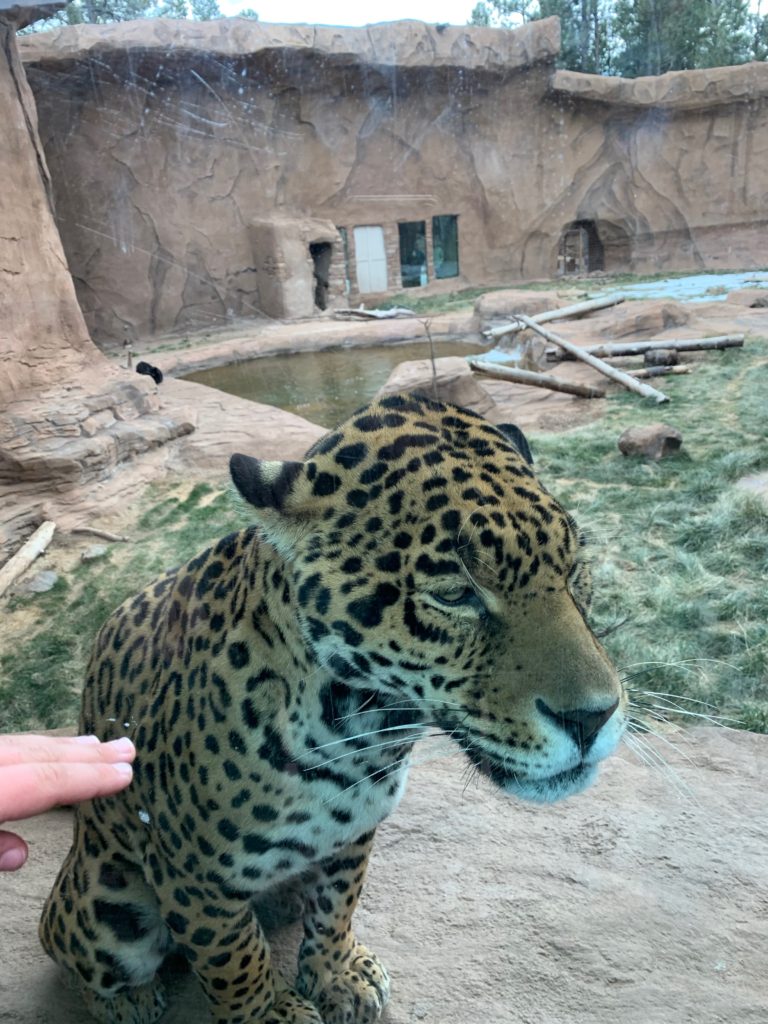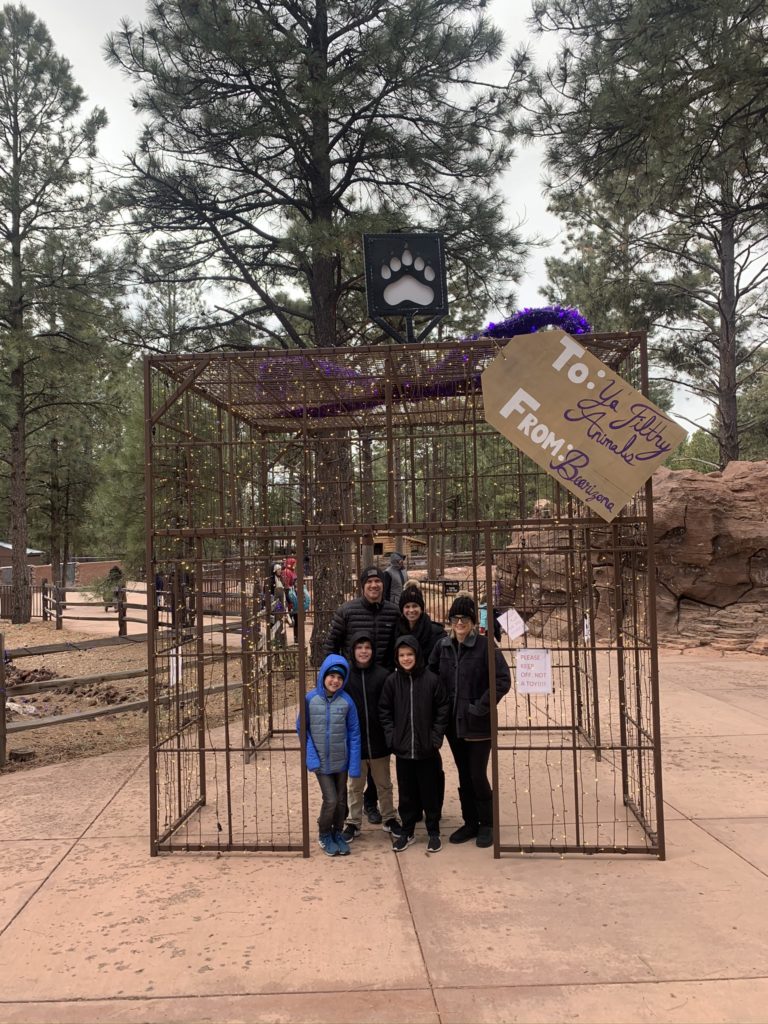 Before we were going to leave we went into the really cool restaurant they have there where it looks like the Grand Canyon inside.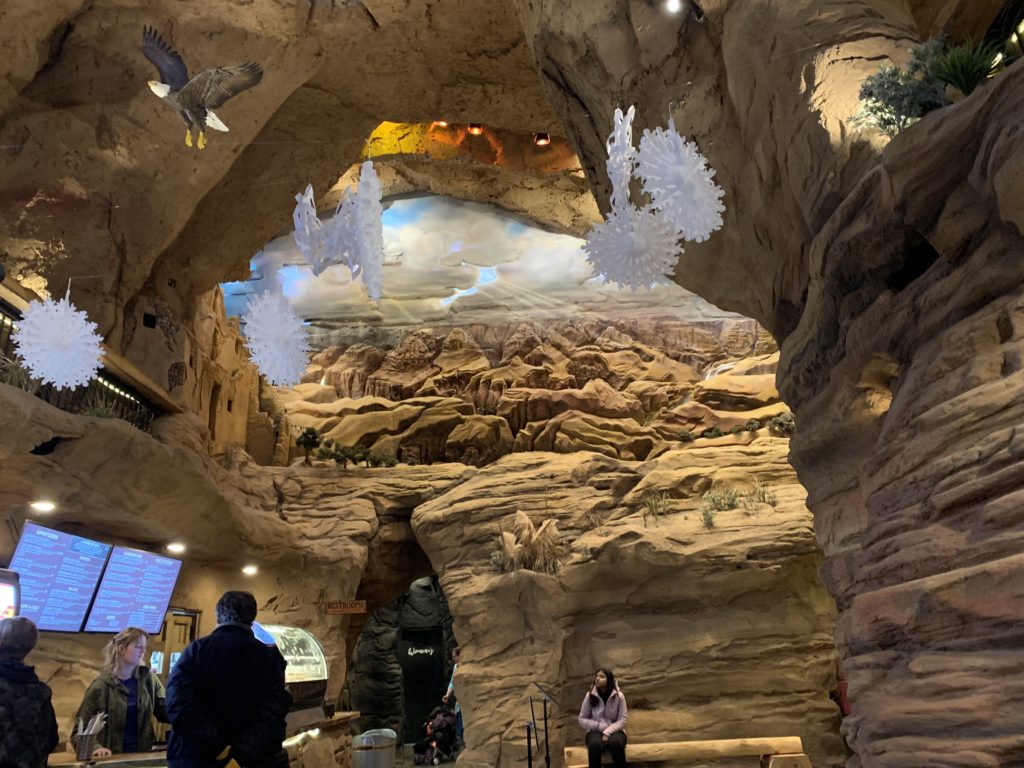 While in the restaurant, I got the call from Jason and it wasn't looking good for Tyler, they weren't going to make it and my mommy heart was broken!! We've been looking forward to this trip and planning it for a year and my husband and son weren't going to make it, I was obviously in tears and so upset…thinking there is no way I can enjoy this without them.
Then about two hours before the Polar Express Train Ride, I received another call from Jason that Tyler was starting to turn around. He took a strong suppository that helped him release the gas that was keeping him from being able to consume liquids or foods. Jason talked to the doctors and they noticed his stomach was going down so they said if he could eat and drink his dinner that he could be released. Jason worked with him and he ate, it was another Christmas trip miracle!!
Jason found an Uber finally that would take them to Williams, AZ to hopefully make the train ride. They made the mad dash to get there in time. I met them out front and our train tickets were for the first train car and we had to run with a car seat, 3 bags, and Tyler for what seemed like a mile to get to our designated train car and we boarded the train with literally a minute to spare. Jason and Tyler changed into the family's matching pajamas and it truly was yet another Christmas miracle we made the train ride!!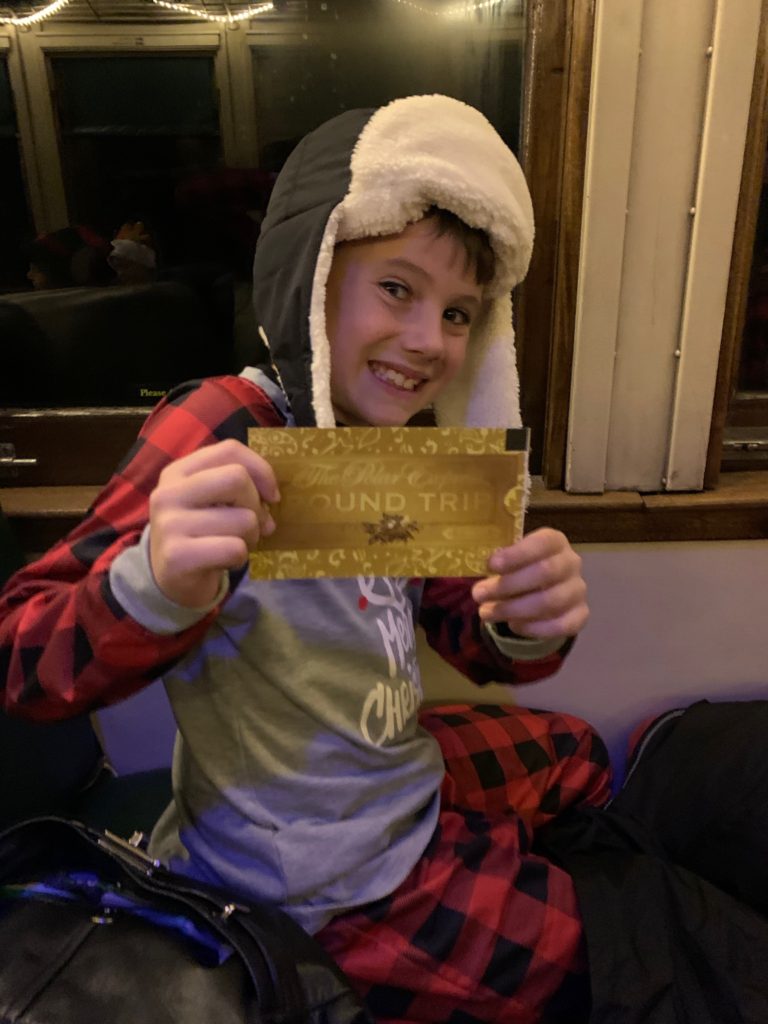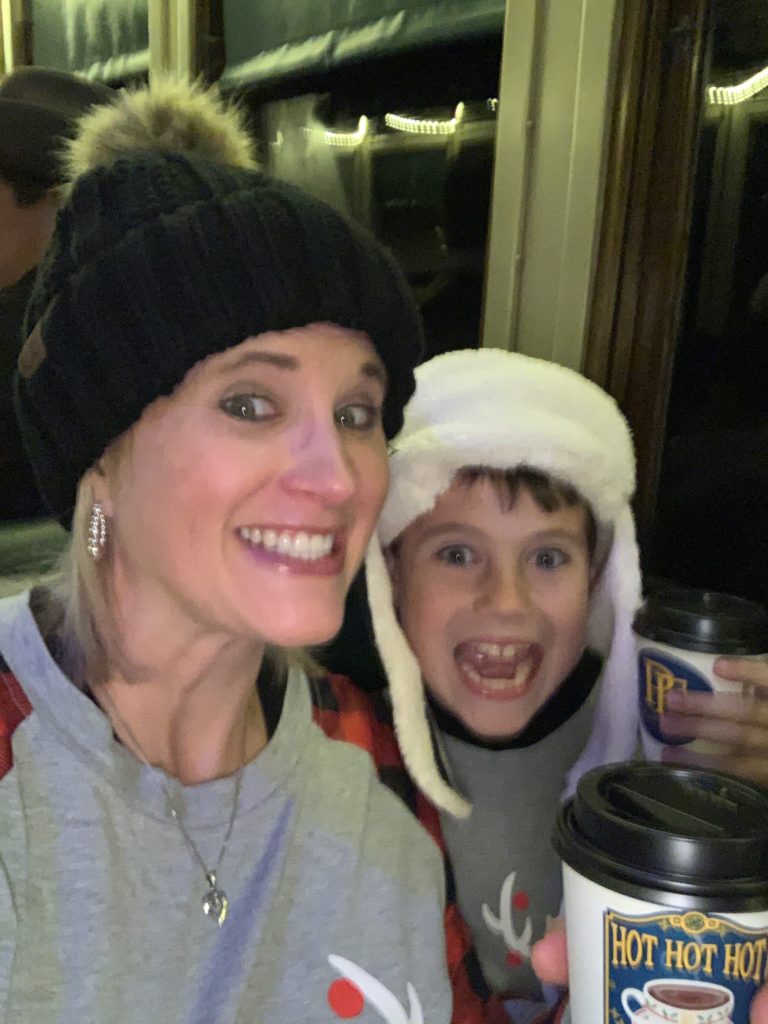 The train was so cute and charming. The train conductor came around and punched holes in our tickets. They served hot chocolate and cookies which were delicious. Then the staff was dancing up and down the isles and getting everyone into a festive mood, they were so entertaining and fun.
Next they read The Polar Express and walked around with a huge copy of the book and were showing the kids the pictures.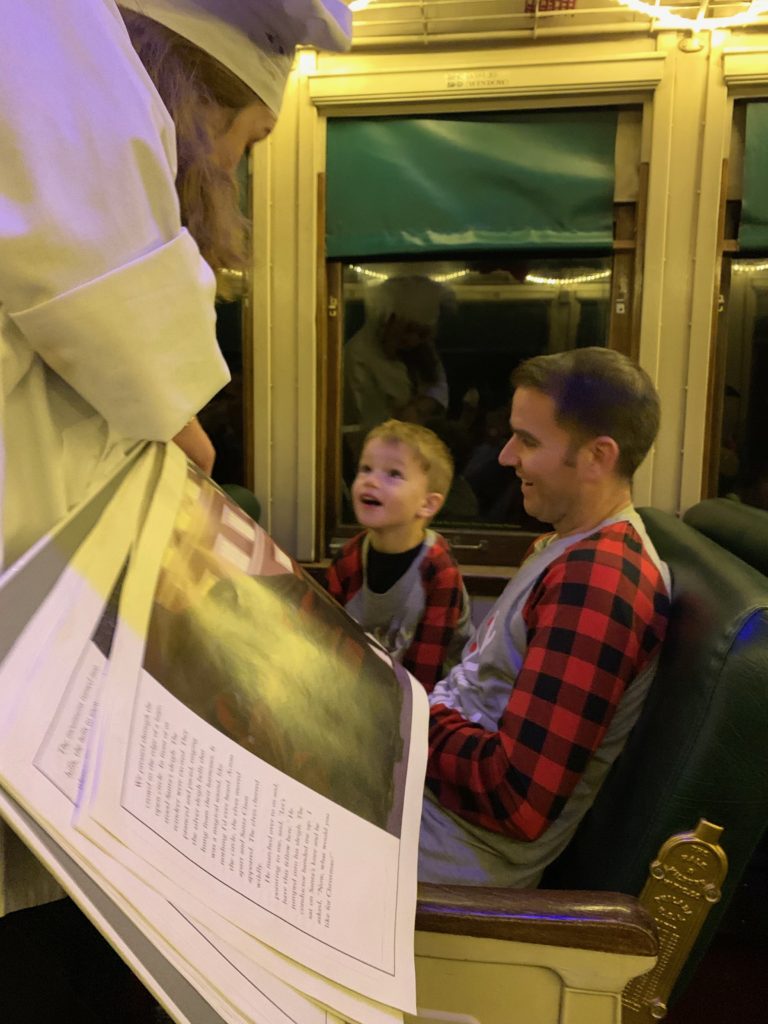 The train stopped and we arrived at the North Pole! Outside you could see Santa's village all lit up with beautiful lights. Santa was outside waving next to his sleigh, reindeers, and elves. Then Santa came on the train and passed out bells to all the children who truly believe!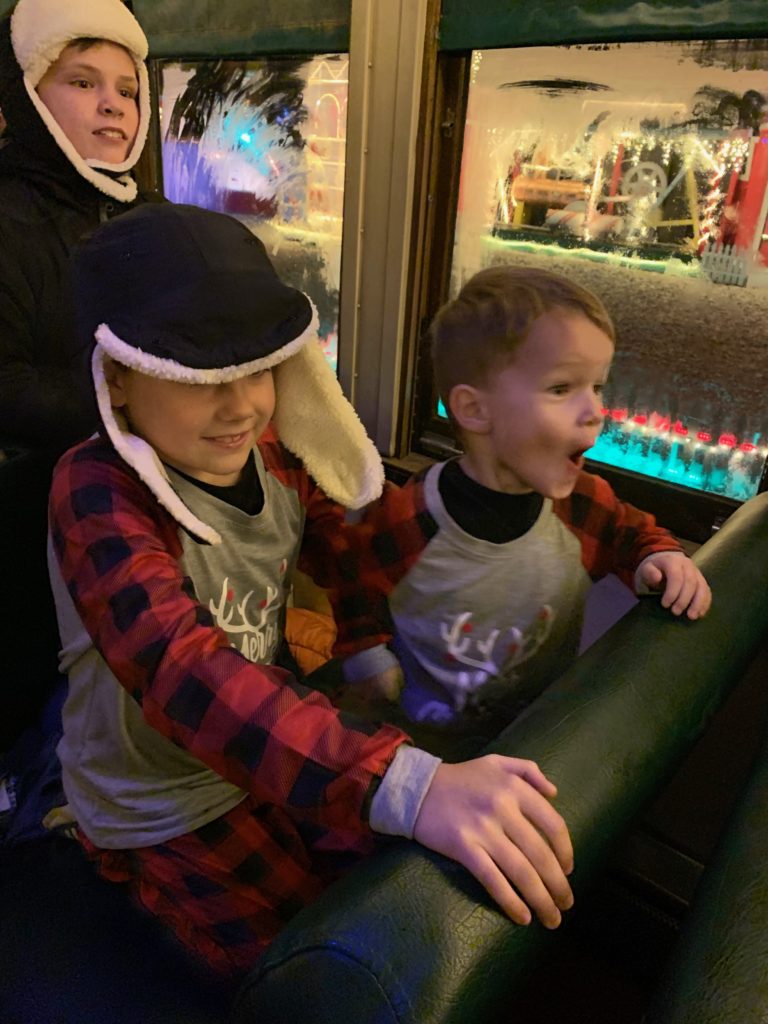 On the way back to the train station we sang along to all the great Christmas carols and it was SO much fun! The look of pure happiness on my boy's faces and singing holiday cheer, made my mommy heart so full. My boys all made it and we got to experience this special memory together.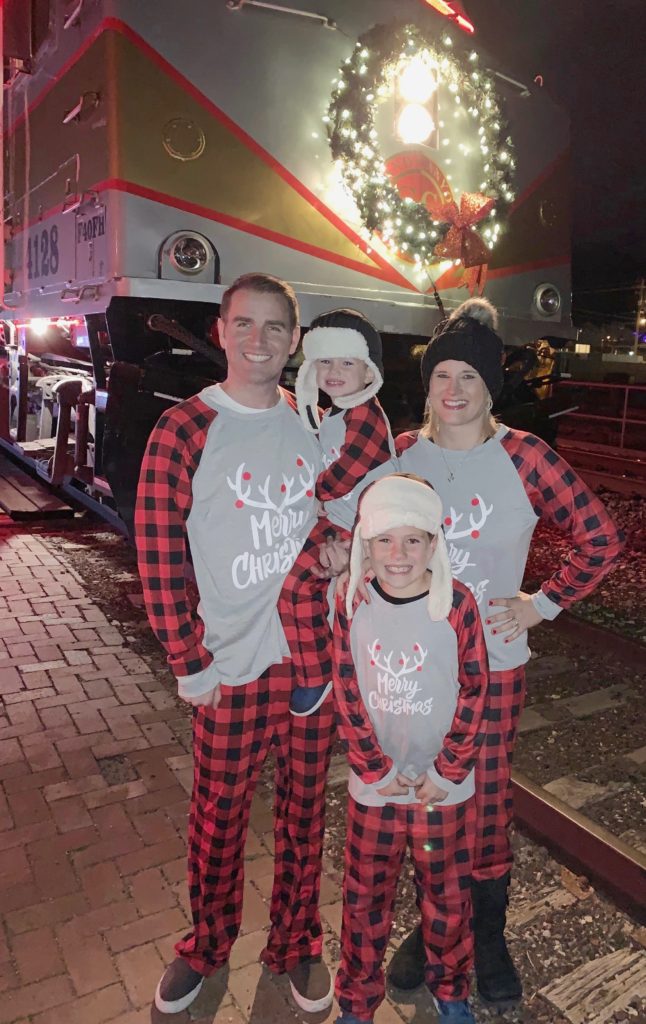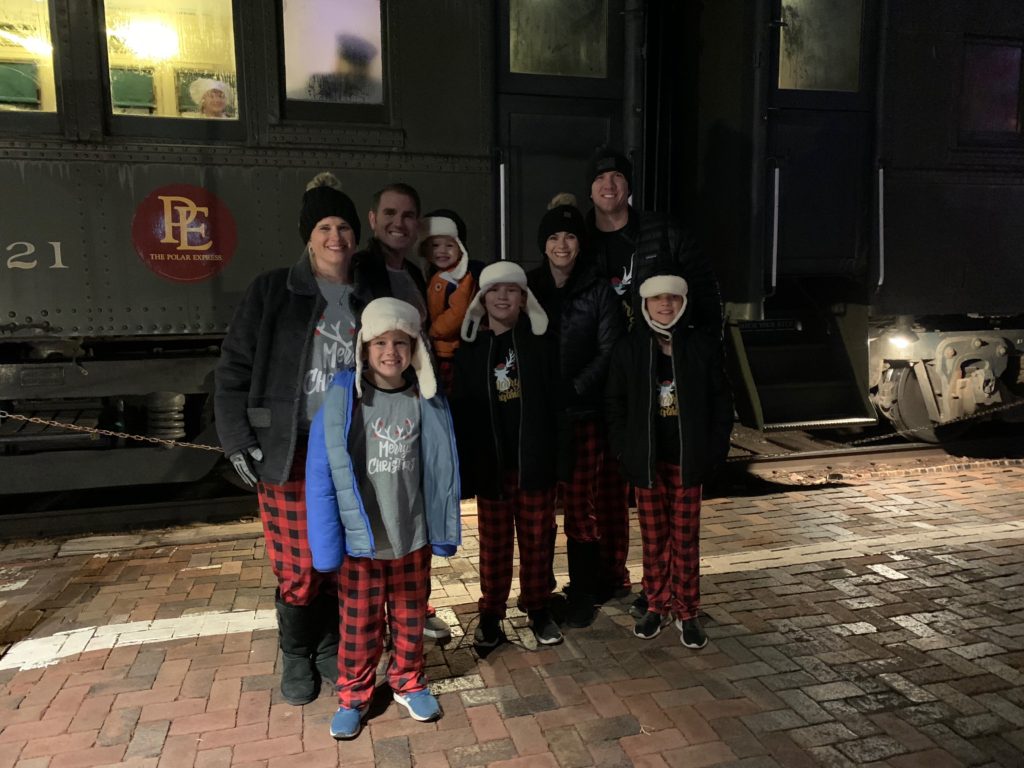 It was freezing outside and we were worried about Tyler, he was so cold so we went back to the hotel to take another group picture showing all our matching pajamas.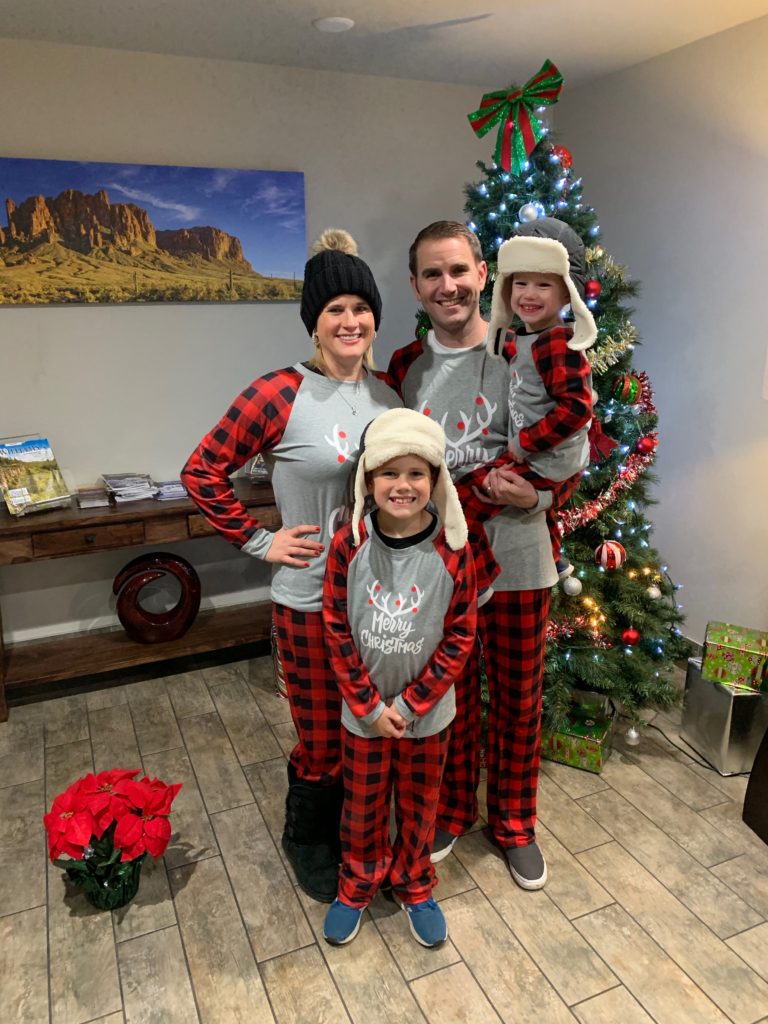 That was the story of the Gimeno & Adkin's Family Christmas Adventure! It was full of highs and lows and lots of Christmas miracles. So many memories were made that will remain with me for a lifetime. God is good and we ended our trip on a high note!!