This recipe is a great way to sneak more veggies into your children's diet. They won't notice the hidden zucchini in the meatballs. The meatballs are packed with flavor and will be a hit at dinnertime.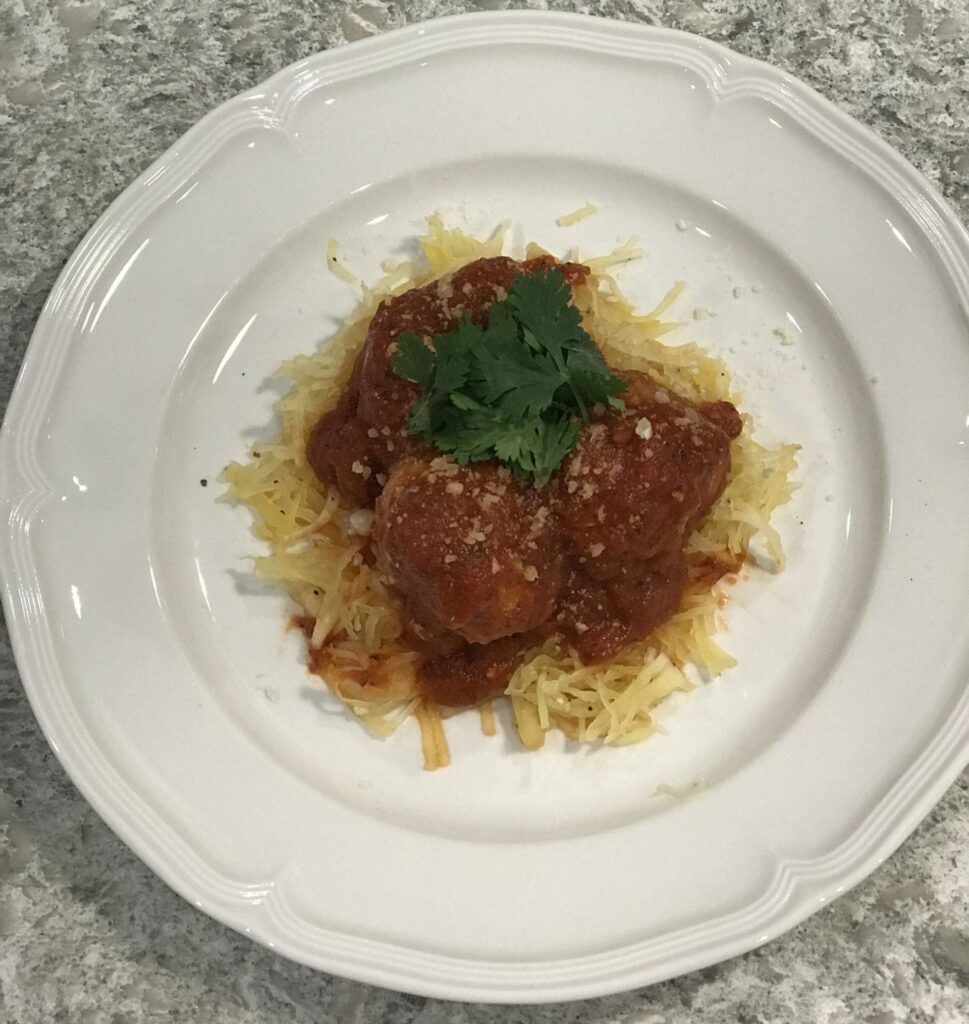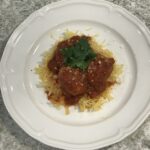 Zucchini Turkey Meatballs
A healthy version of the traditional meatballs. These turkey meatballs are served great over spaghetti squash instead of using pasta.
Ingredients
Turkey Meatballs
1 1/4

lbs

ground turkey

1

cup

shredded zucchini

bag from trader joes

1

tsp

dried italian seasoning

1/2

tsp

garlic powder

1/2

tsp

onion powder

1/4

tsp

crushed red pepper

1/2

tsp

salt

1/4

tsp

black pepper

1

bunch

parsley
Spaghetti Squash
1-2

lbs

cubbed spaghetti squash

Bags from trader joes
Instructions
Turkey Meatballs
Start with preheating oven to 400. You will need a rimmed cookie sheet and it is best to line it with parchment paper and set it aside.

Gather all the ingredients for the turkey meatballs: ground turkey, shredded zucchini, italian seasoning, garlic powder, onion powder, crushed red pepper, salt & pepper.

Chop up the shredded zucchini

Mix all the ingredients in a bowl using your hands.

The meatball mixture will make 12. After all the ingredients are combined roll them up to form ball-sized meatballs. Put them on a lined baking sheet.

Bake the turkey meatballs for 16-18 minutes until cooked all the way through.
Spaghetti Squash
Get out the bagged ready to use spaghetti squash from Trader Joes. Steam bag for 3 minutes at a time until the squash is the right amount tender to shred it.

Shred the squash to use in place of pasta
Marina Sauce
Heat up marina sauce in a large pan.

Add in the meatballs to the pan after they finished cooking in the oven.

Cook the meatballs in the sauce for 1-2 minutes.

Add 3 meatballs for one serving over the cooked spaghetti squash. Add 1-2 meatballs for a kid serving. Add so parsley on top and serve.
Recipe Notes
This recipe is brought to you by The Real Food Dietitians 
I highly recommend following therealfoodrds on Instagram.  Jess & Stacie are full of good ideas and recipes on how to eat quality food and on clean eating.
**Tip: You can double this recipe to freeze some of the meatballs to use for later.  Bake all the meatballs according to the recipe and the ones you want to freeze, let them cool first before freezing.