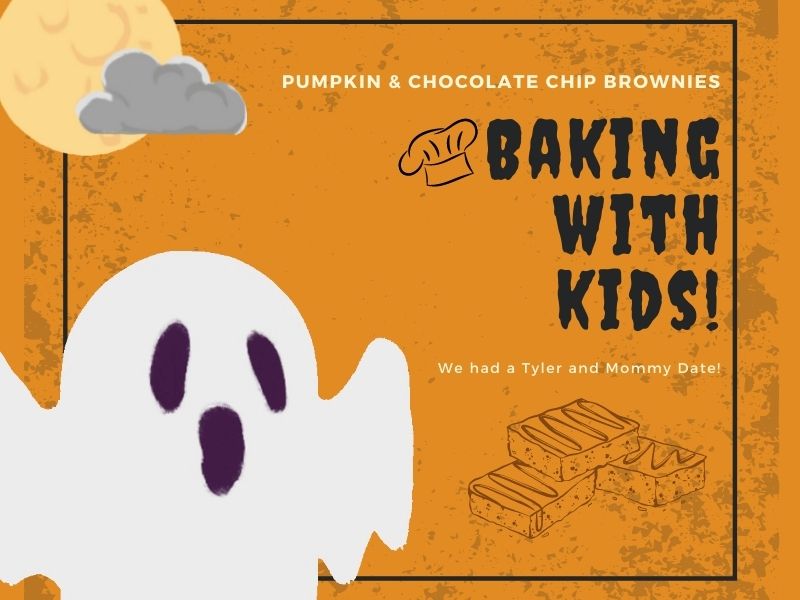 Tyler & Mommy Date: Baking Pumpkin & Chocolate Chip Brownies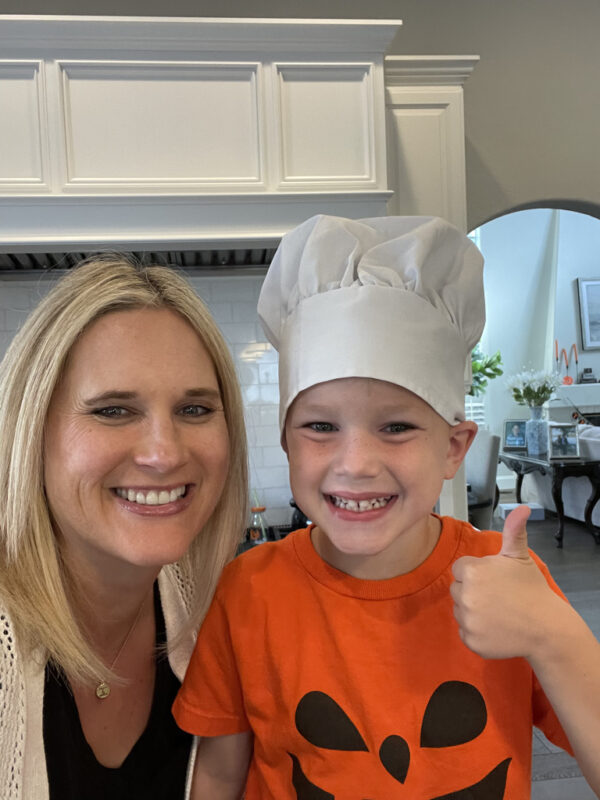 I've been making an effort to plan one-on-one dates with my boys. Tyler and I were having a hard time thinking of where we wanted to go together. I was thinking about things he loves and duh little chef would be happy staying at home and having a baking session with his mama.
With it being Halloween this month I thought a sweet treat with pumpkin in it was in order. I found this recipe by Mix and Match Mama and the boys loved it. I'm going to be honest, i'm picky on treats, I don't love everything, lol and while these brownies were enjoyed by my boys, they were not my favorite because they were more like a cake consistency to me than brownies. And I don't like cake, I don't hate it but it's not my jam. I don't want to turn you off to this recipe though because the rest of the house enjoyed it.
Anyways, spending time with this cutie was a fun afternoon for us! (Full recipe at the end of post)
We started by creaming the sugar as they say…Ok wait first a side note, I've mentioned that I'm not a baker, well true to form when it was time to have our date I realized I hadn't taken out the butter to soften. This is a problem when baking, I improvised and unwrapped the butter and put it outside for 15 minutes in the sun and volia the butter was softened by the sun in less time, lol.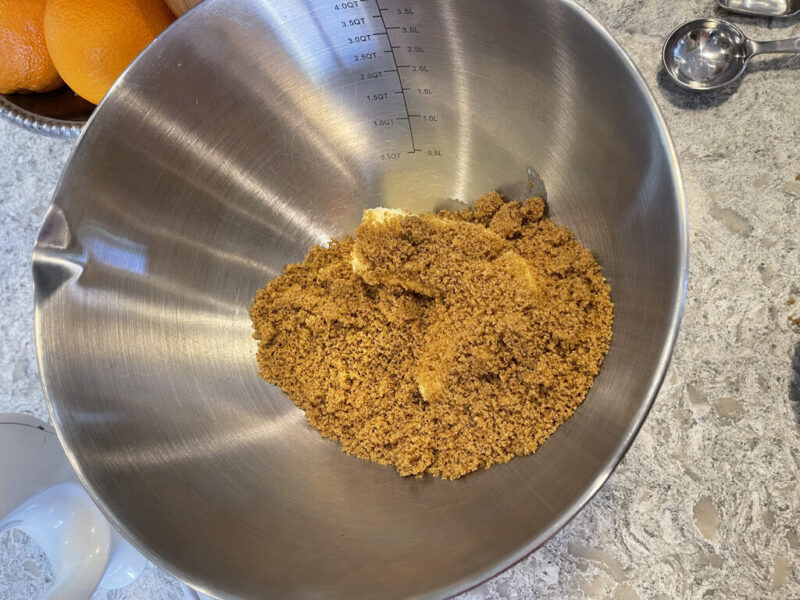 Then we added the eggs, baking soda, pumpkin pie spice, cocoa, and salt.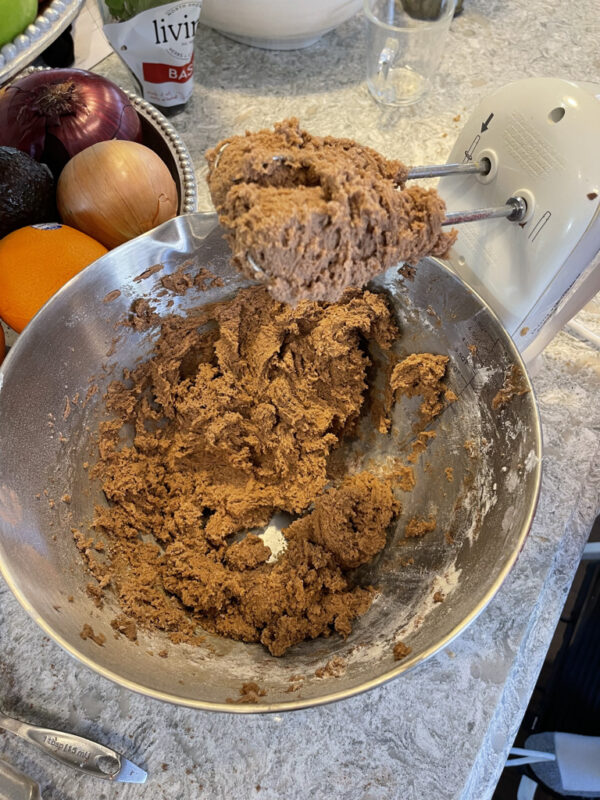 Chef and I were a little nervous with him using the hand mixer solo. Our solution was putting his hands on top of mine while we mixed the ingredients. He liked to first mix things up a little bit with the a spoon.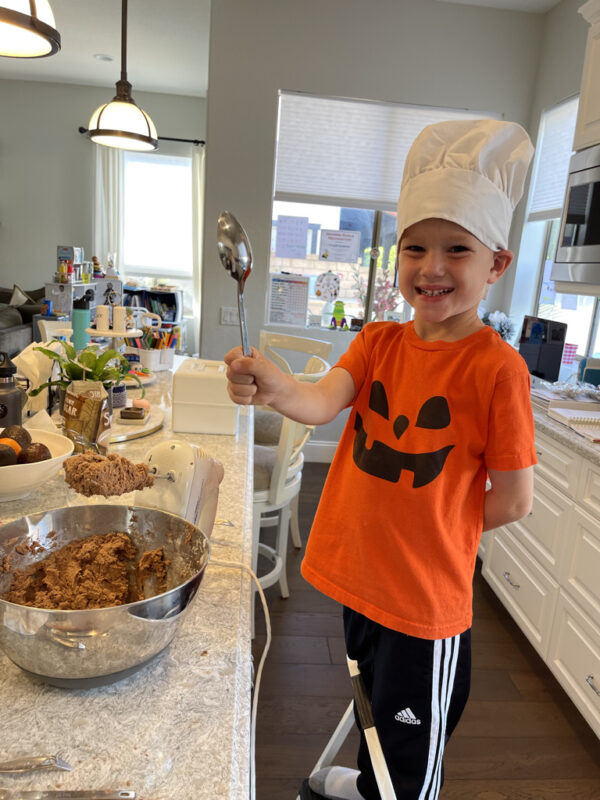 Mr. T wanted to take a spooky picture, lol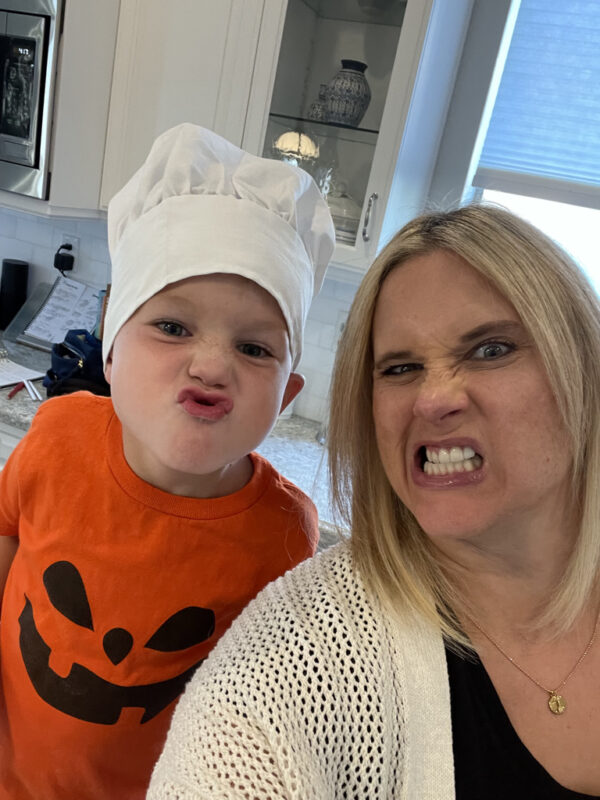 After adding the flour it was time to add in the delicious pumpkin!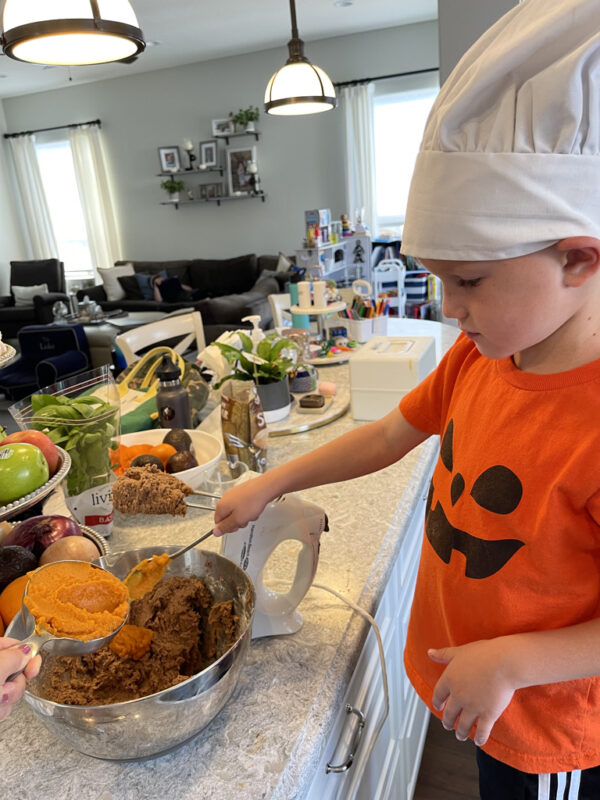 Tyler enjoyed scooping out all of the pumpkin. He also really enjoyed the smell of pumpkin.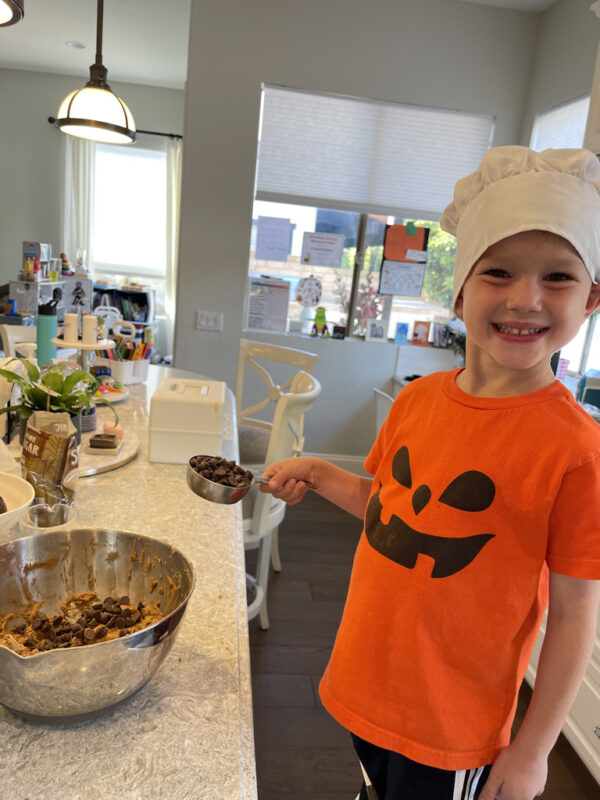 Time to add in those chocolate chips and of course trying a little bit of the batter, cuz why not?!?!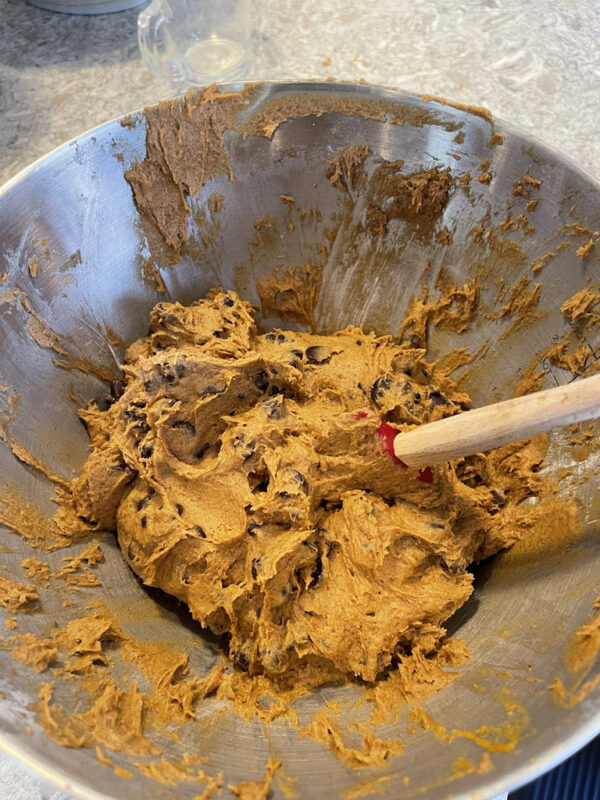 The batter was pretty thick!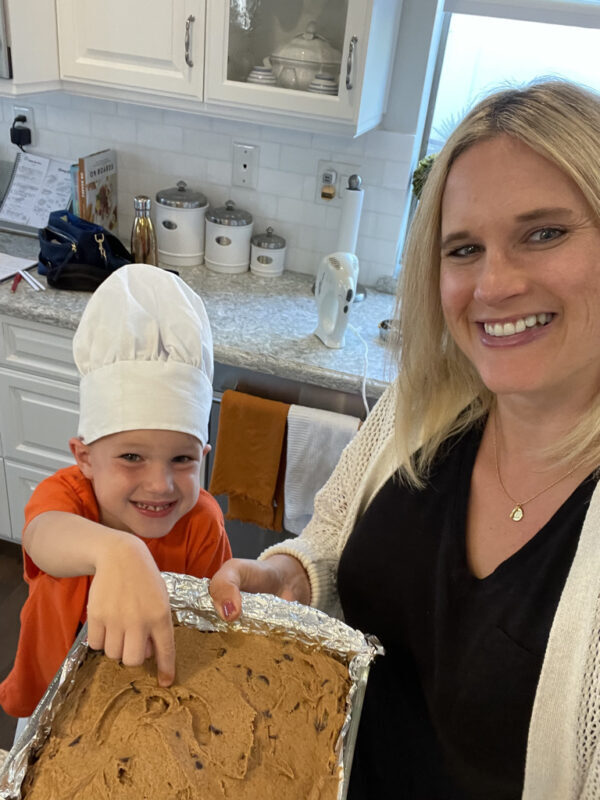 We put foil in an 8 x 8 baking dish and sprayed some non stick spray over the foil for easy clean up.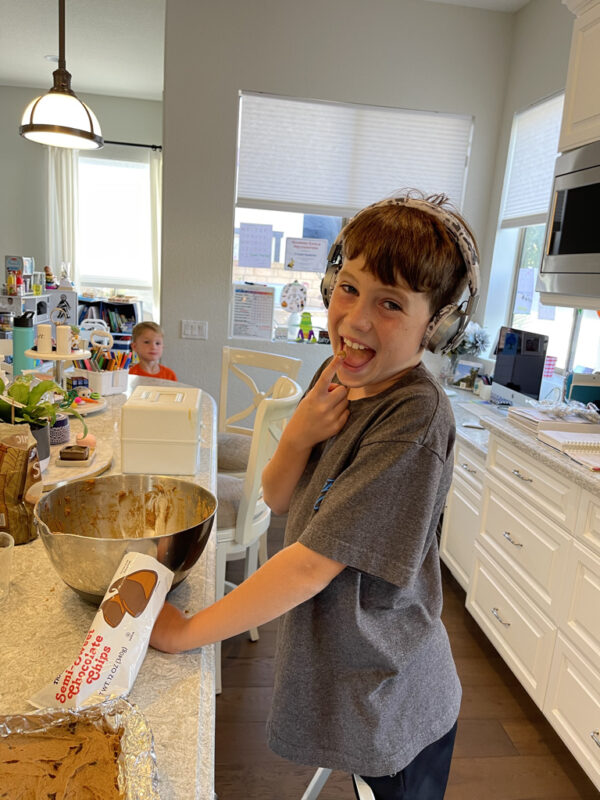 Ohh look who couldn't help himself…he needed to give his approval of the batter!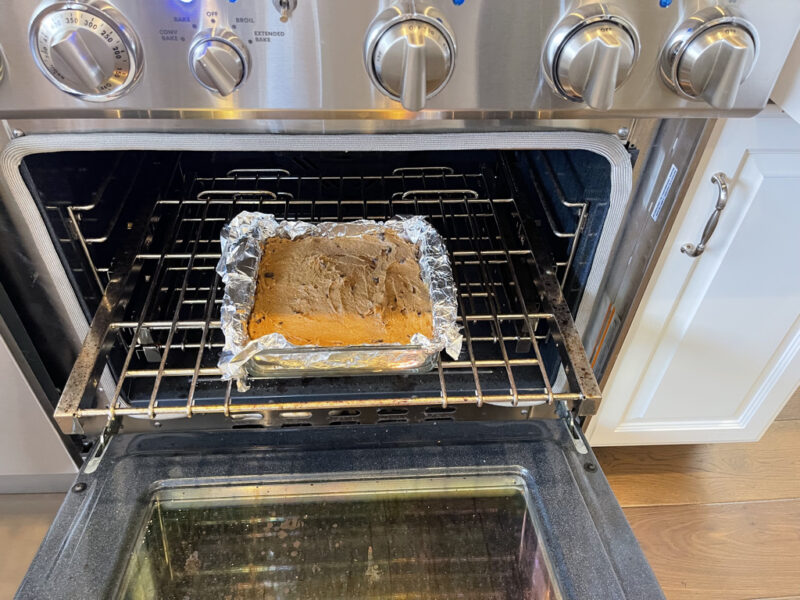 We popped the brownies into the preheated oven at 350. The directions say to bake for 35 minutes and I found that timing to be way off. These brownies are in an 8 x 8 baking dish and were thick and they needed an additional 25 minutes. Side note…I also don't care for thick brownies, if I were to make these again I would use a standard size baking dish of 9 x 13 and they would be thinner and then probably would take only 35 minutes to bake.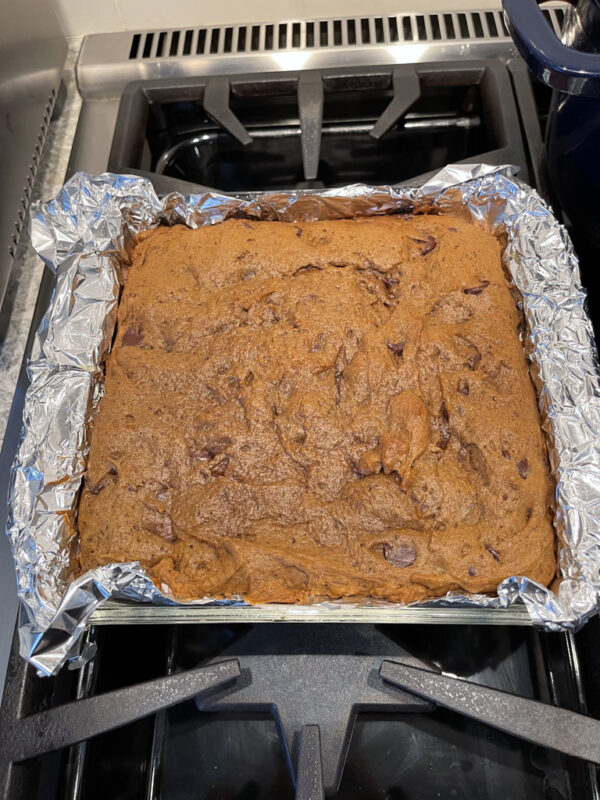 I loved my baking date with Tyler and we plan to bake another treat together next month!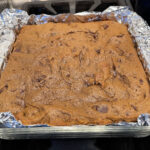 Pumpkin & Chocolate Chip brownies
A fun sweet treat to make in the Fall!
Ingredients
Pumpkin & Chocolate Chip Brownies
1

cup

butter

softened

1 ½

cups

light brown sugar

2

eggs

1

tsp

baking soda

1 ½

tbsp

pumpkin pie spice

3

tbsp

cocoa powder

a pinch of salt

2 ½

cups

flour (can use gluten-free)

1

cup

canned pumpkin (used Libby's)

1 ½

cups

semi-sweet chocolate chips
Instructions
Line an 8 x 8 baking dish with foil and spray with non-stick spray.
Pumpkin & Chocolate Chip Batter
Get out a large mixing bowl and beat the butter and brown sugar together until nice a fluffy.

Then, beat in the eggs, baking soda, pumpkin pie spice, cocoa, salt & flour.

Next, beat in the pumpkin.

Finally, stir in the chocolate chips.

Pour batter into baking dish and pop into the oven for 35 minutes, check with a tooth pick and it should come out mostly clean. I had to bake for 25 minutes longer so you definitely need to keep an eye on these brownies to make sure they are completely done.

Let the brownies cool for at least 10 minutes before cutting into them. Enjoy!
Recipe Notes
The original recipe can be found on Mix and Match Mama's Blog, HERE.