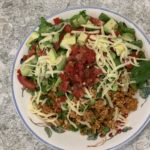 Ground Turkey Taco Bowls with Cauliflower Spanish Rice
This recipe is delicious! It is a healthy way to enjoy all the flavors of tacos. You make the taco seasoning so you know all the ingredients that are being added. I especially enjoyed the chipotle powder seasoning, it was a fun twist to traditional taco seasoning. The spanish cauliflower rice is so good & flavorful you won't miss it being rice.
Ingredients
For Turkey Tacos:
2

tbsp

avocado oil

or olive oil

1.5

lbs

ground turkey

1/3

cup

white onion

chopped

1

tbsp

chili powder

3

tsp

cumin

2

tsp

ground coriander

1

tsp

paprika

2

tsp

garlic

minced or use 2 cubes of frozen Trader Joe's minced garlic

1

tsp

oregano

1

tsp

salt

1

tsp

chipotle powder

optional but recommended

3

tbsp

tomato paste

1/4

cup

apple cider vinegar

1/2

cup

chicken broth

may need an additonal 1/4 cup
For Cauliflower Rice:
1

bag

rice cauliflower

bag from Trader Joe's or 1 Lg head of cauliflower

1

tbsp

avocado oil

or olive oil

1/2

cup

onion

diced

3

gloves

garlic

or 3 cubes of frozen minced garlic from Trader Joe's

1

tsp

cumin

1

tsp

salt

plus more to taste

2

tbsp

tomato paste

1/4-1/2

cup

chicken or vegtable broth

fresh cilantro

for garnish optional
Toppings for Taco Bowls:
1

Avocado

1

bag

romaine lettuce

fresh salsa

1

roma tomato

take out seeds & chopped

4

Green onions

chopped

Jack cheese

shredded

cilantro

chopped
Instructions
Taco Meat:
Begin by heating a large skillet to medium heat. Once pan is hot, add the oil and onion. Let it cook for 3 minutes, stiring occationally. Then, add ground turkey and continue cooking until meat is cooked evenly.

While the meat is cooking, get out a small bowl and mix together the spices (chili powder through chipotle powder).

When the meat is no longer pink, coat the meat with the spices. Now mix in tomato paste, apple cidar vinegar, and chicken broth. Turn up the heat a little and continue to let all the ingredients marinate together until the liquid is evenly cooked. Then, reduce to medium low and simmer for 3-5 minutes until most of the liquid is absorbed into the meat. When it is finished cover with a lid until ready to assemble the taco bowls.
Cauliflower Spanish Rice:
You can start the cauliflower rice while the meat is cooking or cook it ahead of of time. A short cut is to use a bag of cauliflower rice from Trader Joes to skip this next step. If not use 1 large head of cauliflower and cut it in half and then another half and remove stem. Chop the cauliflower into chunks. Put it into a food processor and pulse it until it is all ground up. You will probably have to do this in batches.

Heat up a large skillet to medium heat. Add the onion and saute for 3 minutes, then add the garlic and saute for another 1-2 minutes.

Add in riced cauliflower, salt, and cumin. Mix until the mixture is coated with the ingredients.

Add in tomato paste, then 1/4 cup of broth and increase temperature to medium high. Continue to stir until the tomato paste dissolves into the mixture. If the cauliflower rice gets too dry, add in more broth by the tablespoon. If mixture is too wet, continue to cook longer until the liquid is absorbed.
Toppings for Taco Bowls:
The toppings I used were, tomatos, avocados, green onion, cilantro, salsa, lettuce (chopped romaine) and jack cheese.
Assemble Taco Bowls:
First put the spanish cauliflower rice at the bottom, then top it with the ground turkey meat. Then add the lettice and the rest of the toppings and Enjoy!
Recipe Notes
Jason and I really enjoyed this flavorful and healthy meal!  It makes enough to have leftovers and was just as good the second night.  You can also double the seasonings for the taco meat and divide it in half, so you have it on hand for the next time you make tacos to cut down on the prep time.  I hope you enjoy this recipe as much as we did!