I don't know about you, but shopping for stockings is one of my favorites to purchase. I love finding random fun and small knick-knacks that I know my boys will love.
In case you missed it here are the links to my other gift guides: Gift Guide for Women, Gift Guide for Men, Gift Guide for Kids, Gift Guide for Seasonal Entertaining and Home Decor.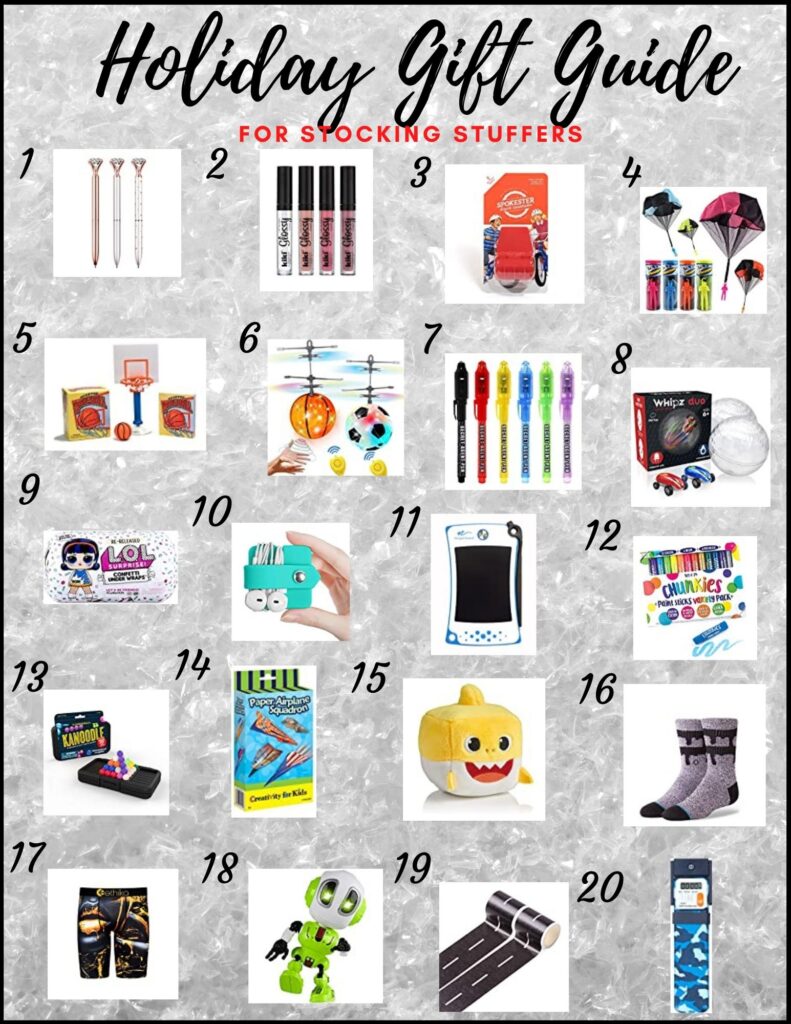 1// Diamond Pens: I have these pens and I love them but any girl would love seeing these in their stocking.
2// Lip Gloss Set: For beginners starting to wear a little make-up, this set looks perfect.
3// Bike Noise Maker: By boys are obsessed with making their bikes loud and have used water bottles in the past and they only last so long. This cool gadget will help their bikes sound like they have a motor.
4// Parachute Soldiers: My boys love dropping things over the top of our stairs and I thought these were perfect for that activity.
5// Desktop Basketball: Luke likes to fidget and this seemed perfect for him to have at his desk.
6// Flying Balls: These fun flying balls are so fun to play with inside or outside and they look like sports balls, perfect! It comes with two, so if you have two kids you can split them up and put one in each of their stockings.
7// Invisible Ink Pens: These are for Luke and I thought they were pretty cool. You write your secret message and it writes clear but when you shine the back of the penlight on the message you can read it.
8// Micro Car Racers: These looked super fun to me. It comes with two so you can split them up. They glow in the dark and have LED lights. They transform into glowing light spheres. These will definitely be fun for kids to play with.
9// L.O.L Surprise: I know all little girls love L.O.L dolls and this one is small enough to fit in a stocking.
10// Cord Organizer: These are useful for keeping their headphones organized when not in use.
11// Boogie Board: We've had tons of fun with this tool. You can write on it and then touch the button and all the writing disappears. We've used it a ton when I'm quizzing Luke on spelling tests and then you don't waste paper.
12// Chunkies Paint Sticks: These are amazing and perfect when the littles want to get their paint on but mom doesn't want a big mess. They draw on like paint and we have so much artwork created with these.
13// Kanoodle: This is a fun fidgety game and Luke has enjoyed playing with it on a boring afternoon and on plane rides.
14// Paper Airplanes: This is such a cool set. It comes with tons of interesting paper options and stickers to decorate your plane creation. There are directions on how to make several different paper planes. We have had fun launching them from the top of our stairs.
15// Baby Shark: I got this for Tyler one year and he loved it. Perfect for a toddler stocking gift.
16// Stance Socks: Luke is obsessed with stance socks. The designs are very creative and cool and he loves wearing them to school.
17// Ethika Underwear: Another obsession of Luke's, he only wants to wear Ethika underwear. They are a little costly so I always give them to him at Xmas, bday, Valentine's day, etc. The designs are loud and fun and I can see why little boys love these.
18// Talking Robot: My boys loved this robot, it makes lots of different noises and can repeat things you say. It is very user-friendly.
19// Road Tape: Tyler has had hours upon hours of fun using this road tape with his cars. It comes off the floor nicely and doesn't leave any residue. This tape is a must-buy for all the toy car lovers out there.
20// LED Book Light with Digital Bookmark: I gave this unique bookmark to Luke and he has used it a lot with his books. It has a light on it and a timer and is the perfect tool when reading for homework. Lots of designs available.
I hope this gift guide sparks some ideas to help you find the perfect stocking stuffers for your kids!
XO