I wanted to make a gift guide for all the women in your life. This could be for yourself, a friend, your mom or a teacher.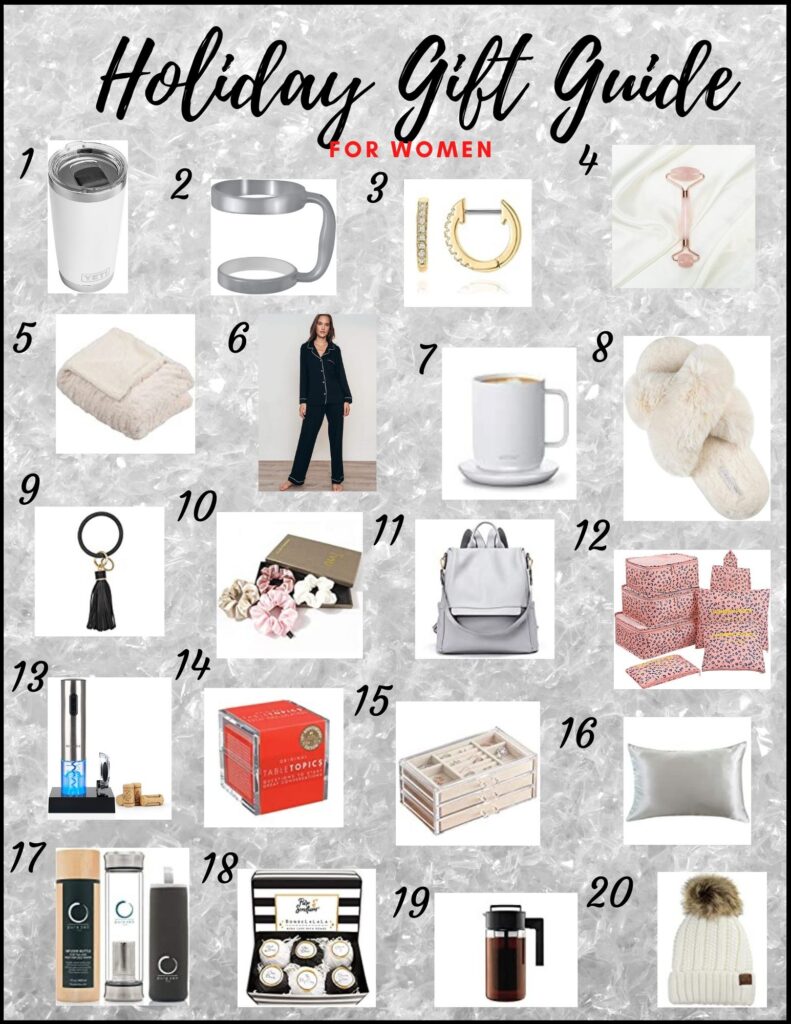 If you see something you like please order through my links below, it helps support my blog! Thanks, friends and have a fun time shopping!
1// White YETI Coffee Mug 20oz: This is my favorite coffee mug to use on the go.
2// YETI Coffee Mug Holder: I purchased this holder (they come in lots of colors) to fit around the YETI coffee mug and it's perfect.
3// 14K Gold Cuff Earrings: These are a staple to have in your jewelry collection. They also look cute in your second pierced hole if you have one.
4// Rose Gold Face Roller: We all know there are mornings when we are just puffy and need to calm down the face appearance. This tool does the trick and you can even keep it in your freezer to make it cold. Rub it all over your face as your coffee is brewing.
5// Ivory Soft Throw Blanket: In my house, we can't seem to have enough soft throw blankets. A great gift to give someone that you know they will love and use but not necessarily buy for themselves.
6// Eberjey Long-Sleeve PJ Set: As soon as the temperature changes to cold nights, these are the beloved soft pajamas that I wear. I have them in black and cream and I LOVE them!!
7// Ember Mug Temperature Control Smart Mug: This is for the working and busy mom out there that can't seem to be able to enjoy their coffee while it is hot…problem solved with this smart mug!
8// Fleece Cross Band Slippers: Around the house, you will always find me in slippers, I pretty much go through several pairs every year. These are so cute!
9// Round Key Ring with Tassel: I think this is such a cute option to have when you can never find your keys in your purse. As moms, our hands are always full and now you can keep your key around your wrist and accessible.
10// Women's Silk Scrunchies Hair Ties: Scrunchies are back, where are my girls from the '80s, I always had scrunchies to match all my outfits back in the day, lol. They are easy on your hair and silk material is best for not harming your hair. If you are one to put your hair up in a pony while you sleep, these would be perfect! Great for stocking stuffers too, even for yourself!
11// Grey Backpack: I find times that I don't want to lug around a purse. Especially at my kid's sports activities, bike rides, amusement parks, and this backpack is chic and functional.
12// Packing Cubes: I know we are all eager to get back to traveling and this is one of those solutions that will help you stay organized on the go. They are actually on my list to get…Can't believe I haven't gotten packing cubes yet and I love to travel, lol.
13// Electric Wine Opener: No fuss, easy to open that wine faster especially on a crazy weekday night, lol. Plus it looks cool.
14// Table Topics: We aren't going out on a ton of date nights recently and this would be a fun way to make a conversation interesting at home over dinner.
15// Jewelry Box: I love this clear acrylic jewelry case. It lets your beautiful jewelry be seen in a chic and feminine case!
16// Silk Pillowcase: In case you haven't heard ladies, silk pillowcases are all the rage right now. They help avoid getting wrinkles on your face and are better for your hair too.
17// Tea Tumbler Infuser: For all the non-coffee tea lovers out there. This is the perfect on the go sleek container to use.
18// Luxury Bath Bombs Set: I know there is a lot of ladies out there that enjoy a nice relaxing bath and these bath bombs will help take your bath to the next level.
19// Deluxe Cold Brew Coffee Maker: Sometimes you just want your brew to be chilled rather than hot, this maker is the perfect solution.
20// White Beanie with Fur Pom: I love this beanie, I have it in black. If you are headed to the slopes this winter this would be the perfect accessory to looking cute!
I hope you find the perfect gift for the women in your life!