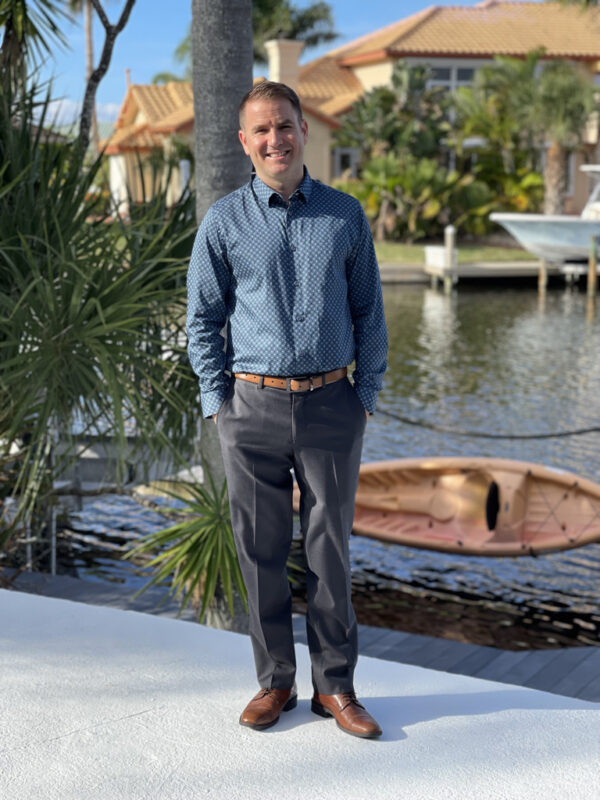 This handsome guy turned the big 4-0!! I asked Jason, "how do you feel turning 40?" his response, "I feel like i've already been in the club because everyone else I know has turned 40, lol". Well, almost all of our friends are 40, there are still a few stranglers.
We celebrated Jason's b-day a few times….full disclosure, a lot of pictures in this post because I wanted to be able to look back on all the memories.
First, we celebrated at home because I didn't want to bring all his gifts to Florida.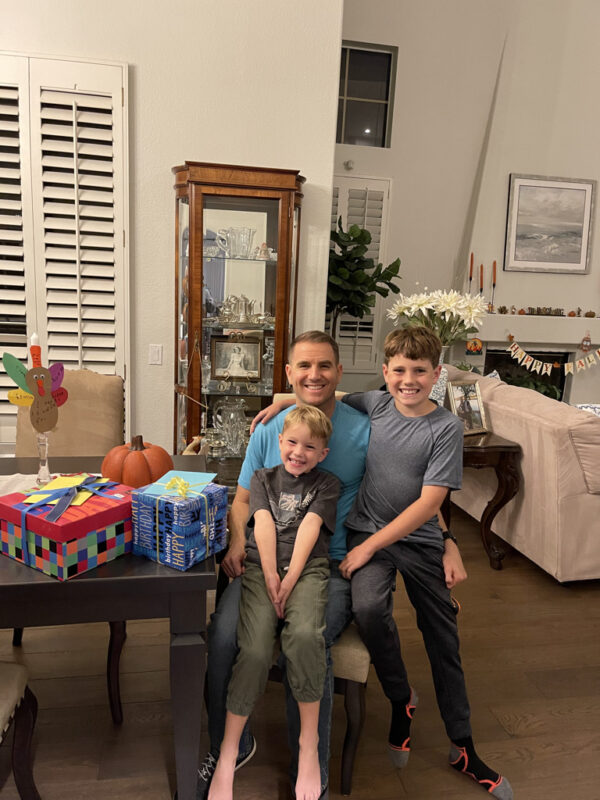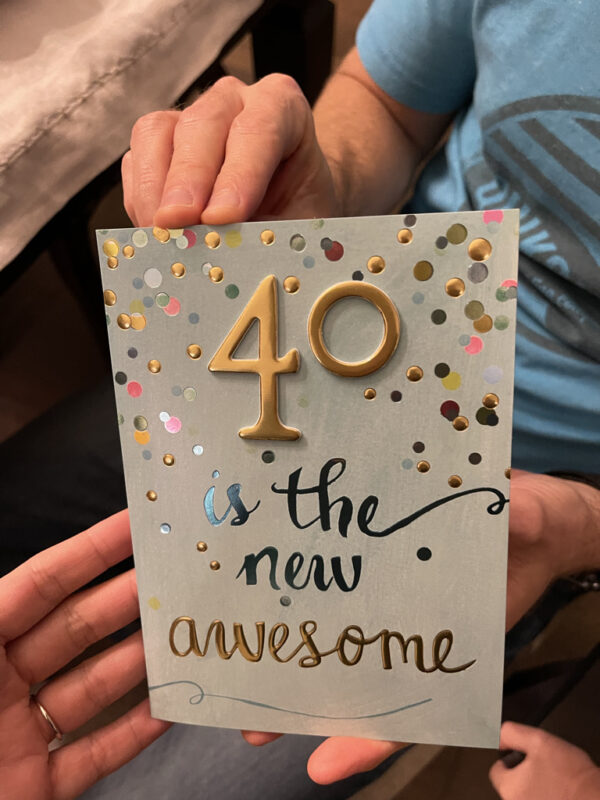 The boys gave him an Ember mug.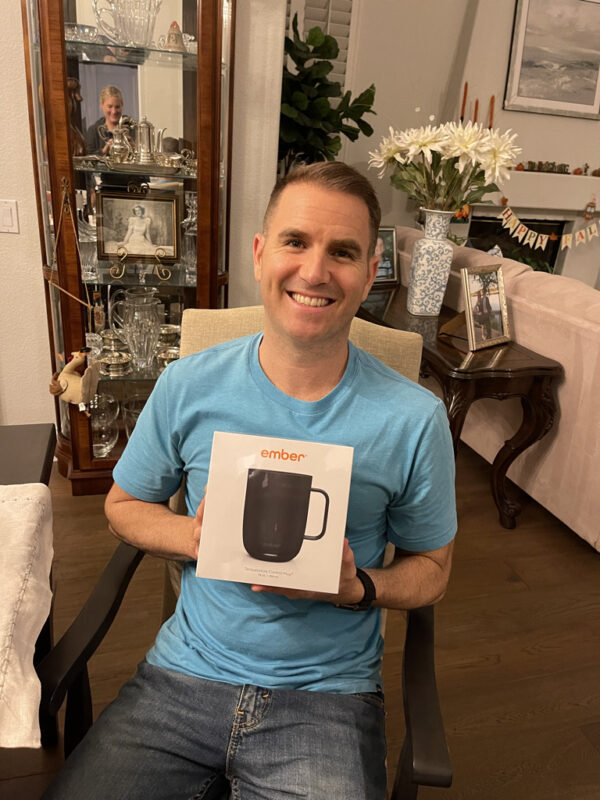 His big gift was a new ipad Pro and the magic keyboard.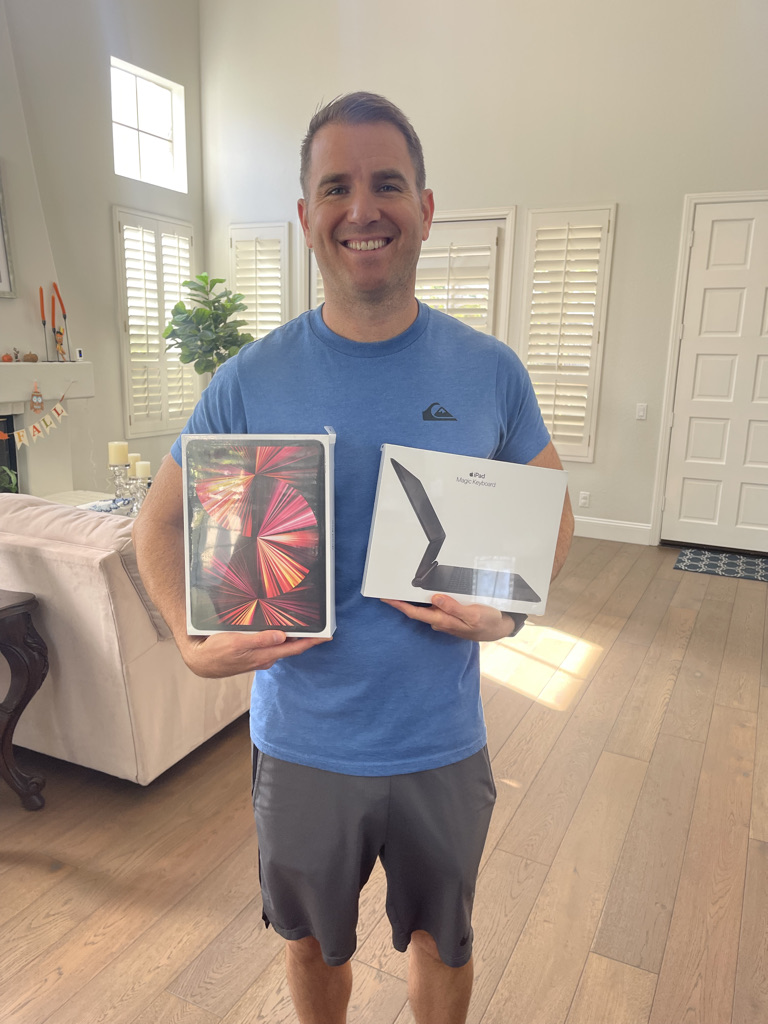 How cool is this holder & keyboard….it makes it work like a laptop. My techy hubby is in love!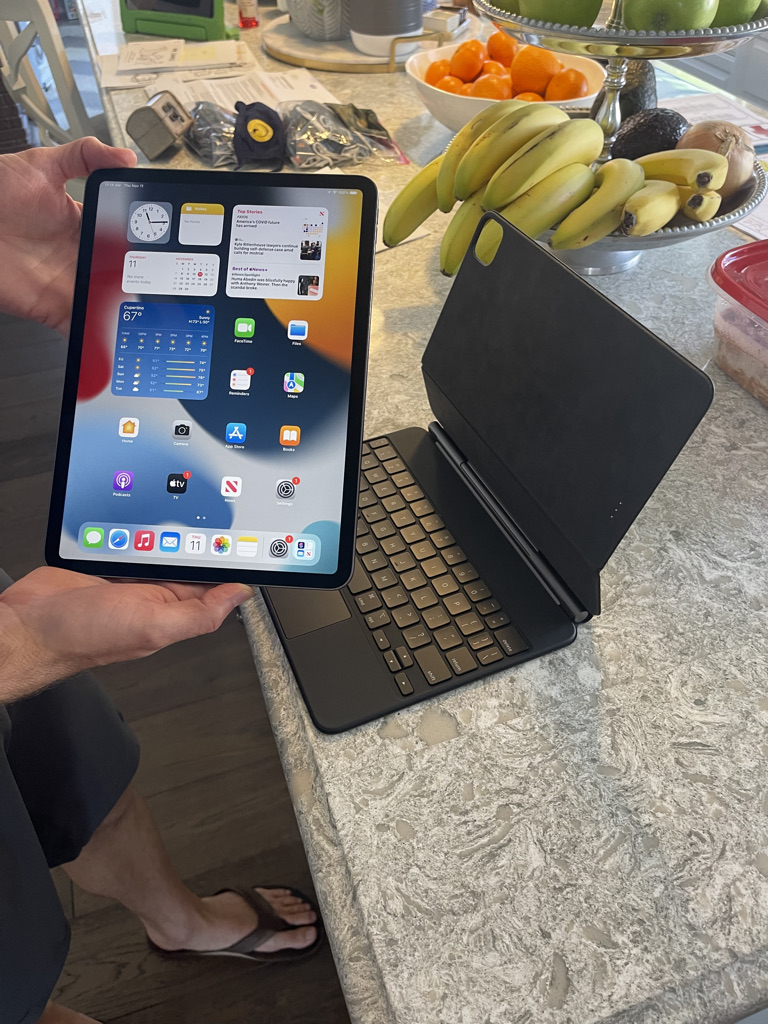 My gift to my hardworking husband was a new athleisure outfit, joggers and a jacket by way of Vuori.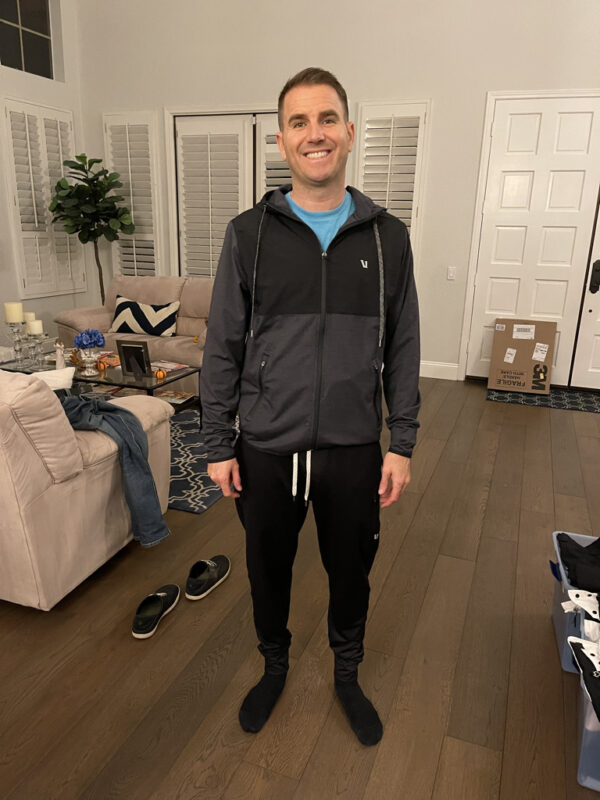 Moving on to the festivities in Florida….
Thanksgiving Day – Jason turned 40!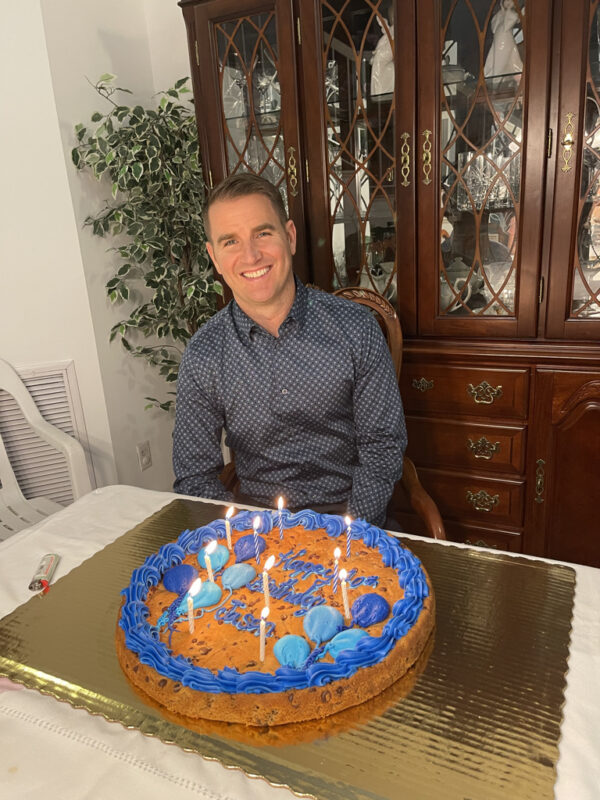 Jason's 40th birthday fell on Thanksgiving this year….that happens every 6 or 11 years due to leap years. One of Jay's favorite meals is Thanksgiving so it's fitting that he was born near this holiday.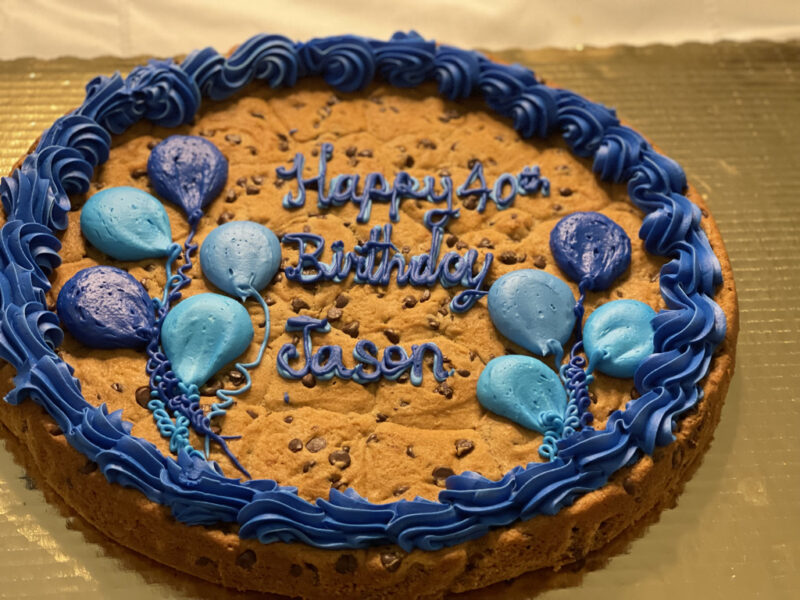 Jason and I have very similar sweet tooth's, we both prefer a cookie any day of the week over cake. I was so happy I could order a gigantic cookie cake from Publix. Florida has awesome grocery stores, I love Publix! Ohh and the cookie was so delicious that it only lasted 1.5 days….the kids loved it too!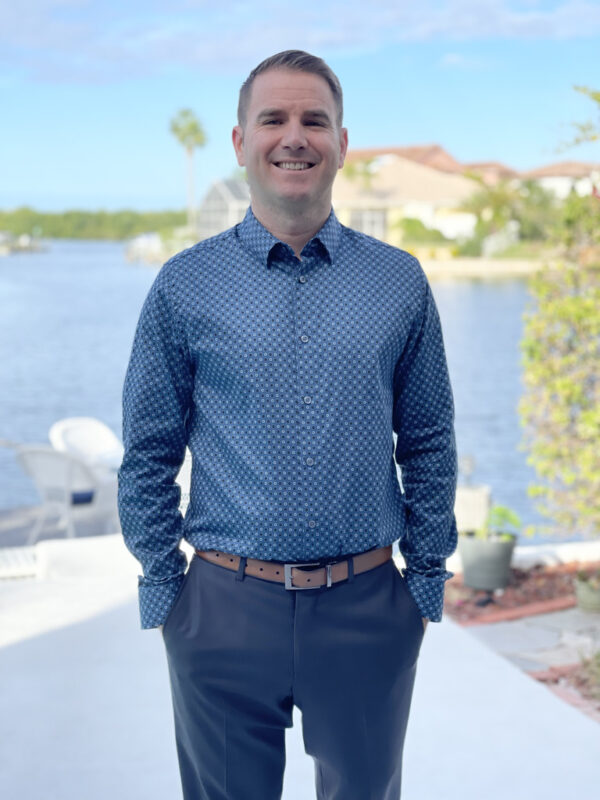 40 looks great on you!!
Jason's 40th Birthday Party!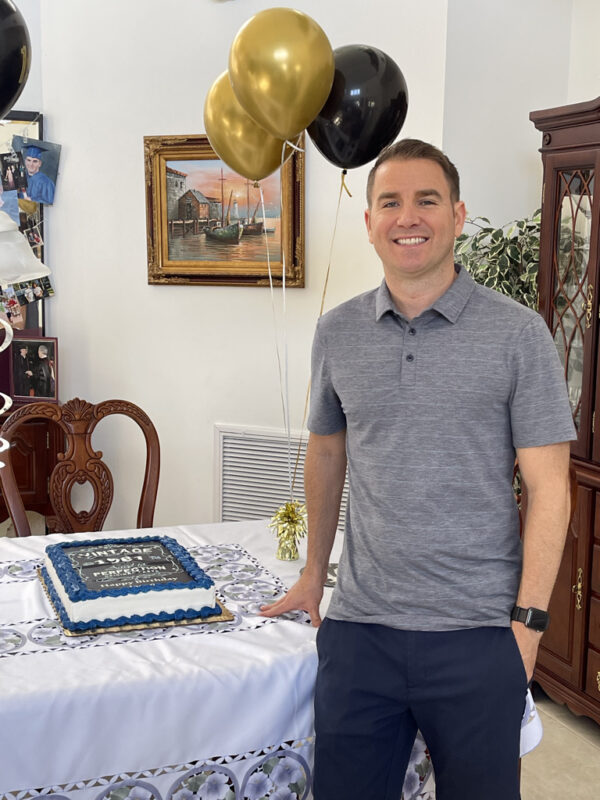 Jason is not big on being the center of attention, however, this party hit the spot for him. Jason had all his family (minus his relatives that live in Spain) from 4 different states come in to see him. He also had 5 of his best friends here with their families to celebrate too. A smile never left his face on this day….mission accomplished!
The Decorations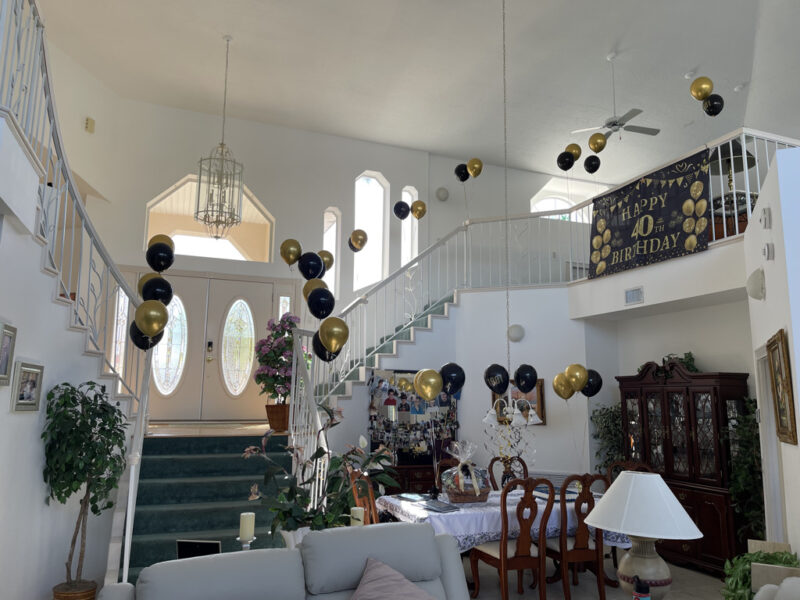 My in-laws, Kathy and Arturo hosted and I was the co-host.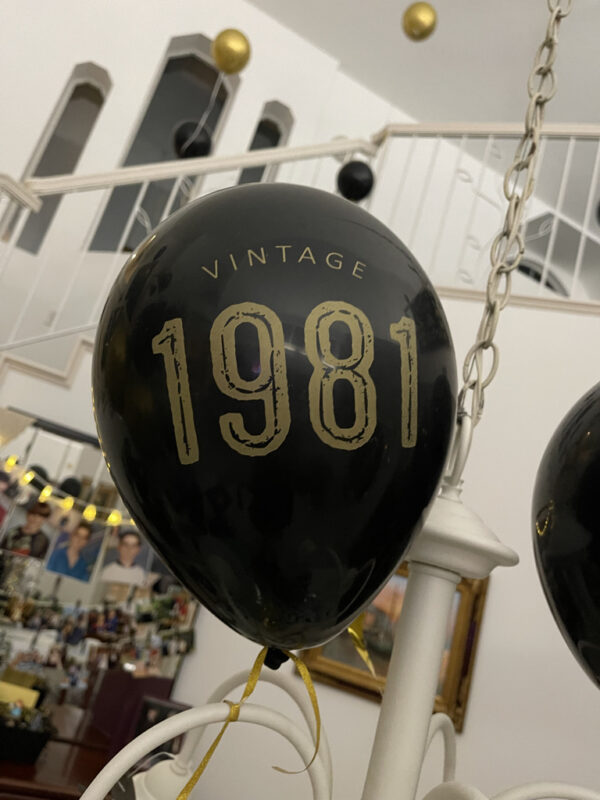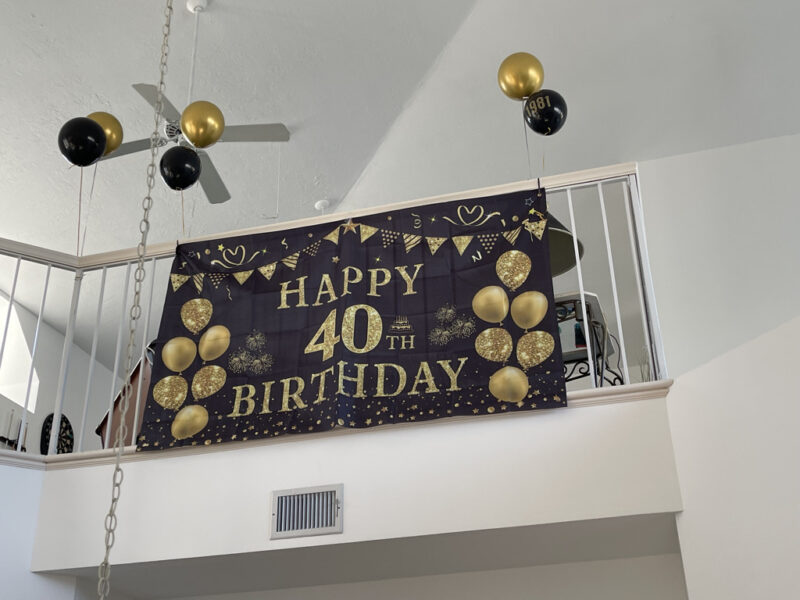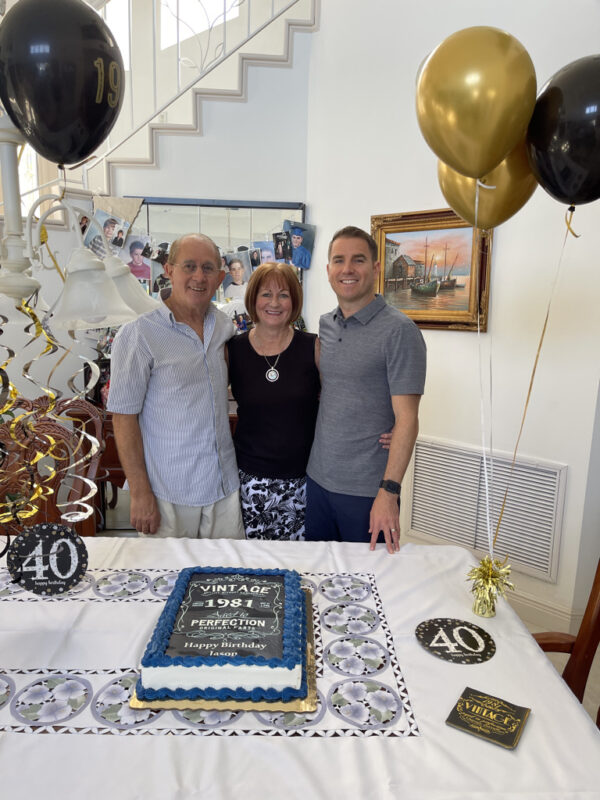 Jay with his parents!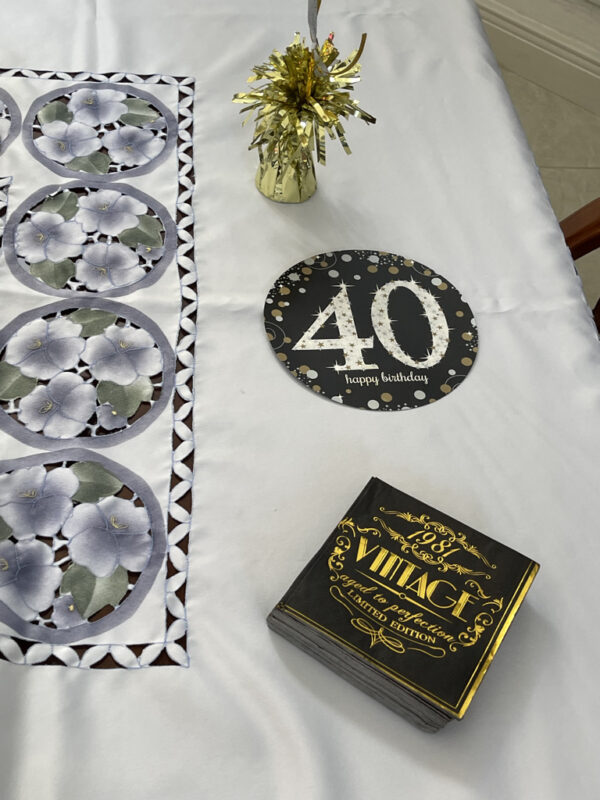 The Cake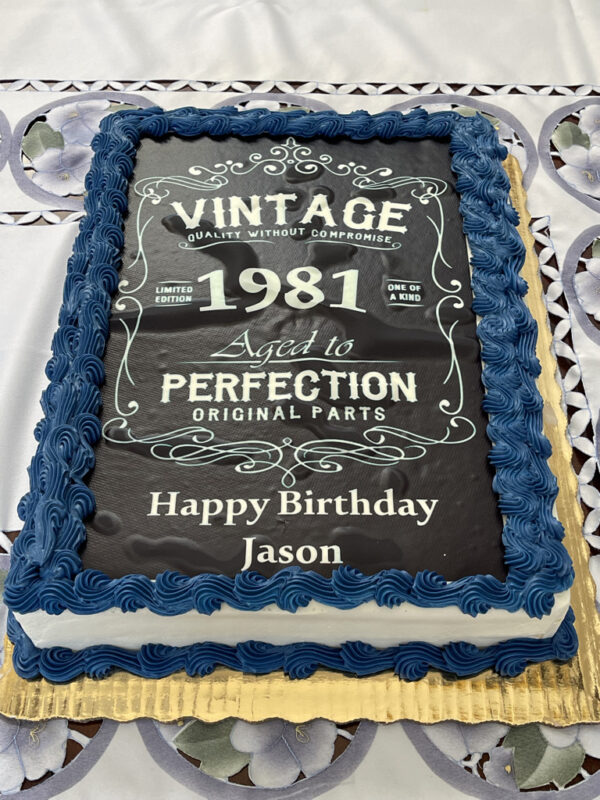 Kathy found the perfect cake topper! Jason has aged to perfection, lol!
My MIL, Kathy and I had fun working together to fine tune all the details to make it special and meaningful for Jay.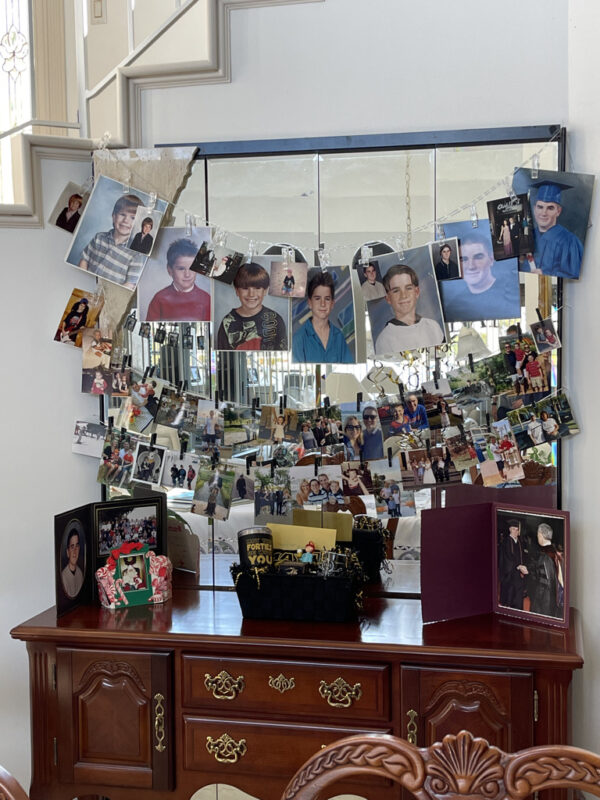 It was fun looking back at Jason throughout his first 40 years of life. Kathy had his yearbooks out and he enjoyed looking through them and taking a trip down memory lane.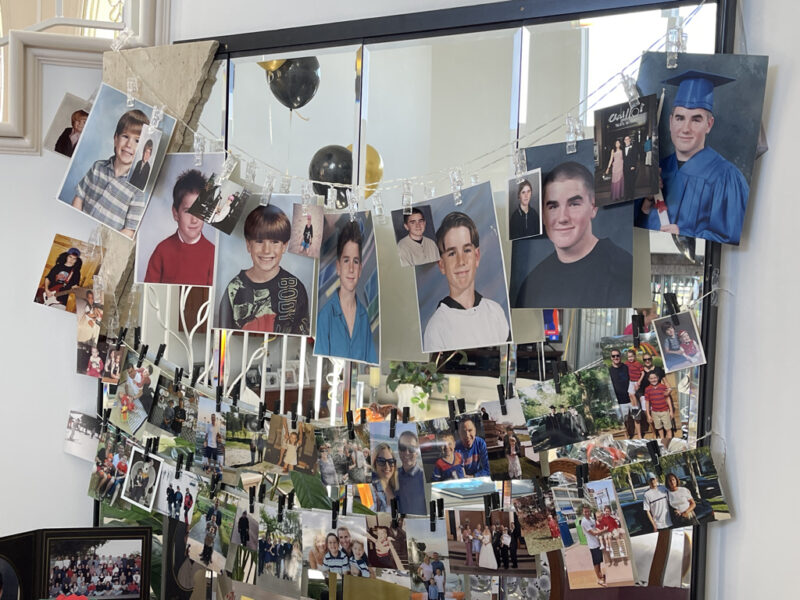 The Gifts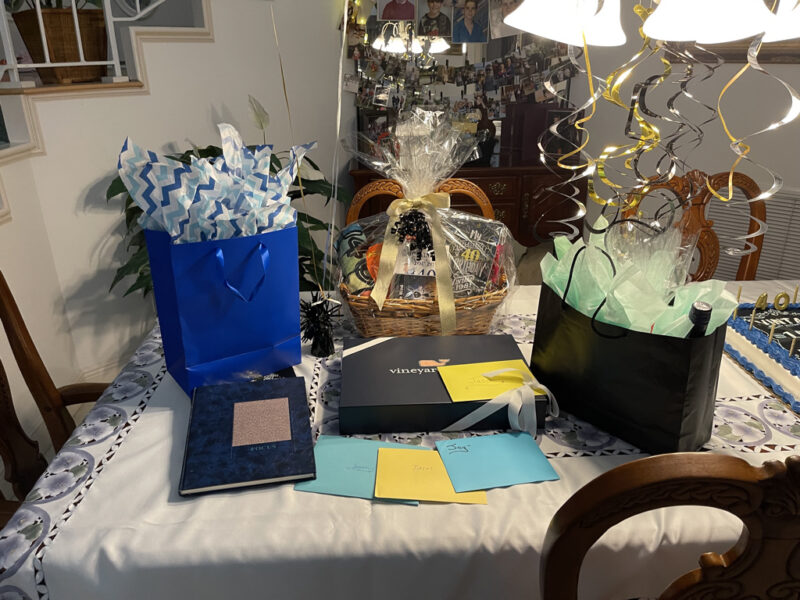 Jason's parents had this fun and festive gift basket for him.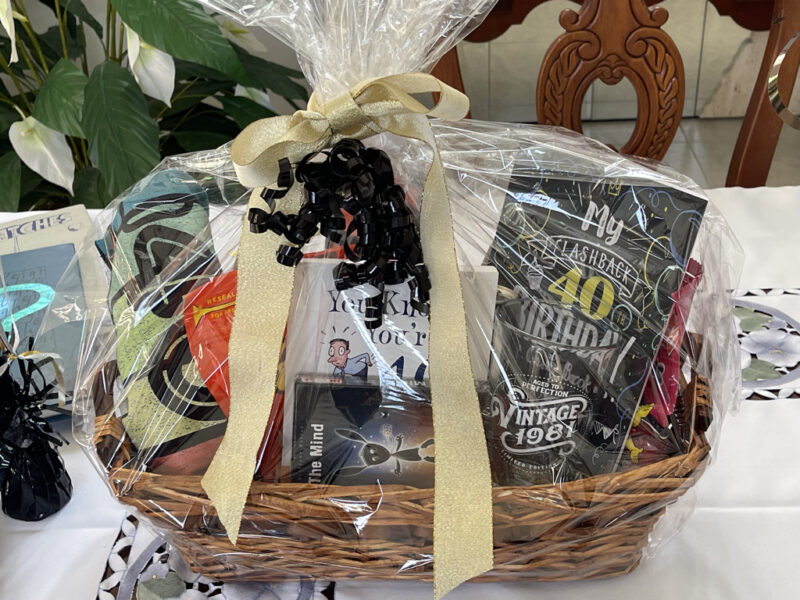 My 40th gift basket for Jay was Starwars themed.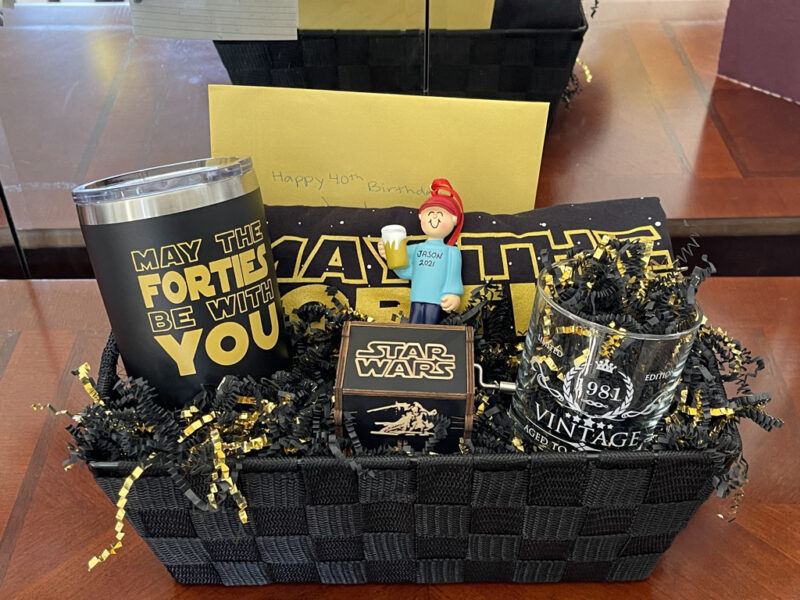 Birthday Banner!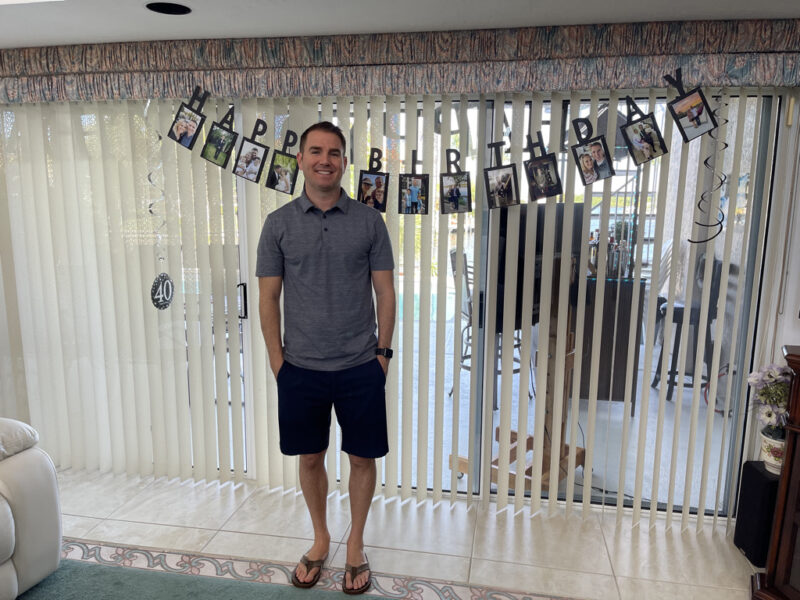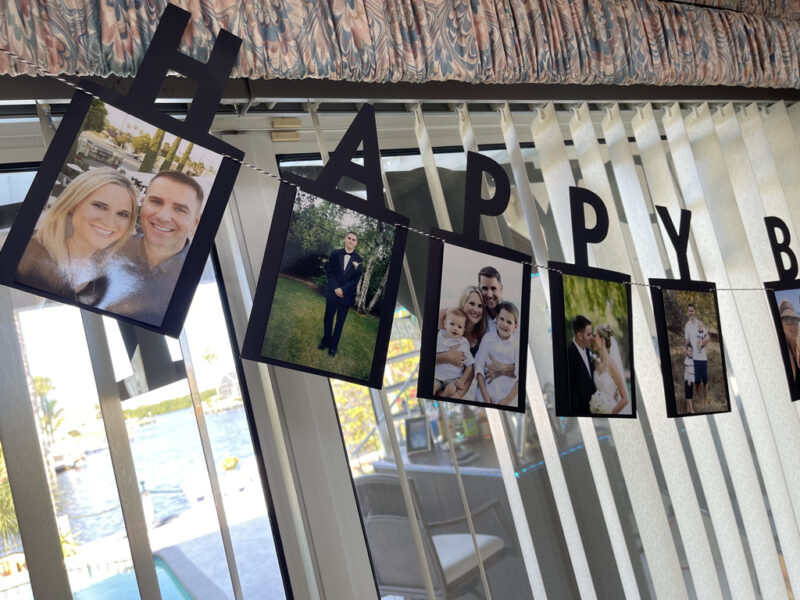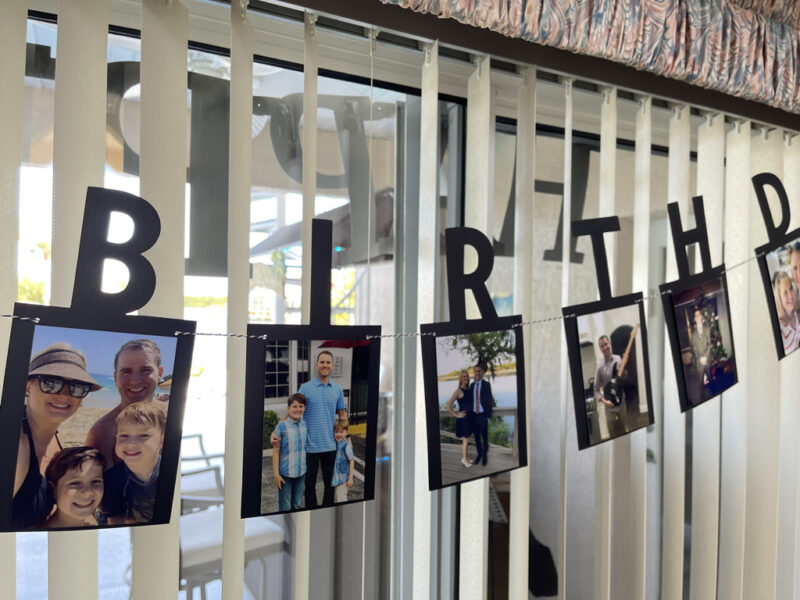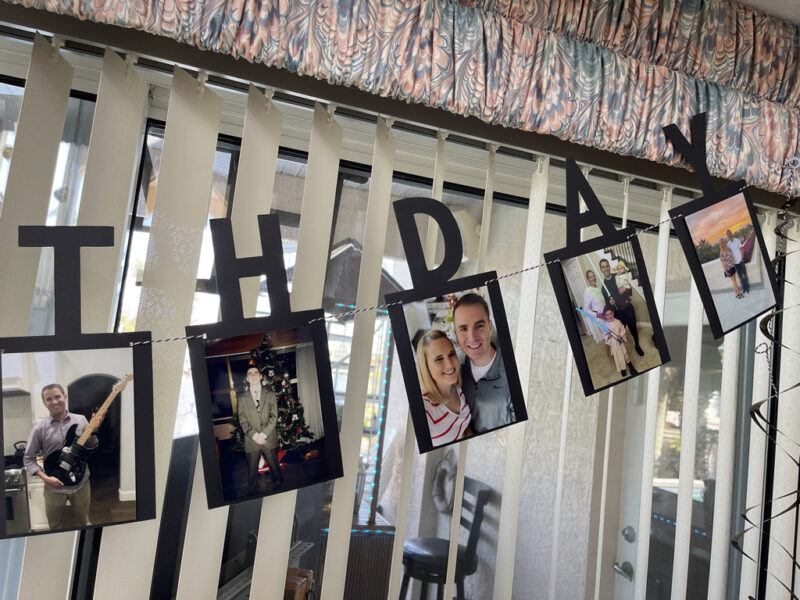 Jason with his brother, Christian!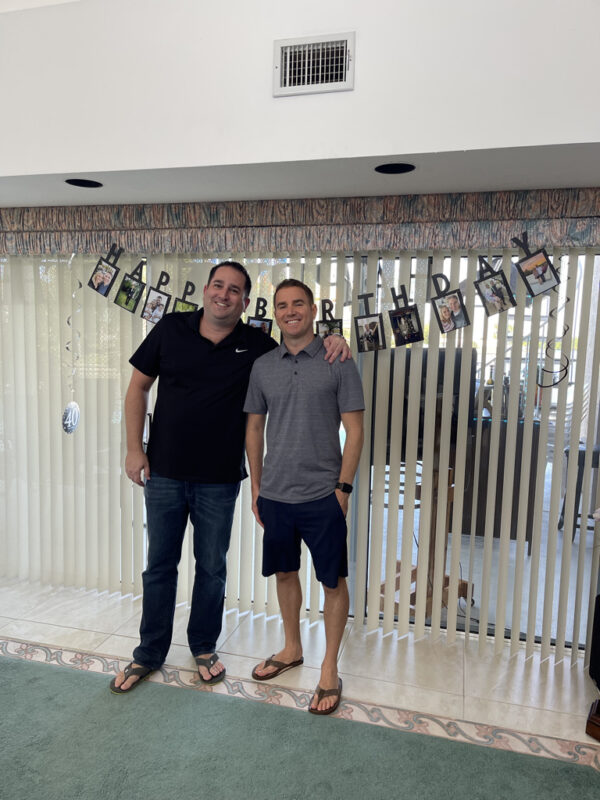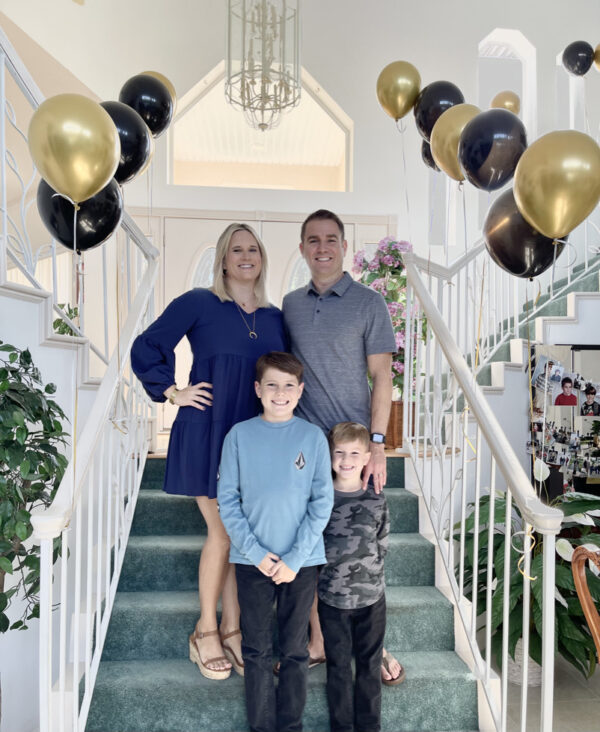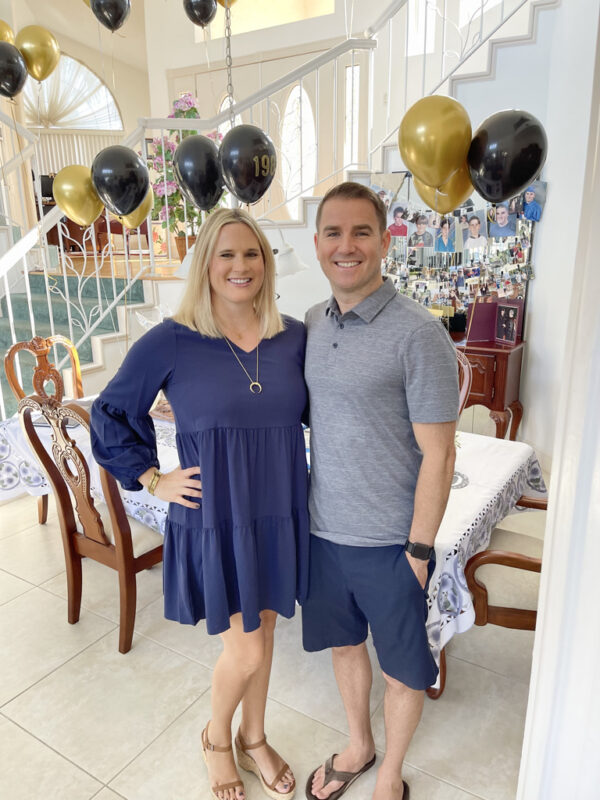 The Cocktails were made by Papi.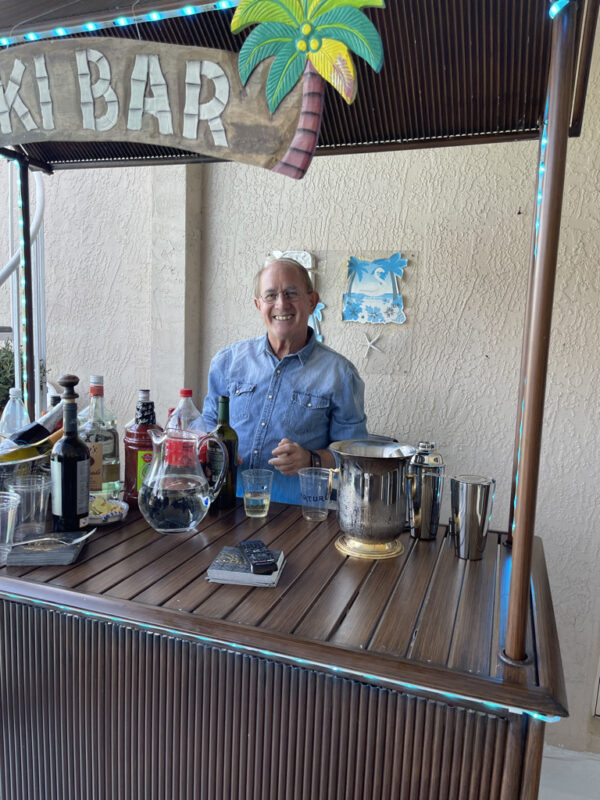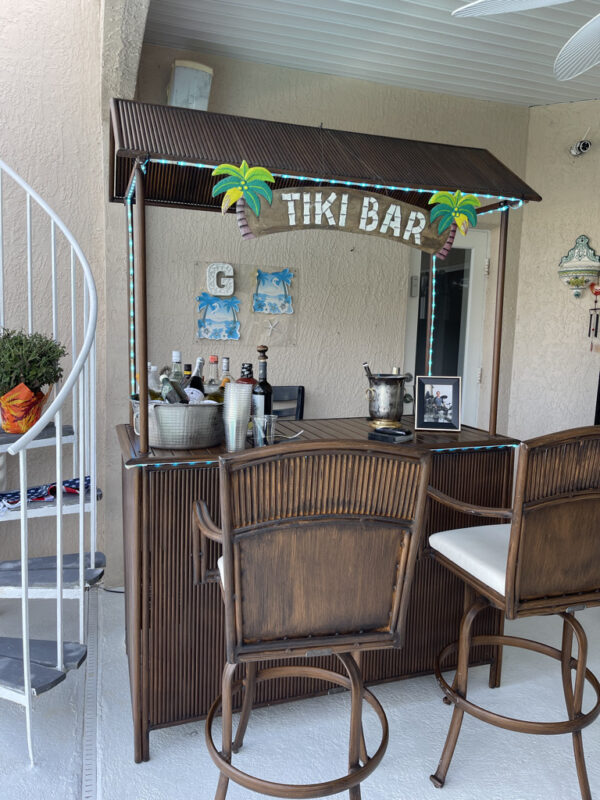 How cute is this Tiki Bar?!?! They have it up all the time and it makes for a playful ambience while hanging out outside.
Birthday Slideshow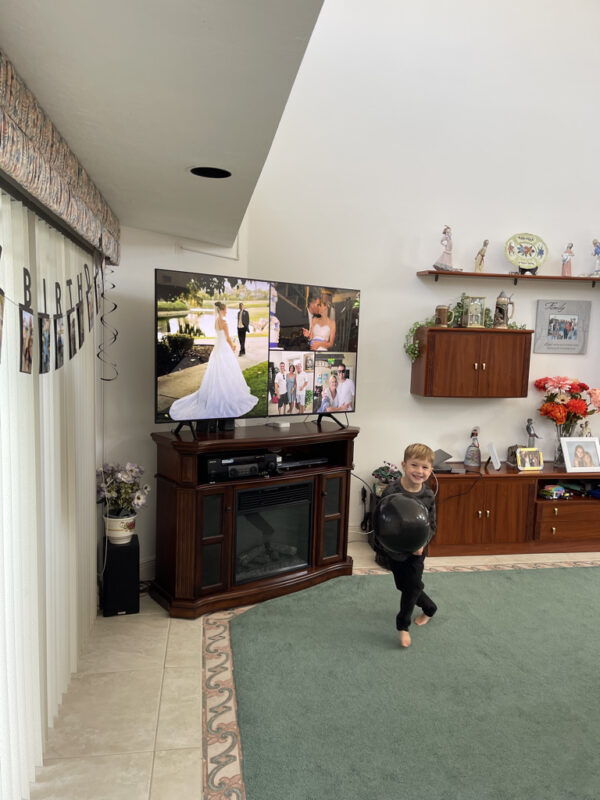 Kathy and I worked hard at compiling pictures of Jason, family & friends. Christian put the slideshow together and came up with music to play in the background. It turned out perfect!!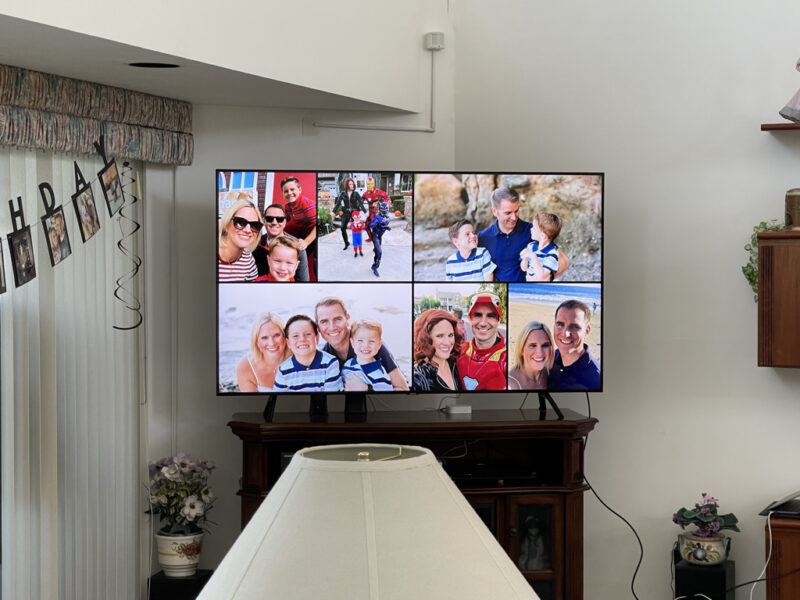 The Food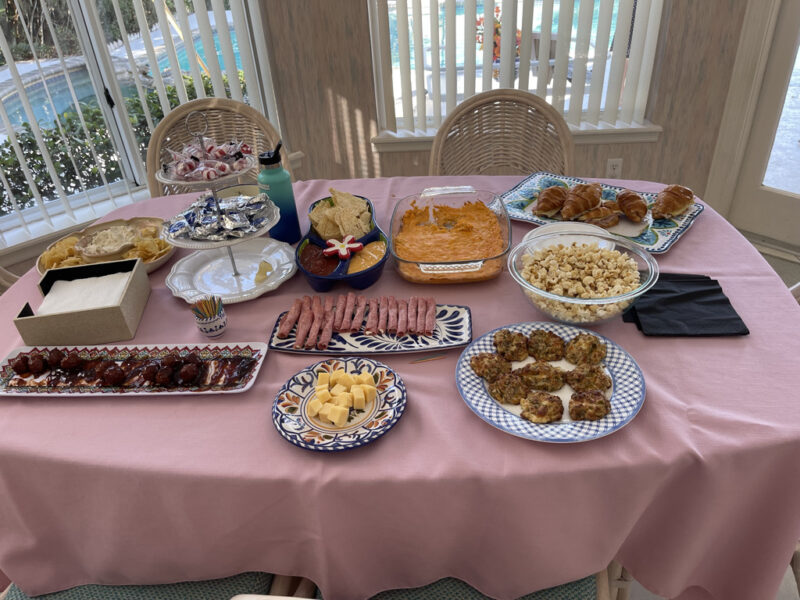 We all contributed and made our own appetizers.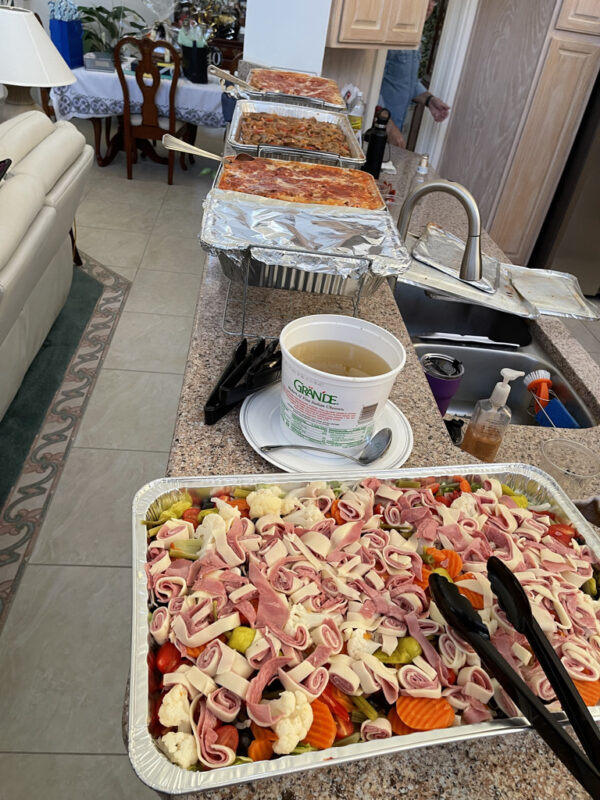 Jason's parents had dinner catered from an Italian restaurant called, Bizarro! We love this restaurant and their pizza is delicious too.
The Guests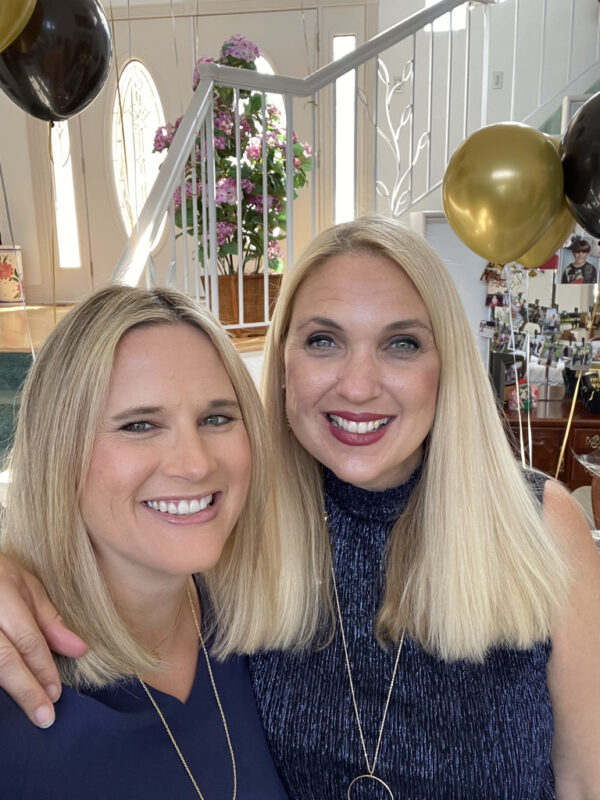 My SIL, Dana! We both wore blue and it had us cracking up because throughout our stay we dressed similar in clothes & colors 3 different times, lol. We are like the same person sometimes.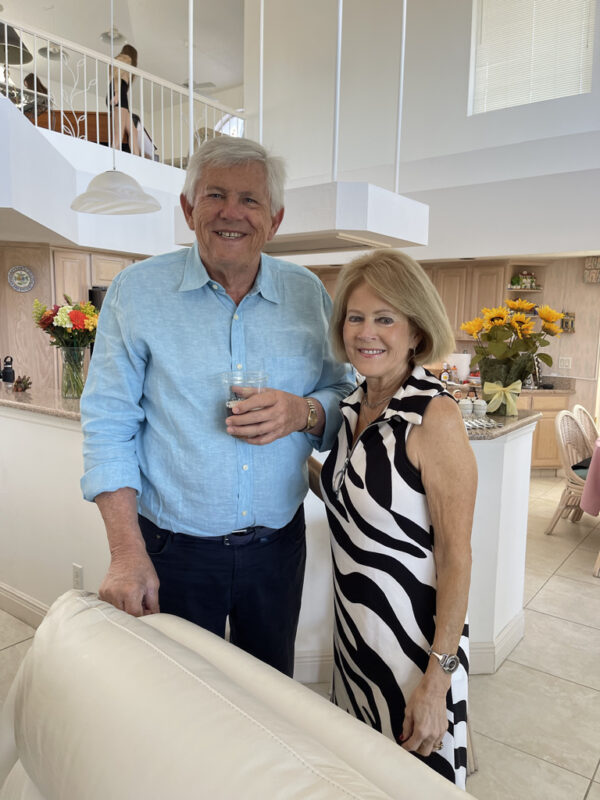 My parents, Forrest & Laura. It was very special to both Jason and I that they came out for Thanksgiving and to celebrate Jason. I loved having them there during these special memories and I can't say enough how thankful I am that my parents and my in-laws are friends and get along. I do not take it for granted, it's a blessing.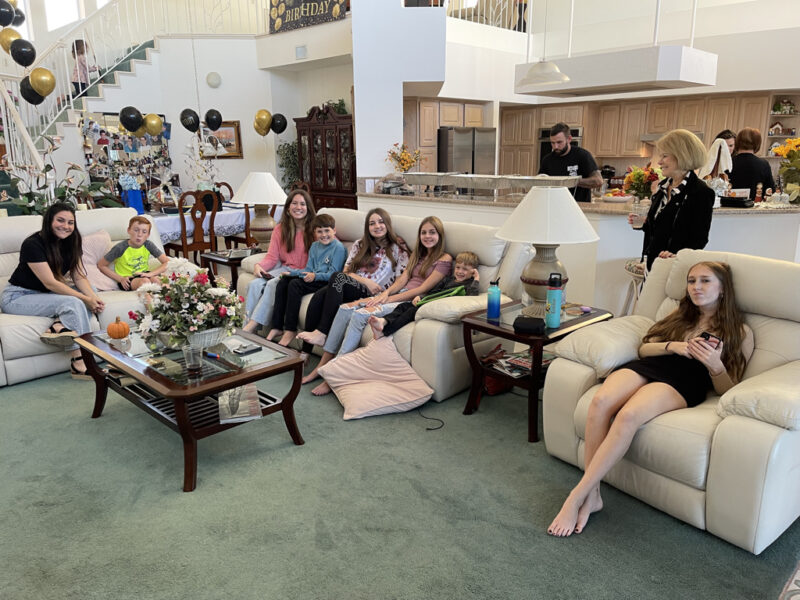 The kiddos chilling out together!
Family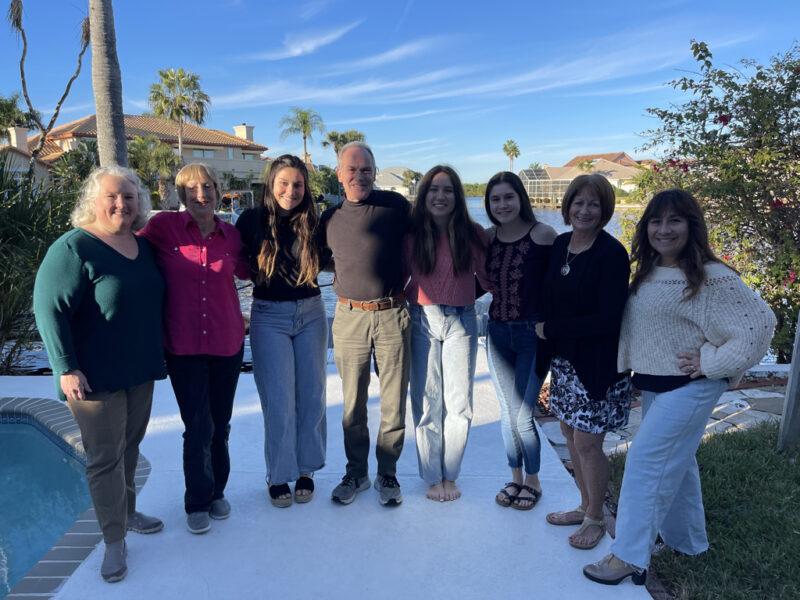 Aunt Amy, Aunt Nancy, Angela, Uncle Pete, Shannon, Meghan, Kathy, and Aunt Zully!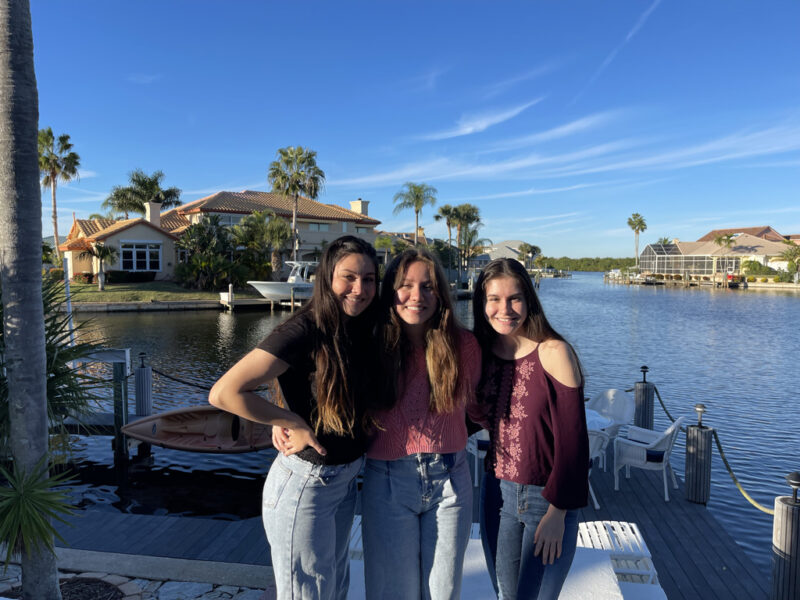 Jason's beautiful cousins, Angela, Meghan, and Shannon who live in Texas.
Friends!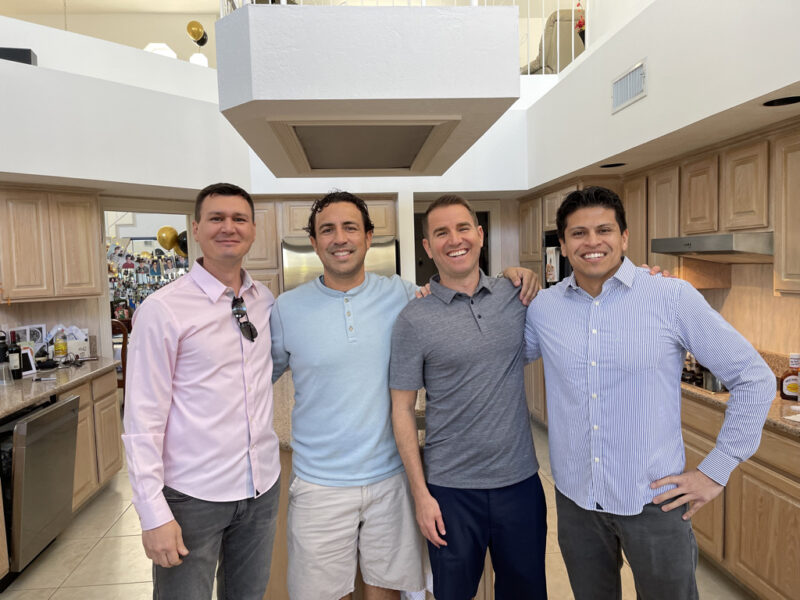 These three friends were all in our wedding party! Starting from the left, Chris, Phil and Jorge! They are my best friends too and are some of the best people I know.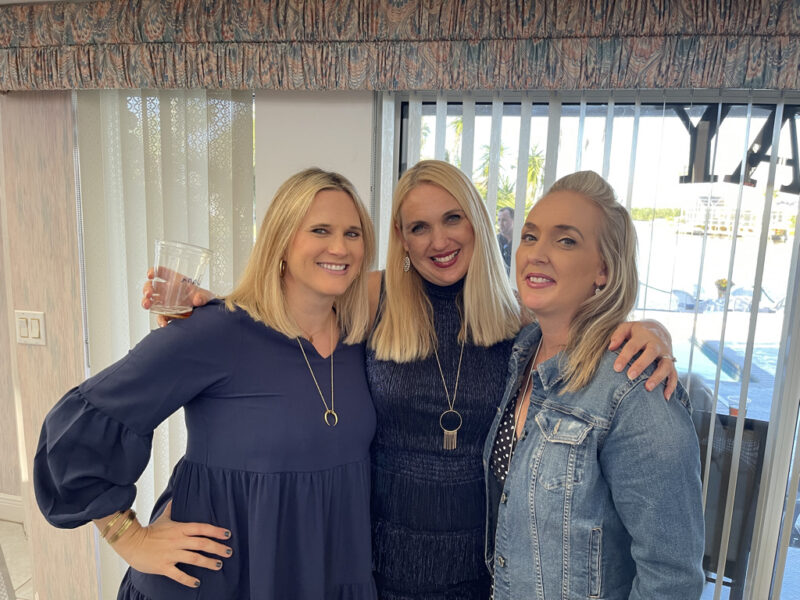 We are with Dana's sister, Carrie. The three of us have the best time together and it's non-stop laughs with these two.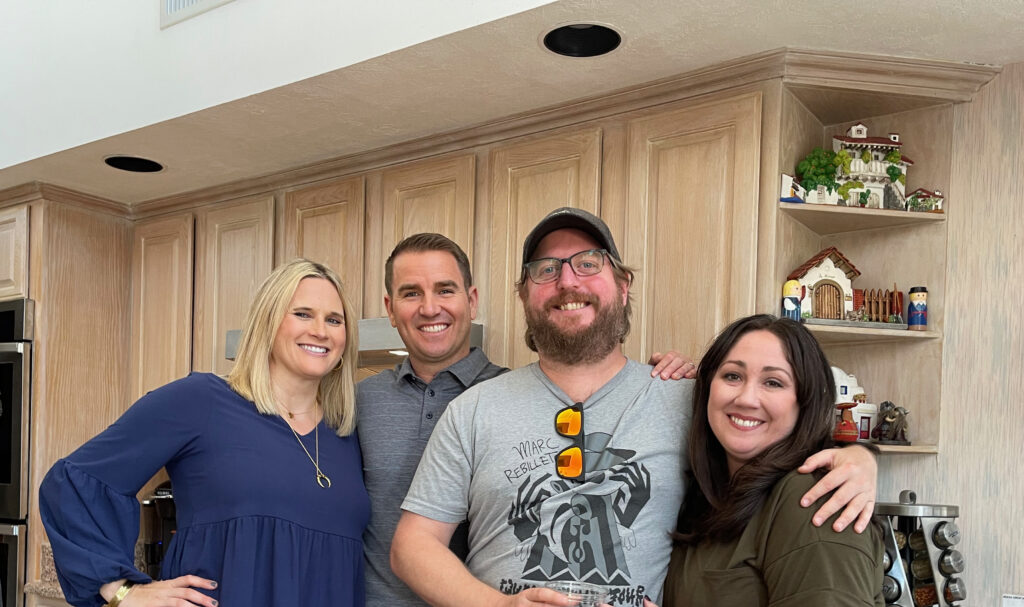 Justin was also in our wedding party. Justin and Jen are great friends and Jason was living with them when I met him back in 2005.
The Friend Crew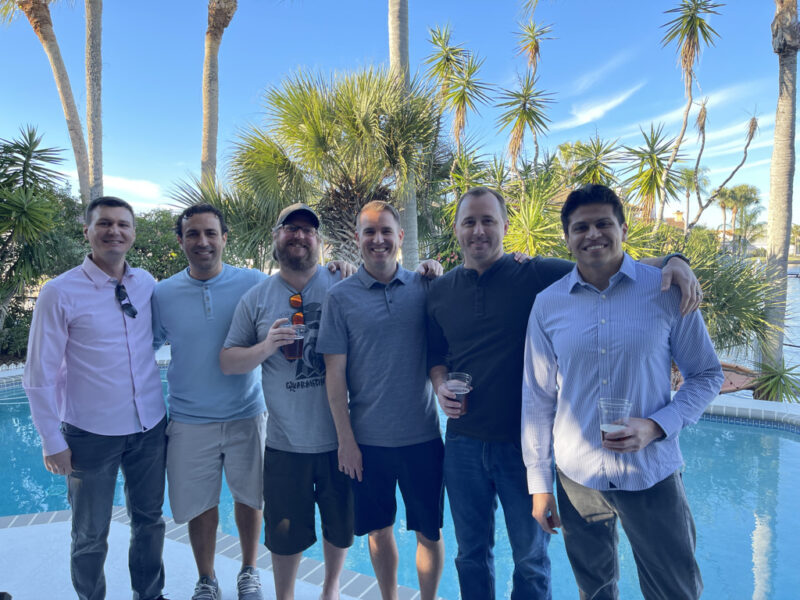 It meant the world to Jason to have this group of friends with him to celebrate! This group of guys are all a blast to hang out with and are true friends. Jason is blessed!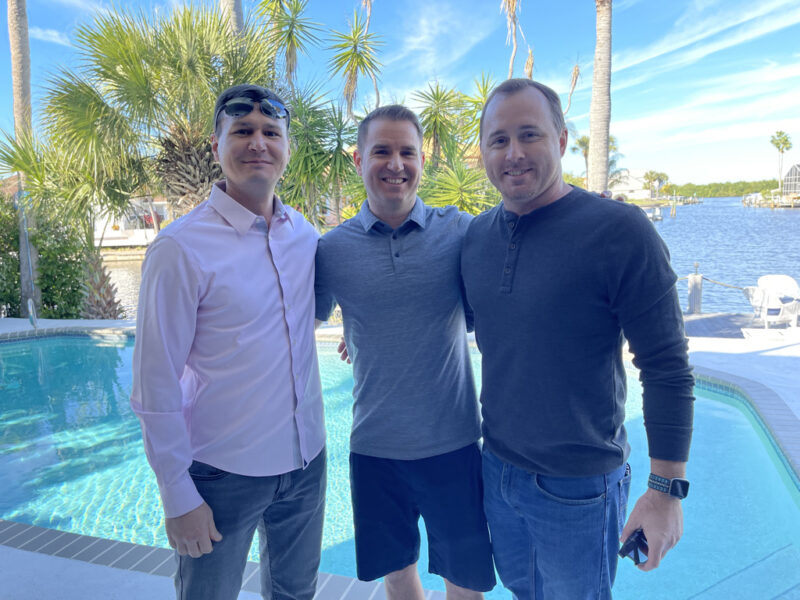 Look at that happy face and smile!!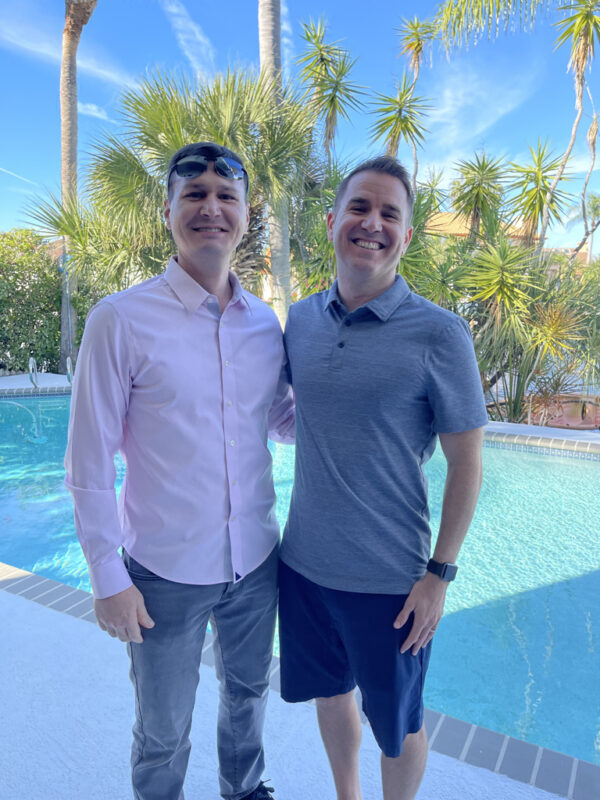 My boys were running around the house doing a happy dance when Chris and Jorge arrived. They are like family to us!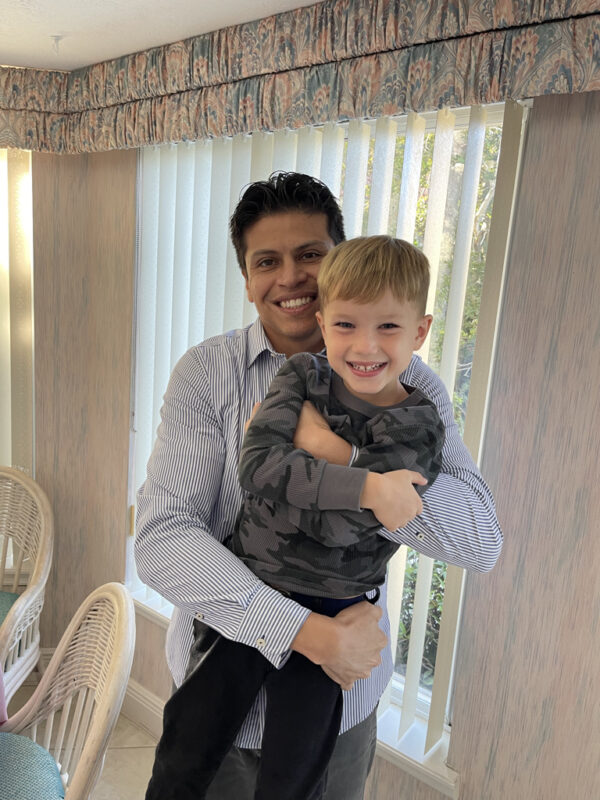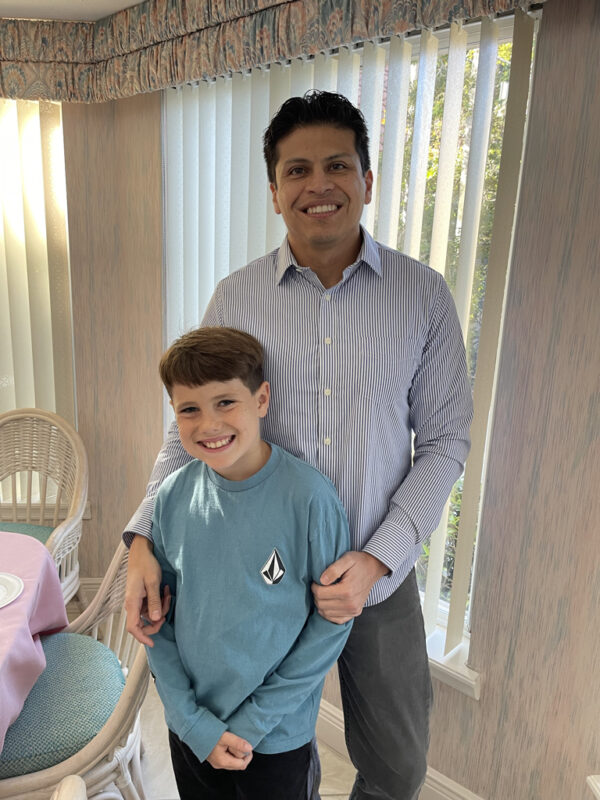 Dinner with a gorgeous view!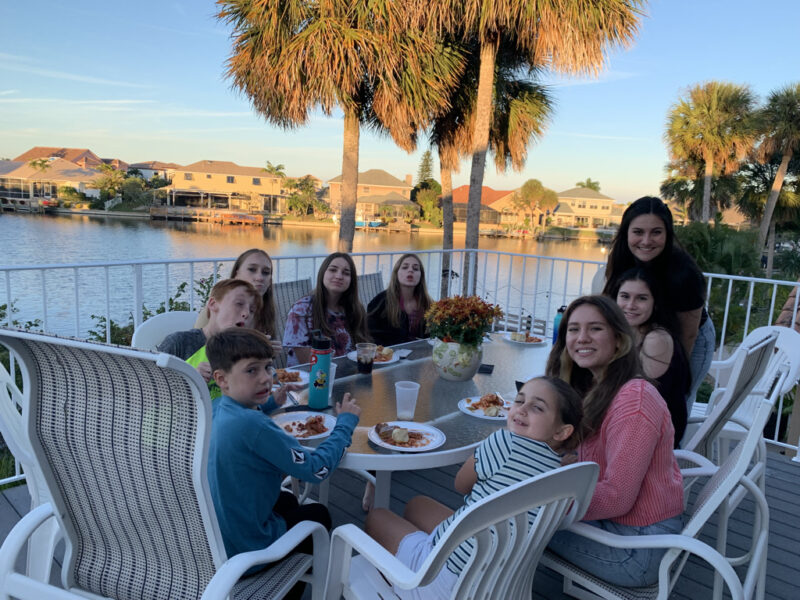 Playing card games is a regular activity when we get together.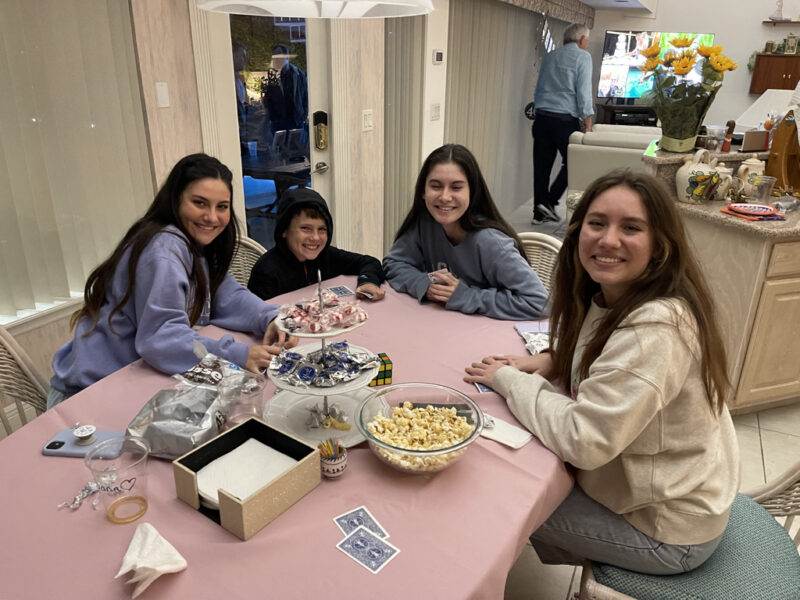 Luke LOVED hanging out with all his cousins!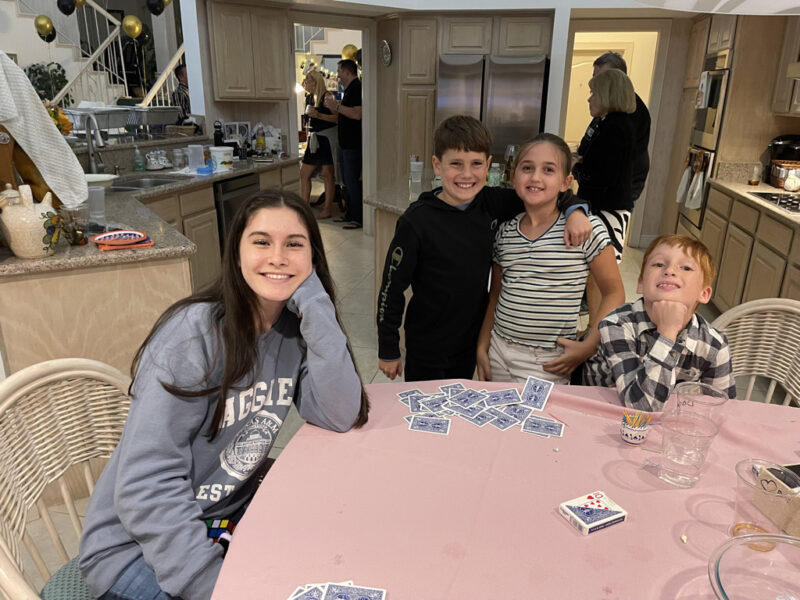 Singing "Happy Birthday" and blowing out the candles!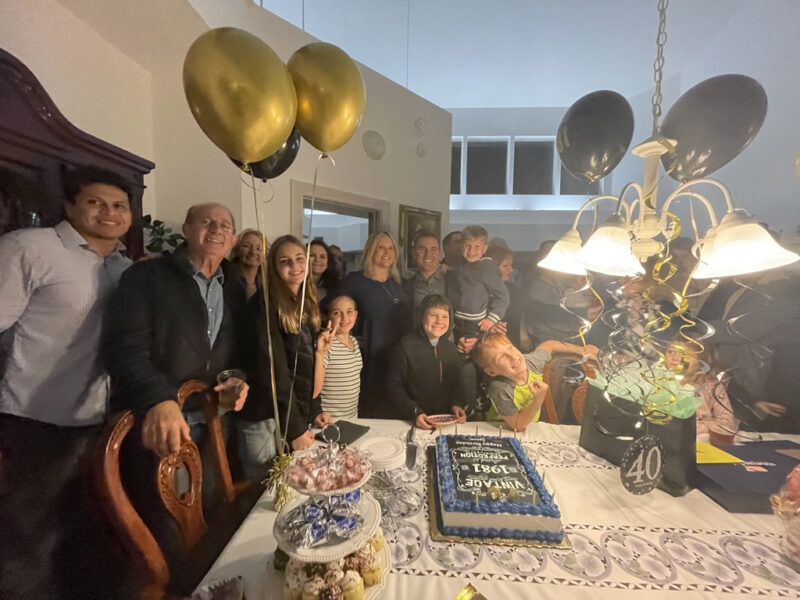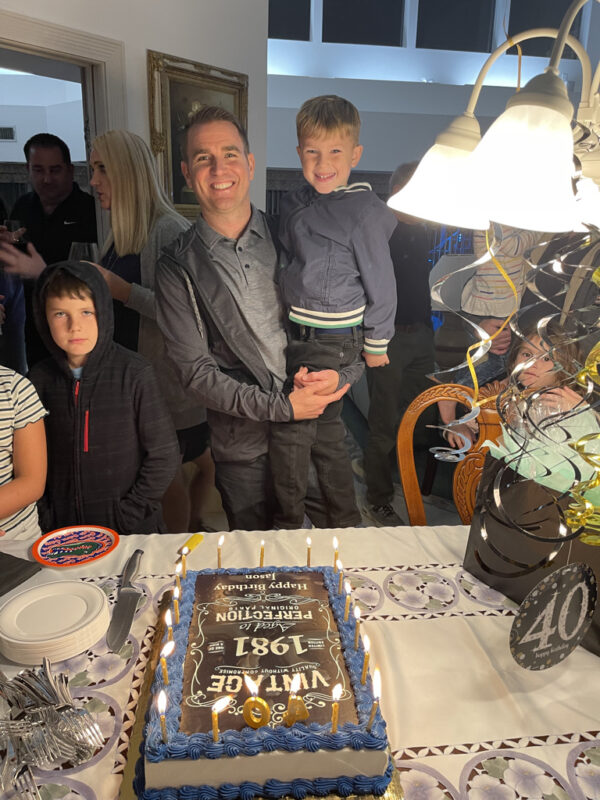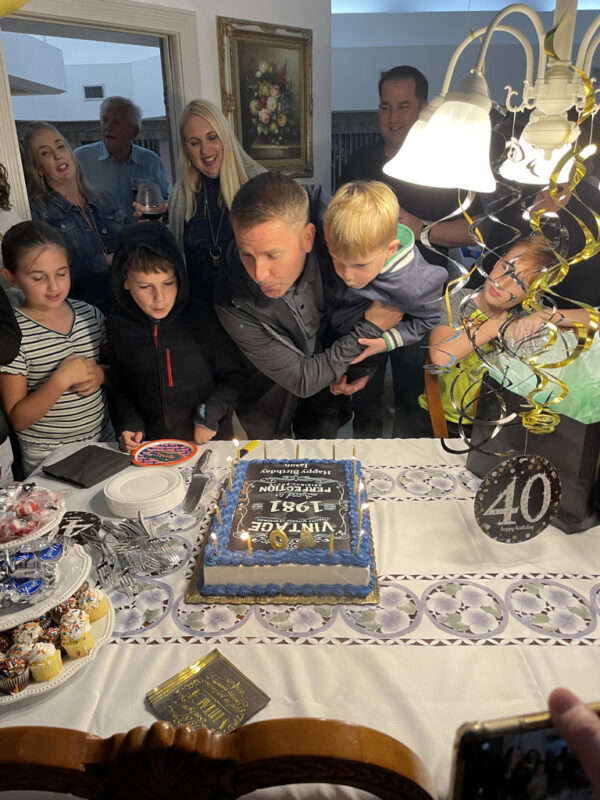 The Birthday Party Crew!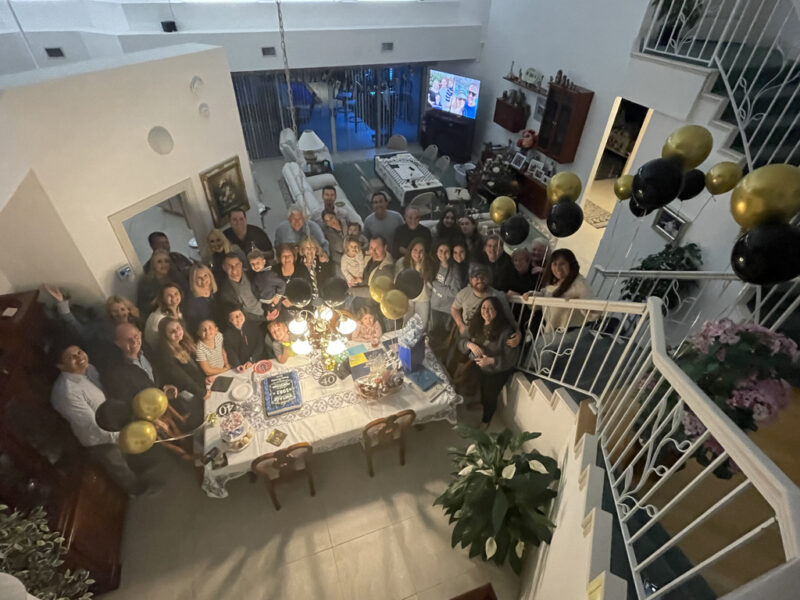 Closing out the night with an old fashioned cocktail, one of his favorites! Jay looks all the wiser in this picture sharing wisdom from his first 40 years of life, lol.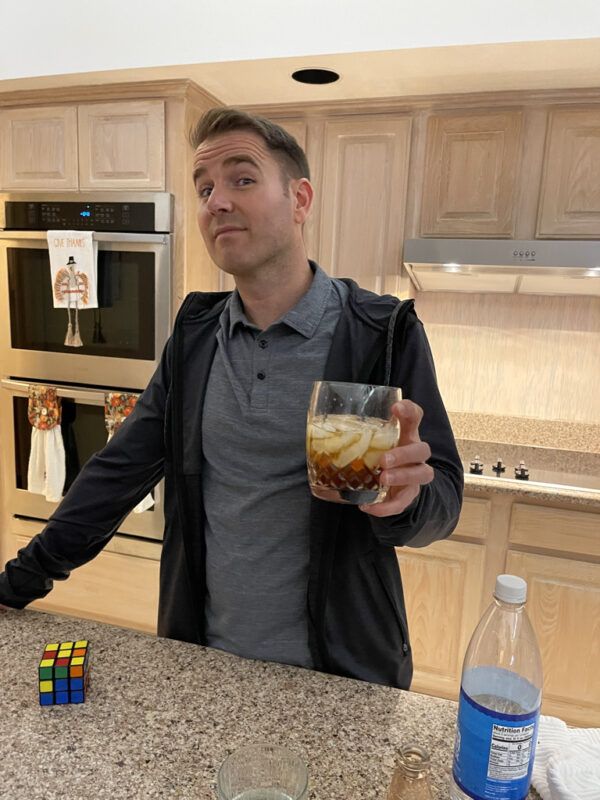 Cheers my love! Cheers to the kind, thoughtful and loving human being you are to everyone that comes into your path. Cheers to the next 40 years, may they be full of good times and laughter with family and friends. Cheers to good health and happiness always! I love you, Happy 40th Birthday!