We had a fun holiday season!! I'm happy to report that we did all the activities on our holiday to-do list. Let's rewind a little bit and take a look at what we did in December.
Newport Beach Boat Parade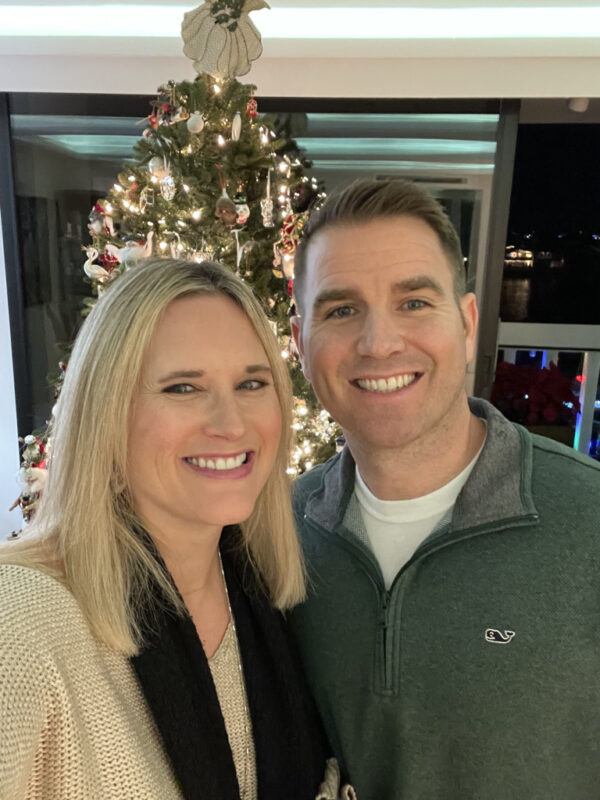 We have a new-ish tradition of going over to my Aunt Diane's condo at the Balboa Bay Club. We enjoyed appetizers out on her balcony while watching the festive boats go by in Newport Harbor.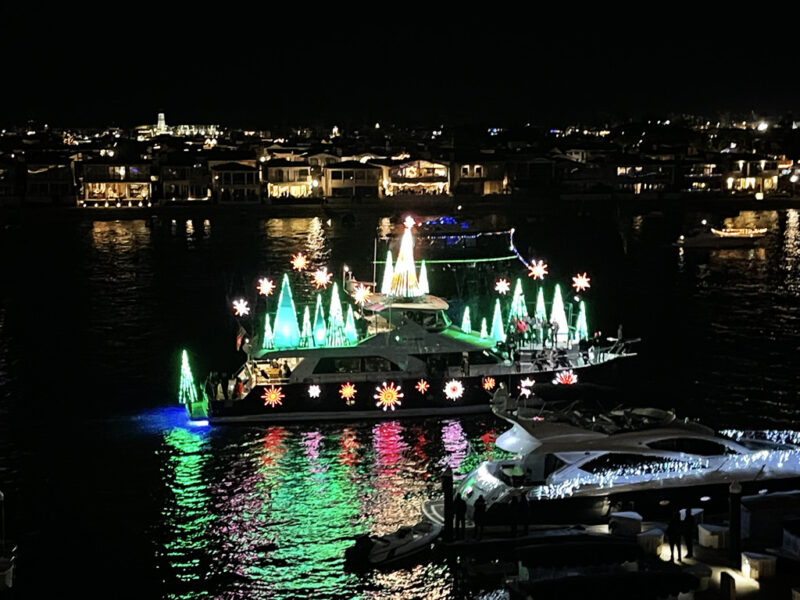 My aunt has the most beautiful view and it's perfect for watching the boat parade.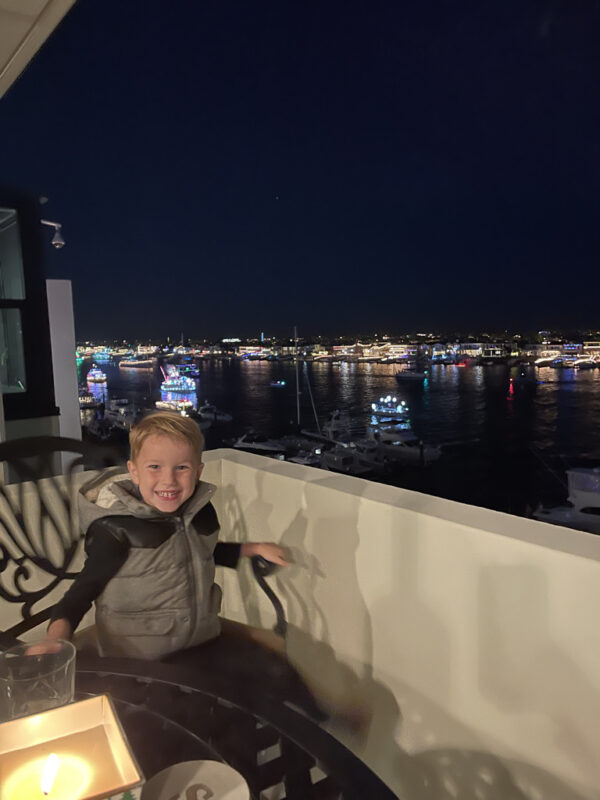 We enjoyed this festive night with my parents, my brother and his family and with my cousin Whitney and her son Jodey.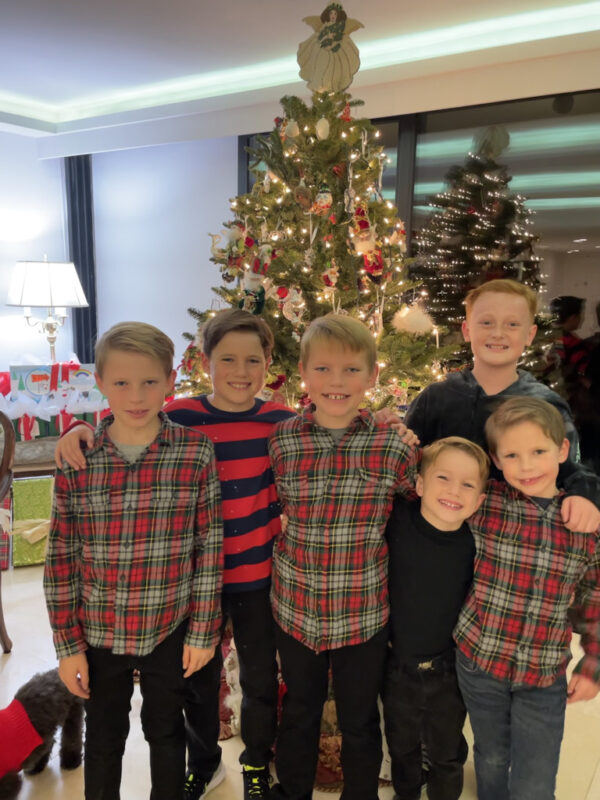 Cousin Crew!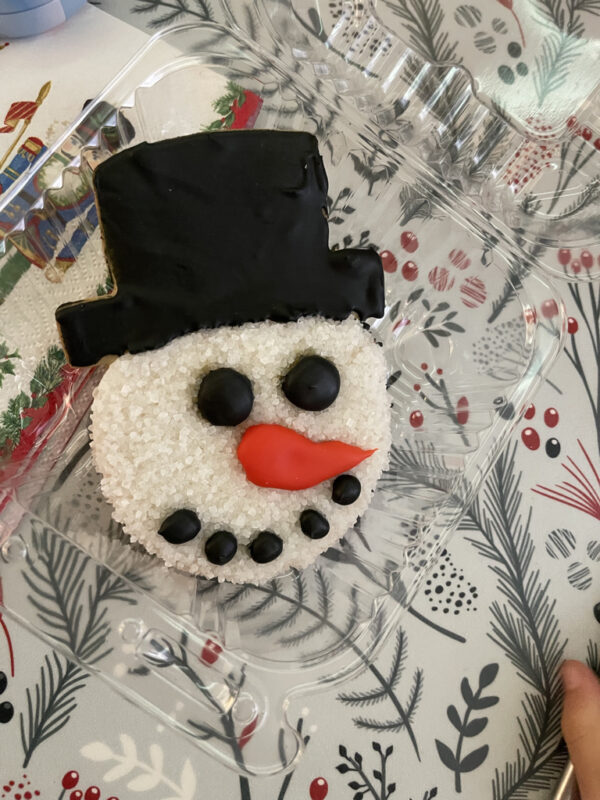 I love how my aunt has cute and festive details like this snowman cookie at each place setting for the cousins.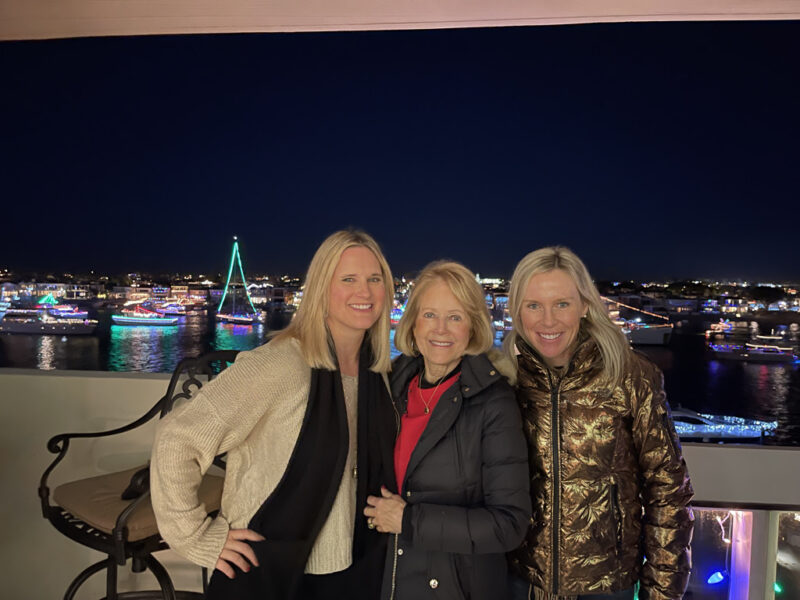 It was a memorable festive night!
Annual Bestie Sleepover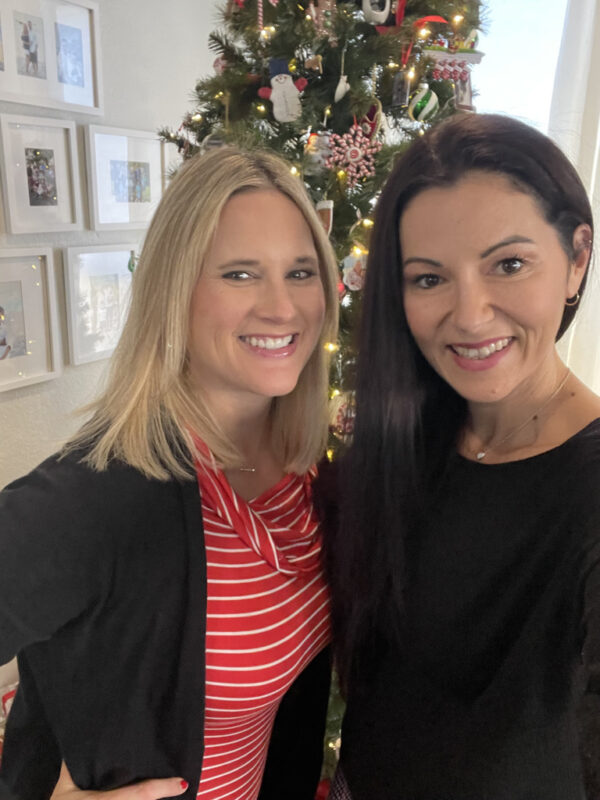 We have a tradition of having our besties Meg and Cole over during the holidays. Meg's birthday is also in December so it's nice to spend time with her during the busy holiday season.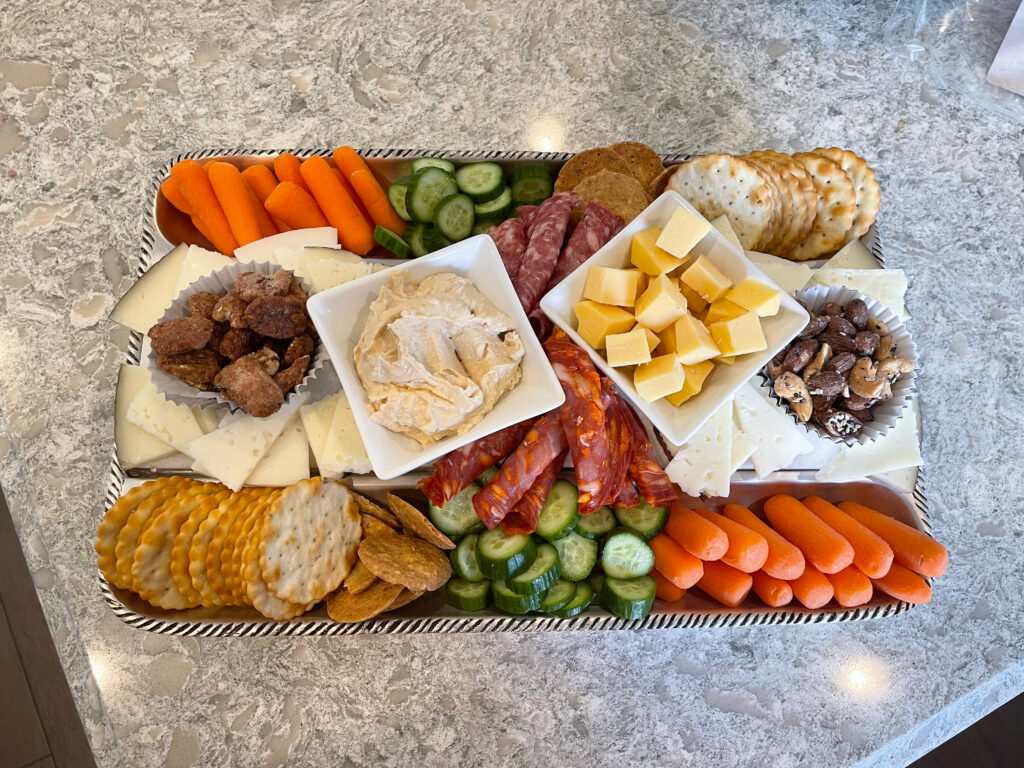 We enjoyed my holiday charcuterie!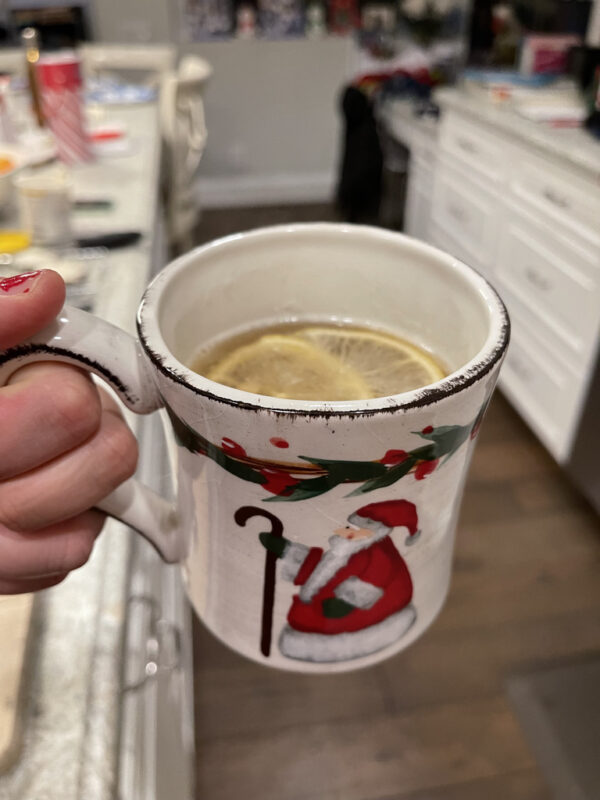 We sipped on Hot Toddy's!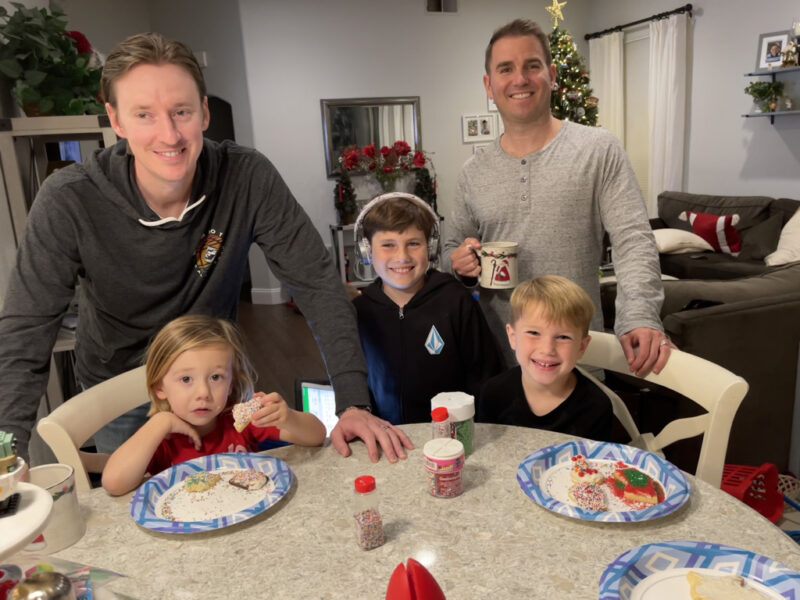 Baked and decorated Christmas cookies!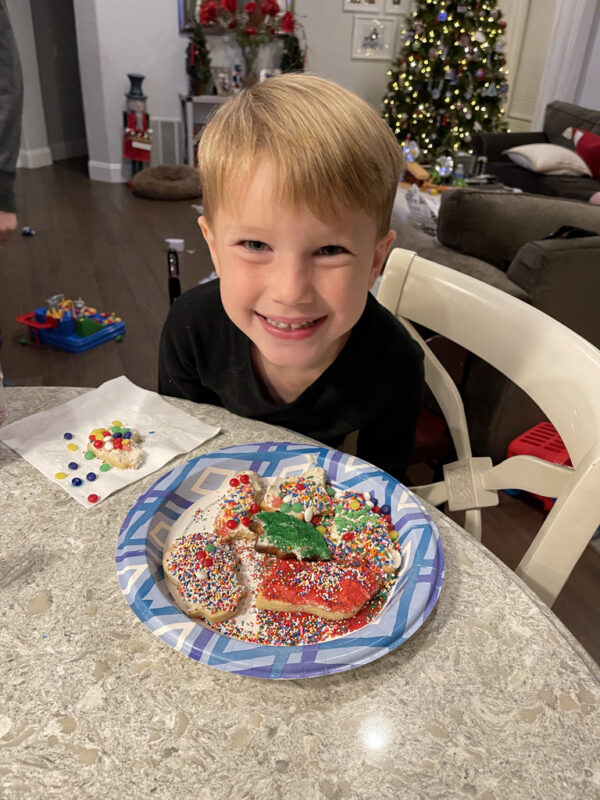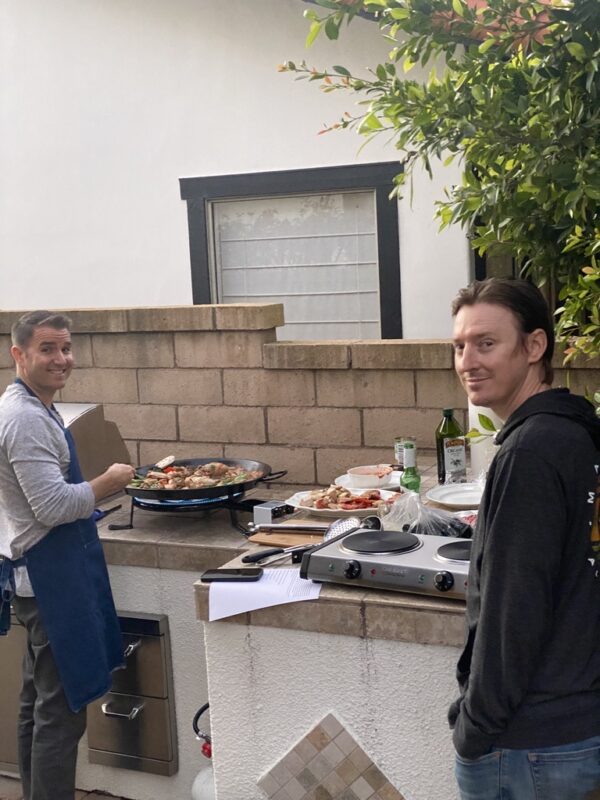 Jason received a paella pan and burner from his parents this past year for his birthday. Over Thanksgiving break, his dad taught him his recipe on how to make it. Papi is from Spain so you know this is a delicious recipe! Jason wanted to apply what he learned and cook the special dish for our besties.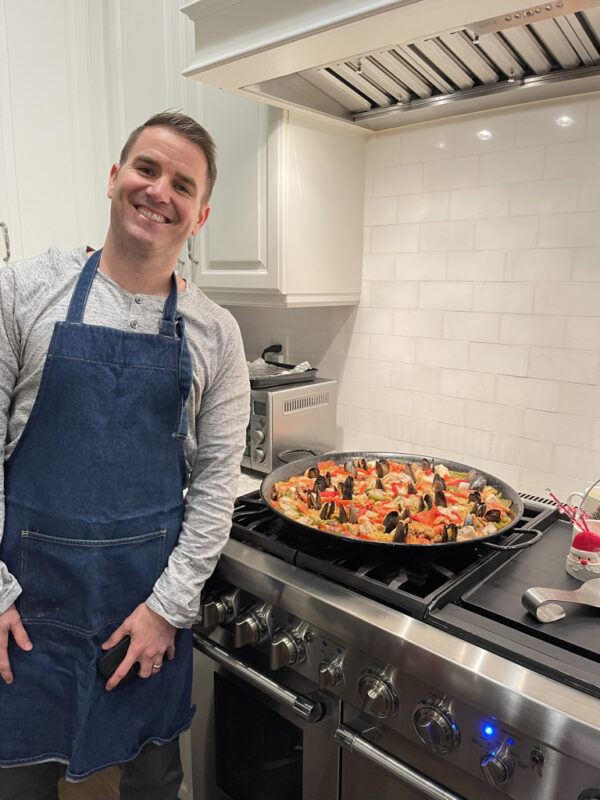 Jason did a fantastic job, so proud of my hubby!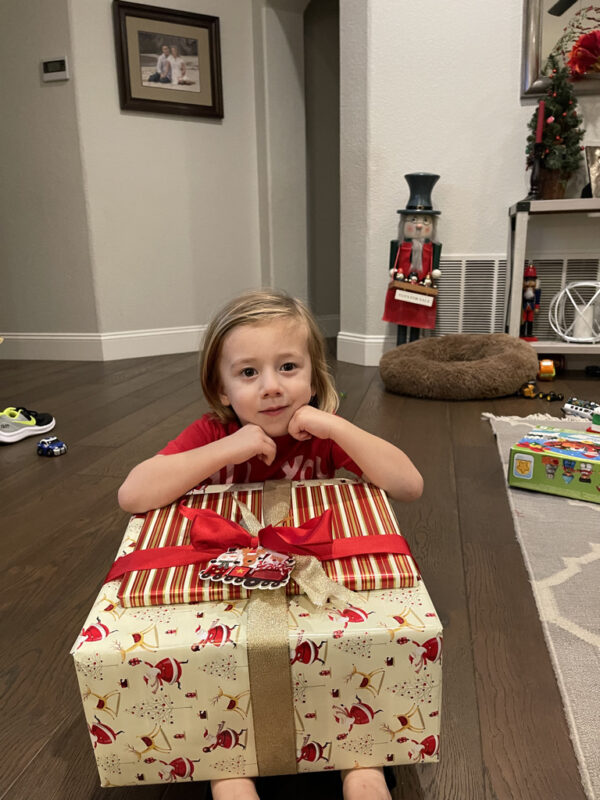 Exchanged gifts!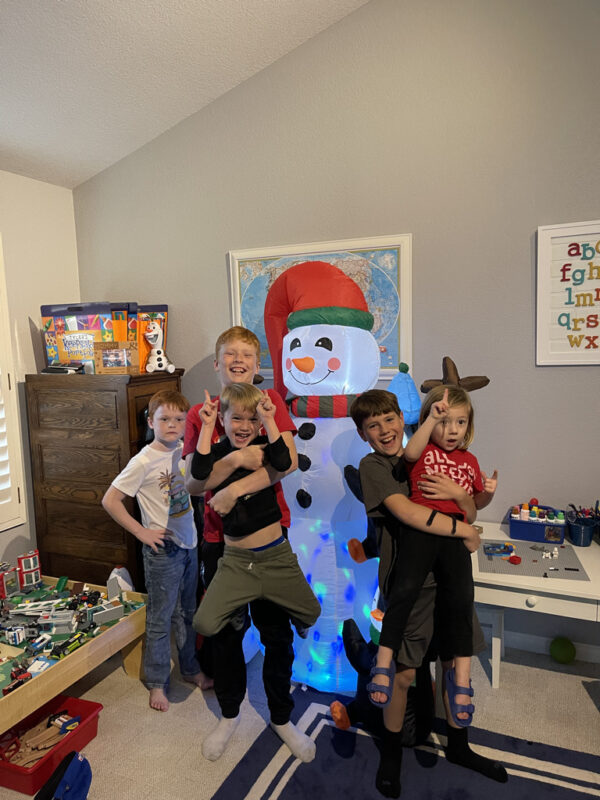 And had a lot of fun!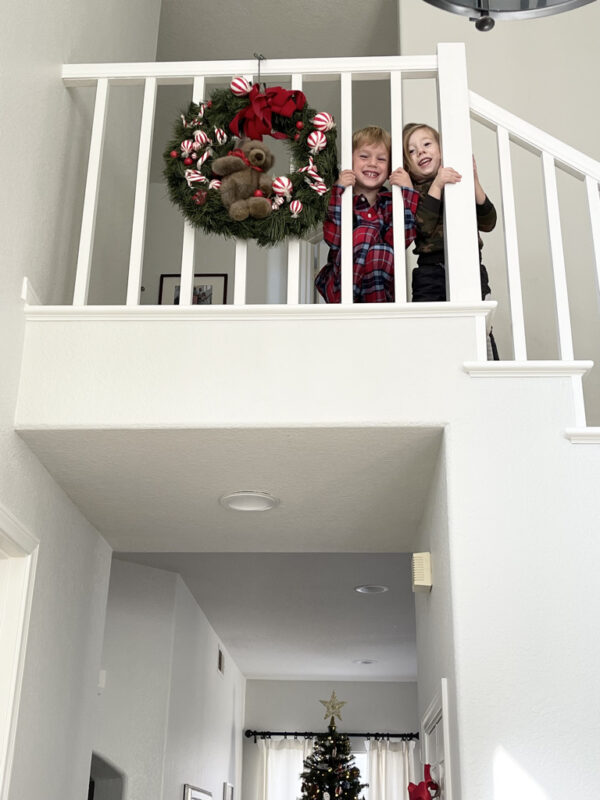 I mean, cuteness overload!!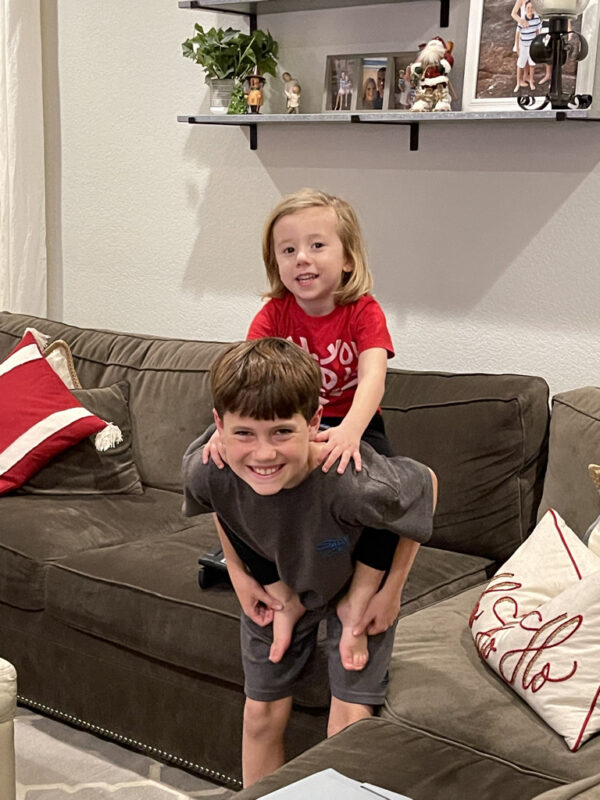 Visiting Santa!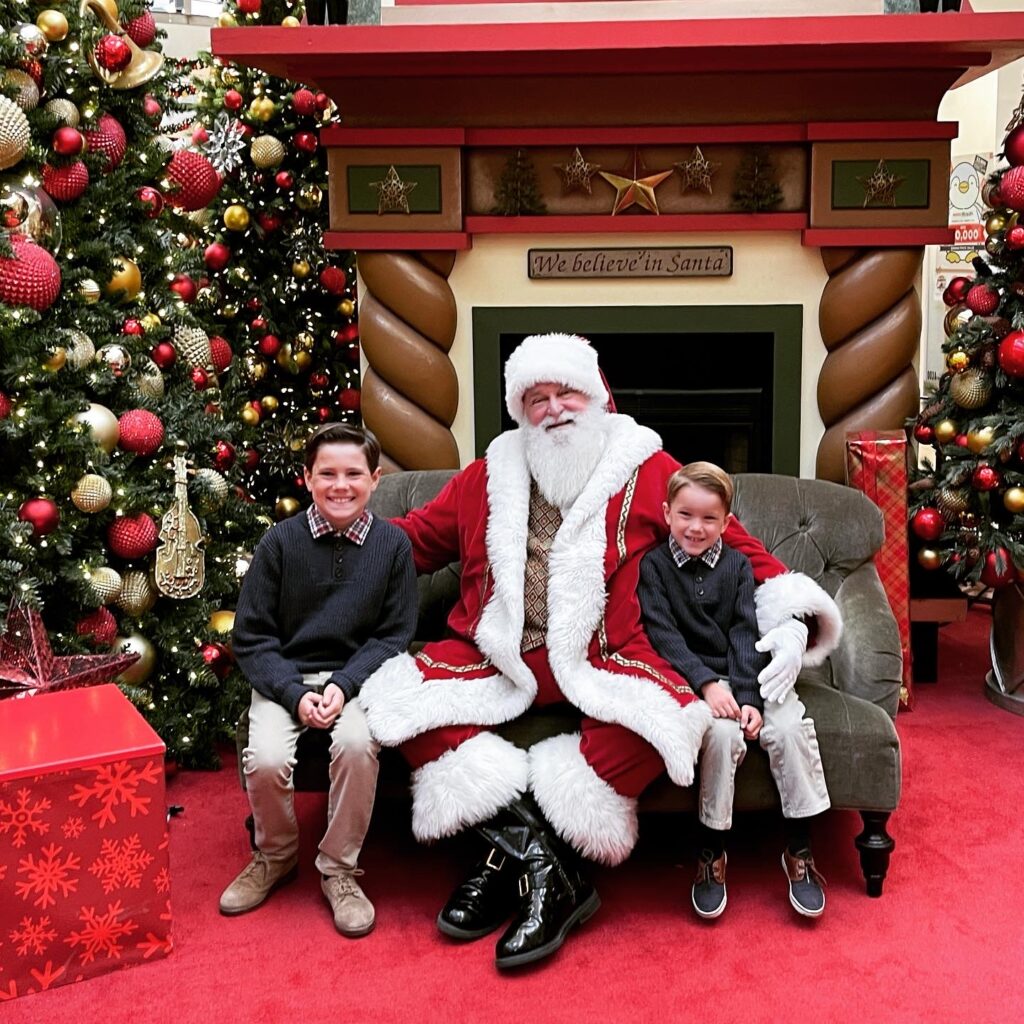 It's a tradition of ours to get dressed in our holiday clothes and go take a picture with santa. This year I was able to schedule a Santa appointment at the Mission Viejo Mall.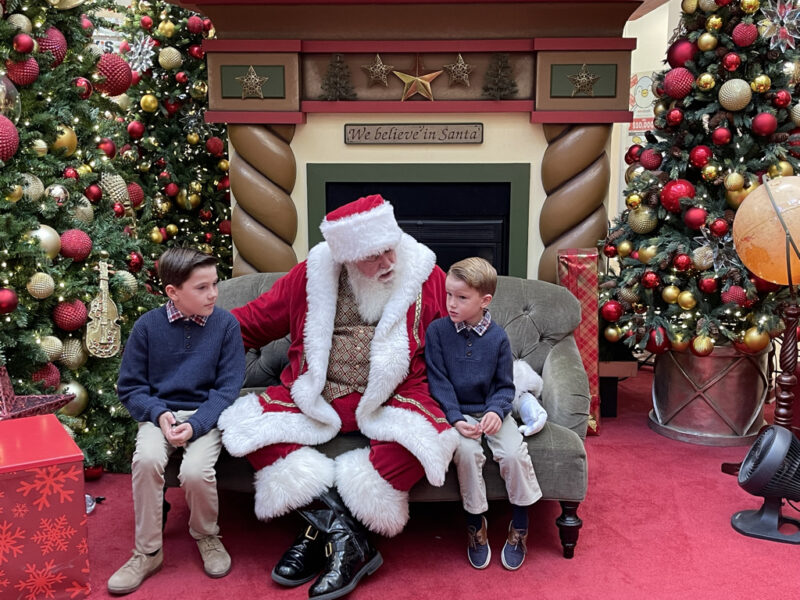 Santa was great and it was awesome that he took time to talk to the boys and they enjoyed it. Luke informed me this is the last year they will be wearing matching clothes. It hurt my mommy heart but I knew this day was coming…enter sad tear faced emoji.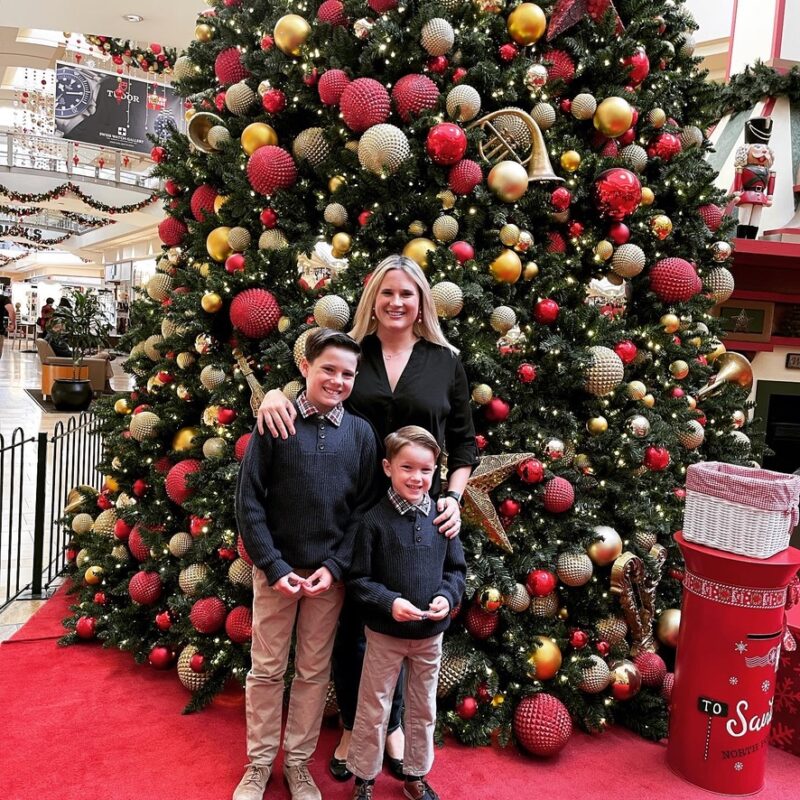 Jason had to work and couldn't make the outing 🙁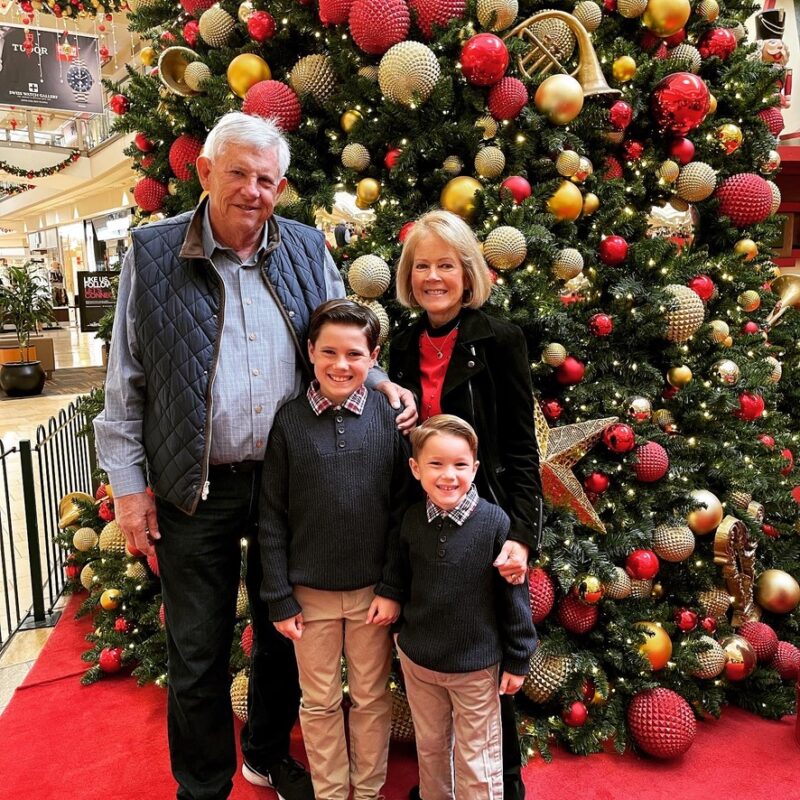 I love that my parents always join us…I love traditions like these. We went out to lunch afterwards.
Holiday Breakfast and the Discovery Cube!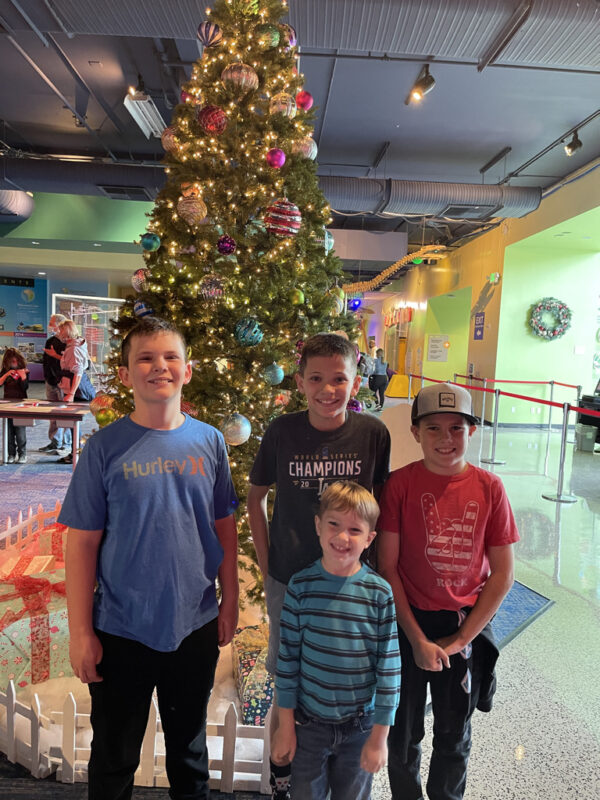 We met up with our with our friends and had a delicious breakfast and then went to the Discovery Cube where they were featuring Gingerbread houses.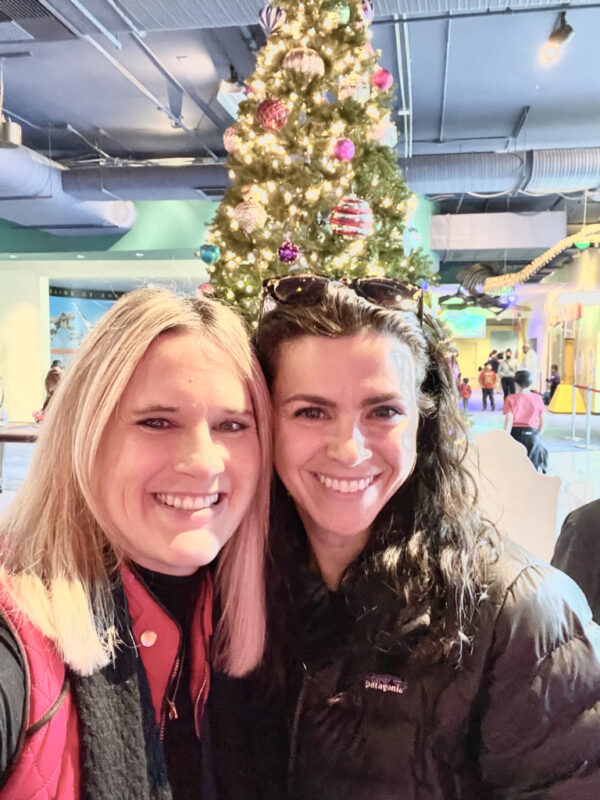 My friend Kelly and I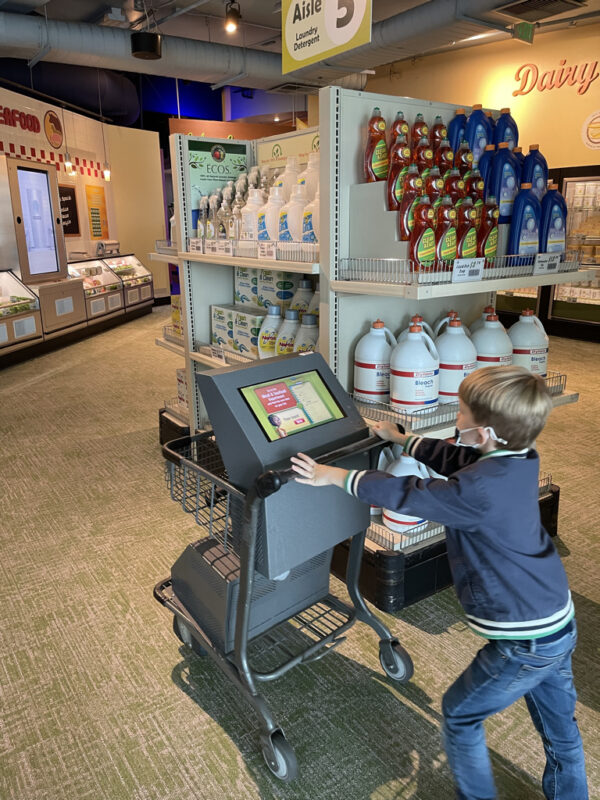 Tyler loved playing the question game in the grocery store and going around scanning food and home items.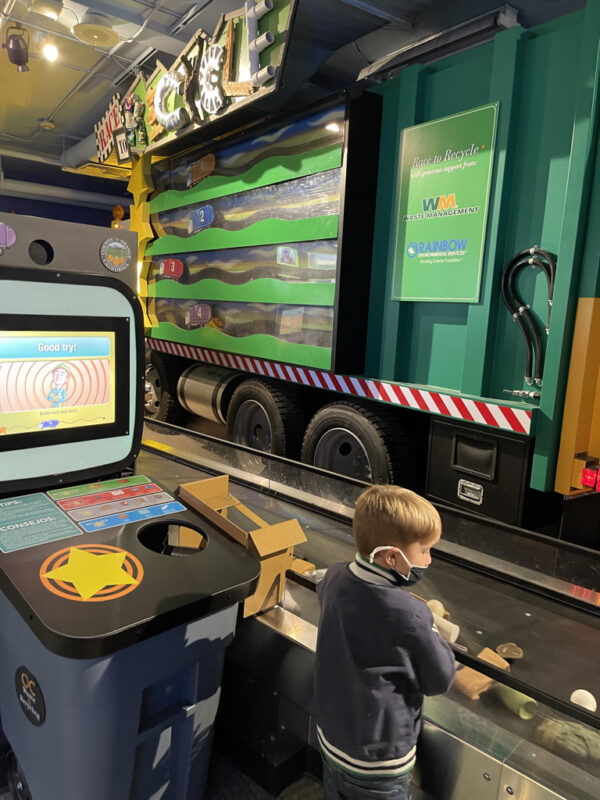 The Recycle center had a fun interactive job. Tyler had to decide where to recycle items when they came around on the conveyer belt. Great activity to teach kids about how we can help our planet by knowing what to do with waste and how to properly recycle it.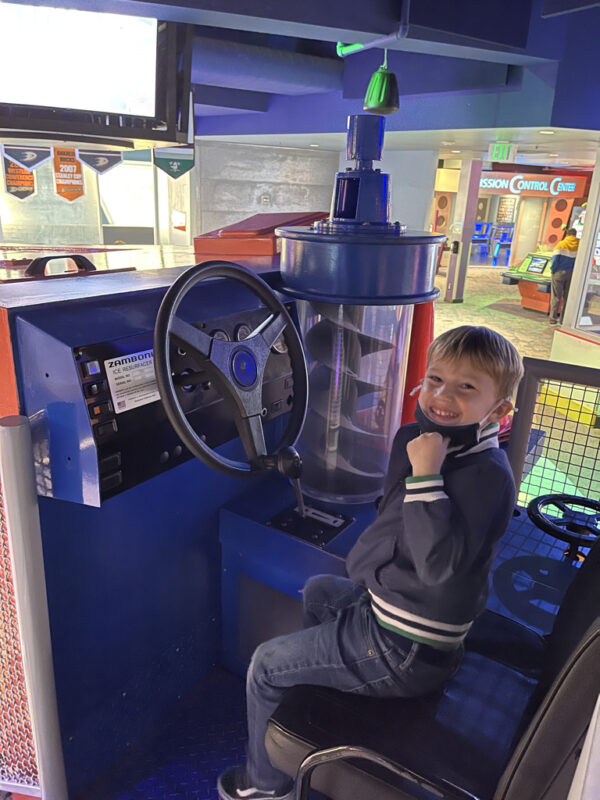 Who doesn't love a zamboni?!?! They had this cool interactive hockey area and the boys loved being the goalie and measuring how fast they can hit the puck.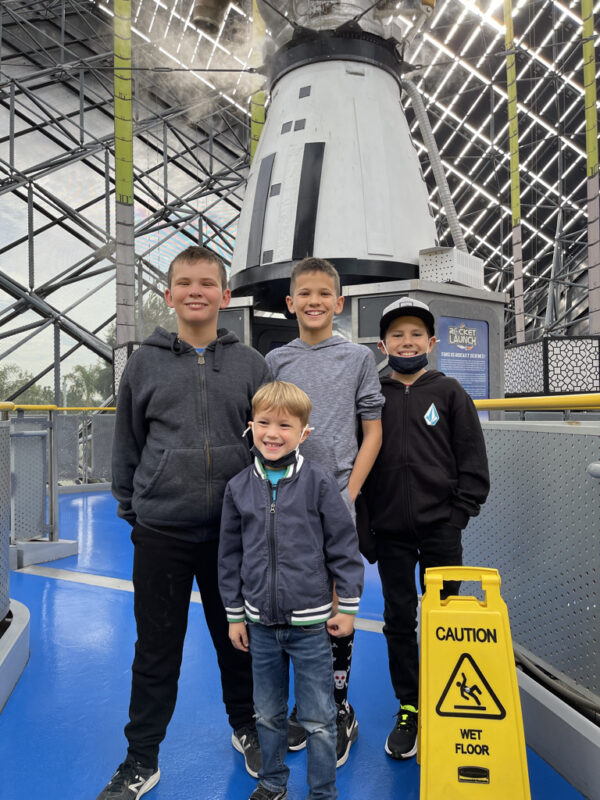 Ever wonder what it feels like to go into a spaceship? The boys loved this space rocket!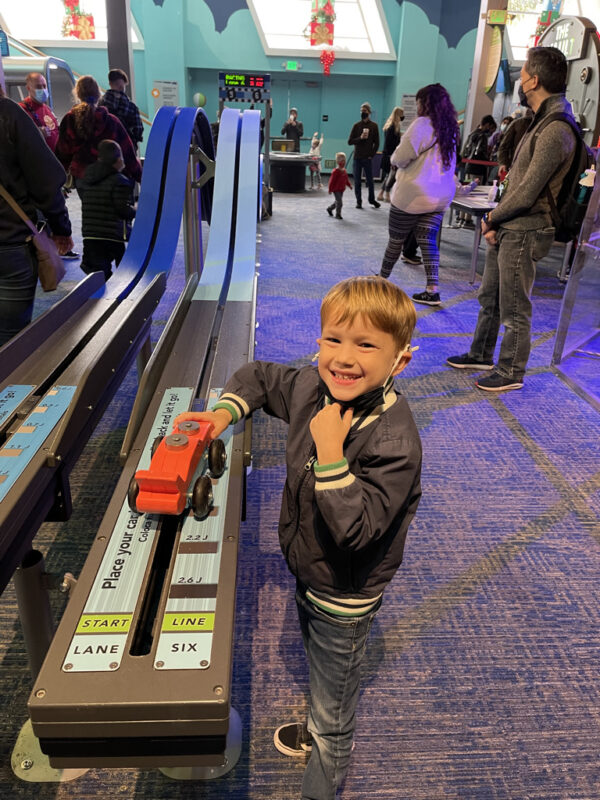 Building and racing cars!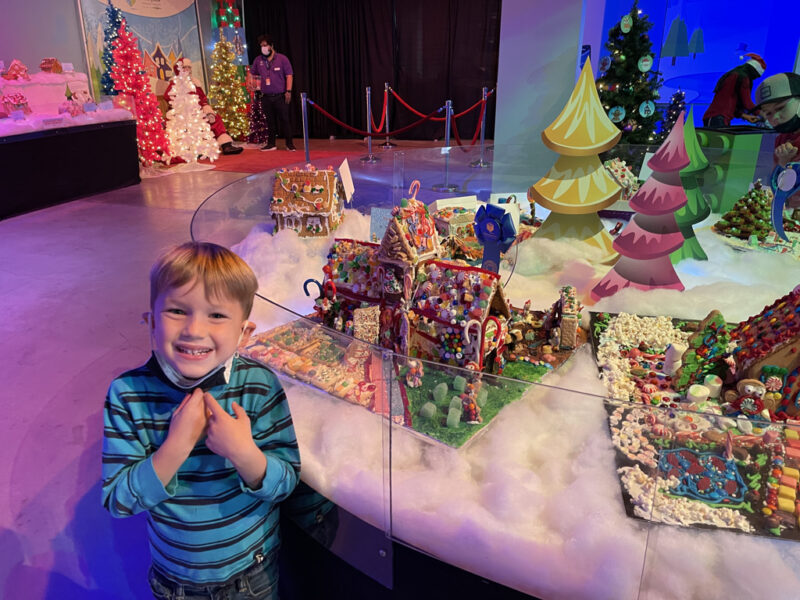 The gingerbread houses were created by kids and different companies. They had themes and gave out prizes and we were impressed with the creativity of each house. It was impressive to see how young some of the kids were that built these houses.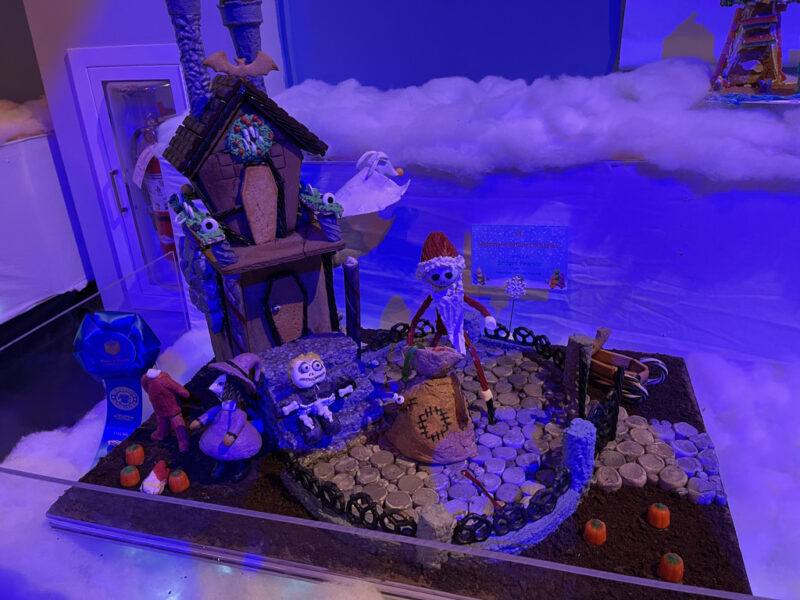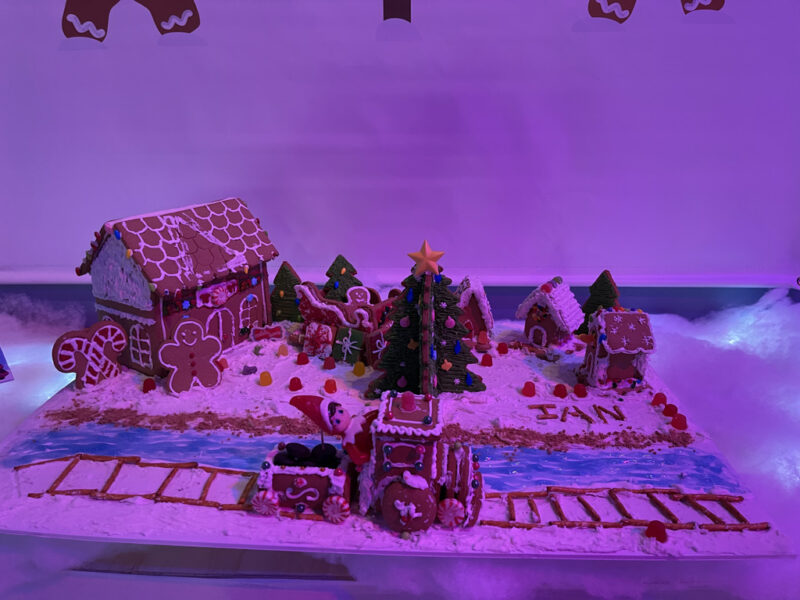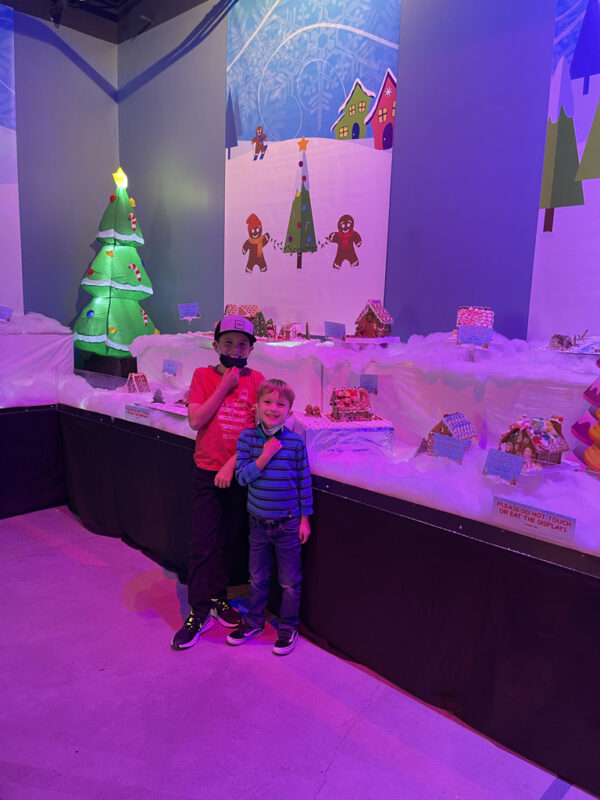 Random Christmas Fun!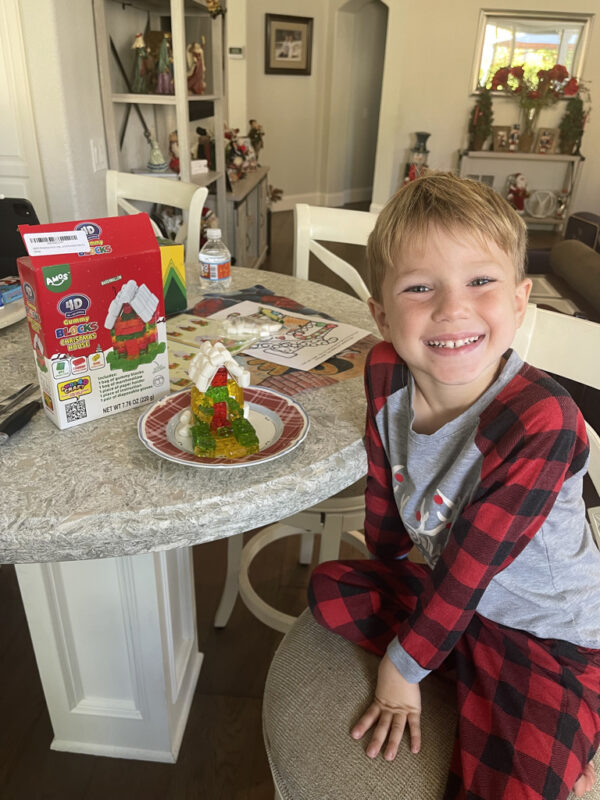 Tyler's Elf gave him this gummy lego house to build….he enjoyed eating it too!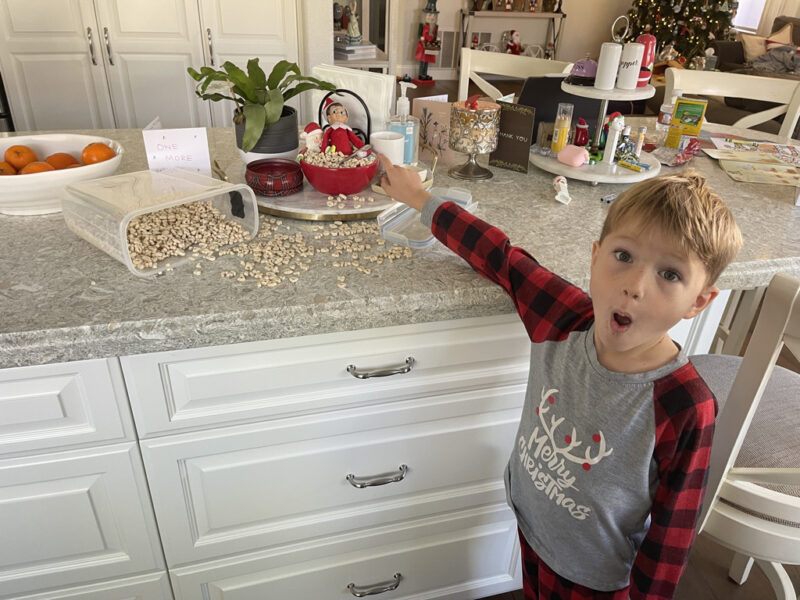 Speaking of elves, look at the mess Elfis made in the kitchen!! He wrote a card to tell me how the cereal was stale too, lol but it didn't keep Luke from eating all the marshmallows, oy vey!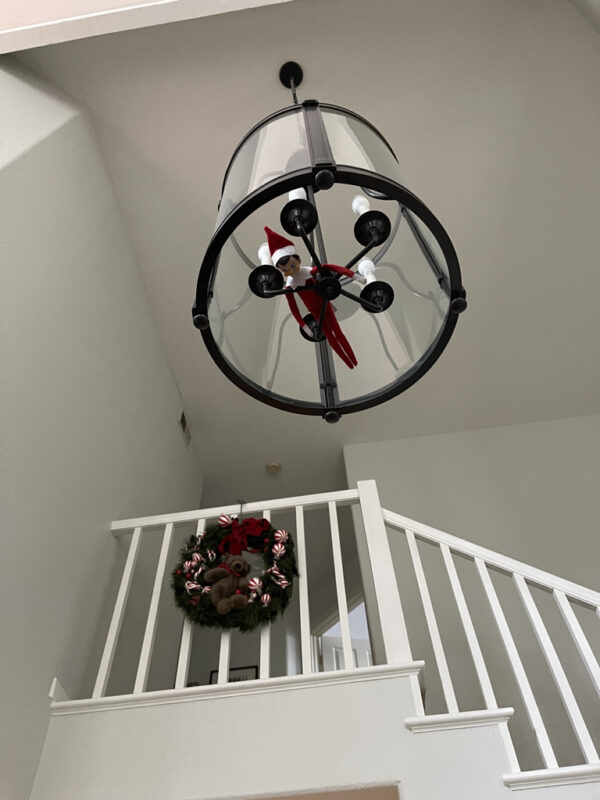 Elfis flew up into the chandellier, lol!
Driving to see Christmas Lights in Xmas Pajamas!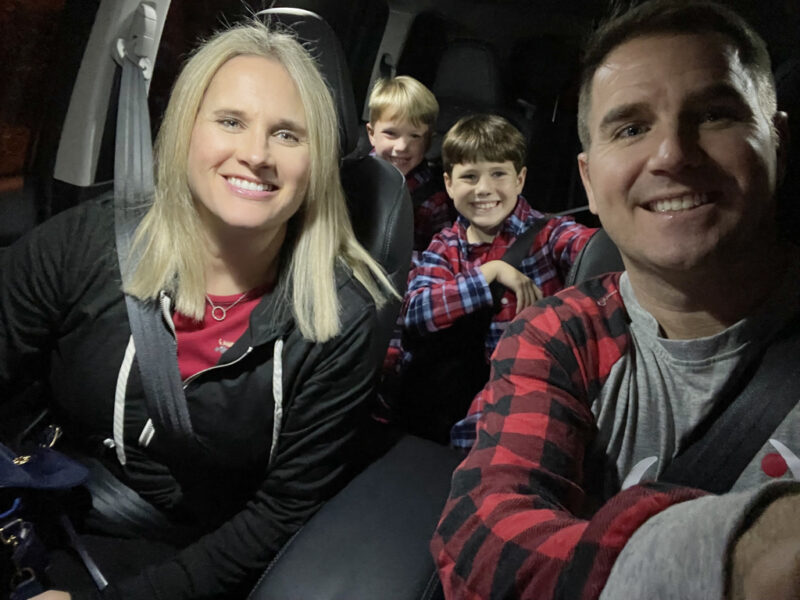 We love this simple tradition of driving to see the Christmas lights in Nellie Gail community, we also drive around our surrounding neighborhoods too. We play Christmas music, have a treat and enjoy the beautiful lights together.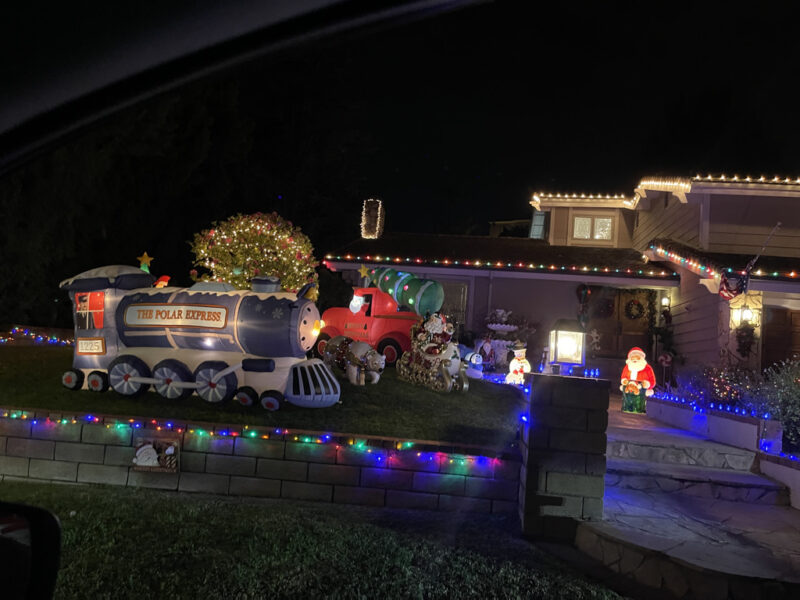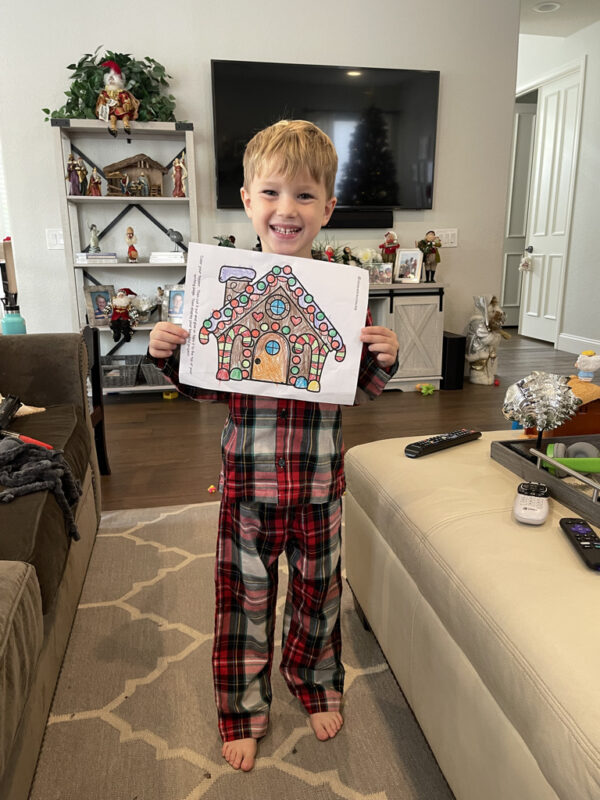 Tyler was very into coloring Christmas scenes in his free time and taping his masterpieces to the windows in the kitchen.
Christmas Eve-Eve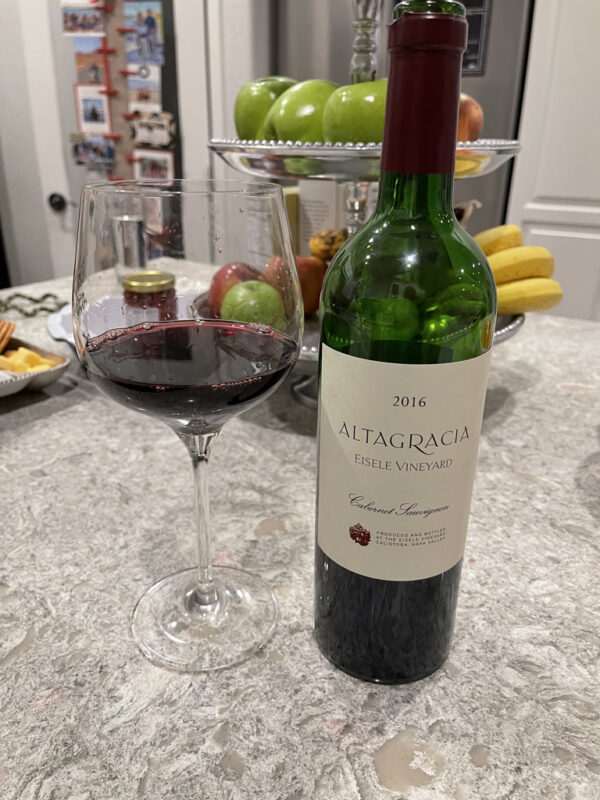 My cousin Whitney and her son Jodey came down from LA on Christmas Eve-Eve and we love this new tradition! It gives the cousins and us fun bonding time together. The drive down from LA to Orange County is not one you want to do on big holidays. She brought me this delicious wine to enjoy together.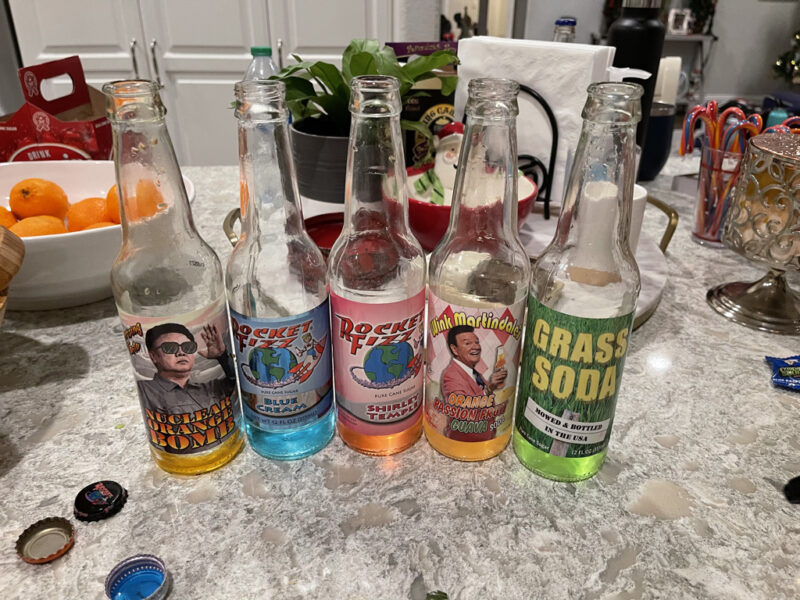 They went to this cool store at the Irvine Spectrum called Rocket Fizz. The kids LOVED having a soda tasting of all the different flavored sodas. They would rate them and we had my neighbors kids over too and they all enjoyed this impromptu fun activity.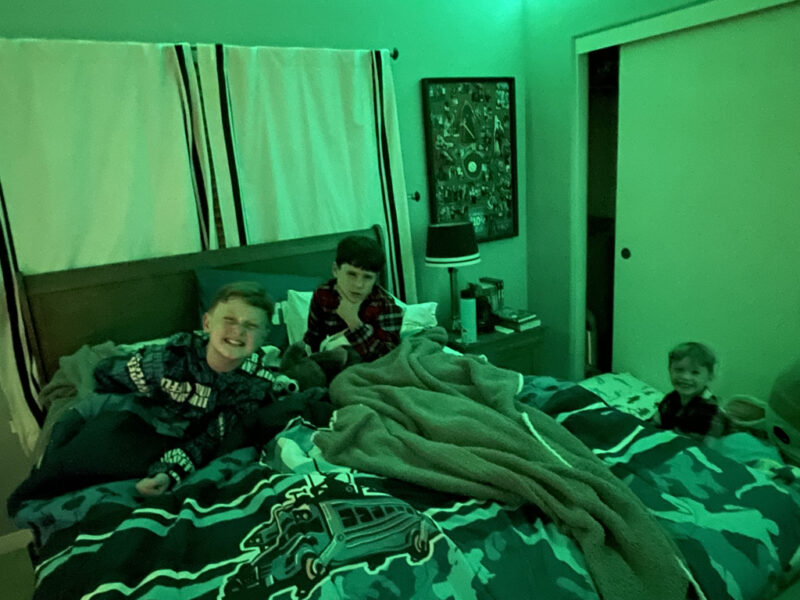 Cousin sleepovers are the BEST!
Thanks for reading along today….it was a fun holiday season! I'll be back with a Christmas Eve and Christmas Day recap.
XO