This recipe is perfect for a busy weeknight where you want a meal to be fast, easy, and delicious! You basically cut everything up, throw it in the pan and top it with an over-easy egg…it's that simple people and we LOVED it!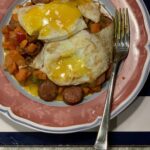 Sweet Potato & Sausage Hash
This simple meal is healthy, quick and yummy!
Ingredients
Sweet Potato and Sausage Hash
2

tbs

olive oil

2

13 oz

package of sausage (we used turkey sausage)

cut into rounds

1

onion

chopped

1

red bell pepper

chopped

1

green bell pepper

chopped

2

sweet potatoes

peeled and chopped into cubes

pinch

salt and pepper

4-6

eggs

fried or poached
Instructions
Start cooking the hash:
Heat up the olive oil in a large pan. Cut the sausage into rounds and add it to the pan. Cook for 5 minutes until the sausage starts to turn brown.

Then add the onion. Cook until the onions start to get soft.

Cut up the rest of the veggies: sweet potato, red bell pepper, green bell pepper and add them to the pan. Season everything with salt and pepper.

Cook the hash for 20 minutes or until all the veggies are soft. During this time start making the fried eggs. When ready to serve top the hash with 2 eggs per person.

Before you start to enjoy this meal break the eggs and let the yoke fall all over the hash.
Recipe Notes
This recipe is brought to you by Mix and Match Mama.  The original recipe can be found HERE.
If you don't already you need to follow Shay Shull on Instagram.
I hope you guys enjoy this meal as much as my family did, Enjoy!!